We realise many of you will be experienced in towing a caravan but here's a reminder of the simple measures you can take in our guide to safe towing.
Towing a caravan incorporates several different areas: coupling up, attachment or hitching up, loading, weight, speed and tyres.  Before we explore these areas, let's think about what could happen as a result of bad towing practice.
Detachment is probably the most serious consequence of poor towing practice. Losing the caravan from behind your car as you tow will almost certainly lead to an insurance claim being made for substantial damage, and will of course put other drivers in harm's way.
Couple up correctly
Matching your caravan and tow car is the first step in good and safe towing. Known commonly as 'coupling up' it's the process of making sure both vehicles counterbalance in weight so that the caravan doesn't outweigh the tow vehicle.
Remember it is against the law to tow a caravan that weighs more than its tow car.
The easiest way to know whether your tow car is comfortably matched to tow the caravan is to consider the five key weight points: the car's kerbweight, the car's towing limit, the car's Gross Train Weight (GTW), the caravan's Maximum Technically Permissible Laden Mass (MTPLM) and the combined payload.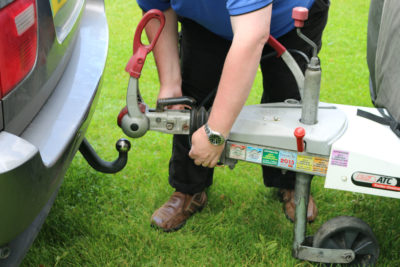 There's a full breakdown of definitions and vehicle weights on the Gov.UK website. If in doubt, remember you can find your caravan's MTPLM and MIRO on the chassis plate.
To see if your caravan and tow car are a safe and legal match visit TOWSAFE. (A small fee applies)
Remember: 
Your caravan's MTPLM refers to the maximum permissible weight of your caravan when fully loaded so, in essence, is an indication of how much food, clothes and equipment you can carry inside your caravan whilst towing it.
It is recommended that the MPTLM of your chosen caravan should not exceed 85% of your car's kerb weight.
There is an exception to this rule. If your car's recommended maximum towing weight (i.e. the amount it can pull safely as advised by the car manufacturer) is lower than 85%, you should stick to this lower amount as your upper limit for your loaded caravan's weight.
The best way to weigh your caravan fully loaded as a full unit (including the car's kerbweight) is to use a weighbridge or a commercial weighing plate.
Load your caravan carefully
While it's difficult to establish a set weight for each journey it's important to remember that how you load the caravan could have a detrimental effect on towing performance. Overloading a caravan can be very dangerous and in some extreme cases even illegal.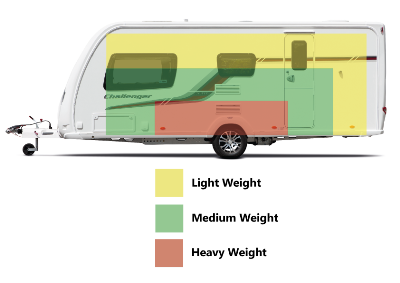 To avoid overloading, start by looking at the items you're taking with you, they're likely to vary in weight and size. Place heavier items in the centre and add the lighter items upwards and around. This will create a centre of gravity inside the caravan which will prevent items being thrown around when towing. See our video on correctly loading your caravan.

Check the noseweight
Most experienced caravanners will know what noseweight is, but if you're in any doubt, a recent edition of 'The Caravan Towing Guide' from the NCC defines it as: 'The downforce that the caravan's coupling head imposes on a car's tow ball, measured by a noseweight gauge – it should never be greater than the towbar/ball or hitch limit values, whichever is the lower'.
See our video on how to measure and adjust your caravan's noseweight.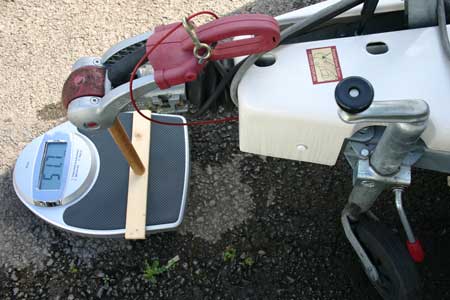 If the caravan noseweight is too heavy the caravan may destabilise when towing. This could put both you and other road users at risk.
Find out more on how to prevent caravan snaking here.
Checking the noseweight before you tow is crucial, it's also worth rechecking before the return journey as any extra items might increase the combined weight of the caravan and tow vehicle. Some caravans are available with optional scales and gauges. AL-KO, for example, offers a premium jockey wheel with Integrated Wheel Nose Load Display.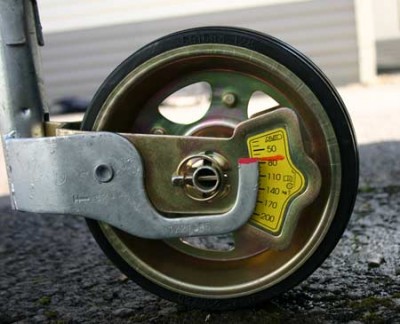 See our video on how to measure and adjust your caravan's noseweight.
Hitching up for safe towing
Here's our 14-step guide and video on how to carry out the perfect hitch and correctly connect your caravan to your towing vehicle.
Speed and safe towing limits
The National Trailer and Towing Association states speed limits for cars towing caravans or trailers are:
30mph limit applies on all roads with street lighting unless signs show otherwise
50mph applies on single carriageways unless signs show otherwise
60mph applies on dual carriageways and motorways
The DVLA states that you must never use the right-hand lane of a motorway when towing a caravan or trailer. There are rules on what licence holders can and cannot tow, always check your license to see if you're legal to tow.
It's also important to remember…
The tow car's tyres must be capable of carrying the maximum laden weight of the caravan at the maximum speed limit.
Anti-snaking snaking devices such as an ATC can also help to reduce risk when towing. Plus these devices come with a Caravan Guard insurance discount – check out our caravan insuruance safety discounts page for details.
And always remember to check your tyres before setting off on any caravanning trip. See our video on making a PACT for tyre safety.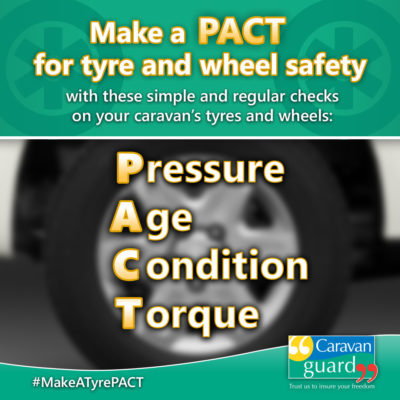 And finally…
Download your own Caravan Guard pre-towing checklist for safe towing.
Search our blog
---