Caravan snaking can be a frightening experience and the damage caused when a caravan jack-knifes can be catastrophic.
In this video we explain what caravan snaking and jack-knifing is and offer some practical hints and tip to help prevent it from happening in the first place as well as what to do if you're in the unfortunate event that you do experience a snaking outfit.
What is caravan snaking?
Snaking is where a caravan starts to oscillate and becomes out of alignment with the tow car. It can be quite frightening as your caravan is swinging from left to right, and back to left, out of control. If the driver doesn't take some positive action and do something about it the likelihood is, it will go completely out of control and an accident will result, and possibly a jack-knife.
What is caravan jack knifing?
Jack-knifing is where the caravan ends up next to the tow car or on its side next to the car or forward of the tow hitch. This normally happens when the driver has not corrected a snaking situation and the caravan is forced to pivot heavily on the towbar.
How to prevent caravan snaking
The best way to prevent snaking starts with loading your caravan with the weight distributed appropriately – not too much weight in the front, not too much the back.
Secondly, the correct caravan noseweight, is important as too much noseweight can cause instability.
Also that caravan is correctly hitched up.
Finally, as well as your caravan's load distribution, the last thing to check is the caravan's tyres.
The tyres on your caravan are the only contact you've got with the road surface, so you need to check tyre pressures and tread depth, the age of the caravan tyres, their condition, and the wheel torque settings. Remember our tyre PACT as a way of checking your caravan tyres and wheels are good for travel.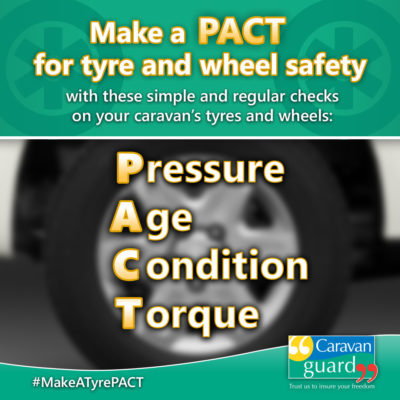 Frank, a former roads traffic police officers, who is now an instructor at Towing Solutions, urged caravanners to make sure the wheels are secure.
"Are the torque settings correct on each of the nuts?" he asked. "There's good history of caravan wheels becoming detached from the caravan. If you have your wheel changed on your car because you've got a flat tyre, the torque settings should be checked very soon afterwards. And that's the same for a caravan."
Although many modern caravans will have a stabilizer system based in the hitch, it will not stop a badly laden caravan from snaking, said Frank.
"The caravan needs to be set up first for the hitch to even have a chance," he added. "Prevention is far better than cure. If you've got an inherently unstable caravan because it's badly loaded, the other devices aren't really going to get the best of chances. Load your caravan appropriately and don't get yourself into the danger."
There are also electronic devices, such as the AL-KO automatic trailer control (ATC) system which will help to reduce instability and prevent snaking. These will get you a caravan insurance discount with Caravan Guard.
What to do if you experience caravan snaking
A common misconception is to put your foot down and power through it, but Frank says this is probably one of the most dangerous things you could do.
Here's Frank's top tips to help bring a snaking caravan under control:
Relax and loosen your grip on the steering wheel. Still hold the wheel firmly but relax as much as possible so you're not locking the steering into a fixed position.
Reduce your speed. Lift your feet off the pedals, and avoid braking as this will slow the tow car down too quickly for the caravan.
Lose road speed by working your way down the gears
Pull over somewhere safe to check over your outfit. Remember to switch on your hazard lights.
Over to you…?
Do you have any hints and tips to prevent or deal with caravan snaking? We'd love to hear your comments in the box below.
Search our blog
---