Remembering what needs switching off, unplugging, detaching etc, before setting off on a caravanning holiday can be a job in itself! That's why we have created this handy guide and printable pre towing checklist to make sure you don't forget anything.
Start by checking that all cupboards and locker doors inside the caravan are closed and locked. Caravan Guard has received many insurance claims where heavy items have dropped out of cupboards and storage baskets smashing work tops, hob covers, sink covers and even shower bases! Avoid unnecessary claims by making sure heavy items are secured away correctly. Also be sure to carefully load your caravan for a safer towing experience.
There are a few things to remember in the kitchen and shower area; firstly, turn the fridge selector switch to 12v and lock the fridge door. Turn off the water pump master switch, along with all taps and the shower control too.  Caravan Guard receive a steady flow of  claims for damaged roof lights that have been left open and damp caused by open window so an obvious check is to ensure these are closed.
Once the inside of your caravan is taken care of, there are a few quick things to be done outside. Start by turning the gas off at the cylinder and then make sure all water and waste tanks are drained correctly so that you're not carrying any unnecessary weight on your travels.
Many caravan owners have invested in a wide range of security devices. It goes without saying that you'll have to remove your hitchlock and wheel clamp, but don't forget if you have a proactive tracking device that triggers on movement sensor or via a geo fence, you need to deactivate it before setting off otherwise you'll create a false theft alert for your tracking device's monitoring centre.
It's also always important to check your caravan's noseweight before you set off (whether you're new to towing or an expert, it doesn't hurt to check this each time). If this is too light or too heavy the caravan could become unstable whilst towing or your towcar's steering ability could be affected.
To help guarantee a smooth, uneventful journey, always check that the tyre pressure is at the right level. Over or under inflated tyres can lead to caravanning accidents and premature tread ware. If you're not quite sure what level is right for your caravan check out our guide to caravan tyre pressures.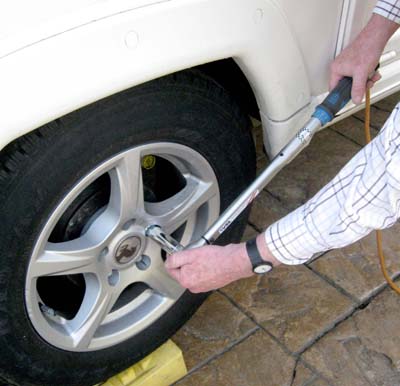 To avoid any unnecessary wheel detachments make sure that all wheel nuts are torqued up. Again if you're not too sure how to do this, take a look at our guide on tightening wheel nuts and upgrading your current wheel nuts.
Last but not least remember to keep your payload lower for a safer and more fuel efficient towing experience.
We've got many more checks to perform on our downloadable caravan pre-towing checklist. We think this is a comprehensive list of things you need to do before towing your caravan but you can even write in a few checks of your own checks at the bottom of the design if you think we've missed anything. Of course we want you to tell us what you think in the comments below.
Search our blog
---