Add an alarm to your touring caravan and you'll benefit from peace of mind – plus a possible drop in the price of your annual insurance premium.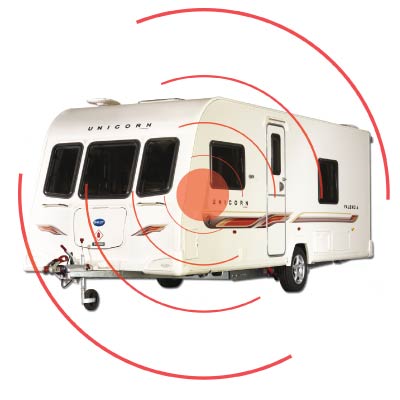 More importantly, though, you're adding extra protection – not just for your tourer but also its contents, more often than not at least some of which have the kind of sentimental value that you can never put a price on.
An alarm will give an audible warning should anyone attempt to gain illegal entry into your caravan. Typically, a caravan alarm will monitor movement via a PIR (Passive Infra-Red detector) as well as a tilt sensor, the latter activating the alarm if a thief attempts to drive off with your pride and joy. It might also offer perimeter detection (i.e. movement close to your 'van) and battery back-up power supply.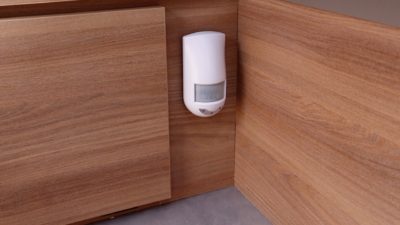 Any alarm – or rather, the thought of an encounter with one – is a good line of defence against caravan criminals. It can warn you, as well as others, that a break-in has taken place – as well as potentially deterring the criminal.
The Caravan Safety & Security Group, a cross-trade initiative, points out most good alarm systems will offer:
Protection of the contents of the caravan through PIR (Passive Infra-Red detector) or other internal sensor technology
Instant operation upon detection of an intruder inside the caravan
Protection of your caravan when stationary/parked, through movement or tilt and motion sensors
Instant activation upon insertion of road lighting plug/turning on the ignition
Also, some alarms can be linked to a proactive tracking system to allow a remote monitoring service to notify you if anything untoward appears to be happening to your caravan.
Do consider a caravan alarm in conjunction with other Sold Secure security devices, such as caravan wheel clamps, axle wheel locks, hitchlocks, hitchposts, plus tracking devices, as well as a secure caravan storage location.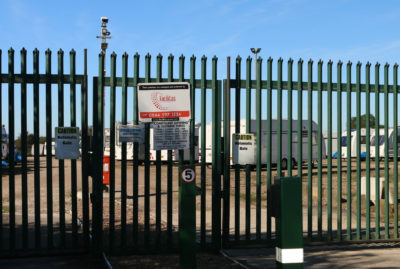 Caravan Guard also offers a sizeable insurance discount for approved tracking devices.
Fitting a caravan alarm?
Some alarms can be fitted by competent DIY-ers but we'd recommend a professional installation to make sure the device works correctly when you need it the most.
Top caravan alarm tips
Do get into the habit of arming your caravan alarm, even when just nipping to the toilet blocks or for short stops whilst towing, such as at service stations. (If you have specified an alarm system on your insurance policy, it will likely be a requirement for it to be activated whenever the caravan is left unattended and detached from the tow car).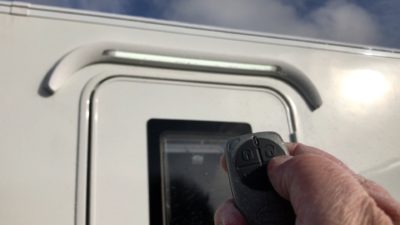 Always set your alarm when it's in storage and go for systems with a backup battery.
Alarms relying on tilt sensors only often don't sound the siren until the thief is driving off.
Wire-free alarms are usually easier to fit, but can some can be easily jammed so look for a good quality system.
Simple alarms are cheap and easy to fit, but they can often be disabled in seconds. Also, if your neighbours hear a siren for only a few seconds they usually assume it's been accidentally activated. Also, bear in mind free-standing alarms such as those that fit around the inside of the door handle might not be acceptable for caravan insurance purposes. Ultimately to meet the needs of Caravan Guard's policy the alarm needs to be fixed to the caravan – even a wireless system will have permanently wall-mounted PIRs and sirens.
Adding stickers to your window to warn criminals that you have an alarm system fitted can make sense. Sometimes, a visual deterrent is all you need to divert a thief.
Features like "sleep mode" and/or "pet setting", mean you and/or your pet won't set off the alarm when you're on board.
Check power consumption and how your alarm will alert you when power is running low. Some might have the ability to text you a low battery alert.
If you invest in a sophisticated caravan alarm system, check if it's transferable to your next 'van – it could save you some money – plus, you know you have a system you're comfortable with.
National Leisure Vehicles Officer Tim Booth, said a big concern with current caravan thefts was that alarms were often not being set by their owners so thieves were driving away their tourers unnoticed. And in some cases, caravanners are not checking the credentials of their storage site and making sure they are as secure as they say they are.
"In contrast, a recent theft in the Northants area led to the GPS tracking system being activated. This allowed the caravan to be tracked across the country and it was recovered 42 minutes later in Cambridgeshire. So, these systems do work, if they are used." said Tim. "It's important that owners use these security devices to secure their caravans – especially when they are in storage, to make sure their property stays safe.
"I appreciate that there is concern from owners that some of these systems can 'drain the battery' – but if this were to happen the better systems will alert you to this ahead of the battery failing completely, allowing the owner to take some action to resolve this issue."
Let's take a look at five caravan alarm systems.
Star Player 1
Moving Intelligence (formerly Phantom) Vanguard Caravan Alarm
Designed specifically for caravans it's simple to use and with a built-in, adjustable, tilt sensor and PIR (Passive Infra Red) sensor the alarm will sound if a thief attempts to hitch up the caravan or gains entry inside.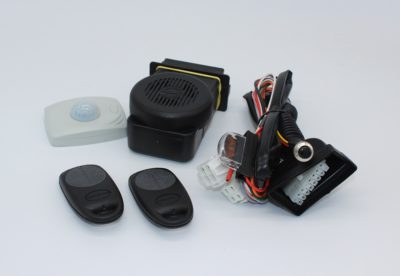 The Vanguard also comes with an encrypted four-button remote control, an internal battery back up and the PIR sensor is wireless, so can be fitted anywhere inside the caravan. This can also be disabled when sleeping – or if you have pets in the caravan – whilst the alarm is still switched on.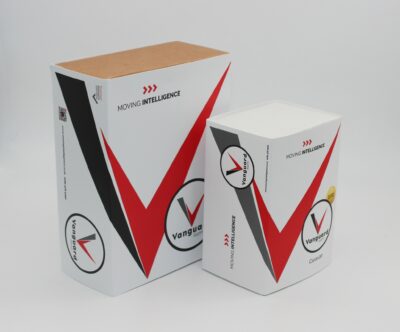 The Vanguard is fitted on new Coachman Caravans as standard.
Key features: High power 110Db siren, wireless door and window switch option and free nationwide fitting.
Expect to pay: £325
Star Player 2
Outsmart the Thief caravan alarm
Running off the caravan battery with an internal backup should the external power fail, this system includes a wireless PIR, built-in digital tilt sensor, and wireless door contact to protect the habitation door.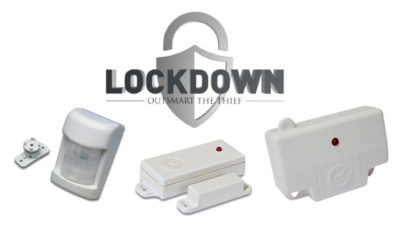 Two waterproof remote controls are randomly encrypted for extra security. There are also options to add more PIR detectors and locker door and window contacts.
Key features:  LED warning light, two window warning stickers, free fitting, and two-year warranty.
Expect to pay £399
Star Player 3
Autowatch 650 Caravan Alarm System
A system that claims to be made from the highest quality components and uses state-of-the art technology.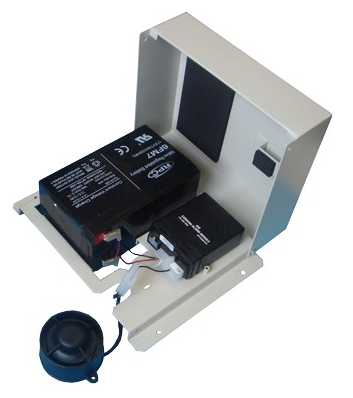 It includes a wireless PIR and leg sensor, with an encrypted remote control. There are low battery indicators, awning light operation (handy when returning to your caravan in the dark, but it also flashes the awning light if the alarm is triggered) and false alarm nuisance prevention.
Key features Remote panic alarm, instant alarm trigger, battery back-up, pager output, and anti-tamper security housing.
Expect to pay £239
Star Player 4
Milenco Remote Alarm
Simple, but effective. This remote-operation caravan alarm can be located in your 'van's habitation area by attaching two wires to a 12v power source.
Once the alarm is activated with the wireless remote fob, any shock, movement or impact will set off the alarm. There's also a panic feature to sound the siren to warn off any intruder.
Key features: Code hopping transmitter to prevent thieves from copying the code, easy to fit, high decibel siren, extra remotes.
Expect to pay £138.95
Star Player 5
Vanolarm
Vanolarm claims there isn't a retrofit 'van alarm system that has live tracking, geofencing, vibration sensor alarm, noise sensor alarm, and a smart alarm system as standard. This system sends an alert to your phone the minute any break-in or theft is attempted (SIM card is needed).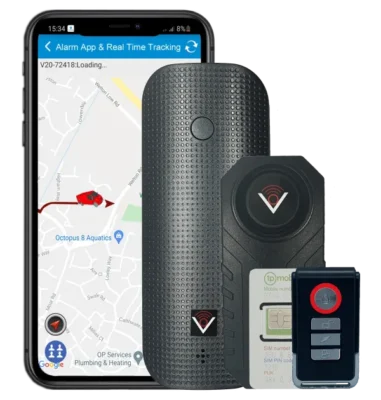 Using specialist vibration technology, if a lock is tampered with, a door handle pulled or a window tapped then Vanolarm immediately sounds an alert. If the thief continues to break-in to the caravan within 30 seconds a full siren sounds and alerts are instantly sent to the alarm owner's mobile phone via a text, phone call or in-App alert.
Designed and supplied in the UK, the smart system still remains active for alerts even if your keys and alarm fob are stolen. The 4G smart Vanolarm alarm unit also comes with audible alarm door sensors, remote control key fibs, a holder, a magnetic door sensor, and external deterrent sticker.
Key features: 115dB siren, wi-fi fencing, geofencing, noise sensors
Expect to pay From £99.95
---
Will an alarm affect my caravan insurance?
Fit an alarm to your tourer and you'll qualify for a caravan insurance discount with Caravan Guard (minimum premiums apply).
Bear in mind free-standing alarms that are not fixed to the caravan in some way are not accepted where it's a mandatory insurance requirement to fit an alarm.
Over to you…
We're always keen to hear about your experiences and any key advice. Feel free to share and add your comments on caravan alarms below.
Search our blog
---