With caravan thefts still a major concern a caravan tracking system can be one way to beat the thieves and recover your tourer if it's ever stolen.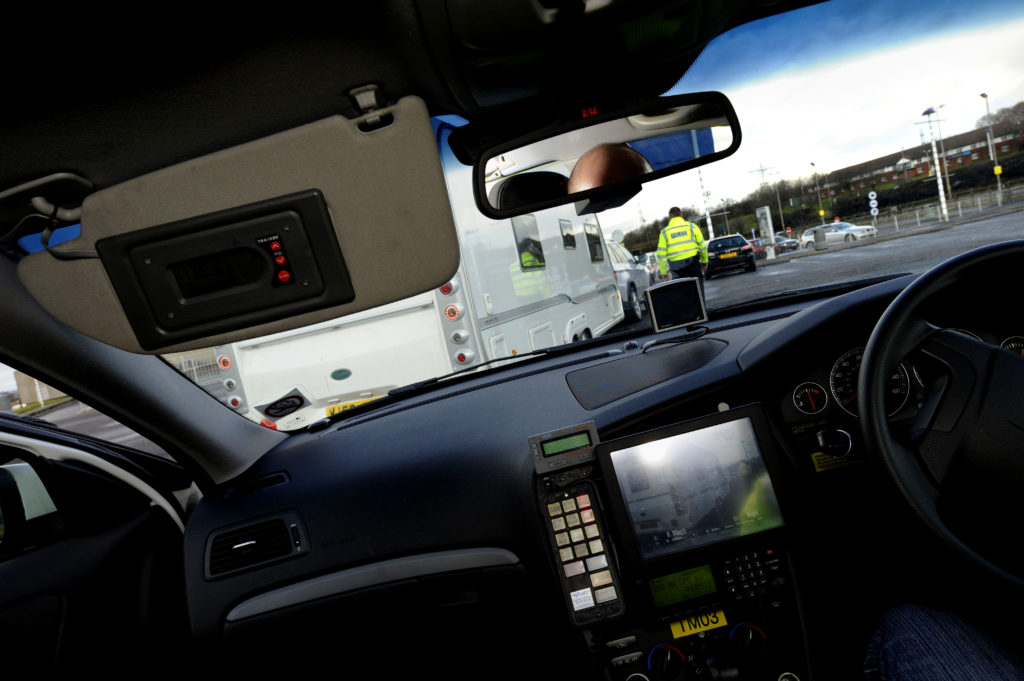 Track your tourer!
There's a multitude of caravan tracking systems on the market for tourers. But not all devices are created equal and some are far more sophisticated than others.
It might be tempting to pick up a cheap caravan tracking unit, but generally, these systems will not be backed up by a professional operating centre which can monitor your tourer 24 hours a day, alert you of illegal movement, and co-ordinate a smooth recovery with the police.
Because of ongoing monitoring, there will usually be an annual subscription to pay to keep a tracking device active – this can cost anything upwards of £100 per year but don't forget your caravan insurance discount might offset some, or all, of your annual subscriptions costs.
Caravan tracking systems and caravan insurance
Generally, caravan insurers will want a tracking device to be of a certain standard to recognise it and award premium discounts. Thatcham is an independent research centre which puts devices to the test to assess effectiveness and reliability – not to mention make sure operating centres are of a certain standard.
Most suitable Thatcham-approved tracking devices for caravans will fit under the Thatcham S7 category. There are some devices we accept with other accreditations including previous Thatcham Category 6 and 7 approved systems. Please check out our approved caravan tracking devices page for a list of those we accept and do remember that we offer caravan insurance savings for fitting one of these.
Finally, we'd always advise caravanners to look for a proactive tracking system which links to a motion sensor, virtual geofence, or an alarm, so that your caravan tracking device will inform the operating centre if it's disturbed whilst the tracker is activated. If you keep your caravan in a secure storage site or even at home, it can't be 'watched' 24 hours a day and an early warning of unauthorised movement could be the difference between a police recovery within 30 minutes and never seeing your caravan again. Just make sure to check your leisure battery levels regularly or choose a tracking device which has a self-contained battery and will alert you if the battery levels are running low.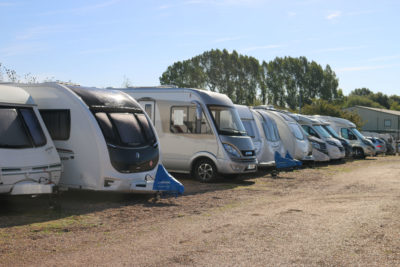 Five popular caravan tracking systems
Star Player #1
Moving Intelligence Pro 3 – Thatcham S7 approved
Moving Intelligence (previously Phantom) has built up a strong pedigree in the caravan tracking systems market. Its Pro 3 caravan tracking device, uses GSM and GPS technologies and is compatible with an alarm system – when it's set off it also sends an alert to Moving Intelligence, who will then contact you via telephone to check the situation. There's also a 3G motion sensor to tell you any time your vehicle is on the move without your authorisation.
The Pro 3 uses your caravan leisure battery as its main power source, plus it has its own rechargeable backup battery.
You can register up to three emergency contact numbers that can be alerted by a 24-hour call centre if unauthorised movement is detected.
It also comes with a smartphone app with battery monitoring as well as helpful alerts about your battery being weak or an attempted theft of your caravan. There's also an internet portal, MyPhantom, via which you can locate your vehicle, check battery levels, mileages, battery history etc.
Prices include free fitting from Moving Intelligence's nationwide service.
Key features Thatcham S7 status, 50-channel GPS receiver, proactive via built-in motion sensor, nationwide fitting service, low power drain, daily server check-in, internal antennae, transferable to next vehicle
Expect to pay From £499 (includes monthly subscription)
Star Player #2
SmarTrack Caravan Protector – Thatcham S7 approved
There are lots of upgrades here, in conjunction with upgrades to the tracker's free app (android or Apple). There's also a free online account that keeps a fully accurate history of all your travels – and can be used to reminisce on your holiday memories.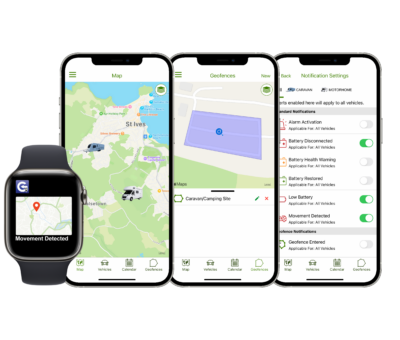 Plus, there's a geo-fence option whereby you can set up a virtual perimeter around your caravan at a specific location (such as your storage site) and it will alert the operating centre if the caravan is moved outside this. This can also be set for every port in the UK so if a caravan arrives at such an area the tracking system will instantly question it.
In addition, the Caravan Protector comes with a hidden switch that deactivates the caravan tracker's alerting, whenever you wish. It also comes with an internal battery back up as well as alerts if your battery is tampered with or is running low.
Subscriptions range from £12.99 a month to £149 annually to £549 for the whole time you own your caravan – any of which can be paid by direct debit.
It can also be connected to aftermarket alarm systems, such as Autowatch.

Key features Thatcham S7 rated, proactive via geo-fence, 24-hour monitoring by Global Telemetrics, movement alerts, fully transferable to the next vehicle (terms and conditions apply), three-year warranty (extendable to 12), manufactured in Britain.
Expect to pay From £229
Star Player #3
ScorpionTrack S7-ALS Tracker – Thatcham S7 approved
Fit a ScorpionTrack S7-ALS tracking system to your caravan and if it's towed or moved then its motion detection sensors hidden within your tourer will alert you and its control centre so they can contact the police quickly. This UK-based monitoring team operates 24 hours every day and boasts a 96 per cent theft recovery rate.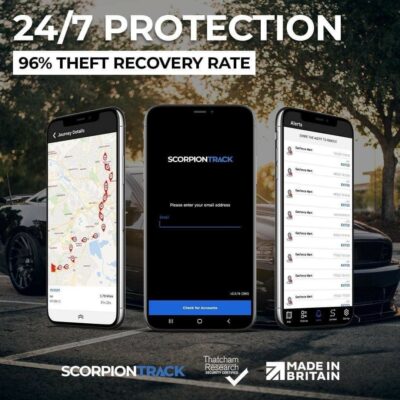 Plus, this tracking device is 4G capable and has full European cover with the capability to track your caravan globally, on request.
The ScorpionTrack mobile app allows you to view your caravan's location and journey history.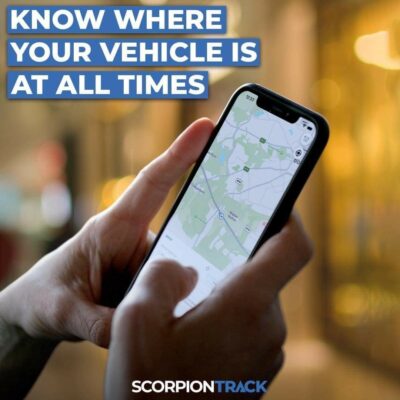 The Thatcham monitored subscriptions range from £11.50 a month to £129 annually to £499 for the time you own the caravan. Look out for some reductions in these costs this summer (July 2023).
Key features Thatcham S7 rated; 24-hour monitoring, 365 days a year; low vehicle battery text alert; free fitting at a location of your choice; made in Britain
Expect to pay From £329
Star Player #4
Tracker Monitor – Thatcham S7 approved
Tracker says it's "the only stolen vehicle recovery company that uses VHF (Very High Frequency) technology to track and recover caravans and motorhomes". Its patented VHF technology makes it resistant to GPS signal jamming, a common theft technique. "It's this technology that makes Tracker the only provider of stolen vehicle recovery solutions that the UK police collaborate with".
It adds its Stolen Vehicle Recovery (SVR) systems are fitted in 2000 UK police vehicles, including the National Police Air Service helicopter fleet and most major UK ports.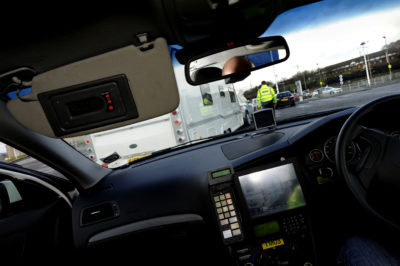 VHF means it can sense vehicles that have been hidden in shipping containers or lock-ups, rather than relying just on being able to see them.
Monitor is Tracker's best-seller in the leisure vehicle sector. It's a tracker/alarm combination includes integrated motion sensors to alert you immediately if your caravan is on the move without your knowledge, or if it leaves its designated geofence area.
As well as being supported by the UK Police, Tracker coverage continues outside the UK, in France, Spain, the Netherlands, Poland, Italy and Luxembourg.
The price here includes installation, with subscriptions to pay on top of this – starting at £189 for 12 months.
Key features Patented VHF and Mesh Network technology, long-life battery (up to five years standby), UK-wide installation network, proactive via motion sensor, battery disconnection alerts, anti-jammer.
Expect to pay £361
Star Player #5
Sargent – Thatcham S7 approved
Sargent's tracking system isn't on retail sale but you'll find it factory fitted to Swift caravans from 2016 to 2021 under the guise of the Swift Command Tracker and various 2019 Lunar caravans as Lunar Assist. But bear in mind as an owner of one of these caravans you'll still have to pay an annual subscription to keep the device monitored. The cost is around £100 per year. The device is proactive so will warn the operating centre of unauthorised movement.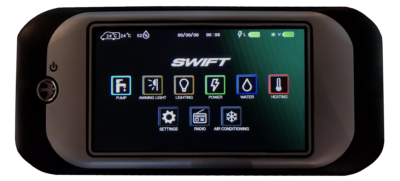 Even if a vehicle is stolen when the tracker is unarmed, a phone number is provided to report the theft direct to the monitoring centre, who will arm the tracker and communicate directly with the police.
Key features Thatcham Cat S7 rated, proactive, bespoke systems for key manufacturers.
Star Player #6
HAL-Locate – Thatcham S7 approved
HAL-Locate claims a 100 per cent success rate in recoveries after a theft and offers a priority monitoring service across the UK and Europe. The device operates using GPS, GPRS and GMS technology. Having an inbuilt battery backup, the device can remain active even if the vehicle power supply is disconnected.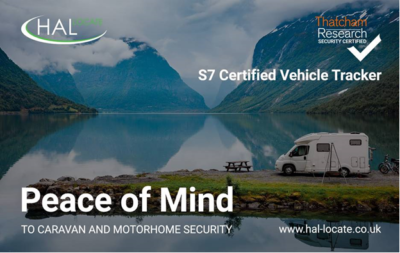 The system automatically arms itself if your vehicle is left stationary for more than two hours – a handy feature if you forget to arm it yourself. You can also control the tracker in the palm of your hand via a Smartphone with the HAL-Locate APP.
HAL-Locate can be bought and fitted via several UK motorhome and caravan dealers, as well as a nationwide group of approved installers.
Key features: Thatcham S7 approved, low power consumption, integral rechargeable back-up battery, twin geo-fence protection zones, remote leisure battery check.
Expect to pay: From £299 (including VAT and installation charges). The price also includes access to the Hal-Locate APP and a one-year subscription to a UK-Based European wide monitoring service.
Over to you…
Got any advice on caravan tracking systems you'd like to share with other owners? Please feel free to add a comment below.
Cost to insure: *
---
factfile
| | |
| --- | --- |
| Model | |
| Base vehicle | |
| Axle type | |
| Dimensions | |
| Shipping length | |
| RRP | |
---
Search our blog
---