Solar panels – there's an initial investment to be made, but no doubt you can save money in the longer term if you have one on board your caravan, motorhome, or campervan.
Not only will it give you greater travel flexibility – you won't have to rely on mains hook-up wherever you go – but it can help keep your 12V systems in order. See our video on the benefits of solar power on your caravan or motorhome.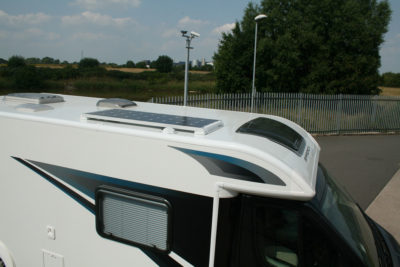 Even when your caravan, motorhome, or campervan is not in use, if it's stored outdoors a solar panel can help trickle charge batteries and prevent issues with alarms and trackers, etc draining power. If you put a cover over your vehicle when it's off the road, it might be possible to have a clear vinyl window put in the cover that lines up to the solar panel so it can still operate.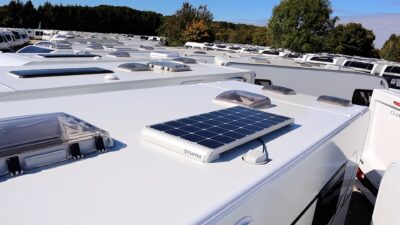 Solar panels can be fitted to any caravan and motorhome, including campervans – as long as you have the appropriate roof space. Also, the roof must be capable of sustaining the added weight – that could be especially critical on say a caravan or campervan with an elevating roof, relying on struts that can't cope with any significant extra load.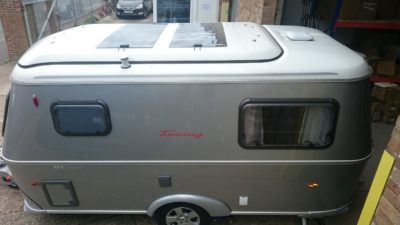 Available roof space is certainly a key factor to consider if you're thinking of going solar. Not only do you want sufficient space for the panel itself, but it's also important to make sure no shadows are cast over it by items such as TV aerials, skylights, roof bars etc as this will affect overall efficiency. Also, any shading entails the risk of creating a hotspot that could damage the cells in the panel.
Do you need a calculator to work out what solar panel is best for you?
It's actually not as straightforward as you might think, bearing in mind the key role the sun plays here. Chances are, a 100Watt system will be more than sufficient, for example, if you're the type that likes to go on weekends away at rallies etc, where you'll be away from mains hook-up.
Thereafter, it's almost a fit-and-forget product, it certainly doesn't need any real maintenance – although you'll want to keep dirt off the panel to make sure it's working properly.
Rigid or semi-flexible motorhome solar panel
There's definitely a swing towards semi-flexible solar panels that fit flush on the roof of a leisure vehicle, compared to solid versions that sit proud, especially as the price differentials have been decreasing in recent years. Another advantage is semi-flexible panels weigh less and use less material.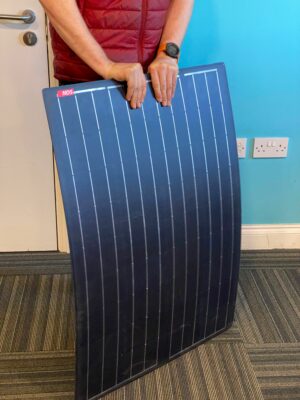 One big disadvantage of semi-flexible solar panels (and how they're fitted is a factor) is heat transfer. Delamination is one to watch here. That's where the protective top layer (it may only be microns thick) may start to lift; especially if it's been sealed all round and there's no way of dissipating the heat produced on particularly sunny days.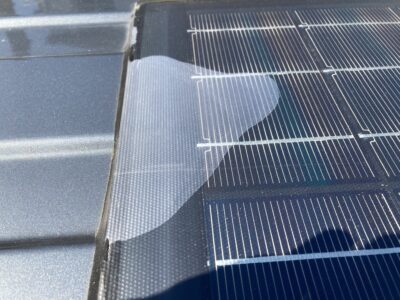 Among the factors in favour of solid motorhome solar panels is that they tend to be more durable and last longer.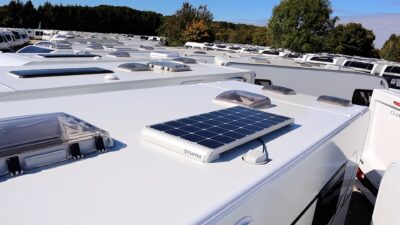 Whichever type you end up with, do remember solar panels are made of glass and generally it's recommended you do not stand on them.
CIGS v silicon?
Most caravan or motorhome solar panels are silicon, but the latest technology is CIGS – that's copper indium gallium selenide. CIGS has key advantages over silicon when it comes to leisure vehicles, albeit it's more expensive.
Silicon cells work efficiently when pointed directly at the sun, whilst CIGS can also generate power when the sun is hitting them at an angle, plus early in the morning and late in the afternoon. Most critically, CIGS will work even when one or several cells are in shadow. That's why they're proving increasingly popular with motorhomes and caravans.
What regulator?
This is a key consideration. Solar panels have an open circuit voltage (the voltage at which they operate) which can be anything from 16V upwards. Put that power directly into a leisure battery and it's not going to respond well! As part of your caravan or motorhome solar panel system, you're going to need to fit a regulator (sometimes called a controller). Depending on what you want your solar panel to do, you should be offered a choice of regulator. Typically, the more you pay, the better it will be.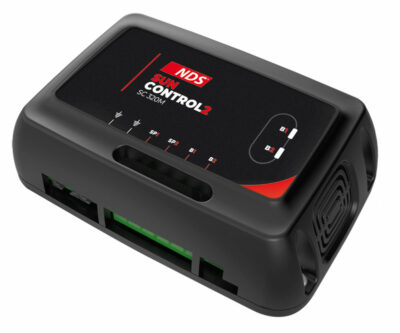 Two types are available – PWM (pulse width modulation) and MPPT (maximum power point tracking).
PWM or MPPT?
The general feeling is the latter (MPPT) is more suited to caravan and motorhome applications, observing and regulating energy as well as optimising efficiency from a solar panel/s to your leisure battery (or batteries) and typically more efficient than a PWM controller.
As part of the regulator regime, you'll want some kind of display, to show how the panel is performing, the energy you're using, power accumulated etc. Increasingly, you can also get such information supplied to your smartphone via an app.
Generally, the more you pay for your regulator or controller and the information you want on display, the better it will be. Ditto for the solar panel itself.
Caravan and motorhome panel installation
Equally key to the overall performance of a caravan or motorhome solar panel system is its fitting. It is possible to fit a solar panel system yourself but generally it's a job best left to the professionals, as it involves electricity, routing cables, use of sealants and drilling at least one hole in your motorhome!
You might need more space than the actual panel, depending on what you're going to have in terms of mounting brackets etc.
Top tips for buying a caravan or motorhome solar panel
As ever, the best advice will come from any supplier with a proven track record in the leisure vehicle sector. Do figure out what you want your caravan or motorhome solar panel to do for you, though. How long will you be away from mains hook-up? How far are you driving between overnight stays and how long do you intend to stop in any one place? Will you be relying on a solar panel to power any security devices when in storage?
You can always ask about getting a solar panel fitted when your caravan or motorhome is next in for a service and/or any repair work etc.
Check how much payload you have and the weight of adding a caravan or motorhome solar panel to your roof
Check any solar panel you buy is recommended for leisure vehicle use and meets UK specification
It's worth checking with your caravan or motorhome's manufacturer and/or supply dealer if you're considering adding a solar panel. Some leisure vehicles are pre-wired for such fittings, others might be able to offer advice on any aspect of fitting.
More than one leisure battery? Connect in parallel, not series.
Connecting to a lithium leisure battery? Do include a temperature sensor
Most solar panels are made of glass. All solar panels can be easily damaged so do handle with care and don't step on them
Also see our video all about the benefits of solar power on your motorhome, caravan or campervan.
Insurance considerations
With Caravan Guard's motorhome insurance policy or caravan insurance cover, there are no special terms and conditions relating to the use of solar panels. As with all modifications, you should notify your insurer if you fit solar panels onto your motorhome or caravan.
A solar panel is classified as a fixed item of equipment on a motorhome and caravan and therefore its value should be included in the insured value of your leisure vehicle. Fitting a solar panel is likely to increase the overall value of the motorhome or caravan by at least a few hundred pounds so in order to remain fully covered, you will need to increase the sums insured on your policy.
Here we look at five solar panel systems for a caravan or motorhome:
Star Player #1
Truma SolarSet 100
As a major supplier of solar panels to caravan and motorhome manufacturers, Truma is by some distance the market leader. It counts Swift, Bailey and Erwin Hymer Group (i.e. Elddis) in its key manufacturer customers.
But it also makes the same products available to private buyers, although it recommends you use a professional for the installation work.

The SolarSet 100 is its top seller from a range of panels of varying Wattages, going up to 150.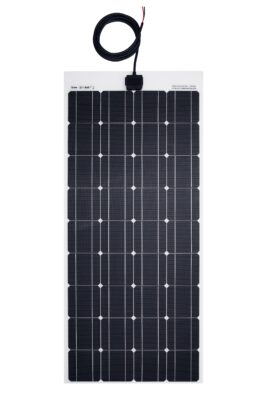 Featuring a solid panel and mounting feet to give some clearance from the vehicle roof to allow a cooling airflow, Truma says this is suitable for medium to large motorhomes or caravans. The set has all you need for a complete solar panel installation – Truma's own dual battery charger, mounting feet, cabling, regulator all the way through to self-tapping screws.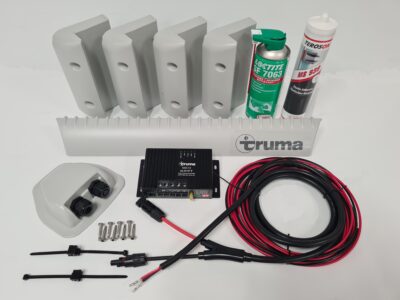 Also included is a spoiler system to help prevent damage from overhanging branches. Expect to pay a similar price for the semi-flexible version of all this, featuring the Truma 1002 solar panel.
Dimensions 1263mm L x 535mm W x 70mm H
Weight 8.8kg
Features also include SDC 10 automatic charger, monocrystalline cells, plug-in connection, maximum charging voltage 14.8,
Expect to pay £342
Star Player #2
NDS 160W LightSolar LSE (top junction)
NDS is a big name in leisure vehicle solar power technology, offering a comprehensive range of Aero (solid) and SolarFlex EVO (flexible) and LightSolar (semi-flexible) panels. UK distributor is Daventry, Northamptonshire-based RoadPro (featured in our solar power video), can offer full fitting and advice services, and also has a wide network of recommended fitters around the country.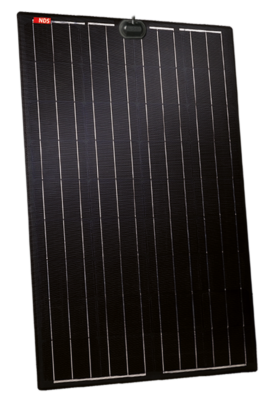 The 160W LightSolar LSE is one of its most popular sellers and it's ideal for any vehicle with a flat or slightly curved roof. Note the "top junction" in brackets in the heading above – it refers to the junction box for cabling that, in this example, sits on the top of the panel. Ask RoadPro about systems that put the junction box inside your leisure vehicle.
Note the price here is for the solar panel only. Again, ask RoadPro about which MPPT regulator, etc will best suit your needs.
Dimensions 1,253mm L x 673mm W x 4mm H
Weight 7kg
Features also include Crystalline cells, 160Watt maximum output, two-year warranty, supplied pre-wired with 3m twin cable
Expect to pay £424.98
Star Player #3
Solar Technology 120W Flexi Solar Panel Kit
This kit includes a solar panel and wiring, then supplier Solar Technology lets you go on to choose from a variety of PWM and MPPT controller models for single or twin leisure batteries, plus various brackets, glands (i.e. junction boxes), and spoilers. An LCD display activity monitor is also available.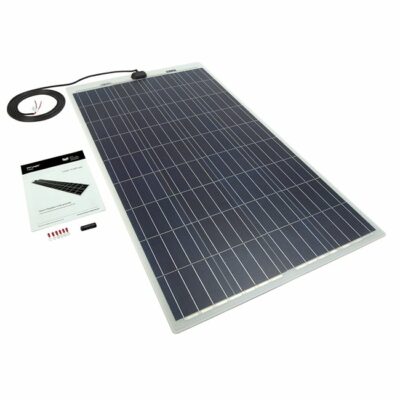 The semi-flexible panel has a six-layer heavy-duty laminate and its junction box is injected with silicon to prevent water ingress, also housing shading diodes to prevent the build-up of heat and hot spots that can lead to longer-term damage.
Cabling can also exit the panel from its underside, meaning the panel fits absolutely flush with your roofline, whereby you get a remote box, housing the aforementioned diode.
Dimensions 1,160mm L x 665mm W x 4mm H
Weight 5.6kg
Features also include 4m cable, terminals and fuse holder, a two-year warranty
Expect to pay £390
Star Player #4
Renogy 100W Solar Power Starter Kit
This kit comes complete with a charge controller that provides protection from overloading, overcharging, short-circuiting, and reversed polarity.  It can also cope with extra panels (up to 400 watts in total).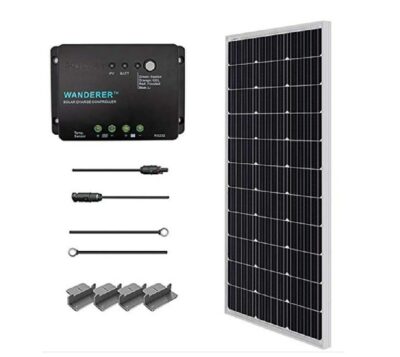 The panel itself has a long-lasting aluminium frame and EL-tested solar modules that are guaranteed against hot spots plus bypass diodes to minimise any drop in power caused by shade and low light levels. It's also pre-drilled with holes for easier fitting.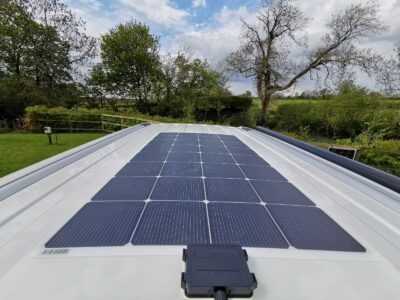 The kit also includes appropriate cabling, a junction box with an IP65 rating, meaning it can withstand low-pressure water jets, and a PWM charge controller that also has a lithium battery mode and Bluetooth so it can be monitored via Renogy's DC Home app.
Dimensions 1074mm L x 498mm W x 35mm H
Weight 6.5kg
Features also include Monocrystalline solar panel with aluminium frame, 30A PWM Wanderer charge controller, 20ft 10AWG solar adaptor kit, set of Z-brackets, 8ft tray cable
Expect to pay £150
Star Player #5
Sunstore 140W 12V MPPT Solar Battery Charger Vehicle Kit
A solid solar panel full kit including a controller that's offered with three mounting options as well as a Victron SmartSolar MPPT controller complete with Bluetooth (with a lower priced alternative also available should you wish to keep costs down).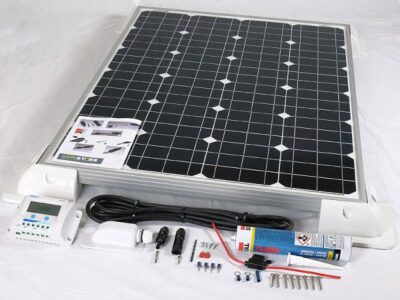 If you're considering a DIY fitting, Sunstore provides instructions and a video along with the offer of technical backup before, during, and after the installation. Or you can get a quote for a professional fitting.
Dimensions 1,070mm L x 670mm W x 60mm H
Weight 20kg
Features also include Supplied with a bonding agent, 5m cable, cable entry gland, 20amp fuse and holder, connectors, screws and drill bit,
Expect to pay From £373.28
Star Player #6
Falcon Technology 100W 12V Folding Solar Panel
A great alternative if you want solar power but don't want the panel permanently fixed to your caravan or motorhome, or maybe you don't have sufficient space on your roof – meaning a saving in installation charges, as well as easy transferability from vehicle to vehicle. Plus you can move it around manually to make sure you're always facing the sun and free of shadows.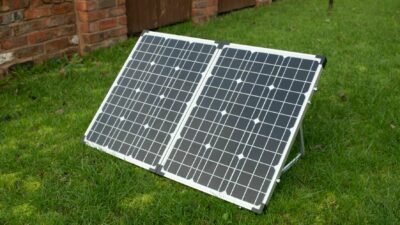 The two panels are rated at 50W each and you get a choice of regulator – the price here includes a smart PWM version with digital display but you'll save yourself a further £100 if you go for a standard model.
It all folds down into sturdy casing with a handle, plus there's a carry bag.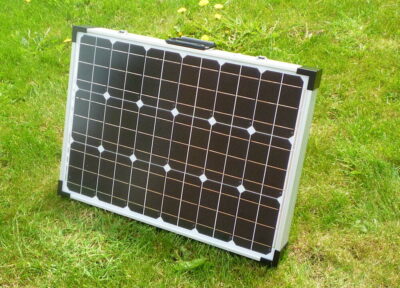 Dimensions 1024mm L x 695mm W x 35mm H (open)/510mm L x 695mm W x 70mm H (open)
Weight 10kg
Features also include Aluminium frame and support legs, supplied with 5m cable (optional 5m additional cable also available), battery clips and ring terminal leads plus Anderson connector for switching between leads
Expect to pay £350
What's your advice?
Got any advice on caravan or motorhome solar panels you'd like to pass on to fellow Caravan Guard policyholders? Please feel free to add a comment below.
Cost to insure: *
---
factfile
| | |
| --- | --- |
| Model | |
| Base vehicle | |
| Axle type | |
| Dimensions | |
| Shipping length | |
| RRP | |
---
Search our blog
---