You don't need electric hook-up to enjoy a holiday in your motorhome or caravan. Whether you're a seasoned off-grid motorhomer or caravanner, or simply want to be able to give wild camping a try now and again, solar power from a solar panel can help to give you the freedom to go and explore!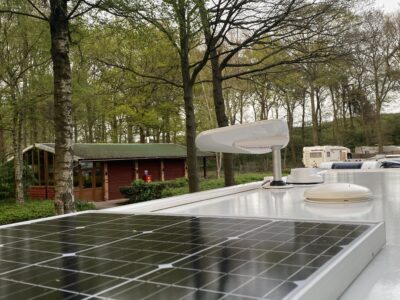 In this video, we speak to the experts at RoadPro to find out more about caravan and motorhome solar panels, how they work, and the benefits of having solar power on your campervan, caravan or motorhome and more!
Also, see our caravan and motorhome panel gear guide with a look at five star players: www.caravanguard.co.uk/news/gear-guide-caravan-motorhome-solar-panels-16225
How does solar power work on a leisure vehicle?
Caravan and motorhome solar panels convert energy coming from the sun, which passes through a cable to a regulator, which then goes into your leisure battery.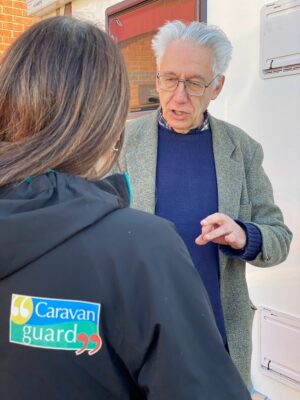 Andy Harris at RoadPro said: "A solar power system in a leisure vehicle is essentially a battery charger, which uses the sun as a power source.
What types of solar panels are available for leisure vehicles?
The two most common types of solar panel used on a leisure vehicle are:
Rigid solar panels, which sit proud off the roof of your motorhome or caravan and tend to be more durable.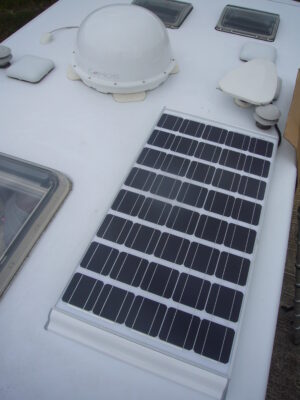 Semi-flexible solar panels, which are great if you don't have a flat roof on your motorhome or caravan. They're also much lighter than a rigid panel, which makes them ideal for campervans with an elevating roof.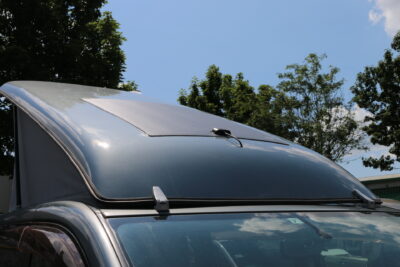 There are also portable solar panels, which can be aimed directly at the sun.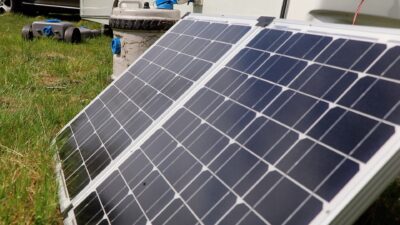 What is a solar panel regulator?
Solar panels have an open circuit voltage (the voltage at which they operate) which can be anything from 12V to 100V (or more). Connect that directly to a battery and damage will ensue.
Solar power has to go through a voltage regulator, which will transform that 100V (for example) to a manageable 12/14V, depending on the leisure battery.
Andy explains that good solar panel regulators can be set so that they charge at different voltages, depending on the type of battery being charged.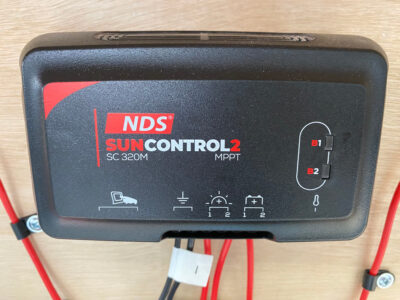 Two types of solar power regulators are available – PWM (pulse width modulation) and MPPT (maximum power point tracking).
Andy suggests using an MPPT regulator or controller on a leisure vehicle as "you'll get up to 30 percent more energy going into the battery than from a PWM regulator, especially when weather conditions are less than ideal".
Can I have a solar panel installed on my motorhome or caravan?
Solar panels can be fitted to any caravan or motorhome, including campervans if you have the available roof space and if the roof is capable of sustaining the added weight.
If you don't have enough space on the roof of your leisure vehicle, or you can't add any extra weight, you could consider a portable solar panel.
Available roof space is certainly a key factor to consider if you're thinking of adding a solar panel to your leisure vehicle.
What size (wattage) of solar panel should I get for my motorhome or caravan?
Solar panels are available in power ratings from 20W to 400W. Andy recommends having as much solar power capacity as possible and says that most people tend to have at least a 100W solar panel, which can be fitted onto most caravans, campervans or motorhomes.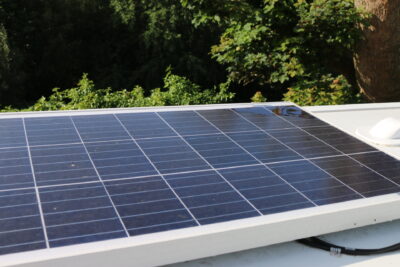 "Solar panels will work all year round but they work much, much better in the summer months than in the winter because of the position of the sun," said Andy. "Solar panels work best when the sun's directly above the panel. In the winter when the sun is at an angle, you might see less power from your solar panel."
Caravan and motorhome solar panel installation
A solar panel can be fairly easy to install but it's best to consult with the professionals to make sure it meets your needs and will give you the right amount of power for your vehicle and that it isn't too heavy and also meets UK specifications etc. They'll also be able to explain all the technical stuff, such as charge controllers or regulators.
Andy offers a word of caution and said good installation is critical.
"There are many different types of solar panel as well as the other equipment needed to make a solar power system work successfully on your leisure vehicle," he said. "Even the correct wiring is important because when you're carrying a lot of watts/volts, you have to make sure the wiring is up to the job and capable of taking all the available power into the battery.
"If you want to be sure that the system you're getting is suitable for your needs, take care choosing and, if in doubt, consult a specialist who really understands what they're doing."
Why should you have a caravan or motorhome solar panel?
It's environmentally friendly
A solar panel will charge your battery for FREE, every time the sun comes out. The perfect green power!
Freedom to travel
With a suitable solar installation – including good batteries – you'll be able to stay off grid for longer, giving you the freedom to travel where you want to and discover some hidden gems. You can stay off grid for as long the sun is in the sky!
Money saving
On campsites where you have to pay for an electric hook-up, it's possible to save pounds and pounds, as you're just running off the power of the sun. As technology has improved, the cost of buying a solar panel has also come down, and there are many different options to choose from to suit your budget. See our caravan and motorhome solar panels gear guide for more information.
Benefits of using solar power on a caravan or motorhome
Battery charging
Solar power will keep your motorhome battery charged, helping it to stay in good condition and extending its lifespan. And in winter (or summer) when your motorhome's in storage or not in use, and the sun is out, solar power will keep your batteries on charge, which is particularly important if you have an alarm system or tracking device that is a requirement of your motorhome or caravan insurance policy.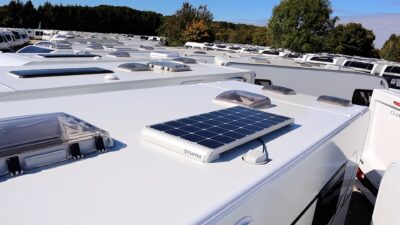 Non-intrusive
A solar panel on your motorhome or campervan roof doesn't have to take up much space, and they're not very heavy, so they won't really eat into your payload. Plus, they don't make any noise (unlike a generator).
Will a solar panel charge my leisure battery in winter?
Yes, solar panels will work in winter, as long as the sun is shining.
But as the sun is low in the sky in winter they won't work as efficiently as in the summer months.
Things to consider when using solar power in a caravan or motorhome
Andy explains that solar panels only work efficiently when sunlight is shining directly on them and that it's not been obstructed. So, a cloudy day will impact the effectiveness of your solar panel, as will pitching up or storing your leisure vehicle under trees.
Other things on the roof, which might cast a shadow onto the panel, such as a TV aerial or satellite dome, can affect the overall performance of a solar panel, so its position on the roof of your leisure vehicle is key when it's being installed.
How do I care for my solar panel?
After the initial investment and set-up costs, solar panels don't need any maintenance – just a good clean – and they'll last for years.
Andy suggests checking the solar panel every now and again to make sure there's not a build of dirt from the rain, sap, bird lime, etc. Simply wipe the panel down with a damp cloth and some shampoo, paying particular attention to the panel corners, where dirt can build up. A nailbrush can remove dirt from the corners.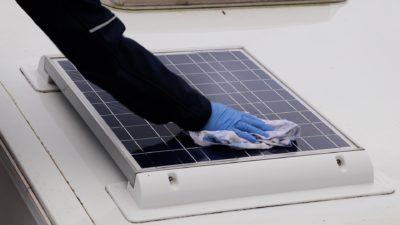 "Every bit of cell that is prevented from getting the full rays of the sun will lead to a reduction in the amount of power that the panel can produce and put into your battery," added Andy
If you have a cover on your caravan or motorhome then make sure you have one with a window for your solar panel and again, clean the "window" periodically of any dirt and make sure there isn't a build-up of condensation, to prevent the panel from charging.
Check the panel and regulator are working correctly by keeping an eye on the display panel in your 'van which will show how much charge is in your battery from the panel.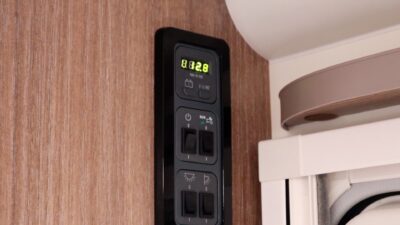 Insurance considerations
As caravan and motorhome insurance specialists, we'd class a solar panel as a fixed item of equipment so its value would need to be added to your caravan or motorhome insured value.
Over to you…
Feel free to share any other benefits of solar power on your caravan or motorhome with other readers by commenting below.
Cost to insure: *
---
factfile
| | |
| --- | --- |
| Model | |
| Base vehicle | |
| Axle type | |
| Dimensions | |
| Shipping length | |
| RRP | |
---
Search our blog
---