Add some extra levels of theft deterrent to your motorhome and it might be enough to scare off any would-be thieves.
Here's our lowdown on motorhome wheel clamps and locks
Whilst most motorhomes will already have some form of built-in security with an immobiliser, this won't necessarily stop any criminal determined to make off with your pride and joy. Nor, indeed, will any of the deterrents mentioned below. But they do share one thing in common – they're highly visual, which just might be enough for a potential thief to move on to an easier target.
In 2021, many manufacturers are reporting a rise in sales of the kind of visible motorhome security product that might seem decidedly low-tech – wheel clamps, steering wheel locks and more – which, even if they seem a bit big and weighty, and indeed cumbersome to use, if they even slow down the act of theft they might have the right effect.
Don't forget to tell us if you fit a physical security device to your motorhome or campervan as you might qualify for a discount on your motorhome insurance premium.
Sold Secure 
When shopping around for motorhome wheel clamps, look for labelling that says any security product has been assessed independently for its suitability to withstand attack.
Sold Secure and SCM are recognised independent test houses for security products. Here in the UK, Sold Secure is owned by the Master Locksmiths Association, the largest trade body of its kind. Look for the Sold Secure logo on a wide range of anti-theft devices.
Kiwa SCM is based in The Netherlands and has a wide brief assessing electronic and mechanical security systems, including the quality of their installation, in all vehicles. It sees itself as a fully international operation, whereas Sold Secure's testing is based on what is known about leisure vehicle thieves operating here in the UK.
Top tips for choosing a motorhome wheel clamp
Size and weight of any item should be considered. Also ease of use – but remember, you don't want it to be removed too easily by the wrong people!
Manufacturers' and retailers' fitting videos can be a great help when it comes to learning how to use products properly.
Motorhome clamps and wheel locks can also help stop any unwanted vehicle movement.
Keep spare keys to your motorhome locks in a safe place and make a separate reference to any numbers in case spares are ever required.
Unless advised otherwise, a small amount of lubricant should make the workings of any locking mechanism easier.
Consider using items like motorhome wheel clamps in conjunction with other fittings such as extra locks (on your motorhome clutch, windows, doors or outer lockers even).
Check any product you're about to buy is actually suitable for your specific vehicle and is of a proprietary make.
If you are jacking up your motorhome to fit any device, follow the manufacturer's advice – under no circumstances should you go under your vehicle when it is jacked up.
See also our motorhome security video and our dedicated motorhome security guide, plus our guide to visible devices to beef up your motorhome security, which includes motorhome wheel clamps and other security products to show you're serious about protecting your pride and joy.
Fitting a motorhome wheel clamp or lock
Most manufacturers and retailers will have some way of assessing which clamp will fit your motorhome, in which case you'll need to know the make, exact model and year of manufacture (also, if the wheels have been modified from the original in any way). Motorhome wheel clamp designs do vary, so it helps to know the wheel diameter and tyre width. This information will be on your tyres – the width is a three-figure number expressed in millimetres and the wheel size is in inches after the letter R. In some cases, the type of wheel – i.e. alloy or steel – will have a bearing, too.
How much will a motorhome wheel clamp cost?
As you'll see from the devices we review here, a good quality motorhome wheel clamp will cost upwards of £130 and as much as £300. There are of course cheaper alternatives but these may not carry security accreditations such as Sold Secure Gold that prove a device has stood up to known theft techniques for a considerable amount of time.
Star Player 1
Bulldog CA2000 Centaur
Bulldog is a manufacturer of a full range of motorhome wheel clamps in different sizes under the Centaur/Titan and QD names. The CA Centaur here has adjustable arms to allow it to fit a variety of wheel sizes and widths (there are nine models, so do check which one is right for you). It's designed for alloy wheels, also offering full wheel nut protection.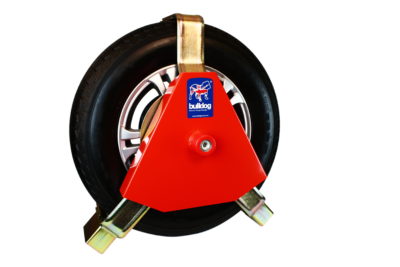 The arms are rolled edge steel that's ribbed, giving them extra strength.
Typical weight is just under 19kg.
Key features Sold Secure Gold rating, strengthened lower arms, drill-and pick-resistant lock, red powder coat finish, five-year guarantee
Expect to pay £290
Star Player 2
Milenco Wraith 2 Motorhome wheel lock
Milenco says its Wraith 2 motorhome wheel lock is "designed to be compact, lightweight and simple to fit, whilst achieving uncompromising security for your motorhome".
The Milenco Wraith 2 is designed for motorhomes based on Fiat's Ducato and its Peugeot Boxer/Citroen Relay equivalents, with steel or alloy wheels. The bright yellow device locks onto a special wheel bolt receiver and its steel leg wraps around your motorhome tyre to prevent it from rotating.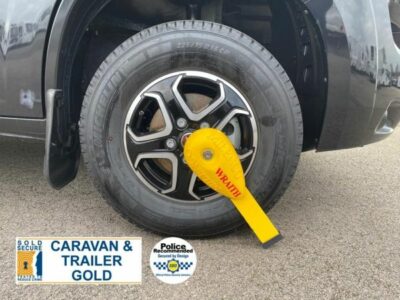 The pick-proof lock – which is also resistant to attack from drilling, hammering, sawing and freezing – has a Sold Secure Gold rating. The Wraith 2 also comes with three keys and a plastic carry case.
Key features Secured by Design approved, steel construction, non-corrosive plastic cover and foam backing, five-year lock warranty
Expect to pay From £212
Star Player 3
Stronghold SH5456 Apex wheelclamp
Available in a range of wheel sizes, starting from 15in, this will fit tyre diameters between 618mm and 818mm, with a width of 225mm.
It's a classic design – comprising wheel clamp front and back plates, top arm and two adjustable arms – that suits steel wheels or alloys, with full adjustment (you set it the once) to suit your wheel diameter.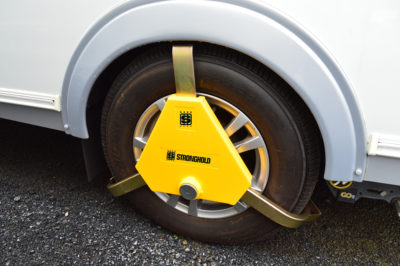 The pick-free lock has thousands of possible combinations and it comes supplied with three keys and an identity tag. After-sales back-up includes a key-cutting service.
Key features Sold Secure Gold rating, Secured by Design approved, steel construction, protective rubber on back plate, patented design with unique locking front plate, water and corrosion-resistant
Expect to pay From £129.99
Star Player 4
Milenco Original Wheelclamp
Milenco has long proved itself at the forefront of leisure vehicle security devices – thanks in no small part to this, its Original Wheelclamp.
The latest built-in locking mechanism overcomes a past criticism of this device – getting the component parts to line up before the final turning of the key.
Heavy-duty steel is used to resist attack from sawing and freezing. Weight is getting on for 10kg.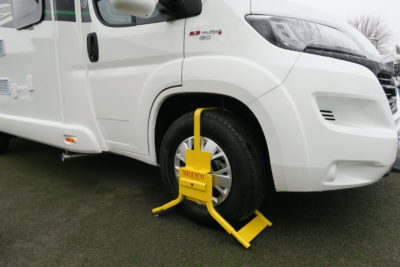 As well as its Sold Secure Gold accreditation, it's certified as meeting the world-class Caravan Security Standard SCM MP03.
The bright yellow finish is an instant visual deterrent to any would-be thieves.
Choose between the M15 (for wheels up to 15in/225), M16 (16in/225) and M16+ (16in/235).
Key features UK made, Sold Secure Gold rating, steel construction
Expect to pay £174.95
Star Player 5
SAS New Defender
A triangular motorhome wheel clamp for fitting to steel or alloy wheels, choose between New Defender and New Defender Large – the former for 13in-18in wheels, the latter for 16in to 22in.
Both feature the same anti-drill, anti-pick lock. Total weight is 12.7kg. SAS says its New Defender is the largest wheel clamp on the market.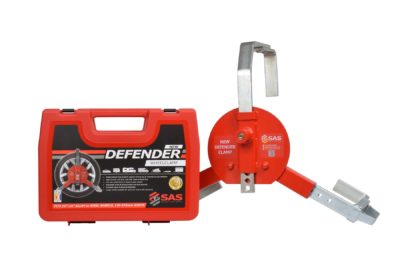 Key features Sold Secure Gold rating, adjustable to fit 490mm-830mm tyre diameters and up to 295mm widths, bright red finish, one-year warranty
Expect to pay From £184.99
Star Player 6
Purple Line Nemesis Plus
Introduced in 2020, Purple Line says the design brief here was for a light, compact security device that's quick to apply (they claim is it should only take 10 seconds to put on). And its size makes it suitable for carrying with you in your motorhome or campervan, and with steel or alloy wheels.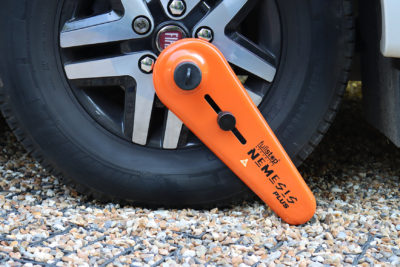 There's some initial setting up to do to make sure it's perfect for your motorhome. Two of the vehicles wheel bolts need to be replaced with a choice of suitable bolt receivers, which then allows the Nemesis Plus to be locked into place, with a toughened steel bar going through the wheel to prevent the wheel from turning and the vehicle moving.
Key features Red Dot design award winner, Kiwa SMC approved, hardened steel construction with titanium elements, 6.5kg weight, supplied with two keys, carrybag
Expect to pay £249.95
Over to you…
Got any advice on motorhome wheel clamps and other motorhome security devices you'd like to pass on to fellow owners? Please feel free to add a comment below.
Search our blog
---