Having physical security devices on show in your is one sure way to prevent motorhome theft and deter thieves. It's common sense really, the more secure your motorhome looks the more likely a thief is to walk on by.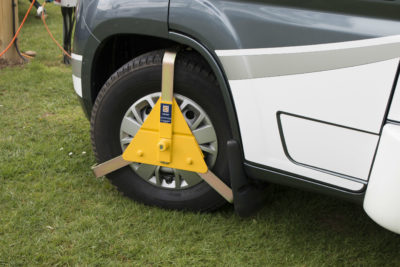 The industry has recently seen an increase in motorhome thefts in the UK and across Europe, according to vehicle security expert Tim Booth. We've also seen an increase in motorhome theft-related claims costs in the last 12 months.
Tim says this rise is driven by, not only the demand for people to have leisure vehicles, but also the availability of parts to repair vehicles.
"Generally motorhomes are low mileage vehicles so their parts come at a premium," added Tim, Leisure Vehicles Officer at the National Vehicle Crime Intelligence Service,
So in addition to electronic security such as immobilisers, alarms and tracking devices it's important to make your motorhome looks less desirable to a would-be offender by considering investing in physical security devices and making sure your storage location is ultra secure.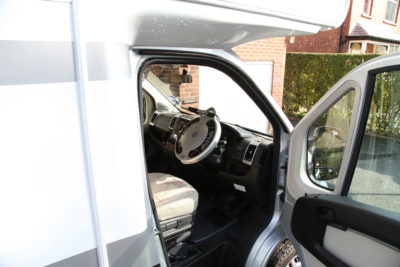 Motorhome theft prevention tips
Never leave valuables on display in your motorhome.
Make sure you're always in control of your motorhome keys – don't make it easy for them to be stolen. Don't give your keys to anyone other than your dealership or service centre.
Property mark items with your postcode using a UV pen.
You might consider putting your registration number on the roof of your motorhome. It's helpful for Automatic Number Plate Recognition (ANPR) technology if stolen. But don't do this if you have a personalised number plate as it will de-value your vehicle when you have to remove it.
Look at security around access doors which lead to storage areas under the bed. A simple personal attack alarm is ideal for these spaces. Attach the cord to the inside of the door so when the door is opened it activates the alarm, creating lots of noise.
Upgrade window and door locks but be careful that any adaptations to your motorhome don't cause a lot of damage in the event of someone does try to break in.
Make sure your storage site has good 24 hour security. Or at home keep your motorhome behind lockable gates with a durable chain and padlock or fit a drive post. Caravan Guard customers who have good storage security can save money on their insurance premium.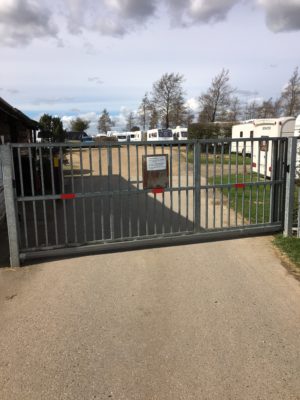 Motorhome security devices
There are a number of devices on the market which can beef up your motorhome security but also act a visible deterrent to combat theft.
Wheel clamps
Externally, wheel clamps are available for motorhomes. A wheel clamp can be quickly locked around your 'van's wheel in seconds and are often heavy duty and brightly colourred so they're highly visible to deter thieves.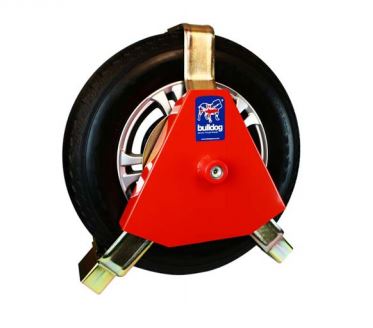 The CA2000C Centaur Wheel Clamp is Bulldog's most popular wheel clamp for motorhomes (although another eight variants are available, so do check what's best suited to your vehicle), including those with alloy wheels.  It meets Sold Secure's Gold standard and features a drill-and pick-resistant lock, as well as a steel disc providing protection directly over the wheel nuts.
Those adjustable arms are in 75mm x 76mm ribbed, rolled edge steel. Weight is some 20kg and that bright red powder-coat finish is an instant deterrent.
Key features Adjustable arms, wheel nut protection, strengthened steel design, five-year warranty.
Expect to pay £265
Steering wheel locks
Heavy duty, steering wheel locks such as the Disklok are a strong and effective way to protect your motorhome and suggests you are serious about the security of your vehicle.
Not only has the Disklok been tried and tested against would-be car thieves and professional security testers it acts as a high visibility deterrent as it covers the steering wheel. There are two colour choices – silver or the more visual yellow. It also claims to help prevent airbag theft and deter electronic theft. Key to getting the right model is knowing your motorhome's steering wheel diameter. Generally, it's the Medium version of the Disklok that's best suited to the most popular motorhome base vehicle – Fiat's Ducato (also sold as the Peugeot Boxer and Citroen Relay).
It works by fitting tightly enough around the whole steering wheel that it can't be levered off. But also, if someone attempts to move the vehicle unlawfully, they can't operate the steering wheel – instead, the Disklok simply slides around.
Key features All-steel reinforced construction, choice of sizes, cover and storage bag options
Expect to pay: £135 (Medium)
Clutch or pedal locks
Clutch locks work by securing the clutch and brake pedals together and when you're out and about they also promote that you're a security-conscious owner.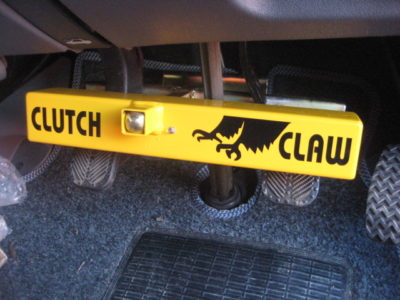 The Centinel Clutch Claw has resisted tests using a professional car thief for more than 30 minutes and has versions available for VW Transporters and a range of base vehicles, including Fiat Ducato, Mercedes, and Peugeot Boxer. There's also a new version of their clutch claw which will fit a VW Bay Window and Type 2 campervans. The claw also comes with flashing LED and window stickers to warn off thieves.
Expect to pay: £99.99
Milenco BC Lock
Brand new for 2021, this is a locking device that encompasses the brake and clutch pedals, meaning they can't be used. As well as its Sold Secure rating, Milenco says its BC Lock is police-approved. Initial models are for the Fiat Ducato/Peugeot Boxer/Citroen Relay base vehicles, starting from the 2007 model year. There's also a specific model for the automatic version of the Fiat Ducato (it covers the brake and accelerator). Versions for other base vehicles are due to follow.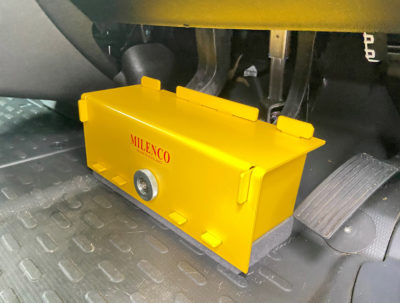 The two main sections are in a high-visibility yellow finish, held together by a locking bolt.
Key features Sold Secure Gold rating, powder-coated hardened steel construction, UK-made, drill- and cutter-resistant lock, foam base for pedal protection
Expect to pay £84.95
The Safe T Pedal from Shire Fabrications is a mechanical anti-theft device to prevent access to the pedal area of your 'van.
It's secured around the brake pedal, preventing access to any of the pedals and weighs between 3 and 6kg. The Safe T Pedal is available for the  VW T4 and T5 as well as Ford Transit MK5 and MK6.
Expect to pay: £94.99
Security posts
A security post on your driveway is another great visible security measure that could make a thief think twice about trying to steal your motorhome.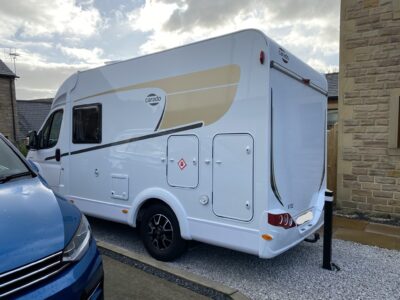 They're relatively cheap to buy but you also need to factor in having them fitted into your driveway. There are a number of variations – telescopic, removable and fold down – which are locked into the ground to create a robust barrier to secure your vehicle behind. They're also easily removed when you need to drive your motorhome away.
Manufacturers of these posts include Bulldog, Sentinel and NKGroup.
Expect to pay: From £65.
Caravan Guard customers who fit a security post to their driveway can benefit from a discount on their insurance premium, but do make sure that it's locked and in place at all times when the motorhome is in storage on the driveway – not just overnight.
Make your motorhome the one a thief is less likely to attack by installing an alarm and proactive tracking device as well as taking other security precautions. An approved tracking device will also be rewarded with a healthy 25 per cent motorhome insurance discount with Caravan Guard. See our motorhome tracker page for the types of devices you could fit.
Over to you...
Do you have any motorhome security tips to share? Feel free to leave them in the comments box below.
Insurance discounts are subject to terms, conditions and underwriting criteria. Minimum premiums apply.
factfile
---
Search our blog
---