Whether you're new to caravanning or a seasoned tourer, you might be considering an 8 foot wide caravan for your next purchase.
Maybe you fancy some extra space, you have a family, travel with pets, or because there are simply so many layouts to choose from! These super-sized tourers are certainly becoming more popular, with all UK manufacturers featuring them in their line-ups.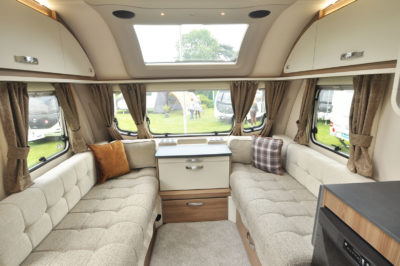 We asked former 8ft wide caravanners, Jules and Karina Ingham from Here We Tow, to answer some questions about the practicalities of towing a wider tourer.
How do I choose an 8ft wide caravan?
In the past two years, the demand for 8 foot wide models has seen manufacturers producing numerous, new wider layouts, on both twin and single axles. An 8ft wide caravan might be for you if you're seeking more interior space.
There are no set rules for choosing the best caravan for you but these tips should make it easier:
Layout and berths: Consider how many people will be touring in your caravan as this will narrow down layout choices. A couple may consider a fixed island bed, like the Adria Adora Isonzo.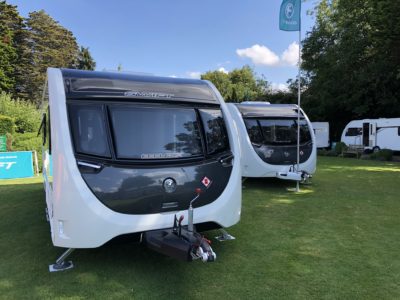 A larger family might wish to consider the Bailey Pegasus Grande Palermo, with bunk beds, or Coachman Acadia 860, offering a fixed bed and dinette.
Single or twin axle: There are 8ft-wide caravans available on both axles so the choice is yours. The benefits of a single axle are that it's easier to manoeuvre when not attached to your tow car and you'll only need a single motor mover, which saves money. There's also a saving on wheel lock security and a single wheel is much simpler to align when an Al-Ko Secure wheel lock.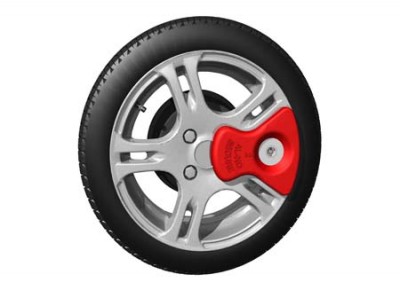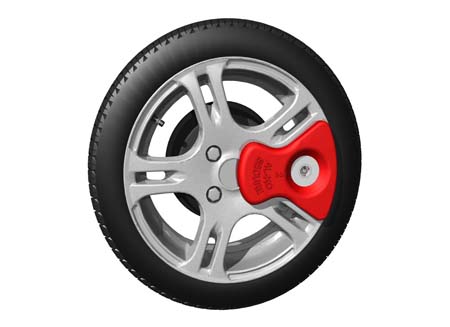 However, a twin axle will often feel more stable when towing, although this depends on the length and weight of the caravan and often come packed with lots of extra safety and security features.
Budget: Set your budget and don't forget to consider extra costs including caravan security, a motor mover, caravan insurance and storage. An entry-level 8ft wide caravan will cost from £22,500 whilst the luxurious Elddis Buccaneer range offers five layouts from £35,000 and the Coachman Lusso from £40,850 (2022 prices).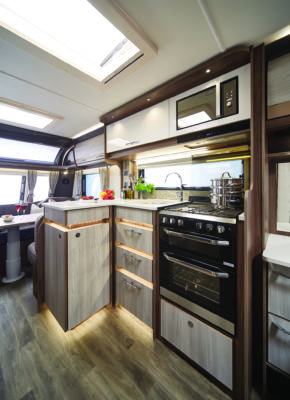 Where do you tour? If you like to tour in quiet and remote areas, accessed by narrow windy lanes, then an 8ft wide van might not be a suitable choice. Make a decision based on your needs and towing ability.
Where should I buy my 8ft wide caravan?
If you are buying a used caravan then you're best going to a specialist caravan dealer. Buying from an NCC-approved dealer can provide you with the option of finance and a warranty. Over the summer months, many dealers will offer price reductions on their current stock to make way for the new models that come through from late September. This can be a good time to buy to make a saving.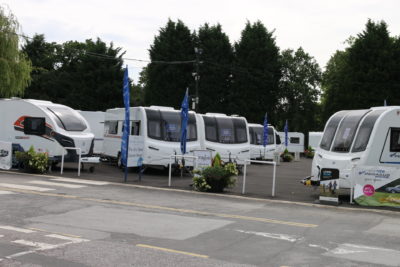 Many new buys are made at the big industry shows such as The Caravan, Camping and Motorhome Show in February or the Motorhome and Caravan Show in October at the NEC in Birmingham, where you can often take advantage of special "show deals" and negotiate on extras, such as motor movers and other caravanning accessories.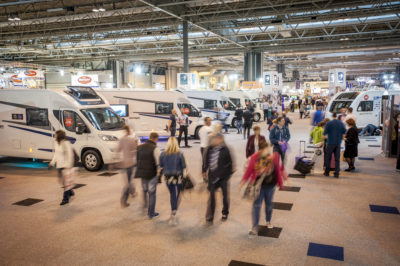 There are other localised shows throughout the year and look out for special events and open days at your local dealership.
Can I tow with my current driving licence?
Wider caravans usually weigh more! New DVLA towing rules that came into force in late 2021 mean car drivers will now be able to tow a heavier caravan outfit without having to take the B+E test, regardless of when they passed their driving test.
It means drivers who passed their car driving test after January 1st, 1997 will be able to tow a laden caravan weighing up to 3,500kg, from December 16th, 2021.
Motorists who passed their driving test before 1997 were already allowed them to tow a combined vehicle and trailer up to 8,250 kg Maximum Authorised Mass (MAM) and this hasn't changed so the extra weight of these 8 foot wide models shouldn't cause many issues.
It can be a bit confusing, so it's worth speaking to your caravan dealership or manufacturer to check you're towing legally or check out www.towcar.info or our guide to matching your tow car and caravan.
How do I choose a tow car?
The most important consideration is the legal maximum weight the car can tow. The chosen vehicle must be able to tow the MTPLM of your caravan as per the manufacturer guidelines.
You must consider the kerbweight of the car and it's recommended the MTPLM of your caravan should not exceed 85% of this.
Finally, check the maximum noseweight tolerance of the tow vehicle and the weight of the caravan are compatible. If you have a detachable tow ball this might also lower the noseweight limit.
If you're in any doubt then you can use the NCC Tow-Check to check your caravan and tow car combination.

Once these have all been considered then the choice of vehicle is what best suits your needs – whether it be an SUV, saloon, or estate car. Looking at the latest Tow Car Awards might be a useful place to start.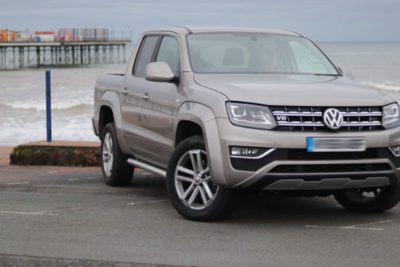 What is it like to tow an 8ft wide caravan?
If you've never towed a caravan then you'll have nothing to compare it with and won't notice the extra width. For those that have towed, the extra width will be noticeable, but with a little extra consideration, towing can still be enjoyable.
An 8ft wide caravan will obviously take up more of the carriageway and it's a good idea to plan your route when towing or use a caravan sat nav where you can input your caravan's width and height to re-route you to avoid narrow lanes.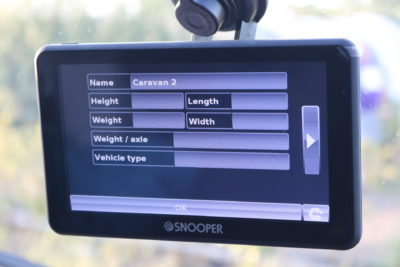 "Taking the larger road networks will alleviate the worry of becoming stuck down a narrow lane with a tractor, milk tanker or fellow caravanner!" said Karina. "Towing an 8ft wide caravan is still an enjoyable part of the holiday and generally they do feel well balanced and stable.
"Do be mindful of overhanging foliage on the nearside of the road as this might scratch the windows and sides of your tourer if you get too far over and you want to avoid having to make a caravan insurance claim!"
Remember your towing mirrors too, the law stipulates you must be able to see clearly an area that is four metres wide from the side of your caravan for a distance of 20 metres behind the driver. An 8ft wide caravan is wider than even the largest 4×4 or SUV, so towing mirrors will make sure you comply with this law.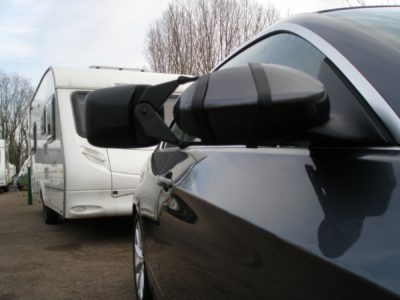 If you're towing in Europe, which is really enjoyable due to their wide roads, then consider the laws around towing speeds – dependent on weight in Germany and long vehicle signs – dependent on length in Spain. There are no issues when taking a wider caravan on ferries or the Eurotunnel.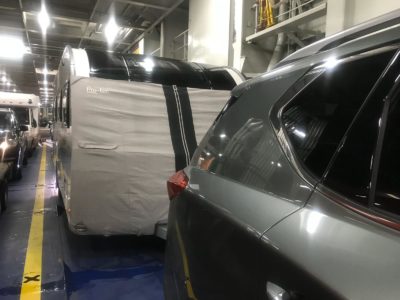 Seasonal pitching
If the thought of towing is too daunting then an 8ft wide caravan is a popular choice for a seasonal pitch – where you can set it up on a site for a period of time throughout the year – saving you having to tow. Many sites will also offer secure storage and will move your caravan for you.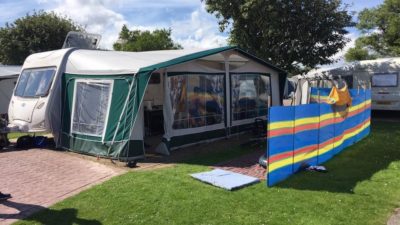 Will I fit an 8ft wide caravan onto site pitches and storage facilities?
Generally yes you will. If you're not using an awning then there's no reason why you won't fit on a standard pitch. Most sites have pitches that accommodate wider caravans with an awning too.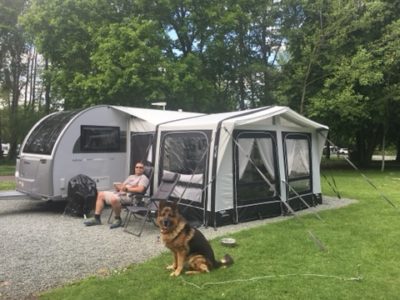 "More often than not it's the length of a caravan that can cause more difficulty getting on to a pitch than width," said Karina. "Some private sites don't accept twin axles.
"The main factor to consider when arriving on-site is the entrance – some campsites might have narrow farm gates or tight turns to gain access. Take your time to drive through tighter spaces and you can always use your motor mover when you arrive at your pitch."
Some storage facilities will have limited space for longer or wider caravans and there might be an increased premium for twin axles.
Is it more expensive to insure an 8ft wide caravan?
Given that these caravans tend to be more expensive than their standard-width counterparts, they are usually more expensive to buy. Caravan value is one of the key rating factors when calculating caravan insurance premiums. However, you may find these models have extra security and safety features that could help keep your premiums low with a specialist caravan insurer.
Several of the 8ft wide caravans come fitted with alarms and trackers as standard – which can be an insurance requirement depending on the insured value of the caravan. Other caravan insurance discounts can be obtained by fitting approved security devices, such as an axle-wheel lock, an alarm, and a tracking device. It's worth getting an insurance quote before making a purchase.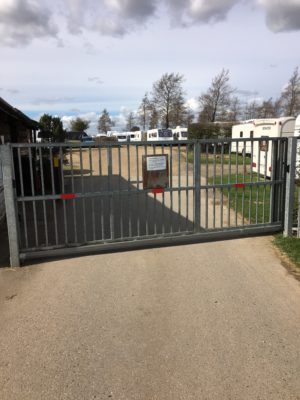 If you're looking for caravan storage facilities then Platinum and Gold CaSSOA approved sites will attract a further discount.
What are the pros and cons of an 8ft wide caravan before I buy?
Pros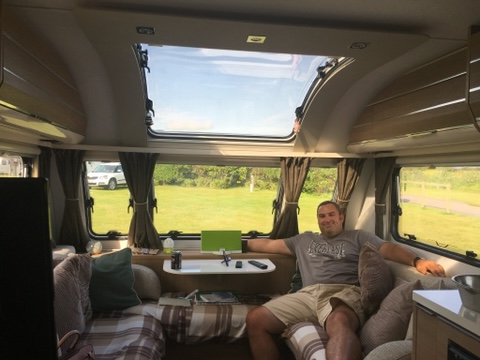 An 8ft wide caravan provides a noticeable increase in internal space. If you tour for long periods of time or are a larger family, then the extra space will be appreciated. We calculated that you could get around an extra 17 square feet of floor space with an 8 footer – that's based on a standard width tourer usually being around 7 feet 5 inches wide and an 8 foot wide model coming in at 8 feet 1 inch wide.
Depending on the layout, island beds can be longer which is a benefit if you're tall.
They make an excellent choice for a seasonal pitch
The extra width can improve stability, depending on the model.
Cons
It's advisable to plan your route, narrow lanes can be a tight squeeze. Access can also be more difficult into gateways and driveways.
Some pitches might be too small, especially when using an awning as well. Home storage could be trickier and secure storage facilities might be harder to find.
You might need to consider a larger tow car
What do owners really think?
"If you're still undecided then maybe our own experience may offer an insight," said Karina. "In October 2017, we ordered our first caravan – an 8ft wide Adria – at The Caravan and Motorhome Show, and took delivery in March 2018. I had towing experience, but not of caravans. We chose an 8ft wide as we planned to do a lot of touring, in the UK and Europe, and wanted the extra space to relax in.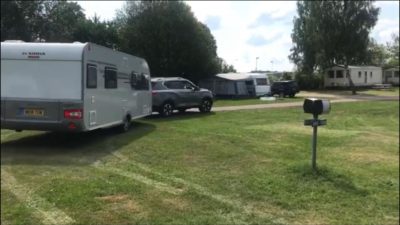 "We towed around 15,000 miles in 20 months. We planned our routes to make the journey safe and enjoyable. We found access into sites only difficult on two occasions and did not have any issues with pitch width sizes. We insured our Adria with Caravan Guard and were pleased with the level of cover they provided.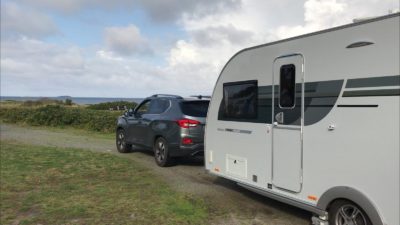 "One summer we spent eight weeks touring from Holland to Sweden and had no difficulties at all, in fact, Europe is well set up for larger caravans.
"Choosing an 8ft wide caravan was a wise choice for us and gave us the freedom to tour when, and where, we liked."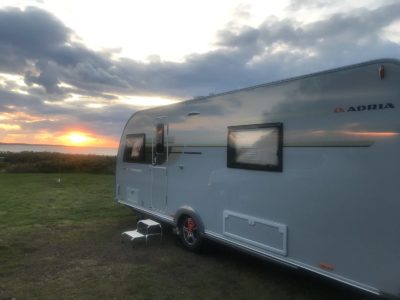 To see our pick of 2019 8ft wide caravans click here or visit our caravan reviews pages.
The latest 8ft wide caravans we have reviewed include:
Adria Adora Mississippi and Colorado
Coachman Lusso I and II
Buccaneer Commodore and Bermuda
Cost to insure: *
---
factfile
| | |
| --- | --- |
| Model | |
| Base vehicle | |
| Axle type | |
| Dimensions | |
| Shipping length | |
| RRP | |
---
Search our blog
---