Thinking of taking your first steps into caravan ownership? Here's some handy advice on buying a secondhand caravan
A good time to buy a secondhand caravan or try caravanning for the first time? Any time. You've always got to be ready for that right-place-right-'van moment. But, it certainly pays to do your background research before this.
Buying from a specialist caravan dealer makes most sense. You should get good advice, plus the support back-up of workshops – also staffed with qualified technicians – to help with servicing, the fitting of accessories and any other after-sales care, including fixing things properly if something goes wrong. Also, dealers are best placed to take part-exchanges.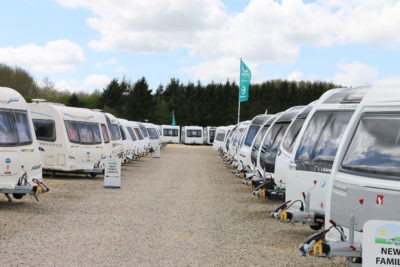 However, there are other places you can buy a secondhand tourer, particularly if you want to pay lowest prices – privately, occasionally from a car dealer or similar who's taken one in part-exchange, or even online via buying websites such as eBay, Gumtree and local equivalents. The consequence of buying privately, of course, is you have a whole lot less rights should anything go wrong.
Assuming you have the budget, a retailer that specialises in caravans makes most sense. Indeed, it's where the vast majority of folk buy such vehicles.
A specialist dealer can take care of aspects such as the CRiS Check (for proof of ownership and if there's any outstanding finance, for example).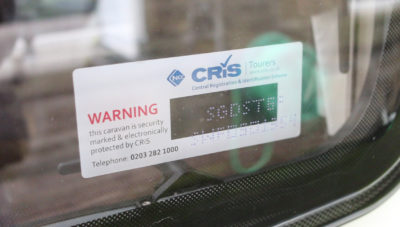 Buy from a dealer and you can expect everything to be in working order. There are important safety factors, too. A dealer has a legal requirement to make sure any caravan it sells is both roadworthy and safe for use on site.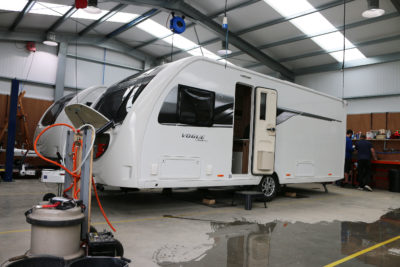 Typically, then, you're looking at prices beginning from as little as £5,000 at a mainstream specialist caravan retailer, which will include some kind of warranty.
A 10-point plan for buying a secondhand caravan
 1. What caravan?
You need to make early decisions not just on the cost, size and weight, but also the preferred interior layout, including number of berths, of the caravan you wish to buy. Also, and critically, you need to make sure your car will be a capable towing vehicle (see also https://www.caravanguard.co.uk/news/guide-to-safe-towing-5840/).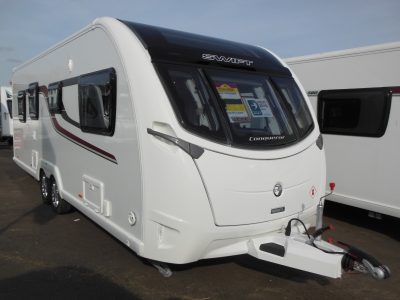 Even aspects such as where you intend to store your caravan need to be considered -as well as having a bearing on your annual caravan insurance premium.
2. Budget
Spend as little as you can on your first caravan is good advice. Certainly, you should always hold back a bit of your budget – to cater for any little emergencies and the fitting of any caravan accessories you might subsequently feel you really do want. Chances are, for example, you'll soon find you'd appreciate an awning to go with your tourer. A handy tip here is many caravan dealers hold a stock of pre-owned awnings at significantly lower prices than buying new – you might even be offered one to secure a sale.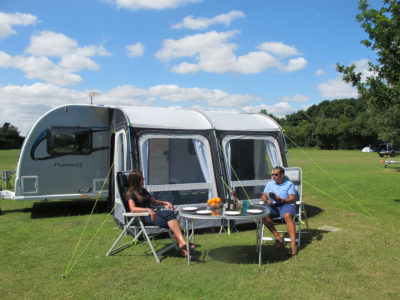 3. Do your research
Read specialist publications and online reviews and comments, speak to owners if you get the chance, go to shows… be prepared for anything from good, sound advice to the types of comments (usually from either end of the really good/really bad spectrum) that can be taken with a proverbial pinch of salt.
It pays to take your time before rushing into buying – whether it's a secondhand caravan or a brand new tourer. Some folk wait for years before taking the plunge.
 4. What equipment?
Whereas modern caravans come with all the facilities you'd expect in your own home, you might find facilities a bit more basic in an older, secondhand caravan. There's an upside to this, though – less things to go wrong.
Best advice is to make a checklist of the kinds of items and types you really need, those you want, and those you don't. On your list should be aspects such as heating (blown air? radiator?); hot water; cooking facilities; fridge/freezer capacity; overall storage (are there any specific items you want to carry on your travels?), and more.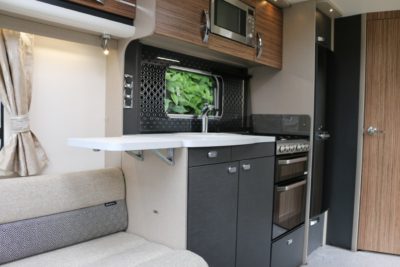 Just remember some of these items can be added or upgraded retrospectively, including extras like TV receiving equipment, solar panels, a motor mover, stereo systems etc.
 5. Get to know the lingo
MTPLM, MRO, payload, noseweight, water ingress, even caravan type (single or twin axle, 8ft wide) and fixed beds, island beds, French beds etc… it pays to know and understand the jargon. Again, a good dealer will always be willing to help, but don't go into a showroom thinking everything will be explained to you instantly. Get to know some basics first.
 6. Make a thorough inspection
Just like when you bought your home, instant impressions count for a lot. Only you know what you really like or want, so when it comes to inspecting any caravan, think about going through the motions of, for example:
using the kitchen appliances (how easy does everything fall to hand, how good is the storage, how much worktop is there etc)
making the beds up, including lying on them to assess size, comfort and support (also checking where you're going to keep your bedding)
general storage (again, to cater for any specific items you want to take on tour with you)
seating, when watching the TV or for eating meals
washroom (is it for emergencies only or will you be using the facilities extensively?)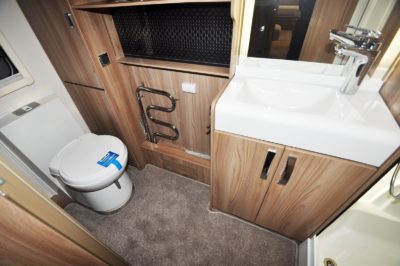 open windows, locker doors, external hatches, rooflights etc to make sure they operate properly
check what else is included in the sale. For example, if buying privately – especially from someone who's giving up caravanning – you might well be offered all kinds of extra kit, including gas cylinders.
You might want to back all this up by paying for a Pre-Owned Pre-Purchase Inspection. This gives you a full report on a caravan's condition, whether you buy privately or from a dealer. It's part of the Approved Workshop Scheme, as operated by the industry trade body, the National Caravan Council. Find out more here: https://www.approvedworkshops.co.uk/preownedprepurchase.

7. Perfection? Expect the best…
There's devil in the details, too. The "biggie" here is water ingress – where damp has got into the bodywork and, in worst-case scenarios, affected the structural integrity of the 'van. Make sure you check for damp and see what any service history tells you.
Also, look for evidence of any other bodywork damage, as well as any "DIY" work, outside or in. Are there any scuffs, chips or other markings to suggest careless previous owners? Even an oddly placed sticker might be hiding something.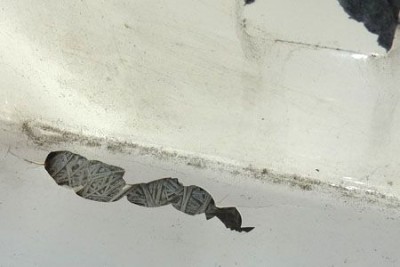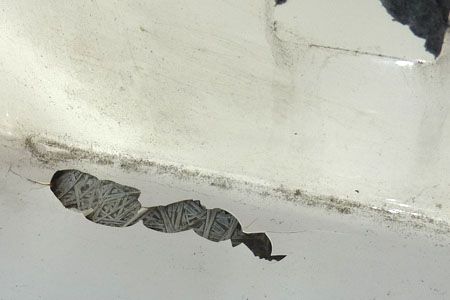 Holes in work surfaces, cracks in shower trays, misapplied sealants, and more, can be good reasons not to take things any further.
Having said that, some sellers (dealers or private) will promise to fix any misdemeanours once a sale is agreed upon. If that's the case, get it in writing.
8. Time to haggle?
Dealers don't like the term "haggle". You should be wary, too. Unless you're a sales professional yourself, there could be only one winner if you decide to play hardball. Instead, negotiate to make sure you get what you want – you might want to ask about accessories such as a motor mover, battery, water carriers, caravan step, levelling chocks or even complimentary servicing, to seal any deal.
Do remember the old adage, though: if a deal looks too good to be true, it probably is…
Oh, and don't feel you have to put down a large deposit to secure a purchase. Pay the minimum, just in case everything falls through at the final hurdle.
 9a. Your dealer? Your friend?
It's not just about the sale, it's the after-sales service that you get. Typically, a top caravan dealership will be well-established, building up specialist experience over a number of years, if not decades, with sales and workshop staff who are fully conversant with all aspects of caravan ownership. Many are members of trade body the National Caravan Council's Approved Dealer Scheme.


A good dealer will give you time to make your own decisions rather than pushing you too early into a sale.
9b. Private purchase – buyer beware?
If you're not buying from a reputable dealer, you'll need to establish the seller is who he or she says she is. There's a small price to pay, but if you go to www.cris.co.uk, you can validate ownership details for most caravans, plus key information such as whether the caravan has ever been written off, has any outstanding finance etc. Even if a CRiS print-out is shown to you, you might want to double-check yourself.
10. Check all other documentation
In addition, a full set of documents showing servicing records as well as any repair orwarranty work, plus any added accessories, are great indications of caring, previous owners. A final consideration is the ease of getting replacement parts – again, be warned, it's not always easy in the caravan market, especially for lesser-known marques, imports, manufacturers that have gone out of business etc. Even long-standing UK manufacturers struggle with replacements for some models.
Finally, don't forget about taking out specialist caravan insurance once you've taken the plunge. You can find out more about our levels of cover and discounts on our caravan insurance page.
Got any advice to offer anyone thinking of buying a pre-owned, secondhand caravan? Feel free to add your comments below.
Search our blog
---