Are you thinking of adding a solar power system to your caravan? Want to generate your own renewable energy while enjoying the countryside? You're not alone. More and more caravan owners are realising the potential of becoming truly self-sufficient with a caravan solar panel.
As a solar power system can be a significant investment, you might want answers to some key questions first. We ask Motorhome Workshop to cover off some of the common questions we hear from caravan owners.
What are the benefits of solar power systems for caravan and motorhome owners?
Aside from the obvious benefit of being able to generate free (after setup costs!) renewable energy, installing a caravan solar panel has a couple of benefits.
While most caravan pitches have power, being able to generate your own means you can go anywhere, at any time and not have to worry about keeping your battery charged. Pitches can be cheaper and you're not restricted to pitches with power. Smaller campsites and overflows are now open to explore too.
Talking of exploring, if you're generating your own energy, you don't even need a pitch. You can stop anywhere suitable for a caravan without having to worry as much about amenities. Now that's freedom!
How are caravan solar panels fitted?
Caravan solar panel systems come in two distinct types. Roof mount and ground mount. This means any caravan, of any size can use solar power. We have yet to come across a caravan that we couldn't add a solar setup to!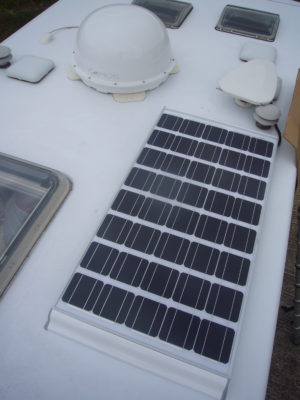 Roof-mounted solar panels are permanently fixed to the roof of your caravan. This can require drilling if using metal brackets, but there are options to use plastic mounts and a bonding agent. They are wired to your leisure battery via a charge controller and that's it. You can generate energy on the move and don't have to worry about setting up once you arrive.
Ground-mounted solar panels use a movable frame mount. The mount is stored while on the move and manually set up once you arrive. They will need to be connected and pointed to the sun to get them working.
Both systems have pros and cons.
Roof-mounted panels use dead space, can generate energy while on the move, and don't need setting up. They do require professional installation and some owners can worry about leaks if drilling was part of the setup. Although Motorhome Workshop says they haven't had a system leak on them yet!
Ground solar panel mounts need to be manually set up when you pitch up, but means you don't have to orient your caravan to the sun. They won't generate energy while on the move and can take up valuable pitch space though.
What are the benefits of professional installation?
Many caravan solar panel kits are DIY fit but you can arrange to have one professionally installed if you prefer. The benefit of having it professionally installed is that you don't have to do the work yourself. All work is covered by the installer's warranty too.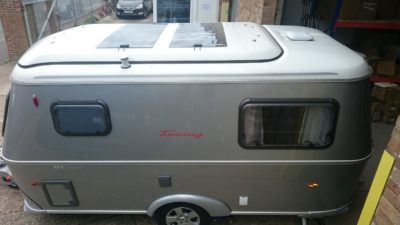 If the idea of drilling holes into your pride and joy fills you with dread, it is best to leave it to the professionals. Buy your solar power system from the right supplier and installation is included in the price!
Warranties vary by manufacturer and workmanship guarantees will vary by fitting workshop. A good supplier will be able to sell products with at least a two year warranty and a two year workmanship guarantee for the fitting.
How much does a caravan solar panel cost? How much would installation be?
The cost of a solar power kit for a caravan depends on the size and type you buy. Typical prices range from around £85 for a 10W kit up to £700 for a 320W kit, without installation. Much depends on the generational potential, type of caravan solar panel and type of charge controller.
Motorhome Workshop usually suggests a 120W kit for an average caravan and say this is enough to run appliances with spare capacity for overcast or shorter days. A high-quality 120W roof-mounted solar power kit for a caravan costs between £460 and £545 for the full kit. That includes installation.
"Using a solar power kit on a caravan makes perfect sense," said James from Motorhome Workshop. "Caravans give us the freedom to get away from it all, yet we are tied to pitches with power if we want to use all the mod cons. Solar power takes away that dependency and means you are freer than ever to roam and enjoy your caravan."
That's reason enough to invest in solar power – and to power up those security devices when in storage!
To get a quick idea of solar kit prices, including installation, visit the caravan solar panels page on MotorhomeWorkshop.co.uk.
Caravan insurance considerations
If adding a caravan solar power to your pride and joy, make sure you include its value in the sums insured of your caravan insurance policy. It will be covered for damage or theft as part of your caravanning equipment.
Solar power when your caravan is in storage will help keep its leisure battery on charge, which is particularly important if you have an alarm system or tracking device that is a requirement of your caravan or motorhome insurance policy.
Search our blog
---