Let's hear it for the humble caravan motor mover. For over two decades now, these products have been helping folk pitch their caravans on site, or manoeuvre them into the tightest of spots for storage and/or home parking, or for easy hitching up to your tow car. All at the touch of buttons, or a joystick, on a hand-held remote control.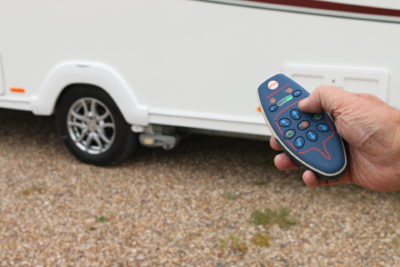 What is a caravan motor mover?
As the name suggests, caravan motor movers make it all the easier to manoeuvre your unit.
A caravan mover works by engaging rollers, either manually or electrically, to a caravan's wheels, thus allowing the 'van to be moved remotely over short distances, over most terrains, even up inclines.
Caravan Guard's top tips on choosing a caravan motor mover
Using a motor mover for the kind of tight manoeuvres you'd otherwise expect your car to perform will save you damaging your clutch. It's also likely to lessen the chance of accidental damage.
You'll need a decent battery (85Ah is usually the recommended minimum) that's also in good working condition if you have a caravan mover fitted.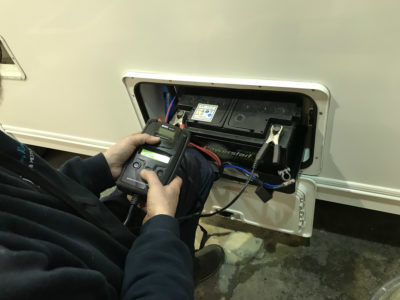 Once you do have one fitted, practice to familiarise yourself with the controls, functionality (especially stopping and starting) and the precision of your mover.
Make sure your motor mover doesn't impede any security fittings to your caravan's wheels.
If you're installing a tandem axle system, make sure you don't obstruct the spare wheel carrier position and, more importantly, the jacking point.
Check for any obstructions (e.g. embedded stones) before you engage the rollers.
Don't forget to release your caravan's handbrake when using your motor mover. And put it back on just before you disengage the rollers.
Make things easy for your mover. Parking as near as possible to your desired final location and aligning the jockey wheel with your caravan's main wheels all saves wear and tear on the motor mover.
Consider a jockey wheel with pneumatic tyre if you're planning extensive use on softer ground surfaces.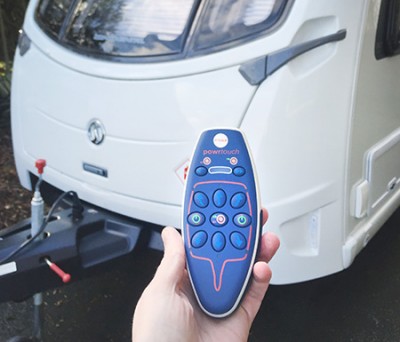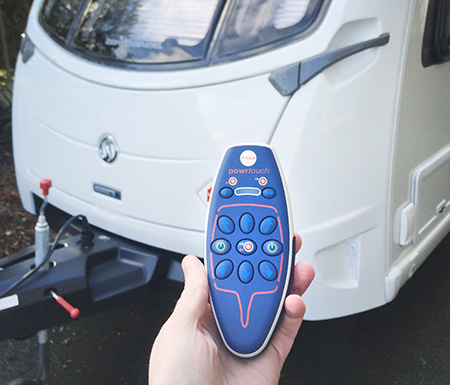 Keep the handset handy. They're easy to lose – you've been warned!
Here we take a look at four of the top-selling caravan motor movers. (Prices correct at time of writing: March 2019) There are other motor movers in this article too. (updated July 2022)
Star Player #1
Powrtouch Evolution Auto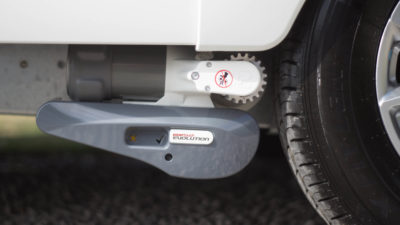 Why change a winning formula? There's a new plastic cover for most recent models but, apart from that, it's no change for the UK's favourite caravan mover. Powrtouch's Evolution also boasts a market-leading back-up, thanks to a nationwide network of official fitters. Or you can fit it yourself. Plus, it can be transferred to your next caravan, if you wish.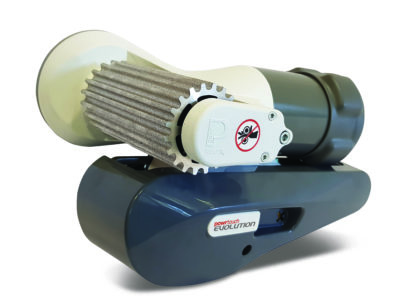 A powerful performer, it will move any single axle caravan up a 25% incline and well over 2,500kg on lesser inclines.
Among plenty of features, there's an automatic cut-off function if the unit has not been used for 20 minutes, low battery indicator, motor overload protection and more.
Powrtouch merged with Truma at the start of 2017. Today, other Powrtouch Evolution models include Twin (for twin axles), AWD (all-wheel drive) and Freedom (for chassis with shock absorbers). Typical weight is around the 30kg mark.
Key features Automatic electronic roller engagement, extruded aluminium rollers, four-pole electric motor, soft start, back-up cable, UK-made, five-year warranty
Expect to pay From £995
Star Player #2
Al-Ko Ranger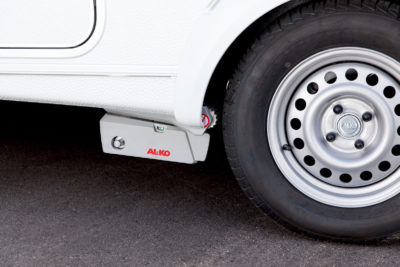 Introduced as a lower cost alternative to the higher specification Mammut, the Ranger has manual and remote button control. It's designed for the majority of caravans – up to 1,800kg single axle, 2,500kg twin axle – with the potential to operate on inclines as high as 18% (although it will do more over very short bursts, e.g. ramps) also on uneven terrain. It weighs approximately 37kg and uses manual engagement.
It can also be used in conjunction with Al-Ko's UP4 corner steadies – both working off the same remote control.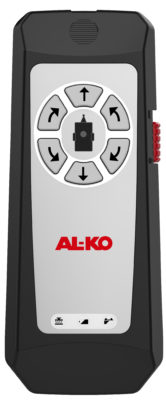 And, of course it goes without saying, it's designed for a perfect connection to any Al-Ko chassis.
Key features Aluminium rollers both sides, plastic housing, underneath connection, remote control with lanyard, soft start/stop, five-year warranty, worldwide service network
Expect to pay £1,099 (single axle)/£2,099 (tandem axles) including fitting
Star Player #3
Purple Line Quattro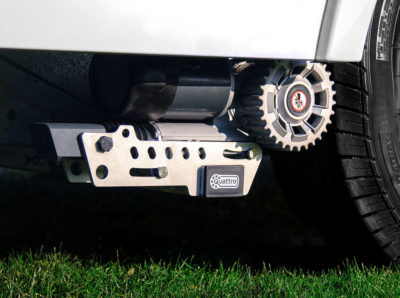 An official unveiling at February's Caravan, Camping and Motorhome Show makes this the newest mover on the market.
The Quattro has a new, twin-roller design and Purpleline says the benefits of this are less resistance on internal gears and less deflection, which allows for more traction and power but less drain on your leisure battery. It's capable of coping with caravans up to 2,500kg in weight and will allow you to tackle steep inclines and a wide range of surfaces.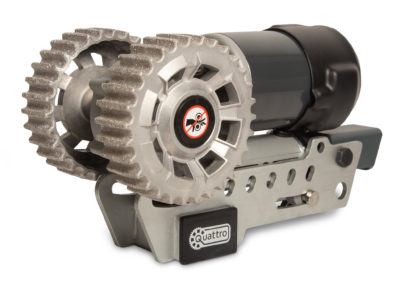 The two-motor Quattro is lighter than most, thanks to specific weight savings to the gearbox, framework and rollers and meaning you can make the most of your payload. There's also a choice of manual or automatic engagement models. Weights are not yet published and the Quattro will be available from May 2019.
Key features Twin roller/two-motor design, manual and automatic engagement variants, IP55 waterproof rating, five-year warranty
Expect to pay £849 (manual)/£1,049 (automatic)
Star Player #4
Reich Easydriver Pro 2.3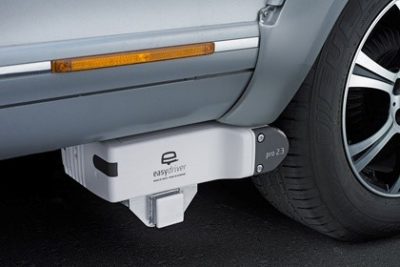 Like the other key players in the market, Reich offers a range of movers for single and twin axle caravans, with manual or automatic roller engagement.
The Pro 2.3 is its top single axle model, which weighs some 32kg, operated via a handset with two-way communication that means it also gives warning signal feedback diagnosing any fault.
Thanks to a downloadable app, the Pro can also be operated using your mobile phone.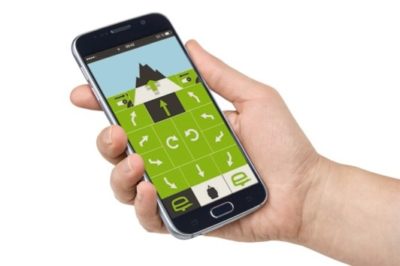 Reich points out that the electric isolation switch is ideal for caravans (recent Baileys, for example) where the battery is stowed in the floor. And the unit's reduced height makes it particularly feasible for Eriba's and folding caravans
There's a pan-European service network, whilst here in the UK it also enjoys support via the MCEA (Mobile Caravan Engineers Association).
Key features Two-way handset, electric isolation switch, five-year warranty
Expect to pay £1,495, including fitting
Over to you…
Got any advice on caravan motor movers you'd like to pass on to other Caravan Guard blog readers? Please feel free to add a comment below.
Cost to insure: *
---
factfile
| | |
| --- | --- |
| Model | |
| Base vehicle | |
| Axle type | |
| Dimensions | |
| Shipping length | |
| RRP | |
---
Search our blog
---