Cleaning your motorhome roof will help to prevent those unsightly black streaks down the sides. Plus, a clean solar panel will maximise the charge to your leisure battery.
Last month we asked motorhomes how often they cleaned their motorhome roof and we have a new motorhome roof cleaning video with our top tips on getting rid of that difficult-to-reach dirt and grime.
Here are the results…
With more than 400 votes, a twice-yearly clean of the motorhome roof was the most popular with a 37 per cent share of the votes.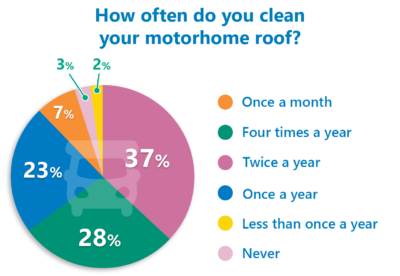 But more than a quarter of voters (28 per cent) got on top of the cleaning four times a year.
Slightly fewer motorhomers, only tackled this tricky job once a year, gaining 23 per cent of the votes.
And only three per cent of voters said they never cleaned their motorhome roof.
Your comments…
Some people said they had difficulty cleaning the over cab area. Check out our motorhome roof cleaning video for some tips. Richard Stanley also offered this advice: "I clean and wax above the cab by using a telescopic ladder with a towel wrapped over the top of ladder to protect the paintwork and the Mrs footing the ladder, moving it over every foot or so, be careful not to overstretch," he said.
Barry Carter and his wife use their motorhome eight months of the year so keep on top of their motorhome cleaning once a month, and tackle the roof at least four times a year, especially if they've been under sappy trees.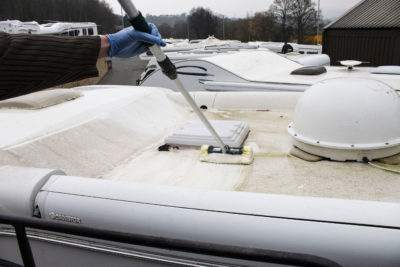 Bill Gard recommended polishing the roof: "The rain keeps it clean, no need for hard labour," he commented.
Alan Gardner and Gordon both told us they regularly check their motorhome roof from home as it's parked on the drive.
"I still have to occasionally get the ladder out to make sure the solar panel is clean and so working efficiently," added Alan.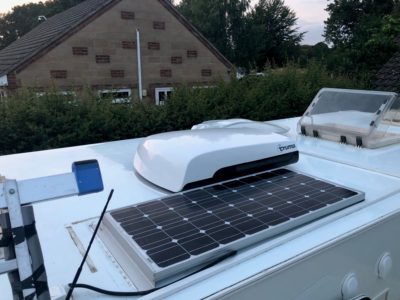 David Coulter said he cleaned his motorhome roof twice a year – at the beginning Spring and at the end of autumn,
"But I do check it regularly to make sure no debris, leaves, etc, has built up around any of the vents and check the seals," he said. "Also give the solar panel and skylights a wipe down to make sure it gets max sunlight in. This quick look gives me chance to spot any potential problems."
Let us know what you make of the results in the comments box below.
Search our blog
---