There's nothing quite like a motorhome awning for some extra space and shelter.  And with plenty of types of awnings to choose from it's no surprise that they're a popular motorhoming accessory.
Last month we asked if you use an awning on your motorhome or campervan, and here we can reveal just how many do.
Let's see how you voted
After more than 700 votes, a massive 92 per cent of motorhomers use some kind of awning, with wind-out awnings being the most popular, having a 61 per cent share of the votes.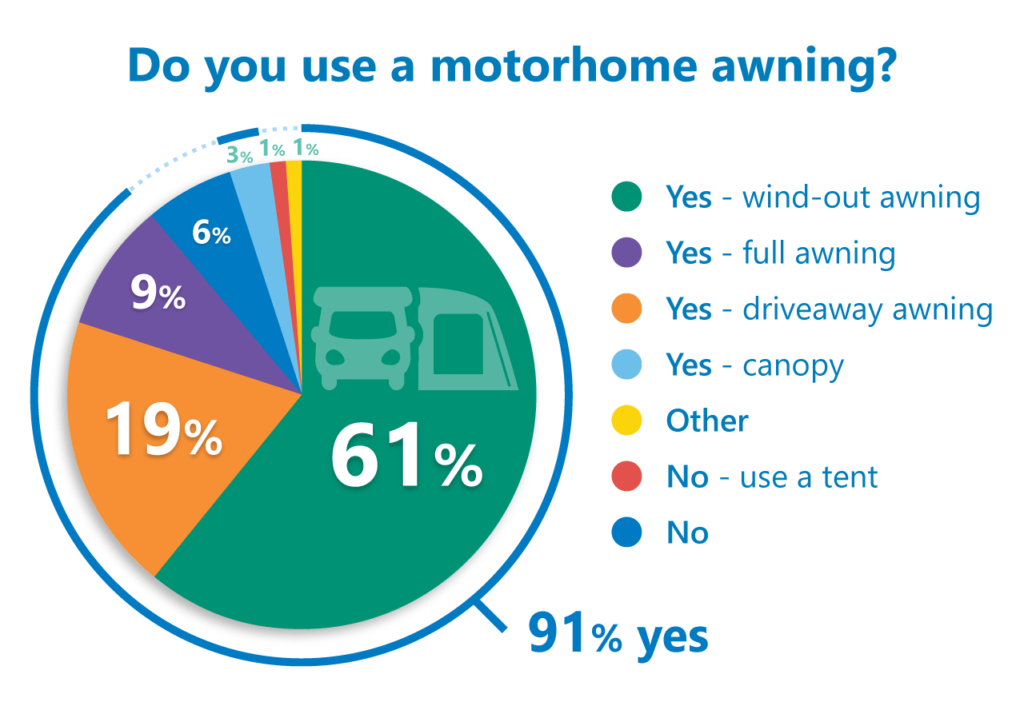 A wind-out awning seemed to be popular for short stays and some shade, with many commenting that they also used a driveaway, canopy or full awning for longer stays.
A drive-away was the second most popular type of motorhome awning with 19 per cent of the votes, followed by a full awning with 9 per cent.
Canopy awnings were the least popular with just a three per cent share of the votes.
Only six per cent of voters didn't use a motorhome awning and a tiny one per cent used a tent at the side of their van!
Here's what some of you had to say about your motorhome awning…
Many readers told us they use both a wind-out motorhome awning, plus a full, or driveaway, awning.
Sue Mota does and said it depended on "how long they were staying put" as to which one they would use.
Richard Braithwaite said he wouldn't be without his motorhome awning.
"It keeps items dry, shelters the wind, ideal for hanging up the bath towel after a shower, and any wet clothing if it rains," he commented. "The only thing I would advise is please make sure you tie it down well to the ground with pegs, as one never knows when gusts of winds come. That extra 10 minutes is worth it."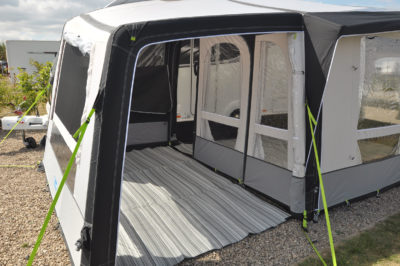 Ken Seaman commented on the pros and cons of a motorhome fitted with a wind-out awning.
"With – Gives you extended space to sit outside the vehicle and good for dogs in hot sun or if it rains," he said. "Without – Easier and quicker to pack up and move vehicle. Less opportunity to sit outside the vehicle in showers or too hot sun."
And Denise Thurlby said they have a wind-out awning which they do use occasionally if touring or on a short break.
"It's a bit of a nuisance having to wind it in before you go out for the day in case the wind gets up," she said. "We also have a full air awning which we much prefer as you can open it up fully to cook outside, or close it up as much as you need for extra room. Particularly useful for storing the extra things we take when we stay for four days or more, drying the dogs, hanging wet coats and drying towels."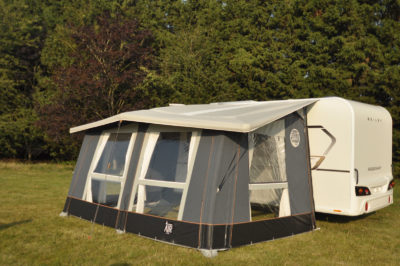 There were plenty of comments about leaving a wind-out awning up at night – which isn't recommended in case windy weather strikes – and you're probably not going to get a good night's sleep!
Barry Carter said: "I am into my third motorhome, two came fitted with wind-out awnings, which from the manufacturer's perspective were classed as sunscreens and not to be used in other than light wind, or left unaccompanied, but like others, I have used tie-downs and left them up (accidentally) in storms but have seen awnings destroyed on other motorhomes where they've been blown over their roofs.
"The other problem with any awning attached to the vehicle that doesn't have steadies is getting to sleep at night," added Barry. "If you're a light sleeper like us there's all the flapping and then there's the sail effect which rocks the motorhome suddenly when the wind gusts and so I've got into the habit of winding it back in at night – if only for peace of mind and a refreshing night's sleep. And of course, there's that quick getaway in the morning! But still, we wouldn't be without it."
If you're in the market for a motorhome awning, check out this month's tips from camping specialists, Outwell, on buying a driveaway awning for your leisure vehicle.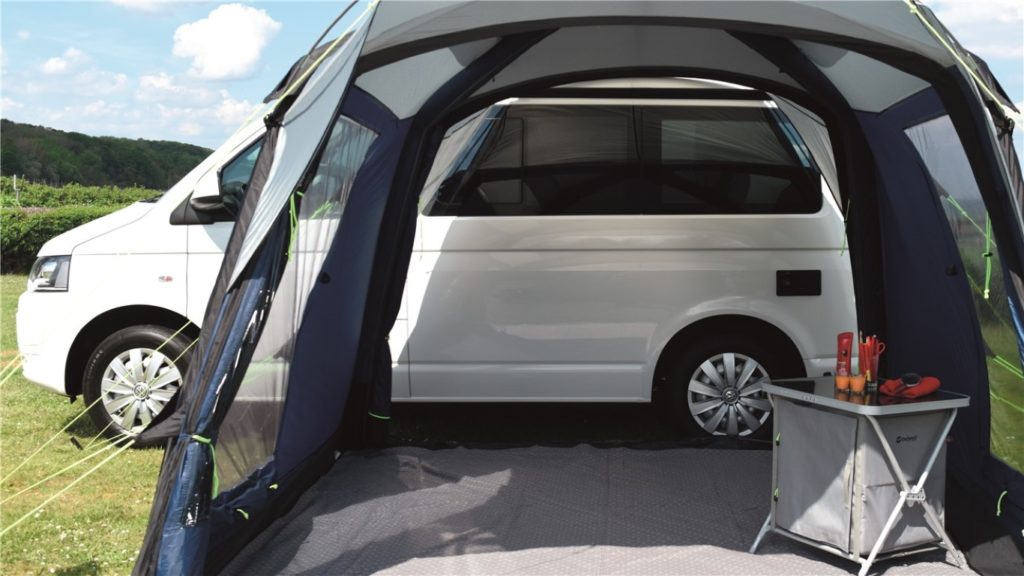 And don't forget, our motorhome and campervan insurance includes cover for awnings should they be damaged by stormy weather. It's part of the £5000 cover for motorhome equipment and personal possessions which is automatically included within our policy.
What do you make of the results? 
We'd love to hear your views – just fill in the comments box below. And stay tuned for a new poll coming soon…
Cost to insure: *
---
factfile
| | |
| --- | --- |
| Model | |
| Base vehicle | |
| Axle type | |
| Dimensions | |
| Shipping length | |
| RRP | |
---
Search our blog
---