There are plenty of caravans out there made just for two people. And so here, we've picked out six of the best two-berth tourers.
These are our top tourers that are designed solely for accommodating two people. Don't forget, though, there's nothing stopping you from having a caravan capable of hosting more than two but using it as a couple.
Anyway, here are our six top two-berth tourers, all current models, complete with their key selling points, or KSPs. We've listed them in alphabetical order… but you may prefer one over another… or want to suggest alternatives.
Six top two-berth tourer tips
Weight counts: Two-berth tourers are usually lighter than their multi-berth sister models. Easier to manoeuvre, too.
Size 'em up: Keeping the berths down also usually means a smaller size caravan that's easier to store.
Check your driving licence: A lower weight caravan will allow you to get under the sometimes critical 3,500kg maximum weight level for a car and caravan outfit (for those who passed their test in 1997 or later).
Watch your payloads: You'll want to make sure there's a decent load margin in your caravan – although do bear in mind there's likely to be more luggage space in your car when you're two-person touring. Many manufacturers offer an opportunity to uprate the MTPLM (maximum weight), but you'll want to make sure your car can still cope.
Don't lose out on kit: There's no reason your two-berth tourer shouldn't come with less equipment.
Ditto for security: Make sure you don't lose out on essential security kit to suit your needs, as well as getting you the best caravan insurance deal.
And finally… two-berths are often the lowest-priced models in the range. Which could mean you're paying a whole lot less for a brand new caravan!
Adria Altea Aire – For a touch of Slovenian style
Altea has long been Adria's "budget" range, but that hasn't stopped it going increasingly upmarket.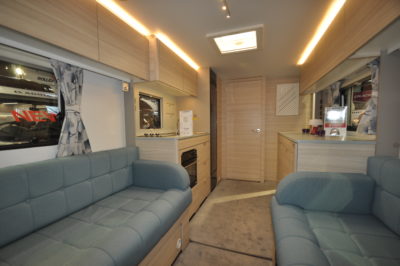 So, although it's very much a traditional floorplan, the fixtures, fittings and colour schemes are pure cutting edge. Add in the Slovenian manufacturers' renowned build quality and you can see why this is a winner when it comes to our pick of two-berth tourers.
Despite a full-width end washroom, the Aire's kitchen is more comprehensive than its peers – extending to a space-saving three-ring hob and sink combination, plus a 140-litre fridge.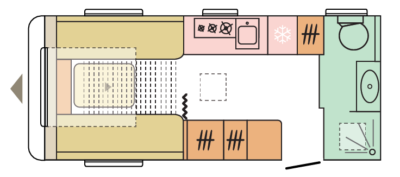 Dimensions: 5.49m L, 2.23m W, 2.58m H
Internal length: 5.01m
MTPLM: 1,420kg (can be upgraded to 1,500kg)
MIRO: 1,256kg
Payload: From 164kg
KSPs: Contemporary styling allied to good build quality, a bit different to the norm, well-thought-out kitchen.
Price from £19,980 on the road.
More info: www.adria.co.uk
Bailey Discovery D4-2 – Add a touch of Bristol fashion
The 2019 launch of Bristol-based Bailey's attention-seeking Discovery range was no small success – and the two-berth 34-2 certainly played its part.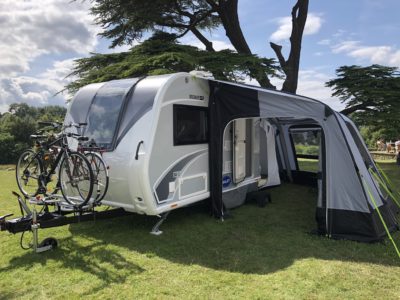 Lightweight with a radical exterior – but with an interior that offers all the features you'd expect of any caravan – these are the main themes here.
Pricing has been kept keen, too, as Bailey uses Discovery to seek out new caravanning audiences. Look out also for some clever bespoke accessories, including a unique "wraparound" Prima inflatable awning and external storage box.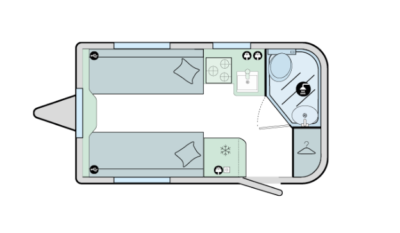 Dimensions: 5.62m L, 2.23m W, 2.m H
Internal length: 3.87m
MTPLM: 995kg (can be upgraded to 1,100kg)
MIRO: 884kg
Payload: From 111kg
KSPs: New look, interesting accessories.
Price from £16,764 on the road.
More info: www.baileyofbristol.co.uk
Coachman Acadia 460 – Gambling on extra luxury
This is the smallest model in a whole new range for 2020 from Coachman, and it doesn't disappoint.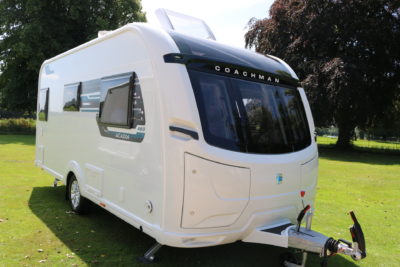 There are no surprises with the full-width, end washroom formula, and a lounge that converts to two single beds or a double at night.
It's also the kind of floorplan that puts the main heavyweight kitchen items directly over the axle, for more assured towing.
Even so, you'll want to budget an extra £1,000 for key security items like Al-Ko ATC, Al-Ko Secure wheel lock and caravan tracking system – and to claw back some of this with some caravan insurance discounts.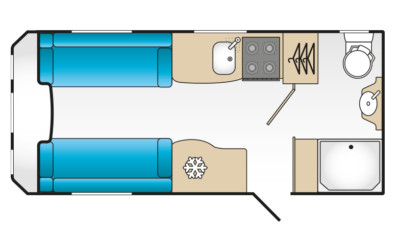 Dimensions: 6.26m L, 2.26m W, 2.65m H
Internal length: 4.63m
MTPLM: 1,355kg (can be upgraded to 1,400kg)
MIRO: 1,231kg
Payload: 124kg
KSPs: Above-average build, the usual Coachman qualities, excellent washroom.
Price from £22,345 on the road.
More info: www.coachman.co.uk
Elddis Affinity 520 – From here to light luxury
Another brand new caravan model for 2020, the Affinity 520 (also badged Compass Capiro 520) comes complete with a must-have feature – Alde heating. It actually tops off a very generous specification indeed, which also extends to Al-Ko ATC.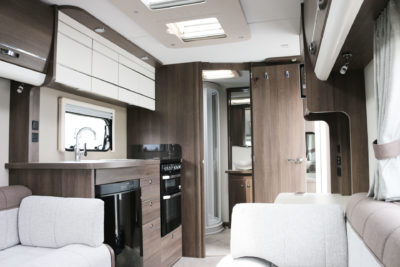 Like the Coachman above, the big draw here is the spacious end washroom, along with one of the largest wardrobes you'll find in any two-berth tourer.
You can keep it all light, too, with an initial maximum weight of just 1,345kg – although payload is restricted at this level (but see our top tips above).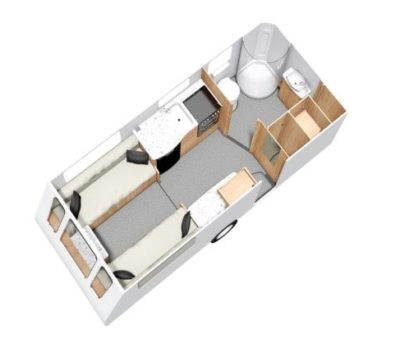 Dimensions: 5.60m L, 2.26m W, 2.65m H
Internal length: 4.98m
MTPLM: 1,345kg (can be upgraded to 1,500kg)
MIRO: 1,219kg
Payload: From 126kg
KSPs: Large washroom, extensive wardrobe, Alde heating.
Price from £22,794 on the road.
More info: www.elddis.co.uk
Eriba Ocean Drive 530 – Turning on the classics
There's no missing that distinctive blue finish to the timeless, wind-cheating Eriba body and its small elevating roof section. Look out for sister Rockabilly, in red, too.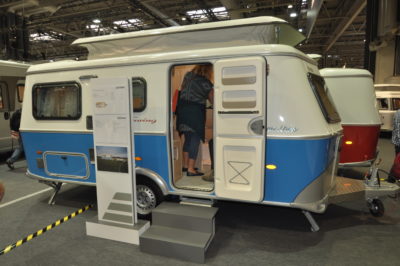 For each, the colour scheme continues inside, too, where the set-up is such it could actually sleep three – thanks to conversions of the seating to a double bed at the back and a single across the front.
From Germany's Hymer, this Eriba design can actually trace its original all the way back to the 1950s – hence the Ocean Drive's retro styling suits it so well.
Dimensions: 5.79m L, 2.10m W, 2.26m H
Internal length: 4.66m
MTPLM: 1,300-1,400kg
MIRO: 965kg
Payload: From 335kg
KSPs: Classic design, German quality build, compact dimensions.
Price from £22,790 on the road.
More info: www.eriba.com
Swift Sprite Alpine 2 – Climbing to the top
Budget pricing was always the Sprite way, but in its latest guise this Alpine caravan sports all manner of modern styling and kit – enough to convince it's not built right down to price only.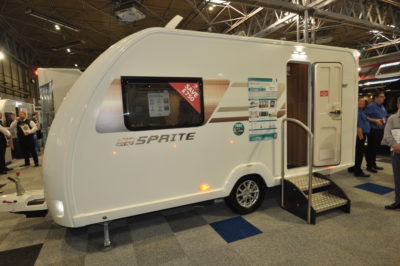 It's certainly been kept light, though, although you'll find it hard to resist the attractions of the 34kg Diamond Pack option.
The Alpine 2 certainly doesn't miss out on all the attributes of more expensive tourers in the Swift portfolio. There's the company's SMART bodywork construction backed by a 10-year water ingress warranty, for starters and the Swift Command Tracker.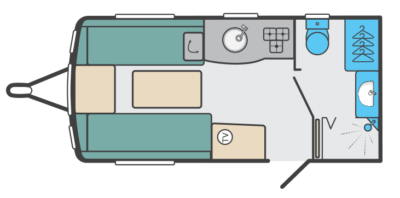 Dimensions: 6.05m L, 2.25m W, 2.59m H
Internal length: 4.34m
MTPLM: 1,218kg
MIRO: 1,052kg
Payload: 166kg
KSPs: Budget pricing meets upmarket styling, huge washroom, attractive Diamond Pack option.
Price from: £17,115 on the road.
More info: www.swiftgroup.co.uk
Got any advice or information on two-berth tourers to pass on to others? Feel free to add your comments below…
Cost to insure: *
---
factfile
| | |
| --- | --- |
| Model | |
| Base vehicle | |
| Axle type | |
| Dimensions | |
| Shipping length | |
| RRP | |
---
Search our blog
---