Planning a holiday in Europe with your caravan is very exciting, there are so many countries to visit and places to see. It might seem a little daunting as there's a bit of planning needed before heading off across the channel.
We speak to policyholders, Jules and Karina Ingham from Here We Tow, who are planning a three-week tour of the continent and bring you a handy guide to caravanning in Europe.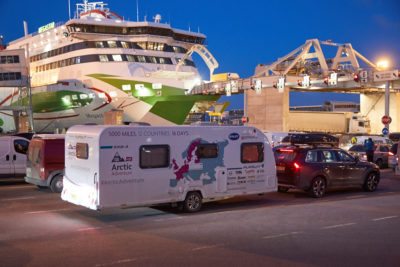 Caravan insurance
It's essential to make sure you have the right level of insurance cover for travelling to Europe. Caravan Guard's touring caravan policy can cover you for up to 240 days of travel. Before travelling make sure, if the worst happens, your insurance will cover you for repatriation back to the UK. If your caravan cannot be towed due to damage, Caravan Guard will make sure it's returned back to the UK. It's essential to have to hand your policy number and emergency phone numbers when travelling. All the details of Caravan Guard's touring caravan insurance can be found through this link.
As well as caravan insurance, make sure you have adequate breakdown cover for your tow vehicle and caravan. Again, you'll need European cover and make sure your vehicle and caravan are both covered for recovery. Make sure your spare wheel and tyre is also fit for use and properly inflated, in case you need to use it.
Booking a ferry crossing or Eurotunnel
There are two ways to cross the channel to Europe with your caravan – by ferry or through the Channel Tunnel by train. Ferry crossings are available from various UK ports, including the south coast and east coast. Ferries are available to Holland, France and Spain with various routes available. If you're travelling with pets then some crossings offer pet-friendly cabins and kennels. A comparison of routes, ferry operators and costs can be found here at www.directferries.co.uk.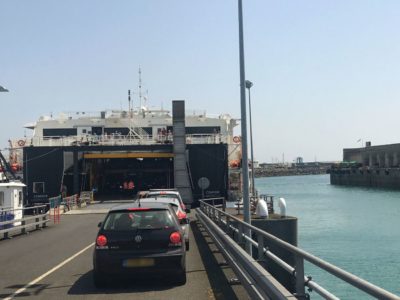 If you want a faster crossing to France then the Eurotunnel will take you from Folkestone to Calais in about 40 minutes. This is a popular choice for pet owners as you stay in your vehicle with your pet. The Eurotunnel can also accommodate all sizes of caravan, including 8ft wide tourers and twin axles: www.eurotunnel.com.
Ferries and the Eurotunnel can be booked online or by telephone and crossings are available all year round on most routes.
Taking your pet abroad
It's quite simple to take your dog, cat or ferret abroad with you on your holiday to Europe. The PETS scheme has made it easy to travel with your pet instead of leaving them behind. The process involves taking your pet to a vet, where they'll make sure your pet is microchipped or tattooed. They'll then administer an anti-rabies vaccination and complete your Pet Passport. Your pet can then travel with you safely and before your return to the UK your pet must be wormed by a vet in Europe one to five days beforehand.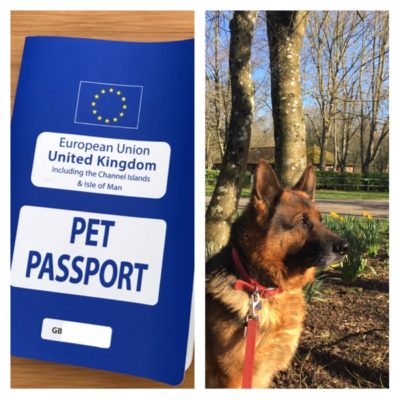 The full Pet Passport process can be found through this link.
Booking caravan sites in Europe
There are thousands of caravan sites across Europe, as well as a number of ways to find the best site for you and your family. It's easier to decide on the country and region you plan to travel to and then use online resources to find the campsite with the facilities you want. One good search tool, despite its name, is UK Campsite which allows you to search by European map or location and includes a detailed site facilities search.
ACSI also offers a number of inspected sites across Europe and with the ACSI card you can receive discounts on pitch fees in low season
Speed limits and road traffic law in Europe
Whether you're towing and travelling in one European Country or several, you'll need to be familiar with the speed limits and laws. These vary greatly between countries, including the equipment you need to carry, the documents you'll need to hand and the laws that will affect you. Many of these can be found on the European Commission website and they also offer a useful Going Abroad app that can be downloaded from Apple's App Store, Google Play or the Windows Store.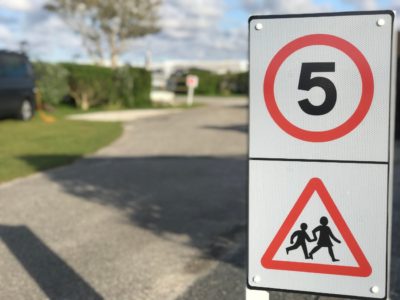 Make sure you're familiar with the laws where you're travelling as it's your responsibility and you can receive a penalty fine if you break them.
You'll need a UK sticker for your tow car and the back of the caravan unless you have the UK identifier on your number plate.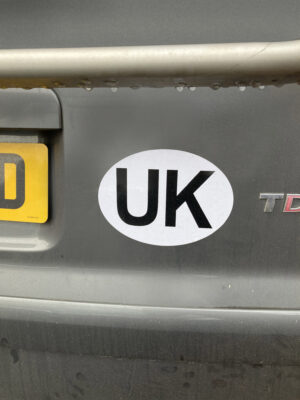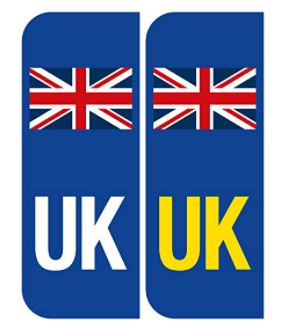 Security and safety
Most European countries are safe places to travel, especially the busy tourist areas, but like the UK, crimes can happen. It's important when you're travelling with your caravan to use your security devices, just like you would at home, whenever it's left on it's own detached from the tow car. It's essential that you use the ones detailed on your insurance policy schedule.
You're more at risk at service stations, Aires, or when stopping outside of a caravan site, so make sure your security is fitted at these times. Use your hitchlocks and wheelclamps or axle locks when stationary and leaving the van unattended.
Once on a caravan site, you might prefer to pitch near others and an awning can be a deterrent to any thief as they have to take it down, or cut it, which attracts attention.
If you go out on a warm day leave the windows on the night catches to allow air in but obviously not wide open.
Don't forget to keep your personal possessions safe, such as your cash and passports. Find somewhere safe in the caravan to hide them or take them with you when you go out.
Make sure you have suitable caravan insurance in place for if the worst happens.
Gas
Before you travel make sure you have enough gas, especially if you're planning on going off grid or doing a lot of cooking with gas.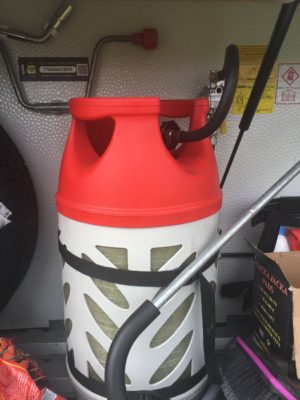 If you're not sure how much gas you have it might be worth swapping your bottle before travel. You won't be able to replace Calor Gas in mainland Europe, although Campingaz is usually available. Another option is the refillable gas bottles, such as Safefill, which can be filled abroad with an adaptor.
Safety equipment, spares and first aid
There can be times when travelling abroad that you need certain equipment or spares that can't be bought in Europe. It's advisable to make sure you have spare caravan light bulbs and fuses with you in case you need them. As always, make sure you've checked your caravan tyres and wheels.
In some countries, a hazard warning triangle and fluorescent tabard must be carried in your vehicle, including France, Germany, Italy, Spain and Sweden.
Take a torch too as you might find some caravan sites aren't very well lit on a night.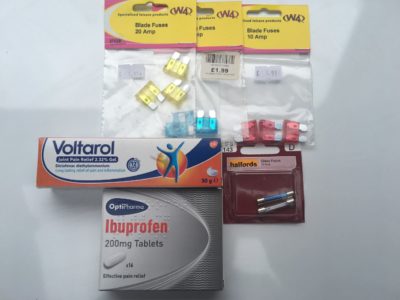 A first aid kit is always a good idea, take ibuprofen, insect repellent, antiseptic cream and aspirin with you as these can be expensive abroad.
Don't forget your European health card, this is free and can be applied for online. You'll need it to receive free health care abroad. It can take a week or more for your card to arrive, so make sure you apply a few weeks before you travel date.
You'll also need personal travel insurance to cover any personal accidents, thefts of or delays.
Passports and driving permits
You'll need a valid passport to travel to Europe and you'll also need a valid driving licence if you're driving. As with the UK, your licence must cover the category of vehicle you are driving or towing.
Your motor vehicle insurance will give you third party cover in Europe as a minimum but it's worth checking exactly what cover it does offer and carry details of your policy with you when travelling.
Route plan
Before you travel make sure you plan your route with your caravan. Try to check the access routes to your chosen sites and use the most suitable roads, not always the most direct. Most SatNav systems will have European maps but make sure they're up-to-date and have a map or back-up just in case.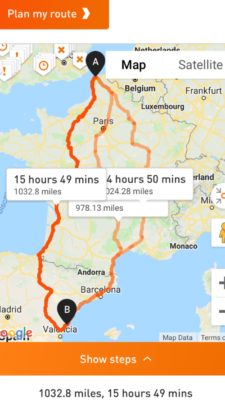 There are very good route planners available online which can be updated with your caravan size. These will calculate a suitable route and also provide costs including tolls and fuel costs. There are also apps available to download what are useful.
The most important thing is that you enjoy your caravan holiday in Europe, take lots of photos and make lots of memories!
Over to you…
Have you got any European travel tips to share? Feel free to leave them in the comments box below.
Cost to insure: *
---
factfile
| | |
| --- | --- |
| Model | |
| Base vehicle | |
| Axle type | |
| Dimensions | |
| Shipping length | |
| RRP | |
---
Search our blog
---