In this video, we bring you some top tips on how to reverse your caravan to avoid accidentally damaging your pride and joy and having to make a caravan insurance claim.
Each year at Caravan Guard, we deal with many accidental damage insurance claims as a result of a caravan reversing mishap – whether that be into something like a gate post, overhanging trees or walls.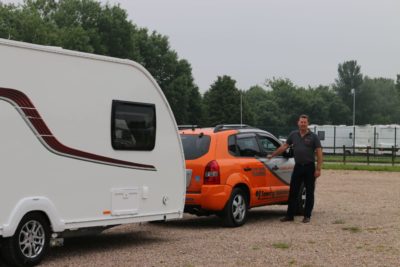 We speak to Richard, an experienced caravanner and instructor from Towing Solutions in Macclesfield, for his practical hints and tips on reversing your caravan onto a pitch, into a service bay or into a parking space.
How do you prepare before reversing your caravan?
Preparation before reversing your caravan is key. Firstly, stop and put your handbrake on. Turn off your radio and wind down the windows so you can see and hear things clearly.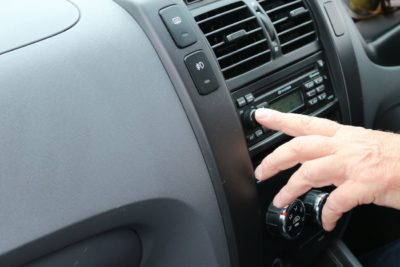 Then get out and check the area you're reversing your caravan into to make sure there aren't are any obstacles in the way, such as overhanging trees, bushes, posts etc.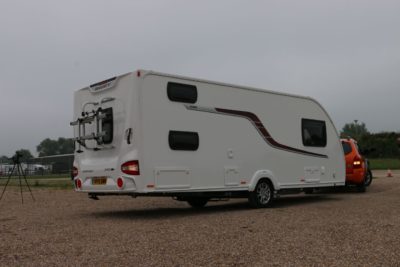 If you have a partner, ask them to step out and help guide you back and make sure people aren't walking behind you as you're trying to reverse. Anyone who is going to help you needs to stand where you can see and hear their signals.  If you're into a gadget you could consider fitting a caravan reversing camera or parking sensors.
Just in case your reversing lights don't work it's always worth using your hazard lights to warn people that you're backing up.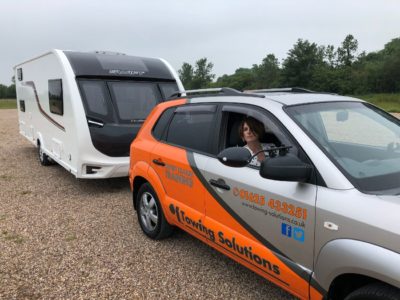 With any caravanning manoeuvre, the key thing is speed. When reversing a caravan you have to steer left to go right, and right to go left, which isn't natural for many drivers. So if you go slow, it gives you the opportunity to make any corrections.
Use your towing mirrors and concentrate in one mirror to guide your caravan back carefully. Small movements of the steering wheel will allow you to judge how the caravan is reacting as you back up.
Be careful not to overreact with fast sharp movements as this could cause the caravan to jack-knife.
How do you reverse your caravan in a straight line?
Reversing your caravan in a straight line is one of the most difficult manoeuvres. Pick a point on your caravan that you can see clearly through your towing mirror when it's nice and straight, such as the water or gas point. If that starts to disappear from view or you see too much of the caravan in your right towing mirror then turn towards it so it comes back into line.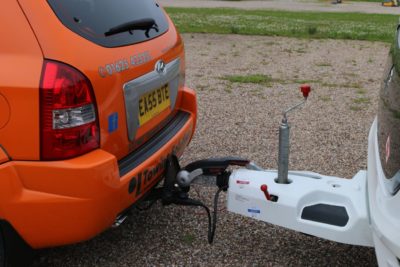 As with all caravan reversing manoeuvres, speed is key. If you go back too fast you will have an issue and if in any doubt stop and start moving back slowly.
How do you reverse your caravan to the right?
When reversing a caravan into a parking bay, or onto a pitch look at the key pivot points where you have to start turning. Drive past your pitch so that the back of your caravan is clear of the pitch or the area that you're going to reverse into. Look in your mirrors and check that it's safe to start backing up.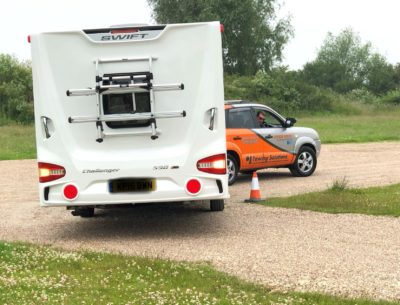 Very slowly manoeuvre the caravan backwards using your mirrors, so it starts to go towards the pivot point – or the point where you want to turn into the pitch, such as the top edge of the pitch  – and as you approach this pivot point and your caravan's wheel is in line with it, fully lock your steering wheel to the left to swing the back of the caravan over and around and once it's made that manoeuvre lock the steering wheel in the opposite direction to start to straighten up your outfit.
Top tip: When you stop, just pull the car forward slightly to open up the bellows on the hitch and make it easier to disconnect it from the car. It will also prevent the hitch from pushing into the back of your car.
How do you reverse your caravan to the left (your blindside)?
Again, drive past the point where you're going to reverse into. Adjust the passenger mirror, so you can see your caravan wheel clearly, and if you need to, adjust your towing mirror to make sure you have a clear view.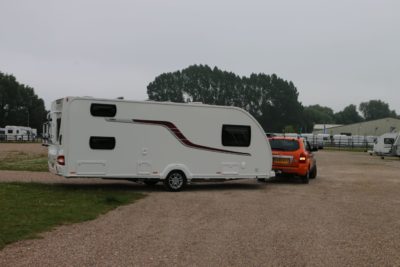 Start to back up slowly, and when your caravan wheel is in line with the point at which you need to turn, fully lock the steering wheel to the right to position to get the caravan to start turning into the position you want it to go. You then need to counteract that by going into a full lock in the opposite direction to start bringing the car around and to line up the caravan. If needs be, you can always pull forward a little bit and then reverse back in to straighten it up. Or, use your motor mover, or if you can push the caravan by hand, into its final position.
If you do have someone with you, it's worth having them watch your back as you're doing a blindside manoeuvre, but do make sure you can see and hear them.
If you're ever in doubt, stop and get out and check you're on the right line. It's a lot better and a cheaper than having a bump or a scrape!
What to do when caravan reversing goes wrong!
Everyone makes mistakes when it comes to reversing a caravan – and watching people reverse their caravan is one of the top spectator sports on a caravan site, along with putting up the awning!
Richard said if you start to reverse really slowly, people will get bored and think you know what you're doing so will disappear.
"Take your time – there's no point rushing," said Richard. "We've all had stressful trips and bad traffic. There are no rules and regulations to say you have to reverse your caravan on to a pitch. You can always use a motor mover (if you have one fitted) or you can unhook from the car and push it into position if it's not too heavy."
Richard's advice is to stay calm and ignore everyone around you.
"Go nice and slowly and steadily and reverse it," he added.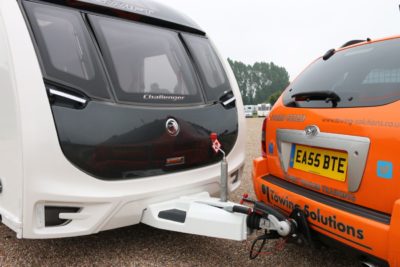 Five top tips for reversing your caravan
Get out and check your surroundings. Look at where you're going to reverse your caravan and check for any obstacles that might be in the way or that you might run into.
Reverse slowly. The slower the better. Taking it slowly gives you the opportunity to correct any errors and will help to avoid any reversing mishaps.
Use your mirrors. Make sure your towing mirrors are set correctly before you start your to reverse your caravan and that you can clearly see where you're manoeuvring into. And if you have a reversing camera or parking sensor make sure you listen and stop when the warning beeps sound.
Stay calm. And ignore everyone else around you.
Practice reversing your caravan. Lots of practice will give you that extra confidence for reversing your caravan like a pro. There are plenty of caravan towing and driving courses available nationwide if you need that extra bit of help.
And remember, at Caravan Guard we offer a small caravan insurance discount for fitting a reversing aid such as parking sensors or a rear-view camera.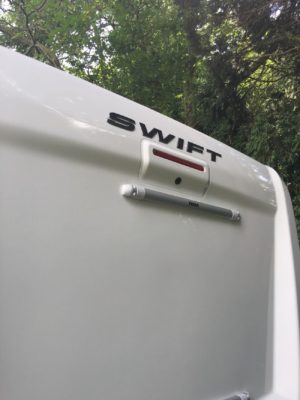 Over to you…
Got any caravan reversing tips to share? Feel free to add them to the comments box below.
Search our blog
---