Summer is here and the weather is finally getting warmer. Keeping your caravan cool when on the continent or in the UK can be achieved with a caravan air-conditioning unit; portable or fitted.
In last month's community poll, we asked caravanners if they used an air-conditioning unit to cool down their 'van. Particularly when touring in warmer climes.
After hundreds of votes, we can now reveal the results…
More than half of voters (56 per cent) told us they didn't use an air conditioning unit in their caravan. Many said it was because of the extra weight eating into their payload.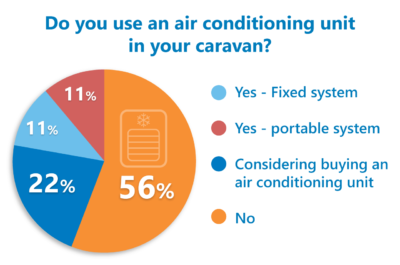 But almost a quarter of voters had some kind of caravan air conditioning unit – 11 per cent had a fixed system and similarly, 11 per cent had a portable system. A further 22 per cent said they were considering a caravan air conditioning unit. If you're one of these voters then why not check out our caravan air conditioning gear guide and tips for keeping cool.
Your comments…
Peter and Jane said the wouldn't be without their caravan air conditioning unit.
"We had aircon fitted to our Bailey Senator when we bought it years ago and it has been a godsend when we have needed it, especially in the south of France," they commmented. "Wouldn't be without it and we are definitely going to fit one on our new van. In fact, we are thinking of also getting one for the house!"
John Wilkinson also loves his air con.
"Had air con as a fixture since the caravan was new. Not often used in this country, but when mother nature brings on the heat it's very useful. However, to operate fully the windows and door need to be in the closed position and on a site where ALL windows and doors are fully open it makes you appear to have lost your marbles. Wouldn't be without it!!!"
Stephen had a roof-mounted air conditioning unit in his Swift caravan but it used up the payload.
"When we bought our current Coachman we decided we would not have it fitted and have been looking to buy a stand-alone unit so we can put it in the car when travelling," added Stephen.
Andy told us that he has a portable caravan air conditioning unit – with a compressor unit outside and evaporator unit inside.
"At only 700W it wouldn't trip the pitch abroad (don't forget 10A or even 6A are popular in Europe).," he said. "South of France in August – we were very glad we took it, and so was the dog. Weight wise there isn't much difference between it and a roof-mounted version, the advantage being we could have carried it in the car. A roof-mounted unit would have taken our outfit above 1.8m which is the height limit for "normal" outfits on the ferry. The compressor unit does make a noise when going flat out, you can't hear it in the van, but your neighbours might appreciate low power mode at night."
Thanks to everyone who voted and don't forget to take part in this month's poll.
Cost to insure: *
---
factfile
| | |
| --- | --- |
| Model | |
| Base vehicle | |
| Axle type | |
| Dimensions | |
| Shipping length | |
| RRP | |
---
Search our blog
---