The big chill!
With the weather hotting up, you need to think about how to get temperatures down. Here's our guide to keeping cool.
Sometimes, it simply isn't enough just to open all windows and rooflights and rely on natural air movement to keep temperatures comfortable in your caravan or motorhome. Weather conditions, like 2018's summer here in the UK, can get too hot to be bearable. Ditto if you like to head south through the continent in peak holiday times.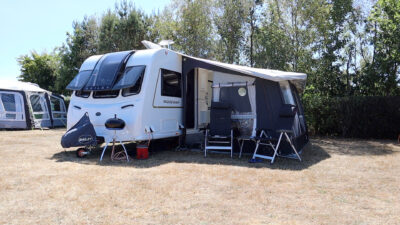 Air conditioning would seem to be the answer. There are options to suit all budgets, of course. Here's our round-up of what's cool in the world of chill!
Caravan Guard's air conditioning advice
Remember cold air falls. It's a useful consideration when you're deciding where you want any outlets when installing an air conditioning unit in your motorhome or caravan
The right air conditioner can also be very handy for allergy sufferers. That's because it will not only cool the air but also clean and dehumidifies it
Going for a lower specification (i.e. less powerful) unit can be a false economy. Buy the best you can afford in this respect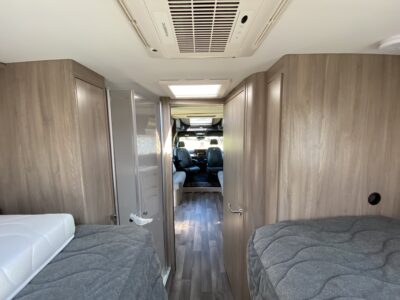 Roof-mounted units are generally easier to fit than those designed to go in a floor locker, or similar, inside your 'van. However, do check your roof can withstand the weight and that you have enough payload. It's worth contacting both your dealer and manufacturer to ascertain whether the roof is designed to support such a unit
Check on any maintenance. Filters might need replacing quite regularly
Dometic has produced a handy guide to choosing the right air conditioning for your leisure vehicle
Top tips from Truma
Specialist supplier Truma also offers some effective ways of keeping as cool as possible when using an air conditioning unit in extreme heat:
Before starting the system, check that the campsite has adequate mains electric supply (minimum 4 amps)
Position your vehicle in the shade if possible
Closing blinds reduces heat radiation
Clean your roof at regular intervals – dirty roofs are hotter roofs
Ventilate the vehicle properly before starting the appliance in order to remove accumulated warm air from the vehicle
To obtain a healthy indoor climate, the difference between inside and outside temperatures should not be too large
During operation, the circulated air is cleaned and dehumidified. Dehumidifying moist air creates a pleasant indoor climate even if the temperature differences are not great
When cooling, close all doors and windows so that no condensation forms on the air distributor
Motorhome owners? Why not just use the cab air conditioning system?
Good question. However, base vehicle air conditioning systems are designed to do a different job to those designed for the habitation area. Cab systems are designed to work quickly and for shorter bursts, in a small area, with a high cooling output – hence the draw they have on the engine's power.
Habitation air conditioners are designed for use over long periods, with a cooling output that's typically lower but more efficient.
Here we take a look at seven different air conditioning units for your motorhome or caravan:
Star Player #1
Dometic FreshJet FJX4 1700
Sitting in the middle of a series of FreshJet roof-mounted air conditioners from Dometic and – like its other models, the 1500 and 2200 – it fits into the cut-out for a standard 400mm x 400mm rooflight.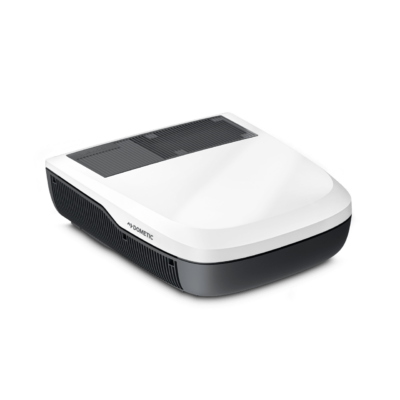 The 1700W is designed for vehicles up to 6m in length and is available in white or black. This new-generation air conditioner promises to cool down your motorhome, caravan or campervan in record time. Its CleanAir air purifier system helps to reduce bacteria and odours and keep your leisure vehicle smelling fresh,
With the Dometic Climate App you can control the unit from your smartphone or via the remote control provided. It can also be used for heating.
Dimensions are 702mm wide x 752mm deep x 225mm high and it weighs 29kg.
Key features Easy to fit, remote control, optional air distribution box with LED light and front and back airflow
Expect to pay £2,075
Star Player #2
Truma Saphir Comfort RC
For fitting in a seat base or similar, this air conditioner weighs some 23.5kg and can also be used to heat (up to 1700Watts). The temperature control allows for one-degree increments.
Truma says this model is ideal for vehicles between 5.5m and 6.5m long (there are other Saphir models).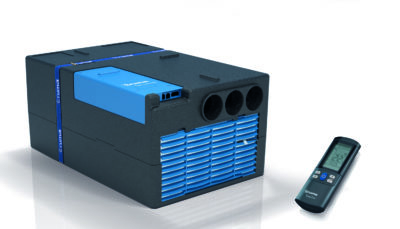 It has four operating modes – cooling, heating, automatic and air circulation – as well as a sleep setting where the fan is slow enough to be virtually undetectable for sound.
It comes as standard with a timer function, and can also be used in connection with the CP Plus iNet control panel if you already have a Truma heating/hot water system (although do check on this before installation).
Dimensions are 858mm long x 440mm wide x 290mm high.
Key features 2,400Watt/4.2amp cooling performance, three fan speeds, fluff and particle filters, timer
Expect to pay £1,549
Star Player #3
Truma Aventa Compact
As the name suggests, this is the most compact version of the roof-mounted Aventa air conditioner from Truma. Designed to fit into the gap left by a pre-fitted rooflight (400 x 400mm or 380 x 350mm), its maximum dimensions outer are 785mm long x 560mm wide x 265 mm high and it weighs some 27.5kg.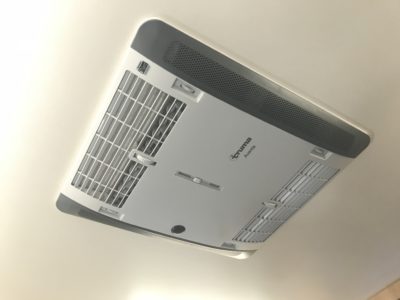 Like the Saphir above, it can be used in conjunction with Truma's iNet control, where appropriate, or by the supplied remote control. Cool air flows into your caravan or motorhome via four adjustable outlets.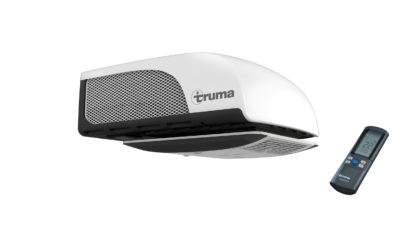 Truma also extended the Aventa line-up with the more powerful (2,200Watts) Aventa Compact Plus and then the 2400 W Aventa Comfort. There's more about the Truma Aventa Compact in our accessory video from the Caravan, Camping and Motorhome Show 2019.
Key features 1,700Watts/2.8amp power consumption, working range 16degC to 40degC, 5-year guarantee when fitted by authorised Truma dealer
Expect to pay £1,400
Star Player #4
Dometic FreshWell 3000 underbench air-conditioning unit

Consider this if you think your vehicle's bodywork isn't up to the substantial weight of a roof-mounted air conditioning unit. Or if you prefer to keep your centre of gravity as low as possible. Or if other fittings such as solar panels, TV aerials etc prohibit a unit on the roof. This can be fitted under a fixed bed or bench seat.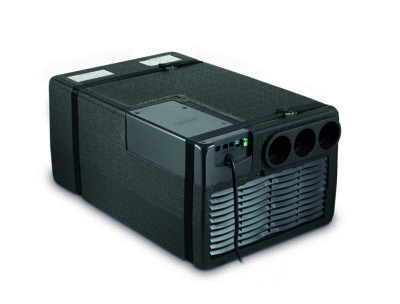 Designed for vehicles up to 8m in length, the three outlets can be focused together or piped to allow a flow of cool air through your vehicle.
It weighs in at 21kg and its dimensions are 628mm deep x 400mm wide x 286mm high.
Like any air con' unit, it's particularly quiet in operation. There's also a 12V DC adaptor kit option to allow the use of the FreshWell whilst driving. It can also be used for heating.
Key features Cooling capacity 2700Watts/9200 BTU/h, up to three air outlets, remote control, soft-start operation, dimmable LED lights
Expect to pay £1,570
Star Player #5
Cool My Camper air conditioning unit 
A unit you hang outside your vehicle to provide cool air inside, using brackets that can adjust to suit most motorhome or caravan windows, attaching to a fan inside the vehicle. It still allows you to close and lock the window and can be left outside even if it is raining.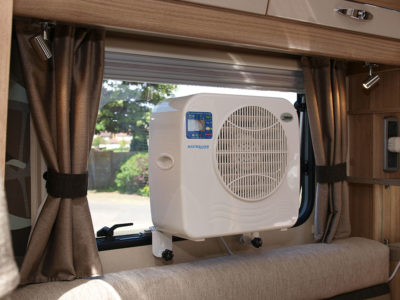 Its relatively low power consumption means it could be used with an inverter. Weight is 20.5kg. The manufacturer says it's suitable for spaces up to 16 cubic metres. They say a typical five or six-metre caravan would have around 11 cubic metres of space.
The fan unit is 395mm wide by 360mm tall and 180mm deep. The compressor which hangs outside the 'van window is 435mm wide by 410mm tall by 200mm deep.
Key features 450Watt/1.88amps power consumption, 2,559 BTU/h cooling capacity, two fan speeds, four cooling levels, LCD display, two-year warranty
Expect to pay £735
Star Player #6
Totalcool 3000 portable evaporative air cooler
Designed and manufactured in the UK, this truly portable, lightweight and compact air cooler operates from 12v, 24v or mains power. Suitable for use in your 'van or awning the Totalcool uses evaporative cooling technology, blowing 45% cooler air over seven metres, when using normal tap water.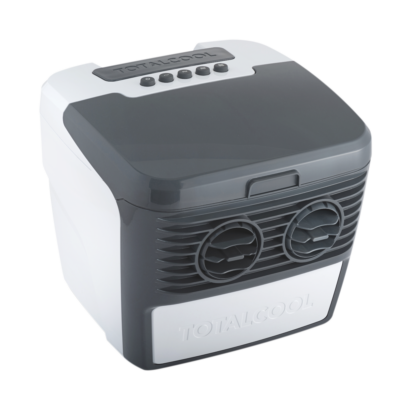 Dimensions are 24cm wide x 26cm long x 21cm high and it weighs just 2kg when empty.
It works by you pouring 1.5L of tapwater into a small reservoir tank, providing up to 30 hours of cooler air.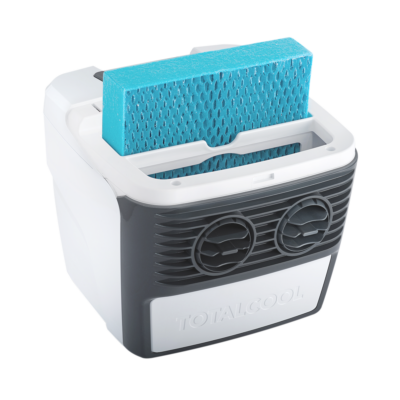 You don't need to use water if you want to use it as a fan only, and it won't be damaged if the water runs out. It can also be used with ice.
Key features Four-speed settings, directional air vents, quiet speed setting for sleeping, 4m 12v lead and two biodegradable cooling filter pads included, 2-year warranty
Expect to pay £379.00
Star Player #7
MaxxFan Deluxe
If you want to improve the ventilation in your motorhome or caravan but air conditioning isn't an option, a MaxxFan will keep the air moving to create a constant cooling, refreshing breeze.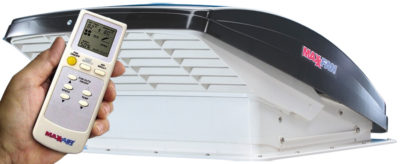 As well as bringing air into the vehicle, when the fan is reversed, stale air is sucked out. The fan and vent are controlled via remote control, with the lid rising up at the touch of a button, and the fan fits into a standard roof light space. Fits into a standard 40x40cm rooflight opening. Weighs 8.7kg
Key features 10-speed fan, remote control, insect screen, 2-year warranty
Expect to pay £324.98
Insurance considerations for adding air conditioning to your caravan or motorhome
If adding an air conditioning unit of any significant value to your caravan, it's well worth notifying your caravan insurance provider and increasing your equipment sums insured to make sure it's covered in the event of a claim.
For motorhomes, a permanently fixed system such as the roof-mounted or under bench options mentioned would need to be added to your vehicle's insured value. A removable unit such as the Cool My Camper system or Totalcool 3000 would be classed as non-fixed motorhome equipment – note Caravan Guard's motorhome insurance policy automatically includes up to £5000 for such non-fixed equipment and personal possessions.
Over to you…
Got any advice on keeping cool when on your caravan or motorhome travels that you'd like to pass on to fellow leisure vehicle owners? Please feel free to add a comment below.
Cost to insure: *
---
factfile
| | |
| --- | --- |
| Model | |
| Base vehicle | |
| Axle type | |
| Dimensions | |
| Shipping length | |
| RRP | |
---
Search our blog
---