In this video, we take a look at six caravan and motorhome accessories from February's Caravan, Camping and Motorhome Show 2019.
Kampa Air Break
This inflatable windbreak can be used free-standing or connected to the front of a Kampa awning. Perfect for keeping dogs or children in!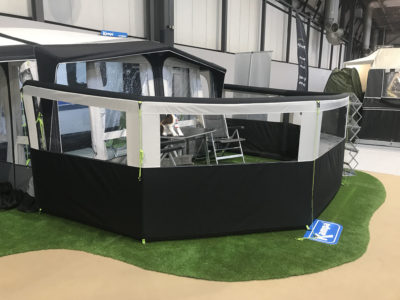 The Kampa Air Break is available with three or five panels and uses their single inflation point AirFrame System. The three panel windbreak is 4.5m long and is designed to fit awnings between 200 and 330 cm wide.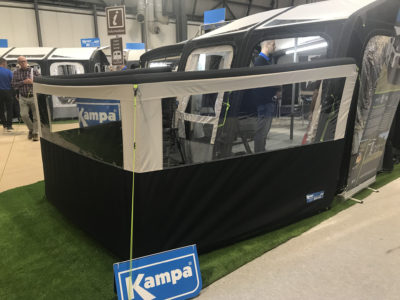 The five panel is designed for use with bigger awnings, with a width of between 330 and 500 cm. The windbreak is made of the same material as Kampa's air awnings.
For more information visit www.kampa.co.uk 
Prices around £274.99
Truma Aventa compact air conditioning unit
This compact air conditioning unit sits on the roof of a caravan, motorhome or campervan and is ideal for those with a smaller roof space or to sit alongside other accessories.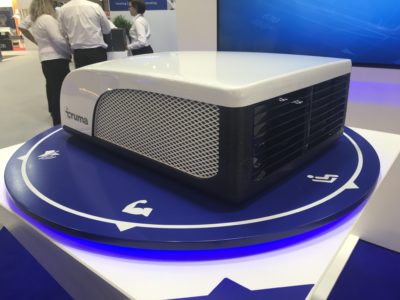 The cooling output from the unit is 1700W – perfect for a small to medium-sized leisure vehicle.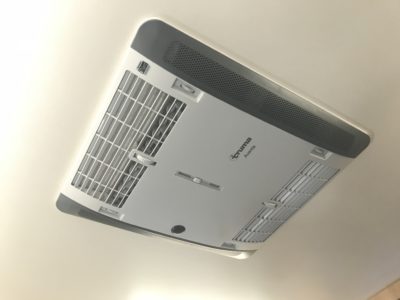 The Truma Aventa system can be retrofitted on to any new 'van – either on the production line or as an after-market fit – and can be integrated with the Truma or Alde heating system to enable users to set the perfect temperature.
For more information visit www.truma.com
Prices around £1,495
Lock 'n' Level
Lock n Level will help not only help owners of twin or single axle caravans get their tourer level when pitched up, but it will also make it easier to fit an axle wheel lock.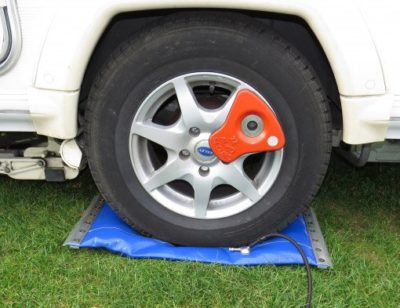 The system is a simple blue bag, which you roll your caravan on to, (keeping your tyre within the markers), then inflate the bag using a standard tyre pump until the caravan becomes level.
Lock 'n' Level say this system also makes it possible to fit any axle wheel lock on a single or twin axle caravan, within a few minutes – without the need to wind or jack up your caravan, or use ramps and planks.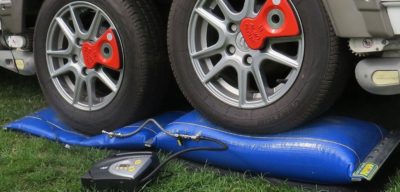 For more information visit www.locknlevel.co.uk
Prices from £124.95
Purpleline Quattro caravan motor mover
Quattro is Purpleline's newest caravan mover and they say it's 50% more efficient, 25% more powerful and 15% lighter.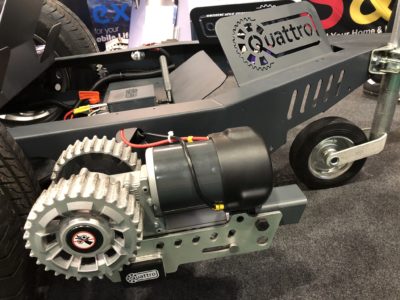 It has a new twin roller design, which means less resistance and drain on the battery but more traction and power for taking on inclines.
For more information visit www.purpleline.co.uk
Prices from £849
Duvalay sleeping products
To help caravanners and motorhomers get a great night's sleep, Duvalay offers a range of bedtime products.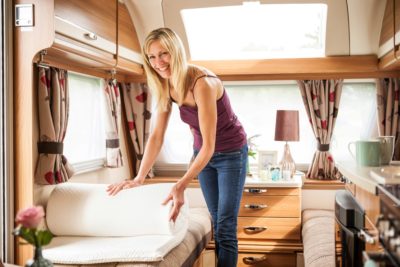 From mattresses to shaped bed toppers; portable toppers for the seats in your caravan or motorhome, to the revolutionary Duvalay sleeping bag – ideal if you have to make up the bed at night, with their duvet and bed topper combination.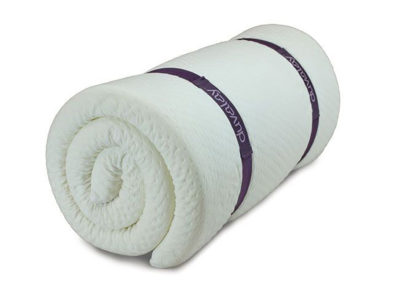 Duvalay also has a range of pillows – a deluxe pillow, which is great if you like to have two pillows for sleeping – and then a travel pillow, which is very small and compact and can be easily stowed under the seats.
For more information visit www.duvalay.co.uk
Duvalay prices from £99.95
Tyron Safety Bands
Tyron safety bands help you stay in control of your caravan or motorhome should you be unfortunate enough to have a blow-out, enabling you to drive to somewhere safe to change the wheel.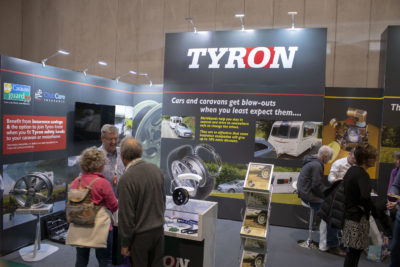 They stop a deflated tyre from falling into the well of the wheel and potentially causing damage to the caravan or motorhome and loss of control.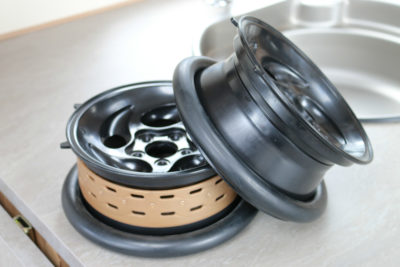 Caravan Guard offers a small caravan and motorhome insurance discount to owners who fit Tyron bands to their vehicle.
For more information visit www.tyron.co.uk
Prices around £78 per wheel, including fitting.
Over to you…
Let us know what you make of these caravan and motorhome accessories in the comments box below.
Cost to insure: *
---
factfile
| | |
| --- | --- |
| Model | |
| Base vehicle | |
| Axle type | |
| Dimensions | |
| Shipping length | |
| RRP | |
---
Search our blog
---