Points of view: Watch out behind you? Caravan towing mirrors are a must, for most of us
Okay, so while some car/caravan outfits don't need towing mirrors, the majority do. Start on the basis that, whatever you drive – from a solo car upwards – it's a legal requirement to have at least two rear view mirrors.
Things get a bit stricter when it comes to towing. Perhaps you can see straight through your caravan (or over your trailer tent/folding camper). Or you have a vehicle that's as wide as, or wider, than the unit you're towing. In all other scenarios, you're legally obliged to fit towing mirrors.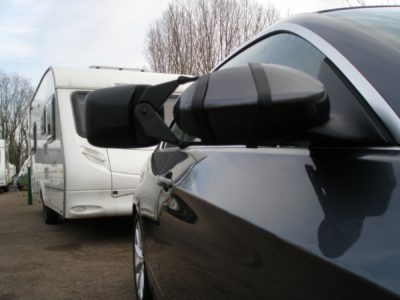 As trade body the National Caravan Council puts it: "Many drivers believe that because they're towing with substantial 4×4 vehicles that these mirrors are not needed. When police check caravan outfits, one of the most common problems they find is a lack of towing mirrors – something that could potentially cost you more than the price of the mirrors!"
A decent set of mirrors should last you most of your towing life, no matter how many cars you get through. That's why it's a good idea to buy mirrors designed to fit as wide a range of vehicles as possible.
Apart from your own experience, it's almost impossible to gauge mirror stability at speed – the turbulence from large vehicles coming past you in the opposite direction is a major factor here, too.
Models with clamps are generally recognised as being the most secure. Set the clamps as far apart as possible for optimal stability. One way of making sure you have a solid fixing is to attach the clamps first, then feed in the arm of the towing mirror. An alternative is to attach the clamps to the underside of the car's mirror case.
A good first step is your local caravan dealer's accessories shop. Here, you'll get instant, expert advice and a chance to see what's on the market and someone to show you how to fit them correctly.
In this video we look at the importance of caravan towing mirrors with a former police officer and towing instructor.
Caravan towing mirrors and the law
Legally, when towing a trailer you must have a clear view along both sides, of 4m either side to a distance of 20m behind your towed unit. That means, in nearly every case, you need to add towing mirrors. These must not extend beyond 25cm of the widest part of your caravan/trailer – this distance is reduced to 20cm for mirrors that do not have an E-marking to prove they're made to European standards, or for cars registered before January 26, 2007.
The diagram here (courtesy of Milenco) demonstrates when you need towing mirrors.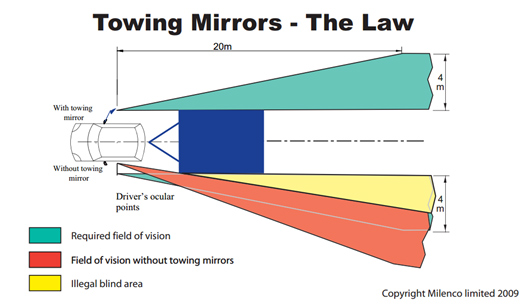 As with any legal requirements, it's important to stick to the law, otherwise, it could affect your caravan insurance.
Look for the "e"
The first thing to look for on any towing mirrors you're contemplating should be some kind of "e" marking – making sure they meet European (EEC 2003/97) or international (UNECE 46.01 or 46.02) regulations.
Such markings will be on the mirror's casing. For example, a lower case "e" indicates European standard (if the following number is 11, it means any evaluation was carried out in the UK), while an upper case "E" denotes international standard. It's common for mirrors to carry sets of marking for both.
Top tips
When not in use, keeping your towing mirrors in a storage bag will help prevent scratching.
Setting your towing mirrors is much easier when two people are involved – with the driver staying in his/her seat while a companion makes the adjustments.
Tolerances in the casings of door mirrors do vary from car to car, especially on older vehicles.
For models with straps, make sure there is sufficient length to go around your mirror housing.
Have you just bought, or are thinking of buying, a 2.45m (8ft) wide caravan? You may need extended towing mirrors to match.
Remember to remove your extension mirrors when not towing.

Milenco Aero 3
There can't be a caravan accessories shop in the whole country that doesn't stock these. Easily the UK's best-selling towing mirror, the Aero was introduced in 2007.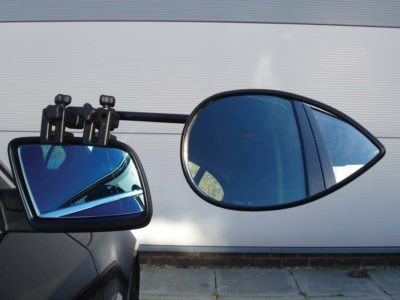 Aero 3 is the latest (indeed, third) generation, making the bold claim it will fit any towcar on the market, including popular marques such as BMW's X3 and X5, plus latest Land Rover models. Also, the latest variant is more secure than ever, too, with less vibration when towing at speed.
Milenco's Aero 3 is available in different formats – convex or flat, selling singly or in pairs, as well as extended versions to suit the UK's widest caravans. Also available is the Grand Aero… people tend to choose this when it's seen alongside the Aero 3. Its larger, rectangular shape promises an even better view.
Price from £60.95 (Convex twin-pack, with case)
Key features Top-seller status, premium product, complies with EU and other international regulations, stainless steel screws, brass inserts, chrome safety glass, patented clamping system
More info www.milenco.com

MGI Safety Towing Mirror – Convex

MGI is the budget brand of market leader Milenco, and this is the type of mirror you might feel happier buying if your towing is limited to just a few occasions, or if you have an older car with less curvy mirror housings. Choose between convex or flat mirrors, you also get handles that slot over the housing of your car's mirrors and tensioning straps. Also available in XL size. Like all Milenco mirrors, spares availability is good, too.
Price from £5.95 (single)
Key features Safety glass, storage bag included.
More info www.milenco.com

Leisurewize Suck It & See
Designed to adjust with an electrically powered mirror, but as you can see it will blot out the view from your vehicle's original fitting, and it won't be as steady as more conventional towing mirrors at higher speeds. Some folk prefer it this way, however. Like most designs, it's available with convex or flat glass – one suggestion is fitting convex on your nearside, flat on the offside.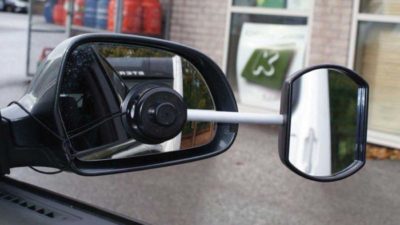 Fitting is almost instant, just place it flat against your car's mirror and twist the sicker fixing.
Price from £29.99 (single mirror)
Key features Instant fixing, adjusts via your car mirror's electric control, includes storage bag.
More info www.streetwizeaccessories.com

Ring RCT1420 Clear View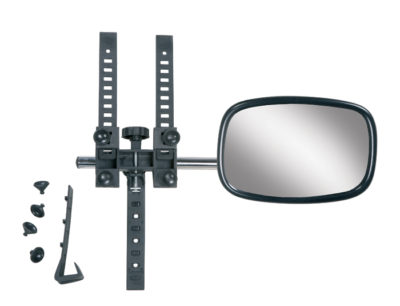 A convex mirror will always give you a wider field of vision. These aren't too heavy, either, weighing some 0.6kg and measuring 131mm high x 205mm wide x 22mm deep, with adjustable strapping to provide stability as well as three-way adjustment to make sure setting-up is ideal. The mirror itself has a blind spot section on its outer edge.
Price from £25.99
Key features E-marked, adjustable straps, convex mirrors, suitable for most towcars.
More info www.ringautomotive.com

Maypole MP8329 Convex Extension Towing Mirrors
Another company offering a range of mirrors in varying sizes and specifications. These use convex mirrors for a wider view, and they're EU-approved.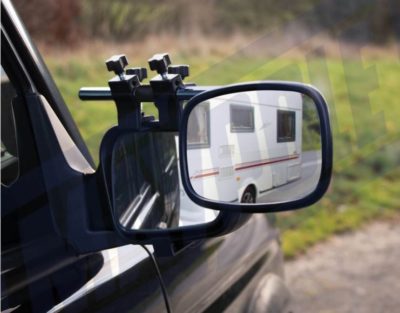 Weight is 1.34kg, dimensions are 36cm long x 22cm high x 8cm deep.
Price from £36.53 (pair)
Key features E-marked, convex glass, strong fixings, suitable for wide range of vehicles
More info www.maypole.ltd.uk
Over to you…
Got any advice on towing mirrors to pass on to others? Feel free to add your comments below.
Cost to insure: *
---
factfile
| | |
| --- | --- |
| Model | |
| Base vehicle | |
| Axle type | |
| Dimensions | |
| Shipping length | |
| RRP | |
---
Search our blog
---