If you're a caravan or motorhome owner keeping your leisure vehicle at home, you've probably wondered how you can keep it safe when it's on your driveway.
With an expensive 'van, your pride and joy, your ticket to family getaways and enjoyable holidays, just sitting outside your house, you need as many ways as possible to make sure that your caravan is protected.
Have you considered a drive post to protect your caravan, motorhome, or campervan at home?
As with any vehicle, the range of protective measures you can take is almost endless: from installing PIR sensored security lighting, CCTV, wheel clamps, alarms, tracking devices or even steering wheel locks, for those with campervans or motorhomes. If you've thought about security, you've probably considered them all.
But there's one often underused option that provides exceptional security while also acting as a visible deterrent to keep your caravan or motorhome safe from would-be thieves: drive posts also referred to as driveway security bollards.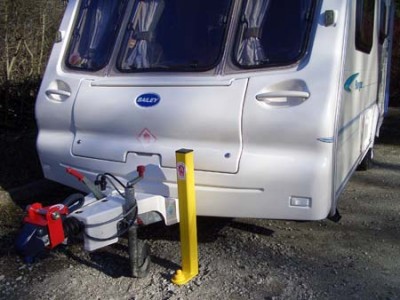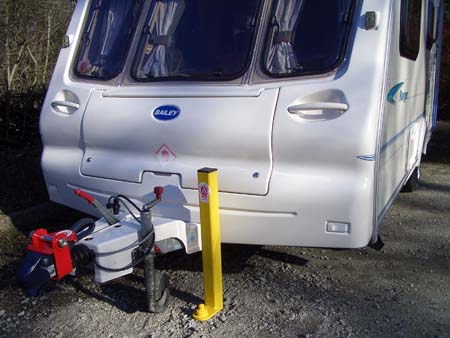 Do consider a security post as part of your armoury of products protecting your caravan, campervan or motorhome against would-be thieves. They provide added protection when your vehicle is in its usual parking position – typically, on your drive – acting as a physical presence blocking the otherwise instant removal of your pride and joy.
There are a few different designs to consider.
We had a lot to write about so we've broken this article down into these sections (click to jump to the section you need):
Security drive post features
Choosing the right driveway security post
Is my driveway suitable for a residential security drive post?
How much does a security drive post to protect my caravan or motorhome cost?
Top buying tips
Eight star players
Can a security drive post improve your caravan or motorhome's insurability?
For some high-value 'vans, specialist insurance providers might recommend the installation of extra security measures, such as a driveway security post, as a prerequisite for offering an insurance policy. If storing at home, your insurance may require a form of locked barrier. If locked gates aren't viable on your driveway, a drive post might be your best option.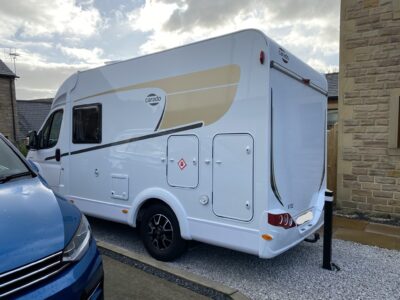 It's crucial to understand that not all driveway posts or bollards offer the same level of security. As a leisure vehicle insurance specialist we'd always recommend looking for drive posts that have approval from independent testing house Sold Secure, meaning the locking mechanisms have been tested and shown to stand up to known thief attack techniques for a reasonable length of time. The best devices attain Sold Secure Gold standard.

Here are some features to look out for when looking into which drive post to buy:
Robust steel thickness exceeding approved standards
Foundations rigorously designed and tested for security
A dependable, attack-tested locking mechanism
Tamper-proof handles 
Bollard wall thickness
The wall thickness of security drive posts might vary based on their category, such as removable, telescopic, or fixed. A specialist provider can help you to determine the right type and thickness for your needs.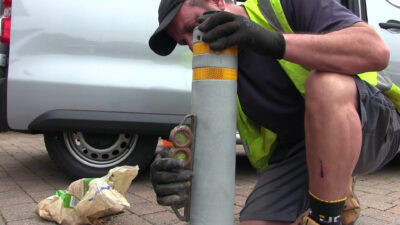 It's essential to note that wall thickness alone doesn't solely determine a drive post's ability to withstand impact and attack. The material and design of the drive post also plays a significant role in protecting your leisure vehicle. Nevertheless, starting with a bollard with a higher wall thickness and with a Sold Secure rating is a good start.
Foundation varieties
Various drive posts types are available, including lift-out, telescopic, fixed, and folding. For most households, lift-out or telescopic bollards are preferred. Caravan owners do also have the option of fitting hitch posts, where the caravan coupling attaches to the top of the security post.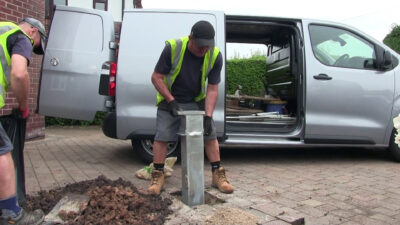 Lift-out and telescopic bollards are easy to use, making it easier for manoeuvring your leisure vehicle. They also boast deeper foundations, making them sturdier than folding bollards, which are often just bolted to the ground.
Locking mechanism
The locking mechanism is another crucial feature to consider when selecting any security device, including a driveway bollard. A secure lock mechanism is vital to prevent tampering. Surrounding the lock mechanism with an extra secondary steel wall makes it more challenging for would-be thieves to tamper with the lock by drilling from the side.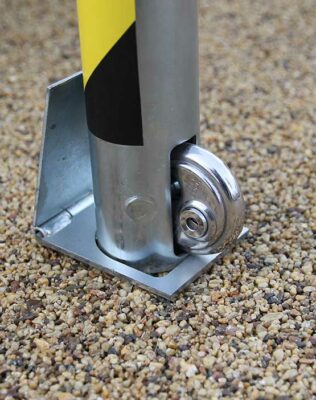 Many of the best drive posts feature multiple locking points, enhancing security against tampering or unauthorised removal. Therefore, it's important to make sure the lock mechanism is both durable and secure when choosing your security bollard.
Tamper-proof handles
The design of the handle can be a critical factor differentiating between a secure bollard and a vulnerable one.
Drive posts from the likes of ATG Access incorporate handles that are intentionally designed to break off if tampered with, ensuring the safety and security of your leisure vehicle. This feature prevents unauthorised individuals from removing the bollard because the handle must turn to enable lifting or retracting.
Choosing the right driveway security post
Finding the suitable driveway bollard for your needs involves considering various factors. Your first decision is whether to opt for a removable or telescopic bollard.
Removable drive posts
Removable drive posts can be completely extracted from the ground by the user, and have shallower foundations than telescopic bollards. Consider the environmental conditions around your home, as seasonal water changes and the water table can affect telescopic bollards. Remember that you'll also need storage space for the bollard when it's removed, preventing theft and maintaining its condition.
Telescopic drive posts
Telescopic drive posts remain attached to their foundations, sliding out when in use and stored underground when not needed. Lift-assist options simplify the process, making it easier to lift the drive posts. If lifting weight is a concern, look for lightweight options but don't compromise on quality.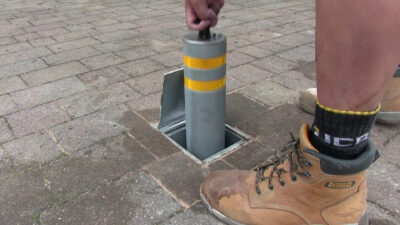 Is my driveway suitable for a residential security drive post?
Once you've thought about which type of bollard suits your needs best, it's time to consider which is right for your driveway.
With a caravan, motorhome, or campervan, your driveway might be wider than normal, and it's worth thinking about protecting your space most effectively.
If you do have a wider driveway – or even a driveway wide enough for several vehicles – drive posts could still work for you. Installing multiple posts in array or using matching fixed bollards to reduce the width of your driveway could provide extra security and give you peace of mind when it comes to protecting your get-away home from home!
Specialist providers such as ATG Access can offer advice on whether your driveway is suitable.
Once you've chosen your drive post, a reputable installer will make short work of fitting and leaving your driveway neat, tidy and safer than ever.
Watch: How to install a drive post correctly
How much does a security drive post to protect my caravan or motorhome cost?
Depending on the options that you choose – either telescopic or removable, and whether you need extra fixed bollards for your driveway – there is a range of prices available.
If curbside appeal is as important as security for you, you might want to consider paying a little more for a drive post that's more aesthetically pleasing with a stainless steel finish.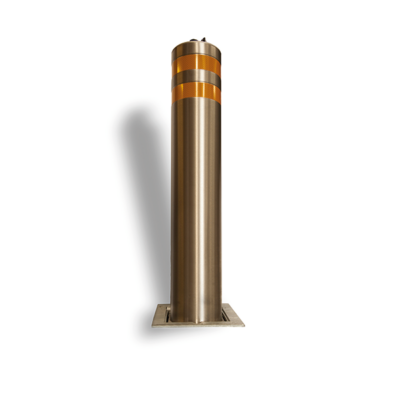 It's also worth looking into customer reviews of each product to see what owners say about longevity, maintenance and availability of spare parts should the post get damaged.
Other top tips
Consider your location before you install a security post. Also, note which way it needs to fold down if it has this feature.
Fitting is important. Some designs bolt directly into hard ground, others rely on concrete, which will involve digging.
Be wary of any underground cabling or pipework etc if you're digging a hole in your drive.
If your security post comes with keys, make sure you have an appropriate place to keep any backups (a safe, or key box at home, for example).
As ever, physical deterrence is a big factor – if thieves see something is particularly well secured, it might be sufficient to get them to move on.

Here are eight security drive posts to protect your pride and joy, including two caravan-specific hitch posts.
Star Player #1
ATG 101 670 Telescopic Driveway Bollard
From a company founded in 1989 when car theft from driveways was becoming a major issue. ATG Access manufactures a range of fully retractable bollards.
This model sits some 670mm above ground (and 1050mm below) with a 5mm thick wall. Lifting weight is quoted at 16kg. A moulded plastic handle helps with the lifting and lowering. Plus it comes with two yellow reflective bands.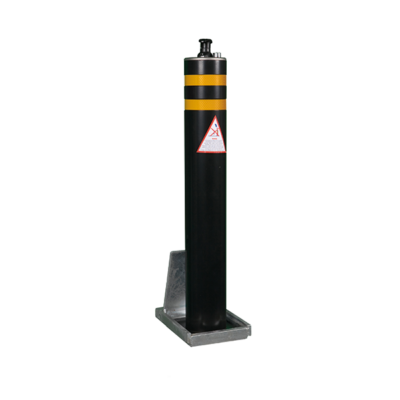 It has a Sold Secure-rated lock that has been attack-tested.
ATG warns if you're in an area with a high water level table, a removable bollard might be a preferred alternative.
ATG also has a shortlist of recommended installers.
Key features Mild steel with reflectors, 101mm diameter, supplied with two keys (more available at extra cost), UK manufactured
Expect to pay £351
Star Player #2
Bulldog SA6 Removable Security and Ram Raid Barrier
As well as a range of traditional security posts, Bulldog offers this – the Removable Security Barrier. It's a hefty 31kg, but needs just two holes and, says Bulldog, can be fully fitted in an hour.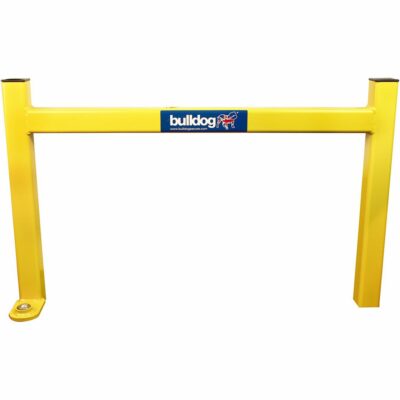 Security is via Bulldog's Super Lock Bolt, which is supplied with two keys. The lock is case hardened and is drill- and pick-resistant, with over one million combinations.
It's also supplied with two cover plates for use when the barrier is removed.
Key features 70mm x 70mm, 5mm thick steel with bright yellow powder coat finish, spigot mount, 10mm retaining eye welded to barrier leg, overall height 70mm, British manufactured, five-year warranty
Expect to pay £325.95
Star Player #3
Crookstopper Removable Caravan Trailer Post
From a specialist company that offers a wide range of security products. This is one of a number suitable for caravan use. The base concretes into the floor for the post to be used in conjunction with your caravan's hitchlock.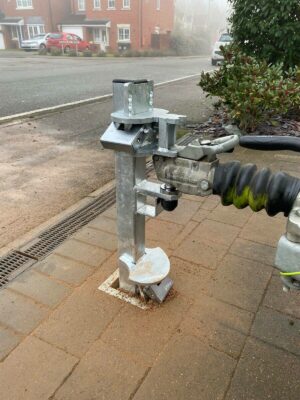 Its design includes an anti-bolt cropper plate and a sliding mechanism that stops padlocks being attacked by bolt croppers. An additional anchor point can take a security chain is you want to secure other items.
There's also a hinged flap that keeps the base flush with the ground when the post is removed – which alleviates a trip hazard as well as a danger of damage when driving over.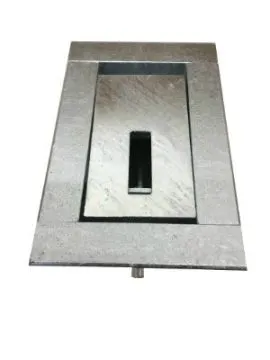 There's the option of ordering three keyed-alike padlocks when you make your purchase. Plus, at the time of writing, Crookstopper was offering free anti-bolt cropper and anti-hacksaw plate (normally £27.50). Three 80mm armoured padlocks are also offered, taking price up to £220.
Key features Fully galvanised steel, UK manufactured, free delivery included, 10-year guarantee (padlock one year)
Expect to pay From £160
Star Player #4
SAS Concrete in Removable Security Post
For concreting in, this removable security post includes its own built-in lock at the top – making it easy to use (you don't need to bend down, for example, for those with a padlock fitted at ground level)  but also protected from dirt etc.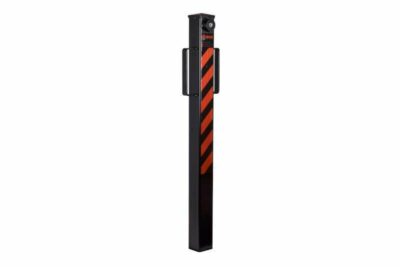 Side handles also make the post easier to remove. Weight is 15kg.
It's an extra £56.99 if you want a tow ball adaptor, which allows you to hitch up your caravan directly to the post.
SAS Security Products is a well-known manufacturer of a wide portfolio of caravan security products – including hitchlocks, wheel clamps, locking wheel bolts, corner steady locks and more.
Key features Steel construction, black powder coat fish with reflective stickers,
Expect to pay From £254.99
Star Player #5
ATG 114 670 Removable Bollard
One of several removable security posts from ATG Access (it prefers to call them bollards), including Heavy Duty and telescopic variants. Chances are, the standard model here will suit your caravan needs if you want a removable model.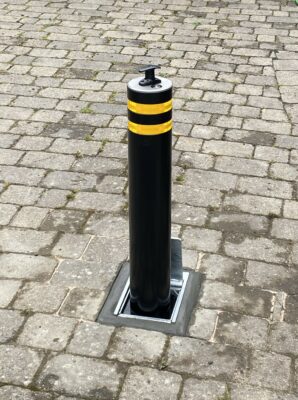 It uses Grade 4, 3.2mm thick stainless steel with a 114mm diameter. Foundation depth is 450mm (so not as deep as the ATG 101 670) and the height of the pillar above the ground is 670mm, as indicated by its model number.
Two reflective bands in yellow make sure it's seen in poor lighting and also helps as a visual deterrent. This is also the lightest model in the range, with a lifting weight of 9-10kg.
Key features Stainless steel with moulded plastic handle, twin reflector bands, supplied with two keys (more available at extra cost),UK manufactured. Sold Secure approved lock.
Expect to pay From £491
Star Player #6
Maypole MP9737 Fold Down Security Post
A typical folding security post from Maypole, which says it's its top seller in this sector. This example bolts into solid ground (concrete or similar; drill depth is at least 100mm) and comes with a padlock and two keys. The post folds flat when not in use (Maypole says it should fold away from the vehicle it is protecting). It also comes with ball bearings, which prevent the removal of the anchor bolts once they're in place.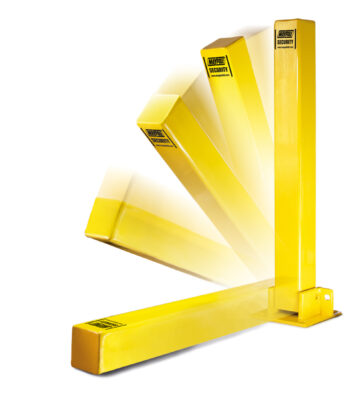 The base plate is 1300mm x 1300mm and the unit sits 570mm tall when up.
Its bright yellow paint finish makes for a highly visual deterrent.
Sister model MP9739 is for setting in concrete. Other Maypole posts are also available.
Key features All-steel construction, four M 10 HT parabolts (countersunk hex included), 60mm post, stainless steel padlock with 10mm shank, solid cast base with four fixing holes, for permanent fitting
Expect to pay £44.99
Star Player #7
Bulldog SA7 Caravan Hitch Post
A straightforward design that is nonetheless effective on physical security and visual deterrent fronts, the latter thanks to its eye-catching bright yellow finish.
Once in place, you simply hitch your caravan to this post using its hitchlock. If you haven't got one, or prefer not to use it, check out Bulldog's Mini Lock.
The SA7 is 700mm tall (not including its tow ball mounting point, but typically some 300mm is fixed directly into the ground). A removable version, the SA7L, is also available.
Key features 70mm x 70mm, 5mm thick steel with bright yellow powder coat finish, 8.8kg weight,
Expect to pay £87.95
Star Player #8
Autolok Removable Caravan Hitch Post
Comprising a 62mm diameter removable post with 50mm tow ball to attach to – you can then use your own hitchlock.
This unit fits directly into the ground but the post is removable thanks to a clever twist-out design feature. A spring-hinged plate fits flush with the ground to prevent dirt etc getting in the hole.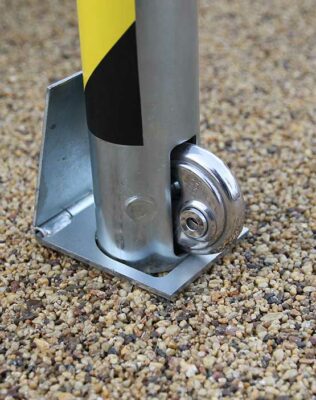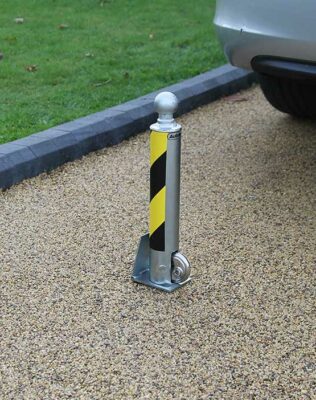 It comes with a stainless steel padlock (model PP10), with Autolok also offering an upgrade to the higher-security PP30 variant.
Autolok also supplies a range of other removable, fold down and telescopic security posts.
Key features Zinc plated 3mm thick steel, 415mm above ground height (290mm below ground), free UK delivery
Expect to pay £109.99
Over to you…
Got any advice on security posts you'd like to pass on to fellow caravan, campervan or motorhome owners? Please feel free to add a comment below.
Thanks to ATG Access for their help with this feature. For more information about their residential security bollards visit their website: www.atgaccess.com
Cost to insure: *
---
factfile
| | |
| --- | --- |
| Model | |
| Base vehicle | |
| Axle type | |
| Dimensions | |
| Shipping length | |
| RRP | |
---
Search our blog
---