If you want protection for your caravan or motorhome – whatever the time of year, but particularly if you're putting it to rest for a while through the winter – a cover must be on your wishlist. Maybe you already have one.
In a recent poll of Caravan Guard customers, we found out that over half of you – 40 percent of caravanners, 12 per cent of motorhomers – already use a full cover. The number for motorhomes is always going to be lower, of course – for reasons such as the likelihood of it being used all year round and/or stored in a garage.
A few years ago a cover actually saved a customer's 'van from serious damage.
There are three types of such cover – universal fitting, part-tailored and fully tailored. As you can probably guess, prices move upwards (generally) as you head towards a cover that's fully tailored to your specific vehicle, including allowances for roof-mounted fittings (aerials etc), and more.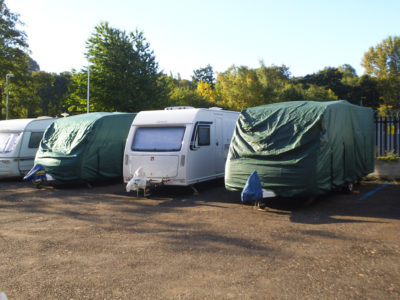 Benefits of a motorhome or caravan cover
The key is, a full cover can protect from not just any bad weather, but also bird droppings, tree sap, airborne pollution, black streaking and so much more.
There are other benefits. In terms of security, a cover will hide the identity of your caravan or motorhome, to a certain degree. Or if you've left any items of value inside – although we'd caution you should remove such things if you're not using your vehicle.
It also means you don't have a major cleaning job on your hands when you do take the cover off after an extended period.
Any cover will also protect your vehicle's paintwork – plus any rubber seals and internal fittings such as curtains – from the sun's UV rays.
More recently, the increasing use of solar panels has seen cover manufacturers tweaking their designs to allow the panel to continue to operate. That can be crucial if you rely on solar power to keep batteries topped up that are integral to your leisure vehicle's alarm and/or tracking systems.
Top tips for using a motorhome or caravan cover
If you are putting your 'van into storage for an extended period, don't forget to let us know.
Condensation means mould and mildew. Get a cover that uses a fabric that is breathable and allows moisture to evaporate to overcome this.
Most motorhome and caravan covers these days are non-abrasive. That means their inner is soft so as not to cause any scratching as the cover inevitably moves about. In particular, windows, graphics and light fittings can be vulnerable to such abrasion. Lower-priced covers may come with extra pieces of softer material that you can use to stop any such scratching.
Choose a cover that's a good fit so it won't flap about when it's windy.
Make sure your caravan or motorhome is as clean as possible before fitting a cover. If it's free of particles of grit etc there's less likelihood of any unwanted chafing. Some folk like to leave a layer of polish, or over-wintering fluid, on their vehicles before adding the cover.
Similarly, keeping your motorhome or caravan cover clean will optimise its breathable properties. Generally, you can clean a cover with warm water and a cloth. Using detergents may affect breathability.
Check for damage each time you use it to make sure it's offering the best protection for your pride and joy.
Go for better-known makes and you're more likely to be able to source replacement parts, such as straps and buckles, etc.
Star Player #1
Protec Covers
This specialist boasts over two decades of experience, using what they claim is the most breathable fabric available today, and their fabric is also water-resistant and can repel up to 1m of standing water!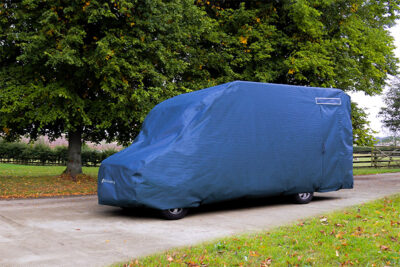 All Protec's full caravan and motorhome covers come with an "Easy-Fit system" – making fitting the cover really simple – plus, access to the habitation door, fitting poles, an A-Frame cover, a storage bag and delivery all free of charge.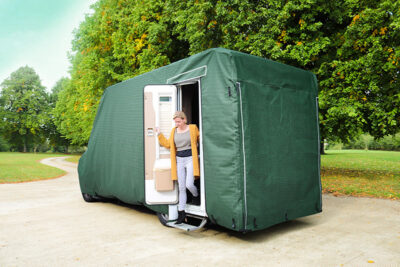 Protec Covers says: "We've been making protective storage covers for caravans and motorhomes for more than 20 years. Our fabric is the most functional on the market, being water-resistant, breathable, and soft on the inside, so it doesn't scratch the paintwork. The industry's biggest names have also tested our award-winning designs and features for quality assurance."
Protec's motorhome and caravan covers come in a choice of three colours: green, grey or bright blue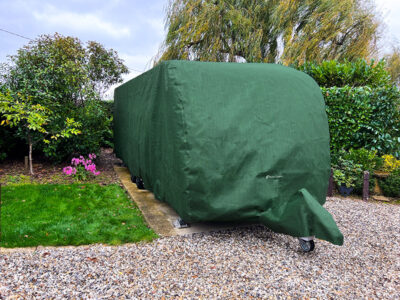 Prices from £390 for caravan covers and £410 for motorhome covers (van conversion/coachbuilt/A-class motorhome covers)
Key features Breathable tailored covers, original Easy-Fit System makes fitting the cover super-easy, door access, storage bag, fitting poles and A-frame covers as standard.
For more info www.pro-teccovers.co.uk
Star Player #2
Specialised Covers
Described as "top notch quality" by one leading retailer, Specialised Covers supplies its products with extendable poles to make fitting easy – you use these to literally push the cover over your vehicle.
The multi-layered fabric is waterproof (as opposed to water-resistant) and breathable – that's thanks to a directional membrane that allows any condensation to evaporate, as well as being non-abrasive on the inside.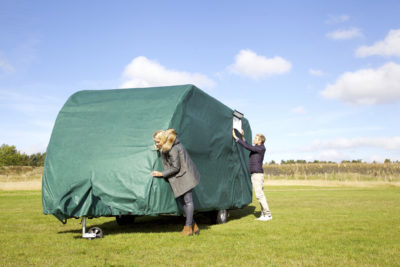 As well as Velcro, the cover has buckles and straps to fasten under the vehicle, to make sure that once fitted it stays that way, whatever the weather. "Windows" or perspex openings can be fitted to individual needs for solar panels, as well as door access.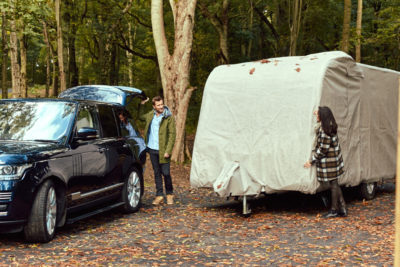 Specialised Covers says: "As official suppliers to the Swift Group, Coachman, Lunar, Elddis and Bailey, we're the only caravan protection brand to be recommended by the industry's market-leading caravan manufacturers. All our covers are made to measure your make and model of caravan."
Prices from £399 for caravan covers and £499 for motorhome covers
Key features Velcro door access, National Caravan Council verified, choice of three colours, free UK delivery, three year fabric warranty.
For more info www.specialisedcovers.com
Star Player #3
Maypole
Maypole says it has more than 20 years experience of in manufacturing and supplying covers to leisure vehicle owners and the key feature here is a 4-ply material for both its motorhome and caravan covers.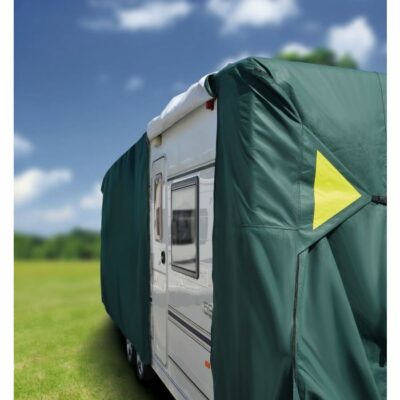 Universally fitting, Maypole's motorhome and caravan covers are made from a breathable, heavy-duty, non-woven polypropylene fabric, which will allow moisture to evaporate and reduce the risk of mould, mildew and algae. Your vehicle is protected from scratches with a soft backing and high UV protection.
Caravan covers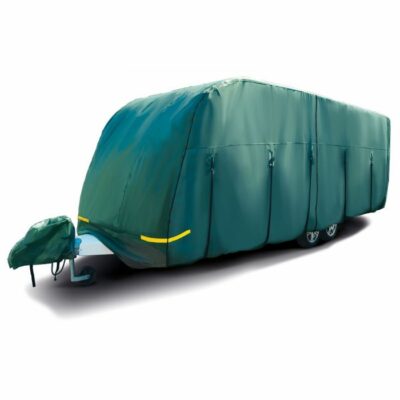 Their green caravan covers are available in seven sizes from 4.1m to 6.8m.
Motorhome covers
Maypole provides six motorhome covers in a range of sizes, from up to 5.7m, to motorhomes that are 8m long.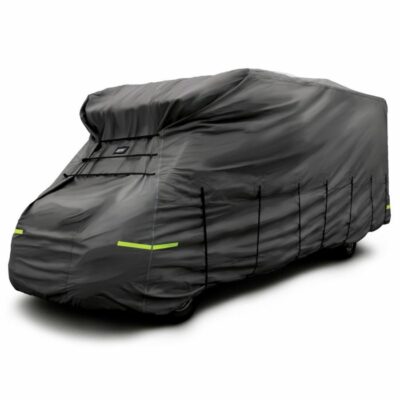 Prices from £121.46 for caravan covers and £153 for motorhome covers
Key features Three zips, adjustable straps, elasticated hem, reflectors on the front and sides, breathable hitch cover included and storage bag
For more info www.maypoleltd.com
 Over to you…
Got any advice on caravan or motorhome covers to pass on to others? Or has a cover saved your caravan or motorhome from damage? Feel free to add your comments or stories below.
Cost to insure: *
---
factfile
| | |
| --- | --- |
| Model | |
| Base vehicle | |
| Axle type | |
| Dimensions | |
| Shipping length | |
| RRP | |
---
Search our blog
---