Optimise the security of your motorhome with a steering wheel lock, and more. 
Devices such as steering wheel locks are a highly effective addition to systems designed to protect electronics from motorhome theft. Because of their high visibility, they're also an ideal complement to non-visual items such as tracking systems.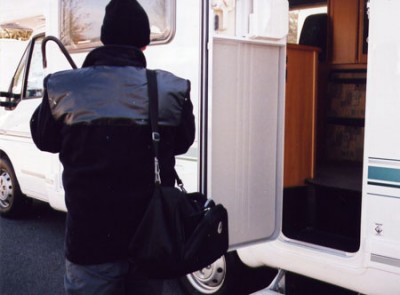 And while, ultimately, any anti-theft deterrent can be broken off and/or destabilised by the most determined of thieves, it's certainly helpful to have on show something that's visible as a warning to any criminals.
There's also the time factor involved in a thief attempting to get rid of a security lock, clamp or similar – and the fact that wrestling with such an item will draw attention.
Indeed in December 2018 the retailer Halfords announced that sales of steering wheel locks had doubled over the previous 12 months as motorists protected their vehicles against latest theft trends.
Think of it this way, too. A casual thief will always turn to the easiest alternative so, if your motorhome is lined up with others (in storage, for instance) you're giving yourself an extra layer of protection and making your motorhome a less easy target.
Here's some advice on steering wheel locks and more that can help prevent motorhome theft.
Sold Secure and Secured by Design
Owned by the Master Locksmiths Association, the largest trade body of its kind, Sold Secure is a subsidiary that acts as an independent testing house for security products, including things like steering wheel locks, clamps and more, designed for motorhomes.
You'll see the Sold Secure logo on a wide range of security products – look out for those with a Gold standard. Sold Secure test devices using known the latest known theft techniques and tools.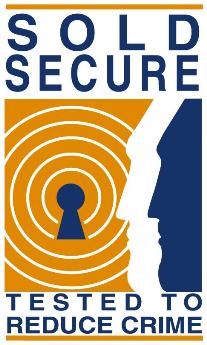 Look out also for the police-backed initiative, Secured by Design.
Do note, also, that Thatcham – the independent body that's backed by major vehicle insurance companies – no longer assess physical devices such as wheel clamps and steering wheel locks.
Find out more at www.soldsecure.com and www.securedbydesign.com.
Caravan Guard's top tips
If you're considering a steering wheel lock for your motorhome, it's always worth measuring the outside diameter of your steering wheel before making a purchase.
By their nature, items like wheel clamps tend to be heavy and bulky. Make sure you have somewhere suitable to store them when not in use.
Whatever extra security items you're thinking of adding to your motorhome, give us a call at insurance renewal time. We can advise on what might give you savings on your annual motorhome insurance premium.
Three motorhome friendly steering wheel locks worth looking at

Star Player #1
Milenco Commercial Steering Wheel Lock
Milenco has applied its motorhome and caravan pedigree to this device, which is an adaptation of its High Security Steering Wheel Lock and is designed specifically for motorhomes. It meets Sold Secure's top Gold standard and is extra-long (some 6cm more than the standard car version) – hence it's more suitable for motorhomes based on Fiat's Ducato/Peugeot's Boxer etc.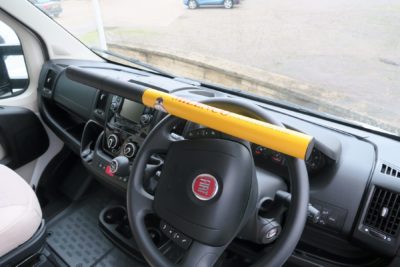 It's supplied with three keys, with spares also available.
Key features Steel construction, high-security lock, attack-resistant for 300 seconds.
Expect to pay £70
Star Player #2
Stoplock Pro Elite
This is Stoplock's flagship steering wheel lock, promising universal fitting (although you should always check) along with Sold Secure's Automotive Gold rating. The Elite features a deeper bend to its shape, as well as larger forks.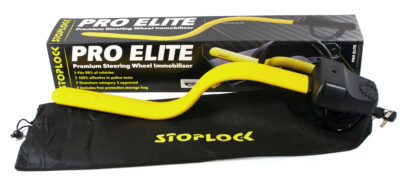 The manufacturer says the wrap-around design also helps to protect against airbag theft and breaking of the internal steering wheel lock. The bright yellow finish gives it high visibility, too.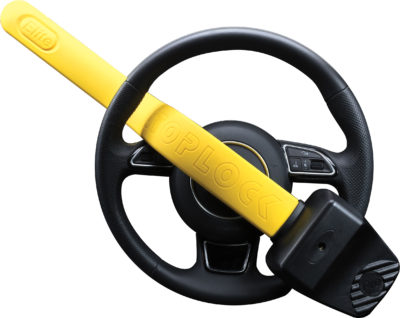 Replacement keys are available thanks to a unique arrangement with leading specialist Locktec Security Group.
Key features Easy to fit, supplied with case, unique key code and lifetime guarantee
Expect to pay £60
Star Player #3
Disklok
Marketed as "the UK's strongest steering wheel lock", this unit – which comes in bright yellow  – is also as visual as they come (a less eye-catching silver is an alternative offering in some sizes).
Typically, the Medium is best suited to motorhomes based on Fiat's Ducato/Peugeot's Boxer. Note there's a built-in adjustment of one inch which allows you to find the perfect size for your steering wheel.
When fitted, the Disklok is loose enough to slide around on your steering wheel (although it should not be loose enough that it can be lifted off) – that's what makes it impossible for any criminal to get a firm enough hold to lever it off.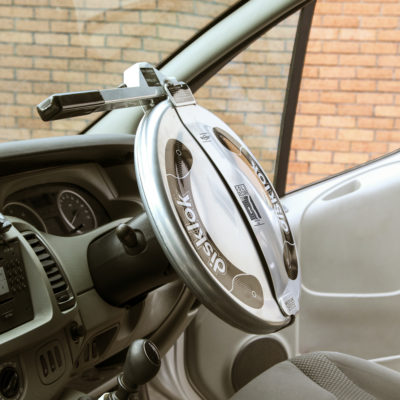 Disklok also offers steering wheel cover and storage bag options, at £5.99 and £12.99 respectively.
Key features All-steel reinforced construction, choice of sizes and colours.
Expect to pay £125 (Medium)
 Check out more tips on how to prevent motorhome theft and take a look at other visible motorhome security devices to deter thieves.
Cost to insure: *
---
factfile
| | |
| --- | --- |
| Model | |
| Base vehicle | |
| Axle type | |
| Dimensions | |
| Shipping length | |
| RRP | |
---
Search our blog
---