Motorhome theft is on the rise and thieves are increasingly able to overcome a motorhome's standard security.
Here, we give you further tips on protecting your pride and joy to try to keep thieves at bay. From storage tips to steering wheel locks, to other additional locks and OBD protection, please read on to find out more.
1. Storage and parking
If you keep your motorhome in secure storage it can still be susceptible to being stolen.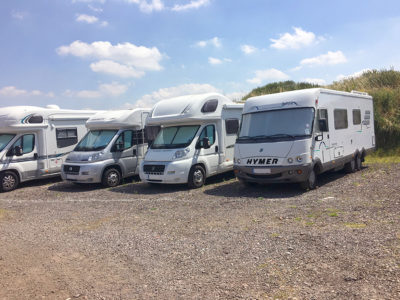 Tim Booth, Leisure Vehicles Officer at the National Vehicle Crime Intelligence Service, said: "Don't assume a storage facility is secure just because it says it is! If you have an alarm or alarm and motorhome tracking device make sure that you set them."
Some storage sites are often unmanned or have CCTV which is not actively monitored, so thieves can take their time in bypassing the vehicle's security, without anyone noticing that it's even been stolen!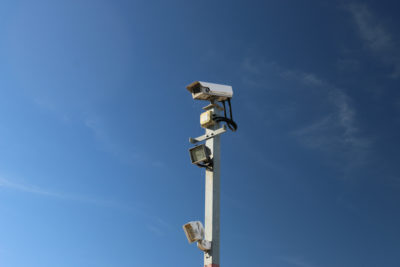 Thieves also have more vehicles to choose from at a storage site and if your motorhome is more desirable or appears easier to steal, you could be the unlucky one!
Tip: Do your research on the storage site. Has it had any previous thefts or break-ins, how much security does it have? Check to make sure there's perimeter fencing, 24 hour access control, CCTV monitoring and on-site security and once you choose your storage site regularly speak to the site owners to see if anything has changed.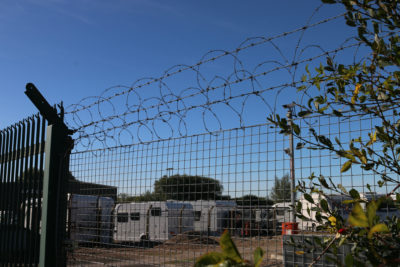 Tip: Check up on your motorhome in storage regularly to make sure all security devices are working and in good order.
If you store your motorhome at home on the driveway, reversing it into its space might be the easiest option.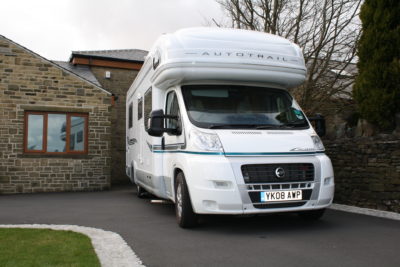 But we have had motorhome thefts where there are no barriers in front of the vehicle and the culprits have turned up in a breakdown truck and simply hooked it up and towed it away. Even if neighbours have seen this, they often assume it's a pre-planned pick-up and the vehicle is going in for service or repairs.
Tip: Park your motorhome nose facing the house, or a wall, with the wheels turned. This will make it much more difficult to tow away.
Also, keep your motorhome keys in a safe place and out of sight, away from prying eyes. If you have a motorhome with keyless entry, make sure they're kept as far away as possible from your motorhome and store them in a Faraday or key-shielding pouch so the signal can't be copied.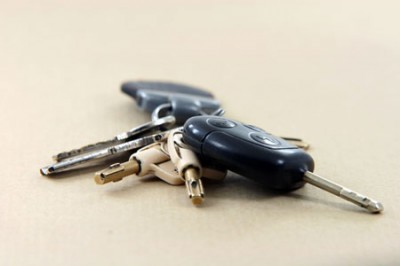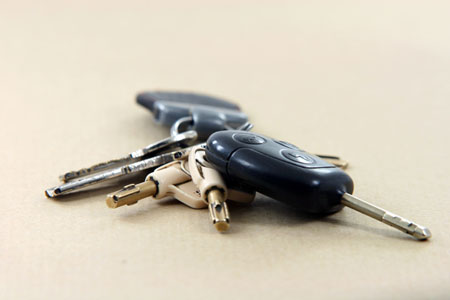 2. Posts and barriers
A security post can be a great highly visible physical deterrent and could make a thief drive past your home and look for an easier steal.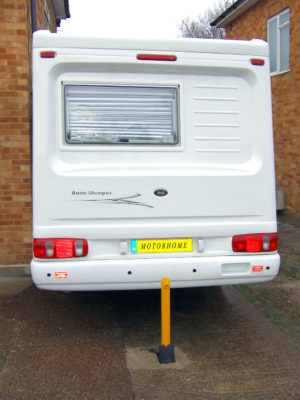 Tip: Choose a high-quality, sturdy post which is securely installed – not one that can easily be driven over! Also, it might seem obvious, but make sure the motorhome can't be driven around the post to get it out!
If your motorhome is stored behind a barrier or gates, only declare them to your motorhome insurer if they are to be kept locked 24 hours a day. Consider practicality – could a locked gate prevent you from having post or parcels delivered? In this case, a post might be a better option.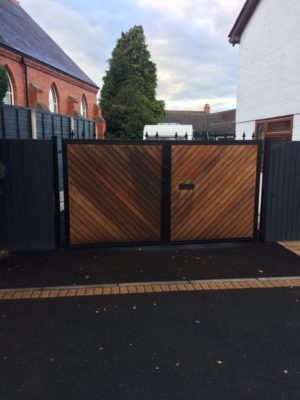 Tip: If you do have locked gates, make sure the padlock or other lock is of a high, Sold Secure quality. The gates are only as good as the lock that secures them.
3. Steering wheel locks
Unfortunately, more and more motorhomes are being stolen through bypassing immobilisers, so a visual physical deterrent, such as a steering wheel lock, is another line of defence you can add to prevent motorhome theft.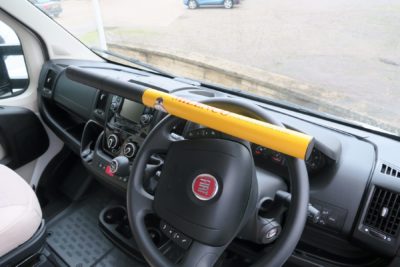 We would recommend the fitting of a high-security steering wheel lock as they're very visible, quick to fit, and they're proving to be effective against deterring thieves, as they take extra time and effort to remove.
Tip: Caravan Guard currently only recommends these three steering wheel locks as they have been proven to withstand a five-minute attack and are all of a Gold Sold Secure standard – Milenco high security steering wheel lock; Stoplock Pro or Pro Elite; Disklok. Ranging from under £50 to just over £100, they're well worth the investment! See out latest gear guide on steering wheel locks for motorhomes.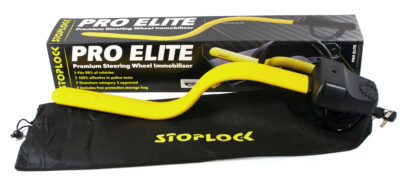 4. Other physical security options
There are other physical security options you might want to consider to deter a motorhome thief, particularly when your vehicle is not in use.
Fit a Sold Secure standard wheel clamp to prevent your wheels from turning.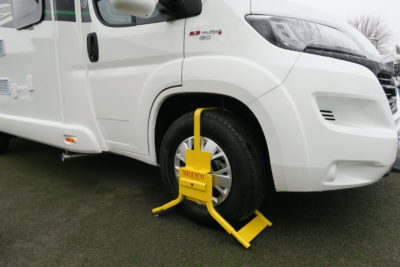 A pedal lock, like the Clutch Claw, locks the clutch and brake pedals together and there are also gear stick locks and other pedal locks or boxes.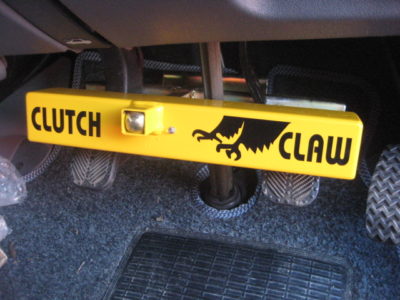 Tip: If you can move your driver's seat sideways or facing into the motorhome, secure it in place with a padlock or short high quality chain, if possible.
If the thief can't sit facing forward in the motorhome, they'll find it difficult to drive away and it's another barrier for them to overcome!
OBD protection
OBD stands for On Board Diagnostic. This is the computer in your motorhome which measures all sorts of things like emissions, mileage, speed, faults etc. The problem from a motorhome theft point of view is that there's an OBD port, which is normally located underneath the driver's dashboard.
It should be used by garages for checking things on your motorhome but worryingly it's being used by thieves to override vehicle security so they can steal it without needing the key. Here are some motorhome theft prevention tips to protect your vehicle from this type of attack.
Tip: Fit an OBD port lock which covers the OBD port on your motorhome so thieves can't access it.
Tip: An OBD blocker prevents unauthorised use of the OBD port. These fix into your OBD port and prevent thieves being able to connect to and disable your motorhome's immobiliser. You might need to seek specialist help to get these fitted.
Tip: Move the OBD port. Again, you might not be able to do this yourself, but having a dummy port in the usual place and moving the real one can confuse thieves when they try to steal your motorhome.
Tip: Consider extra immobilisation security. The Autowatch Ghost system means that you have to press certain cab buttons (such as steering wheel radio controls) in the right order or the motorhome won't start, so even if the ODB port is compromised, your motorhome still won't start.
Other motorhome theft prevention tips
Extra motorhome locks to your windows and habitation door will add another layer of security and make breaking in that bit more difficult.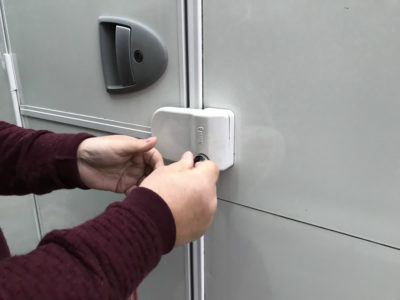 Adding a motorhome alarm could alert you or others of an intrusion and could put the thief off. Make sure it's always activated. Remember you will need a Thatcham Category 1 approved system for your motorhome to qualify for an insurance discount with Caravan Guard.
Motorhome trackers can be great for quickly recovering stolen vehicles. But if you do have one fitted, especially if it was fitted as standard when you bought your motorhome, don't forget to keep the annual subscription up to date.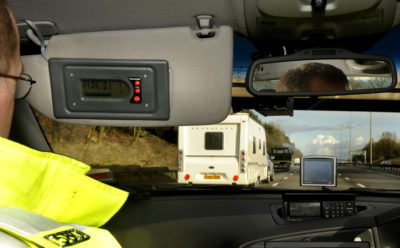 VIN Chip marking can be retrofitted to a motorhome and helps the police identify and recover stolen leisure vehicles. It comes as standard on new Explorer (Erwin Hymer UK), Swift and Autosleeper motorhomes.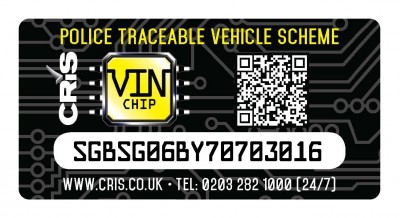 Fit personal attack alarms to your locker doors. Attach the cord to the inside of the door so when the door is opened it activates the alarm, creating lots of noise.
"You could put the last six numbers of the VIN (Vehicle Identification Number) across the motorhome roof," added Tim Booth. "Don't use the motorhome's registration number – or your postcode!"
Your motorhome theft prevention tips…
If you've experienced motorhome theft or have any more prevention tips to share please leave them in the comments box below.
Search our blog
---