A tracking system is the ultimate security device for your motorhome. Find out more here…
Tracking device manufacturer Global Telemetrics say that, in 2022, Fiat Ducato-based motorhomes were the third highest category of recovered stolen vehicles, including cars by make, is a reminder of just how attractive motorhomes are. The recoveries were successful thanks to the fitting of motorhome tracking systems.
Global Telemetrics runs the monitoring station behind SmarTrack tracking systems as well as others – eg Autowatch, Clifford, Hal-Locate etc.
Tracking systems use mobile phone or radio wave technology to locate a stolen motorhome. They still represent the best chance of quickly recovering your motorhome after theft.
Some devices are proactive meaning they can detect unauthorised movement of a motorhome. An alert is sent to a monitoring centre, who in turn will contact you  to ascertain whether the movement is unauthorised, and if so the recovery process begins. Non proactive and less sophisticated tracking devices will not give this early alert of unauthorised movement, meaning the recovery process is often much slower to begin, reducing the chances of successful recovery.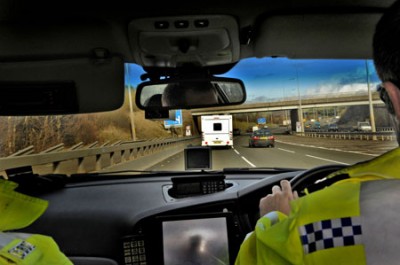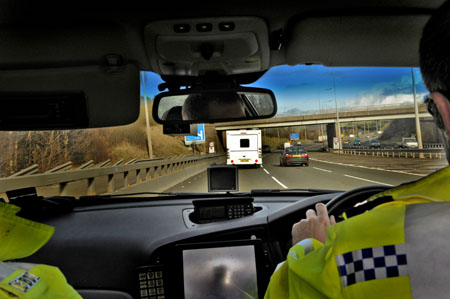 Today, plenty of motorhome manufacturers fit tracking systems – either as standard or an option. The likes of Auto-Sleepers, Auto-Trail and Swift use Sargent, while Marquis Leisure, as the UK importer for Benimar and Mobilvetta, fits all new vehicles with systems from Trackstar.
As far as pre-owned motorhomes are concerned, not only is it worth checking if they have a tracking system fitted, but also how it can be activated by you as the next owner (there will be a subscription fee, for example).
Luckily, also, there are lots of tracking devices on the market that are suitable for motorhomes and campervans. Always check with your motorhome insurer as to whether a system is acceptable. Most will ask for devices that are approved by Thatcham.
Thatcham – check ratings and products
Founded in 1969, Thatcham Research is a not-for-profit organisation funded by insurance companies. One of its aims is to reduce the cost of motoring insurance claims by working with the automotive industry, Police and others to improve security fittings on vehicles.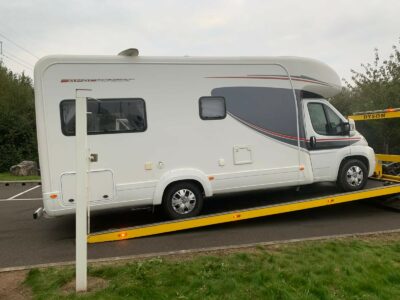 From January 2019, its Categories 5, 6 and 7 for tracking systems were discontinued, succeed by two Categories – S5 and S7.
Many of these devices appear in the Caravan Guard approved tracking device list.
Note: Thatcham has two Cat 7 listings. Also, S5-rated products are called Vehicle Tracking Systems while S7 products are called Asset Location Systems.
S7 means…
24/7 Certified Monitoring Centre
A minimum of one means of transmission of signal
Battery Power Supply
Health Check program
Means of locating Asset within a 1-mile radius in general terrain
Passively or Actively set function
Precisely locatable within 15 minutes from signal receipt on Thatcham pursuit test
Remote set function
Resistance to attack for a minimum of two minutes
S5 means all of the above, plus…
Battery Back Up Power Supply
Bi-Directional data transmission
Data logging
Driver Identification Device
Global Positioning System (GPS)
Passively Set
Roaming SIM
Vehicle motion detection
Thatcham does not have a Cat or S5+ category, although many manufacturers use this to note their systems that have functions beyond normal S5.
You will also notice an ever growing number of battery powered S7 approved devices, many of which can be self installed.
What else can you do to prevent motorhome theft?
Don't make it easy:  Store all keys – including spares – away from household entry points. Be vigilant and report any suspicious behaviour to the Police.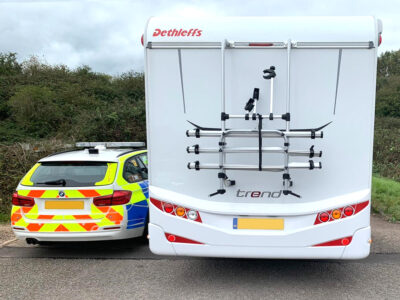 Fit other physical security devices, like motorhome wheel clamps and motorhome steering wheel locks, and choose a secure storage location.
See our tips to prevent motorhome theft here and our motorhome security guide.
Motorhome insurance considerations
Caravan Guard does need owners of motorhomes valued over £65,000 (correct as of July 2023 but reviewed regularly) to fit an S5 or S7 approved tracking device. Generally, specialist motorhome insurers will stipulate what type of tracking device they want you fit and Caravan Guard is no different. Here's a list of Caravan Guard's approved motorhome tracking devices. Note at very high values it's possible we'll ask for an S5 approved system to be fitted.
Star Player #1
SmarTrack 5+ iMOB
A Thatcham S5-rated motorhome tracking device and immobiliser and helps deter the relay – also known as keyless – theft method. This is when a device is used to trick a motorhome into thinking its own remote key fob is close by, thereby unlocking the vehicle and allowing the engine to be started.
The system allows immobilisation via a Driver Detection card that you carry with you – SmarTrack says it prefers this way rather than having a fob on the same ring as the vehicle's keys. If someone attempts to drive your motorhome without the Driver Detection card present, it will immediately send an alert to SmarTrack's monitoring centre and they will call you to ascertain whether a theft is taking place or whether you've just forgotten to take the card with you.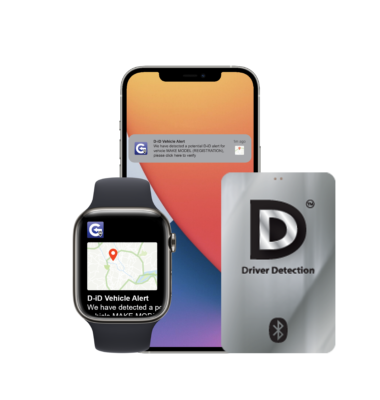 It automatically immobilises the vehicle whenever the ignition is switched off, and uses various satellite technologies (GPS/GLONASS, GPRS, GSM) to keep tabs on the exact location of your motorhome.
An online account allows you to view any journeys made, plus there is a Global Telemetrics app for all location information and more.
Key features Driver Detection card, facility to add optional alarm, monitoring of battery power, ignition status and more, three-year warranty (extendable)
Pricing Device and installation £899. Typical subscriptions £199 annual, £129 two years, £429 three years, £699 duration of ownership
Consider also: Moving Intelligence S5 Ultimate with ADR (Advanced Driver Recognition)
Star Player #2
Moving Intelligence iTrack Plus
Rated S7 by Thatcham, the Plus is one of four iTrack systems from Moving Intelligence (formerly Phantom).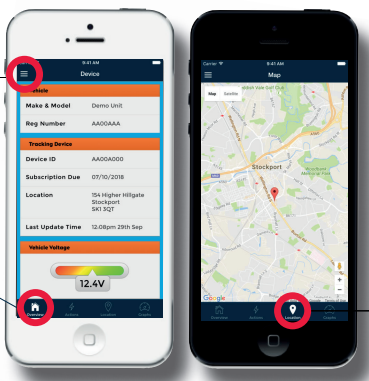 Use the MyPhantom app web portal to keep an eye on your motorhome's location, battery life, mileage and more. It employs a roaming SIM, which means it will move from strongest signal to strongest signal automatically, across the UK and Europe.
Its internal battery will provide 12V back-up as well as sending an alert if your motorhome's battery fails. Motion sensors can also detect and warn you if your motorhome is being towed without your consent.
Fitting is free via a network of professional installers.
Key features 24/7 alerts and support, alarm interface, motion sensors, GPS tracking
Expect to pay Device £349 (including installation). Typical subscriptions £149 annual, £13.50 monthly, £399 duration of ownership
Consider also: Tracker Monitor, Vodafone Protect and Connect S7, ScorpionTrack Track S7-ALS, Auto Watch Track and Trace 1, SmarTrack Protector Pro Global, Sargent Tracker
Star Player #3
ScorpionTrack Driver S5 VTS
Scorpion offers three S5-rated systems at the time of writing, including this, the Driver S5 VTS. It's designed to protect against the likes of key theft, key cloning and OBD hacking – the latter refers to on-board diagnostics as a way of gaining vital information about your vehicle.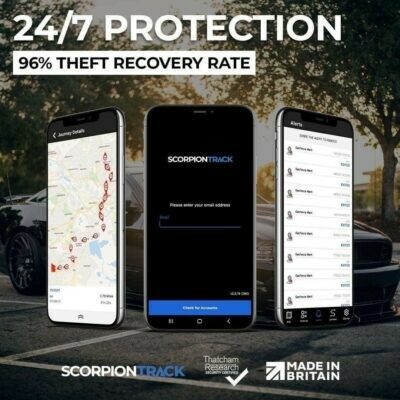 The accompanying ScorpionTrack app will give live information on your motorhome's location. Other app features include the facility to record your journeys, as well as hiding your live speed and current location.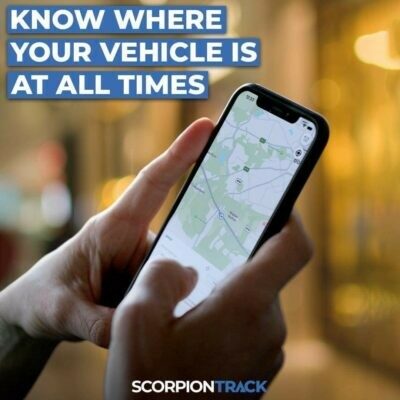 Key features Designed and made in the UK, 4G-enabled, UK-based monitoring centre, tow away alerts, key cloning protection, optional remote immobilisation, nationwide fitting service, low battery notification
Expect to pay Device £449 (including mainland UK installation). Typical subscriptions £149 annual, £14.50 monthly, five-year £409, £599 duration of ownership
Consider also: Moving Intelligence iTrack Ultimate, SmartTrack 5+, Vodafone Protect & Connect S5, Tracker Locate
Star Player #4
Moving Intelligence Mi01 Sentry
Battery life capacity has improved so much in recent years it makes "stand-alone" self powered self fitted devices like this viable. It comes from Moving Intelligence and it's an early result of its takeover of Phantom in late 2021. You do need to check with your motorhome insurance provider that they will accept this as an approved tracking device.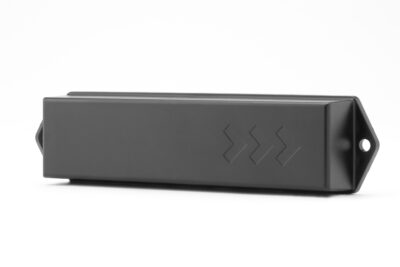 The Mi01 is still Thatcham S7 rated.  Also, it's deliberately compact – dimensions are 14.5cm x 3.5cm x 2.2cm – to allow plenty of choice for where you put it. It says it has already sold over 12,500 Mi01 Sentry systems throughout Europe, with a 97% recovery rate up to now.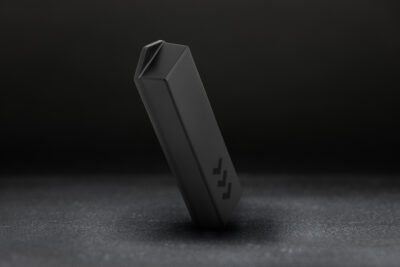 It uses GPS/GSM satellite technology for its tracking, with backup from LoRa radio communication. Coverage is all of Europe and the UK.
Moving Intelligence describes the Mi01 an after-theft unit.
It doesn't offer all the functions performed by the company's iTrack range, such as instant alerts of movement or disturbance, vehicle immobilisation, recording mileage travelled or giving a remote check of your leisure battery health, but it does offer a large benefit over iTrack and other more conventional hard wired tracking devices with its anti-scan feature.
It's been reported that some thieves use devices to scan for signals emitted by tracking systems and, if detected, will locate and remove the tracker. Conventional hard wired devices are more likely to constantly emit a signal. But the Mi01 lays dormant for all but a few seconds each day, meaning it's very unlikely to be picked up by scanning. When Mi01 awakens it confirms the motorhome's location and will send an alert if the vehicle has moved since the last time it woke up.  Note that if a theft is confirmed, the Mi01 device can be set to recovery mode to relay regular co-ordinates to the police.
One drawback of a device like Mi01 is that due to its sleep/wake cycle it can't offer an instant alert of movement or disturbance like a conventional hard wired proactive tracking system BUT there's much less chance of a thief becoming aware of its presence in the motorhome. That is of course, as long as you hide the device well in line with Moving Intelligence's fitting instructions to avoid it being easily found and removed by thieves.
Moving Intelligence describe Mi01 as an after theft device. So it's not surprising to hear that some of Moving Intelligence's customers have fitted one of the company's iTrack devices, to give an instant alert if their motorhome is moved or broken into, but then also bought an Mi01 as a back up device to protect the motorhome in case the iTrack device is discovered by thieves.
Key features 24/7 support, five-year battery life, IP67 waterproof rating, Moving Intelligence app.
Expect to pay Device £210. Typical subscriptions £99 annual
Consider also: Intelizzz, Tracker Nano
Over to you…
Got any advice on motorhome tracking devices you'd like to share with other owners? Please feel free to add a comment below.
Cost to insure: *
---
factfile
| | |
| --- | --- |
| Model | |
| Base vehicle | |
| Axle type | |
| Dimensions | |
| Shipping length | |
| RRP | |
---
Search our blog
---