Your motorhome's base vehicle will probably already have an immobiliser fitted, but what about an alarm?
Immobilisers have been fitted as standard on motorhome base vehicles for around a quarter of a century now. And, if you haven't got one already fitted, it makes sense to add a motorhome alarm system – and claw back some of the investment with savings on your motorhome insurance.
Bear in mind that having an alarm system might be a condition of your motorhome insurance cover, and the likelihood is then that your insurance company will want the motorhome alarm to be of a certain standard, most likely Thatcham Category 1 approved.
Look for alarms that are deemed suitable for motorhomes, even though generally, any alarm can be augmented, for example with extra PIRs in the habitation area or extra sensors fitted to the habitation and external locker doors.
Often, a system designed initially for cars might have shortcomings when it comes to motorhomes. Features to look for include "sleep mode" and/or "pet setting" – that means the alarm remains active but you won't set it off if you and/or your pet are on board and for when you're sleeping in your 'van.
Modern vehicles use an intelligent engine control unit (ECU) to control all aspects of their operation. The ECU sends information around the vehicle via a wiring system called CANBUS. Most alarms connect into the CANBUS system to link functions to the operations of the vehicle. This means that in most cases you can link the operation of the alarm with the use of the vehicle's original key.
Thatcham CAT 2-1
Independent safety and security organisation Thatcham states that, as long as your motorhome has a factory-fitted immobiliser, adding to it with a Thatcham recognised aftermarket alarm means it can be classified as Thatcham CAT 2-1. A list of such alarm systems can be generated here.
But, do note, not all will be suitable for your particular motorhome. As Thatcham itself puts it: "Generally installer companies will take a light commercial vehicle (LCV) Thatcham CAT 1 device (which only covers the opening of the front doors and interior protection of the driver's cabin) and add extra detectors where needed for the openings and interior protection of the motorhome."
The main disadvantage of having an alarm and no immobiliser means if you're not near enough to hear when the alarm goes off you'll be relying on others to recognise a potential theft is taking place.
Find out more at www.thatcham.org.
For even more peace of mind, consider a motorhome tracking system. Some proactive tracking systems may use your alarm as the trigger to notify an owner of a disturbance or unauthorised movement – often leading to the start of the recovery process.
Motorhome alarm insurance considerations
Caravan Guard offers a 19 percent insurance premium discount for motorhomes fitted with a Thatcham Category 1 approved security system and will accept Thatcham Category 2-1 upgrade devices which can be fitted to motorhomes already fitted with Thatcham Category 2 approved, or factory-fitted immobilisers, to attain Category 1 status.
If you're claiming a discount for or if it's a requirement of your policy to have a Thatcham Category 1 approved security system fitted to your motorhome you must also make sure your alarm is always activated when your motorhome is unattended and the alarm is fully maintained, as per the manufacturers' recommendations. Therefore, during winter storage, always make sure there's enough charge in your battery to activate the alarm in the event of a break-in.
Discounts are subject to underwriting terms and conditions. Minimum premiums apply.
Top motorhome alarm tips
If you choose to retrofit a motorhome alarm, make sure it meets any motorhome insurance requirements
You must also make sure your alarm is always activated when your motorhome is unattended and the alarm is fully maintained, as per the manufacturers' recommendations.
Make sure any installation is carried out by authorised, professional installers. Ask the dealer that supplied your motorhome about any specific aftermarket security systems it recommends and/or is authorised to fit.
Also, insist on getting an installation certificate once you're happy with the finished work.
Before a motorhome alarm is fitted, do check the location of warning LED lights and whether they'll be visible with the blinds drawn etc.
Other considerations include: what protection is provided for cab and habitation doors, bonnet, exterior lockers, windows, rooflights etc? Also, can extra features, like bike locks, be added?
For most motorhomes, perimeter protection is essential. It means an alarm can still be armed when you or your pets are on board.
A common form of motorhome theft could involve stealing and/or cloning a motorhome's keys so any theft simply bypasses a motorhome alarm system. Always look after your keys, including spare sets.
Good quality stickers warning of the presence of an alarm system are a useful visual deterrent.
During long-term storage, such as winter, always make sure there's enough charge in your motorhome battery to activate the alarm in the event of a break-in. A battery back-up siren is a feature that means if the power is disconnected from the alarm or siren when the alarm is active, the back-up will sound.
Check what level of warranty you get with a motorhome alarm.
Below we review a number of Thatcham Category 2-1 alarm systems that we accept.
Star Player #1
Moving Intelligence VanGuard
A fully customisable alarm designed specifically for motorhomes of all sizes and described by Moving Intelligence (formerly Phantom) as "an important tool in our arsenal". Once set up, it operates via your motorhome's key system.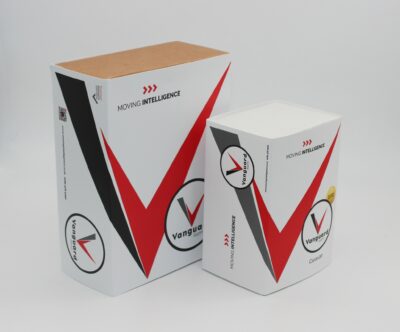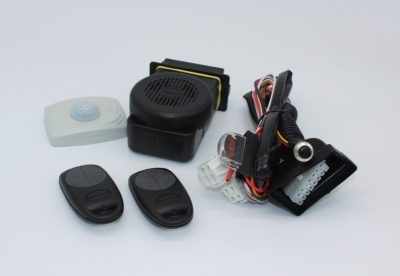 The basic alarm covers both cab doors, bonnet and habitation door, along with a battery back-up siren, internal ultrasonics to cover the cab area and a programming port with LED indicator.
A night/pet mode setting means the internal sensors stay off, so you won't set off the alarm when you're sleeping at night, or if you leave your pet in your motorhome – the perimeter remains armed.
Also available are magnetic switches for lockers and garage doors, a PIR, window sensors and a wireless tag (for a bike or similar).
Plus, you can upgrade to a combination of VanGuard alarm and iTrack tracking system, with Moving Intelligence calling the combined system Sentinel.
Features also include Intelligent battery back-up, wireless sensors, free nationwide fitting, spare remote kit,
Expect to pay £595 (fitted)
Star Player #2
Gemini 931TMH
Aimed primarily at motorhomes based on Fiat's Ducato or Peugeot Boxer – as these are only supplied with one remote control key fob. Hence this Gemini model offers a second remote control for arming/disarming its alarm.
An alternative fixing kit is also offered if you want this alarm for other base vehicles, eg Ford's Transit. Mercedes' Sprinter.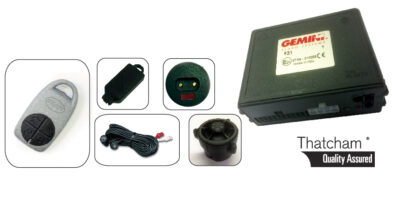 The facility to isolate the interior sensors is essential (otherwise you wouldn't be able to use the alarm if you're moving about inside, for example), while the perimeter alarm will still be functional. You can also add wireless sensors for exterior-access hatches, garage doors etc.
Gemini has a nationwide network of qualified installers, many of whom are motorhome specialists, including mobile fitters, who can programme this system to as degree, for example to stop audible warnings when you turn the alarm on/off, allow passive arming etc.
Features also include Four-digit PIN number, touch key override, built-in ultra-sonic sensor, LED status indication, additional input for hard-wired sensors, waterproof coded battery back-up siren, output for telematics device activation
Expect to pay £600 (fitted)
Star Player #3
Scorpion Defender S7
Scorpion opts to sell its alarms along with its trackers as combined systems – hence the price. The combination here is its lowest level ScorpionTrack S7 tracker with S37 alarm.
You also get an app so you can check up on your vehicle's location, battery levels and more, including setting geo-fencing.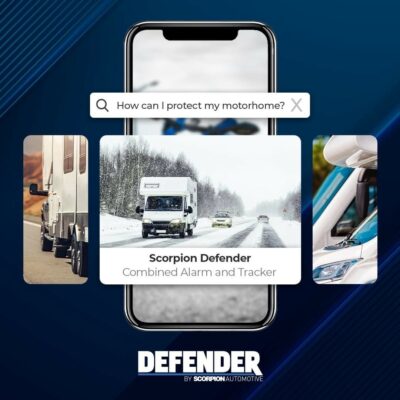 The ScorpionTrack app allows remote access to key features, including setting geo-fence alerts
Features also include 24-hour monitoring, global coverage, multiple theft alerts, battery back-up siren, two-year warranty, output for additional siren
Expect to pay £699 (plus subscription)
Star Player #4
Autowatch 695 Motorhome Alarm System
A remote control-operated alarm that can be integrated with the base vehicle's own key fob and includes protection for the living quarters. The start package here gives you a wireless PIR, single door contact switch and a home/away arming mode.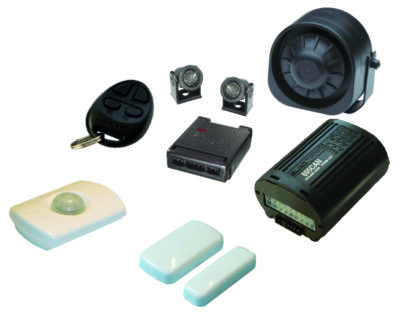 Also included is a flashing blue LED light to act as an obvious visual deterrent. You can add to its versatility with a number of options ranging from tilt sensors to pager, cabin screamer and up to eight wireless sensors for protecting garages, exterior-access lockers (including gas) etc.
Features also include Driver PIN override, wireless PIR and door contact switch, intelligent battery back-up siren,
Expect to pay £599.99
Star Player #5
Cobra Can Alarm A4615
Suitable for Fiat Ducato, Peugeot Boxer, Mercedes Sprinter, and Ford Transit-based motorhomes from 2006 onwards and usually means you don't need extra key fobs.
Features include the facility to disarm the ultrasonic sensors when your vehicle is occupied, although that still gives your perimeter protection, and an anti-hijack battery back-up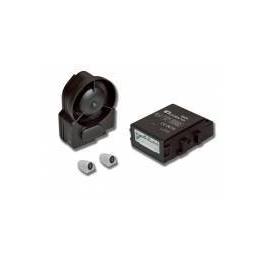 The warranty is pan-European, valid across 36 countries, so you can have it checked and any issues resolved locally wherever you are.
Options also include the facility to add a gas attack sensor, external locker protection and more.
Features also include LED/control button, panic button facility, emergency PIN code entry, three-year warranty
Expect to pay £179.99 (£318.99 fitted)
Star Player #6
Van Bitz Strikeback
Motorhome security specialist Van Bitz has been around since 1990. Its highly rated Strikeback is produced solely for motorhomes and takes a whole day to fit at its Taunton, Somerset premises (where overnight camping is available).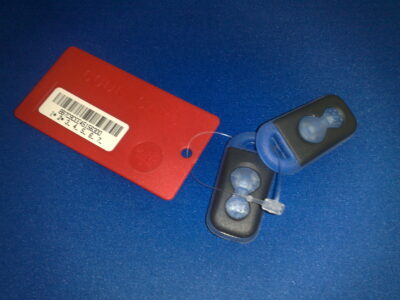 The Strikeback motorhome alarm covers the motorhome's living quarters, cab, bonnet, external locker doors and more, complete with full "sleep mode", as well as offering all manner of specifically motorhome-friendly features, such as an interior movement sensor that, in Van Bitz's words, sets up a "radio wrap" within the vehicle – more sophisticated than the usual ultrasonic sensors that are often fooled by the slightest of movements, or even a heating system in operation.
Look out, also, for Van Bitz' flagship product, the Growler.
Features also include Accessory protection loop, international warning stickers
Expect to pay From £799
Over to you…
Got any advice on motorhome-friendly alarm systems you'd like to pass on to fellow motorhomers? Please feel free to add a comment below.
Cost to insure: *
---
factfile
| | |
| --- | --- |
| Model | |
| Base vehicle | |
| Axle type | |
| Dimensions | |
| Shipping length | |
| RRP | |
---
Search our blog
---