Theft and break-ins are a cause for concern for any caravanner or motorhome owner so it's always worth looking at some extra security locks to make them more secure and add another layer of protection to your prized leisure vehicle.
It's common sense – the more security devices you fit to your caravan or motorhome, the harder you'll make it for thieves to break-in and they might just move on by when faced with extra locks to overcome.
The weakest entry points to a caravan or motorhome are of course the windows and doors. So, here we take a look at some extra locks you could fit to your tourer or motorhome to provide an extra line of defence.
Some of these devices can only be fitted by screwing into the door or side panel, so always check that this won't affect your caravan or motorhome warranty, before you carry out any work.
Star Player 1 – Lock M Out window locks
According to husband-and-wife team at Lock M Out, Polyplastic and Dometic or Seitz Windows make up 90 per cent of all motorhome and caravan windows. Not impressed by the plastic window catches, they designed and produced the steel Lock M Out device which slides on to the window catch, reinforcing it and jamming it in place, therefore making it less vulnerable if someone tries to force open the caravan or motorhome window.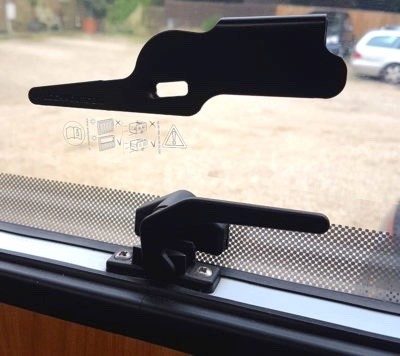 Their devices fit all Polyplastic catches, both bottom opening and sliding, and approximately 75 per cent fit Dometic or Seitz catches.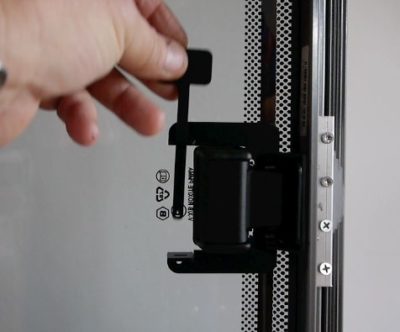 Lock M Out Director, Carol, says: "All of our bottom opening window devices jam the catch by means of a fulcrum effect. They encapsulate the flimsy, plastic catches, reinforcing the vulnerable parts which are susceptible to breaking when the window is forced. We suggest that our devices are fitted to all horizontal catches."
Prices from: £9 for top opening window catches, reduced to £8 each when ordering four or more.  Their sliding window devices are £18 each.
Key features:  Easy to fit, needing no keys, tools or codes. Made in the UK from steel and powder coated in black to match the window catches.
For more info: www.lock-m-out.co.uk
Star Player 2 – Fiamma Safe Door Frame Lock
Fiamma have both the Safe Door Frame and Safe Door Magnum Frame security locks which are essentially an anti-theft safety block for your caravan or motorhome door. Using self tapping screws the locks can be attached to the inside frame of your habitation door or to the garage compartment, making it more difficult for thieves to get in.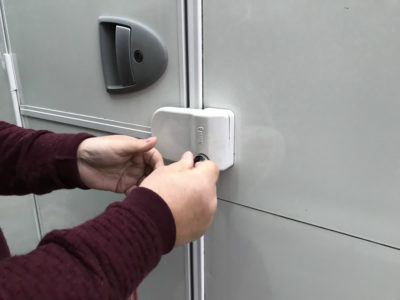 Once fitted the Safe Door Frame lock rotates on a pivot to block the door from opening and is then locked into place with a key. To release it, use the key to unlock and then rotate the opposite way so the door can be opened again.
Key features: Made of sturdy anodized aluminium. Two keys provided. Choice of white or black.
Prices from: £38.00
For more info: www.fiammastore.com
Star Player 3 – Milenco Security Handle and hand rail
This sturdy hand rail will not only help you get in and out of your caravan or motorhome it also provides an extra layer of security. The handle can be locked into three positions – left across the side of your vehicle; outwards, acting as a grab handle to help with access; or closed across your vehicle door to make it more secure and help prevent a potential break-in.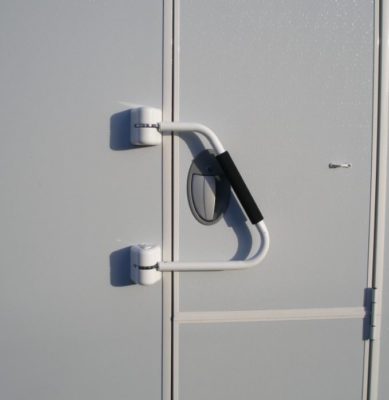 The handrail is fastened onto the side wall of the caravan or motorhome next to the door frame, using 8 x 6mm bolts. Internally the bolt heads are hidden by a clip on cover for a good finish.
Key features: Available in different sizes, sturdy, double locking and dual purpose design.
Prices from: £73.94
More info: www.towsure.com
Star Player 4 – HEOSafe door locks
Germany company, HEOSafe, has a number of different locks for a motorhome driver's cab doors, sliding doors, rear doors as well as caravan and motorhome habitation doors.
HEOSafe have a range of anti-theft security locks which fit onto the exterior handle locks of many caravans and motorhomes. These locks mount between the door and the door handle without the need to drill or screw into your vehicle. The zinc casting makes them very robust and includes a lock cylinder with lock cover for that extra line of defence.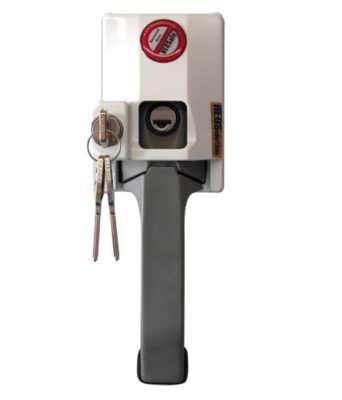 The HEOSafe motorhome driver's cabin door lock is mounted on the inside of the vehicle – in some cases uses the existing manufacturer fixings – and is designed to increase the security of this point of entry by providing a deadlock on the door.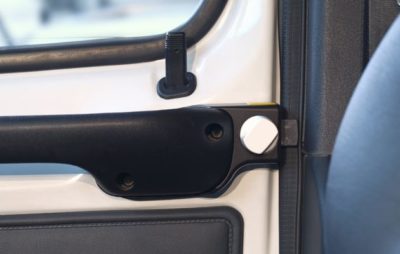 There are then a range of other locks for the habitation doors of different motorhome base vehicles, which will mean the drilling of holes on the inside of your vehicle, but will add an extra layer of security.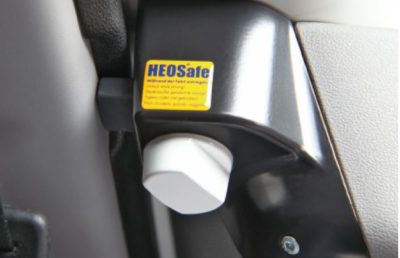 Key features: Robust, fairly easy to fit, visible deterrent.
Prices from: £54.00
For more info: www.heosolution.de
Star Player 5 – Torpedo leg lock
Caravanners can make life more difficult for would-be thieves by locking their corner steadies in place. The Torpedo Caravan leg lock from Purple Line fits over the winding points of your corner steady legs, securely locking them into place. When used in the down position this locks the corner steadies to the floor, immobilising your caravan. Torpedo Caravan Leg Locks are also highly visible to attract attention , acting as an extra deterrent to potential thieves.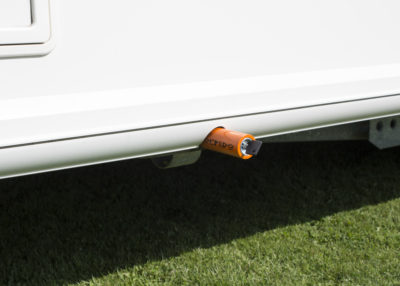 The Torpedo is a robust, strong, leg lock constructed using heavy-duty composite metals that have been specially chosen to be resistant to cutting, drilling and gas freezing.
Purple Line says: "Our customers love the Torpedo Caravan Leg Lock, because it's so easy to fit and remove. We pride ourselves in the quality of our products, making sure they're robust, strong and a successful deterrent."
Key features: Quick and easy to fit; highly visible; resistant to cutting, drilling and gas freezing.
Prices from: £29.95
More info: www.purpleline.co.uk
What's the insurance benefit?
Whilst none of these devices will get you a discount on your caravan or motorhome insurance they will act as a visible deterrent and perhaps make thieves think twice about trying to break into your caravan or motorhome, or worse still, steal it! So they could help to keep your no claims discount intact. What's more the window and inner door locks give you extra peace of mind when you are staying in your caravan.
Over to you…
Got any advice on security locks for your caravan or motorhome to pass on to others? Do you use any of the products we've featured? Feel free to add your comments below.
Search our blog
---