Unfortunately, motorhome theft can and does happen but there are a number of extra products available that can be easily fitted to beef up your motorhome security and which also act as a visible deterrent to thieves.
In this video, we look at a number of products you might consider to protect your motorhome or campervan from theft and break-in.
Motorhome steering wheel locks
A motorhome steering wheel lock is a highly visible deterrent that prevents the steering wheel from being turned.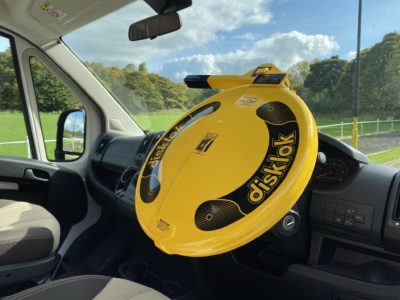 They fit easily onto and through a motorhome steering wheel to lock it in place.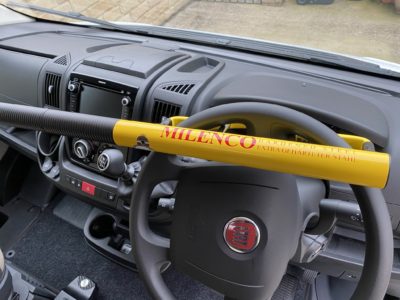 There's a number of locks on the market, but we recommend Sold Secure standard products that have undergone stringent testing to prove their resilience and effectiveness, such as the Milenco Commercial, Disklok and Stoplock Pro Elite.
Motorhome wheel clamp
Motorhome wheel clamps also come in a variety of price points and designs. They should cover all or part of the wheel nuts and wrap around the tyre in some way. Motorhome wheel clamps are highly visible and although very bulky are relatively easy to install.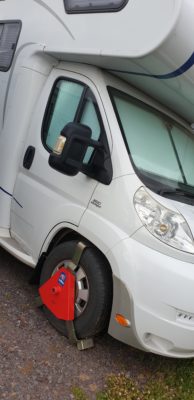 Again, look for the Sold Secure logo. Products that meet the Sold Secure standard have been "attack-tested" by their technicians to assess their resilience. Security products that are "Sold Secure" compliant should withstand an attack for a minimum amount of time and their resilience is then graded in terms of attack resistance.
Motorhome security posts and barriers
If you store your motorhome at home, adding a security post or barrier to your driveway will slow down any attempt to remove a vehicle from your property. Posts should be spaced on the driveway so any vehicles cannot be driven around, and vehicles should be driven in nose first to make motorhome theft even more difficult.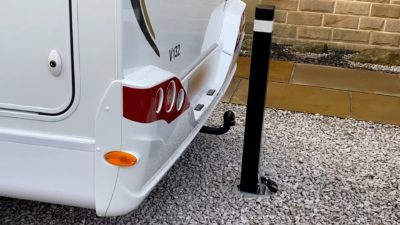 Motorhome security posts come in various styles. Some have a receiver installed into the driveway and the post is locked into place or there are fold-down posts which drop down when unlocked so you can drive your motorhome away.
If you park your motorhome behind gates, keep these shut and padlocked at all times when not in use. Some owners also park other vehicles ahead of the motorhome to block it in overnight.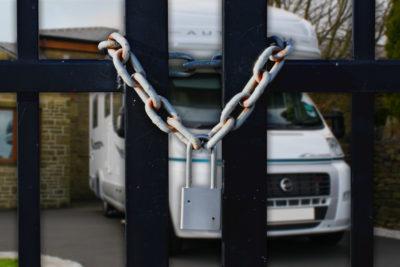 Check garage door locks if parking your motorhome inside a garage. A simple deterrent to fit is a "pull pin" personal alarm to the back of the door and bodywork.
If you store your motorhome at a storage site, make sure you check up on it regularly, checking all doors and windows and making sure any security items you have are intact and have not been tampered with. Remember to also remove any valuables.
Pedal lock
Locking the pedals on your motorhome is another security option. A clutch claw fits around the clutch pedal and mechanically attaches it to the brake pedal.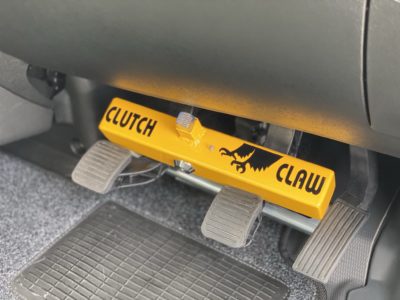 Pedal locks and boxes can also be fitted around your campervan or motorhome's pedals.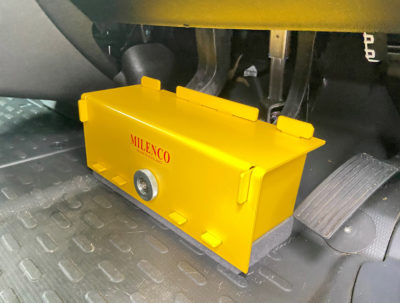 When using a pedal lock, it's a good idea to leave the vehicle in gear to prevent the vehicle from being freewheeled away. Many pedal locks can be used on manual gearboxes and can also be used on the brake pedal on automatic transmission motorhomes too.
Key protectors
As motorhomes become more reliant on technology, thieves are finding more ingenious ways to compromise the onboard systems. Thieves have been known to use a combination of technologies to remotely detect the signal given off by a motorhome keyfob, intercept and clone the signal to open the doors and start the engine.
Placing your motorhome keyfob within a Faraday bag or pouch and keeping the keys away from the motorhome, as much as possible, will reduce the chances of this happening. A Faraday pouch severely limits the radio signal from the keyfob.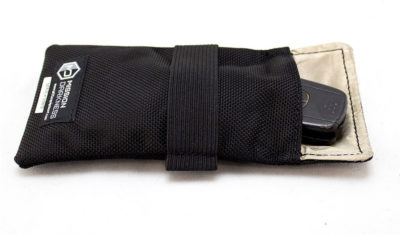 It's also worth remembering to always keep your motorhome keys out of sight and well away from windows and doors.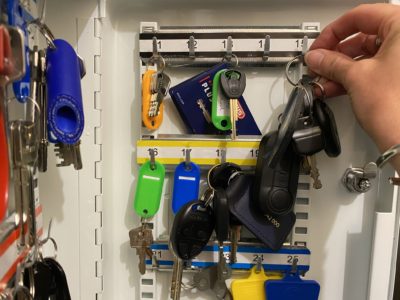 OBD protectors and immobilisation systems 
OBD (On-Board Diagnostic) ports are like an onboard computer and are mostly used by mechanics to check systems and diagnose faults with the vehicle. Thieves sometimes use OBD ports to override vehicle security and start the engine without the key.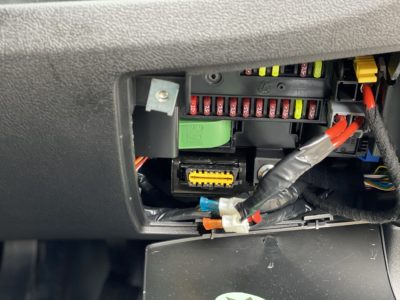 Adding a simple lock to cover the port, or an OBD blocker, will slow down anyone wishing to access the port.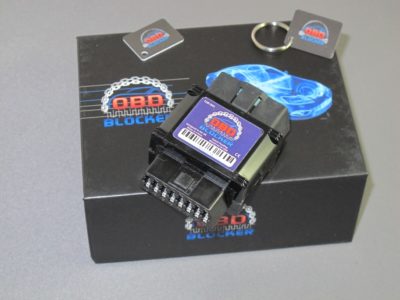 Image from: www.thediagnosticbox.com
The auto watch Ghost system is an immobilisation system that requires the driver to press a unique sequence of dashboard or steering wheel buttons before starting the vehicle. This is particularly effective against thieves who steal the keys for the vehicle.
Motorhome security door locks
Extra locks can be added to your motorhome habitation door to cover the door lock or the door frame to prevent the door from being opened.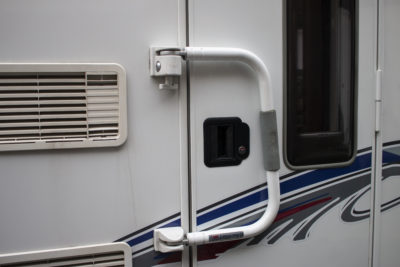 Motorhome habitation door locks come in a variety of styles, either with a lockable handle or as an extra cover over the lock.
The lockable handle design also doubles up as a grab handle, perfect for anyone that has limited mobility or requires extra stability when entering or exiting their motorhome.
Window locks
Motorhome windows usually use plastic latches to hold the window secure. Adding some simple covers and protectors to the window latches reduces the possibility of unauthorised entry into the motorhome.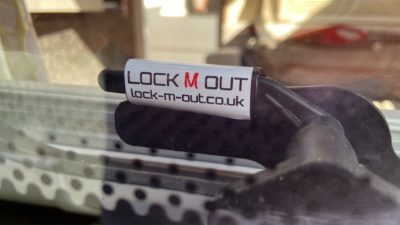 These window locks from Lock M Out come in different shapes and sizes depending on the window latch style, and can be easily installed within a few seconds.
Motorhome alarm systems 
Many owners choose to have a motorhome security alarm installed. Mostly for peace of mind that there will be an audible alert if their motorhome is broken into or moved but also to obtain an insurance premium discount or to meet a security requirement of a motorhome insurance policy.
Generally, insurers only recognise systems that carry Thatcham Category 1 approval, which effectively is an alarm linked to an engine immobiliser.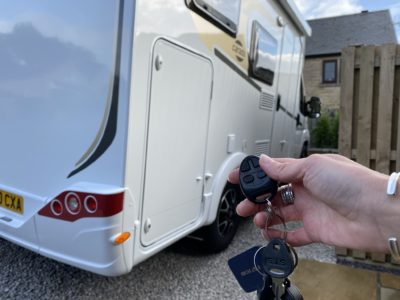 Most motorhomes base vehicles produced since the late 1990's will have an immobiliser fitted, and therefore a retrofitted Thatcham 2 to 1 upgrade alarm allows an owner to achieve a Thatcham Category 1 level of security.
It's always advisable to seek out a specialist in motorhome alarm fitment to make sure installation is compliant with prescribed Thatcham CAT 1 standards and that door and window contacts or sensors are in place to cover all access points across the cab and habitation area, and even external storage garages and lockers.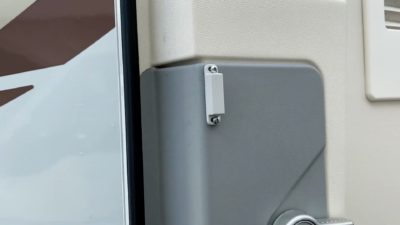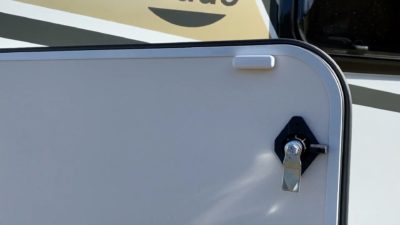 Eddie Jones from motorhome alarm experts Van Bitz commented: "We've seen some Thatcham Category 1 alarm systems let down by poor fitting. A common error is to plug an alarm into the motorhome OBD port, this conveniently enables the alarm to run off the same key as the main vehicle keyfob, so that locking and unlocking of the vehicle disarms the alarm system. The problem is then if a thief overcomes the vehicle door lock it disarms the alarm system simultaneously. That's why our preference is to fit the alarm to a separate keyfob so if a thief forces the door, the alarm still triggers."
DPS 360 security system
This unique DPS 360 security system designed by Richard Baldwin Motorhomes includes four CCTV cameras to give 360-degree coverage of the vehicle whilst it's stationary, or when it's being driven.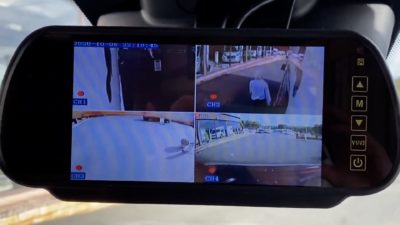 The cameras are linked to a split screen monitor for use when manoeuvring and also to a Thatcham Category 1 alarm system, as well as an onboard NDVR which records all the activity it sees around the vehicle.
Motorhome tracking devices
Motorhome tracking devices have become increasingly popular, especially on high-value vehicles such as motorhomes. Several manufacturers now fit these as standard to motorhomes leaving their factories.
Motorhome insurance discounts are usually available for Thatcham-approved S7 and S5 standard systems. You'll need to pay an annual subscription to keep these devices professionally monitored 24/7 and for recovery support in the event of a theft.
We'd always advise a motorhome owner to fit a proactive system, as these are linked to a motion sensor or your motorhome alarm so that if your vehicle is moved or broken into an alert is sent to the tracking device operating centre and this means the tracking process can begin almost immediately giving the best chance of a speedy recovery.
Motorhome security and insurance
Don't forget to tell your insurance provider what security devices you have fitted to your motorhome when setting up or renewing your motorhome insurance policy, as some of these could attract a discount.
To find out more about our motorhome security discounts or to get a quote visit our motorhome insurance page.
Cost to insure: *
---
factfile
| | |
| --- | --- |
| Model | |
| Base vehicle | |
| Axle type | |
| Dimensions | |
| Shipping length | |
| RRP | |
---
Search our blog
---