Thinking of electric power for your next motorhome? Here's a round-up of the latest news from the key motorhome base vehicle suppliers.
Eco-friendly, silent running, snappier performance, zero emissions. The future for electrically-powered motorhomes looks pretty bright. Yet, there are issues regarding weights (and subsequent payload margins), range and initial costs.
These are early days, however, and although electric versions of key motorhome base vehicles are emerging, without exception they're in van format (rather than, say, chassis-cabs for coachbuilt motorhomes), there's still a long way to go.
The price of an electric motorhome base vehicle could prove prohibitively high, too, although you will be able to scrape some of that back with a Plug-in Van Grant of anything up to £8,000. And, of course, your daily running costs are going to be a lot less.
See our round-up from the main base vehicle manufacturers below. Oh, and if you're old enough to remember it, the Morris J-type van is being resurrected as an all-electric vehicle with carbon fibre body, due on sale in 2021.
Star Player #1
Fiat
In the world of motorhomes (as opposed to campervans), Fiat's Ducato reign is almost supreme – it's reckoned to be the base vehicle for three out of every four motorhomes produced throughout Europe. And it celebrates its 40th anniversary in 2021, with more than 2.5 million models produced so far.
Small wonder, then that Fiat talks about the Ducato spearheading its "foray into 100% electric vehicles". Initial cost is prohibitive as far as motorhome conversions are concerned – it's £47,675 before VAT is added, although after PiVG (Plug-in Van Grant).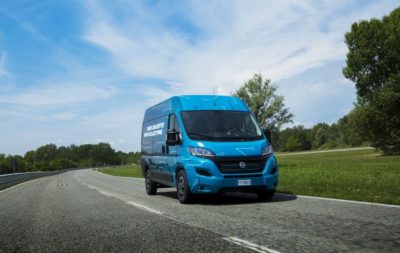 The E-Ducato has a choice of two battery sizes – 47kWh or 79kWh, along with a 90kW motor. Ranges are between 99 miles and 192 miles. Top speed is 62mph. A full charge is estimated at two hours and 25 minutes.
Although the Fiat Ducato as well as Peugeot Boxer and Citroen Relay equivalents are all produced in the same factory at Sevel, Italy, plans are also in place for electric versions of the latter two to be available early next year (2021). However, the electric drivetrain for these two is being produced by an external supplier.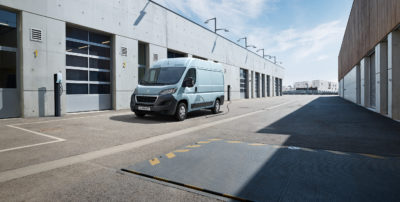 www.fiatprofessional.co.uk, www.business.peugeot.co.uk and https://business.citroen.co.uk/new-vans/vans/citroen-relay/
Star Player #2
Volkswagen
The announcement of the eTransporter, produced in conjunction with electrical specialist ABT e-Line, meant Volkswagen's first all-electric van is now available in the UK. On the continent, electric versions of the Crafter and Caddy have also been announced.
However, its most popular base vehicle for motorhome conversions by far, the Transporter 6.1 has a starting price of £42,060 – before VAT – in e (for electric) format. And even then, it's just a van rather than a specially produced motorhome base vehicle.
Also of interest is the e-bulli. As Volkswagen puts it, it's a "1966 classic with 2020 electric drive". It's only a concept, but it's certainly a portent of what's to come.
Then, of course there is the I.D. Buzz. Scheduled for production as a "microbus" for 2022, there will surely be campervan versions to follow…
Star Player #3
Ford
With Ford announcing a PHEV (plug-in hybrid) version of its Transit Custom, it wasn't long before its main campervan converter, Wellhouse Leisure, was making its Misano 2 elevating roof model available with the new power offering.
The Transit Custom PHEV comes with a one-litre 126PS Ford EcoBoost engine with electric motor and automatic transmission. Total range is over 310 miles, although only 30 miles of this is "electric".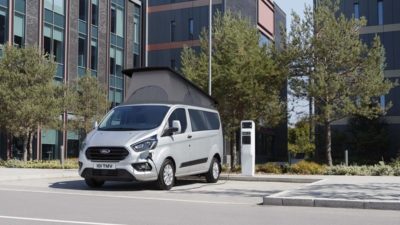 Prices for the camper remain competitive, too, starting at around £57,000 (including PiVG – Plug-in Van Grant). Wellhouse uses the Transit Custom 340 as its base, for an extra 200kg payload to cover the extra weight of the batteries, although their location under the floor means there's no intrusion into the living area. The rest of the conversion is exactly the same as any standard Misano 2.
Ford's next size up Transit Van, meanwhile, is only available as a "mild hybrid" – there's a small electric motor that works alongside the standard diesel engine. An all-electric version is scheduled for 2021.
www.ford.co.uk and www.wellhouseleisure.com
Star Player #4
Mercedes
UK sales of the eSprinter were scheduled for this year (2020), but initially only the L2H2 van – i.e. 5.93m long, 2.62m high.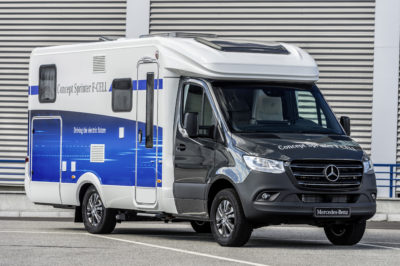 It also only has a payload of some 774kg (before any motorhome conversion work) when rated at 3,500kg maximum weight. Nevertheless, with prices starting at £51,950, it has all the makings of being very competitive.
The all-electric eVito, meanwhile, is already on sale in the UK.
Its first all-electric campervan, based on the battery-electric Mercedes EQV is now available in Switzerland. The eCamper is being produced by Swiss van convertor Sortimo Walter Ruegg and the modular options include a pop-up roof with roof bed, a fold-out bed, and a kitchen unit in the back with sink, two-burner gas stove, fridge and drawers. Two solar panels can be added to charge the starter and leisure batteries.
Star Player #5
Nissan
Specialist campervan manufacturer Hillside Leisure scored something of a world exclusive when it announced it was producing a first-ever all-electric motorhome conversion, based on Nissan's e-NV200.  That was back in 2015, when it was badged the Dalbury E.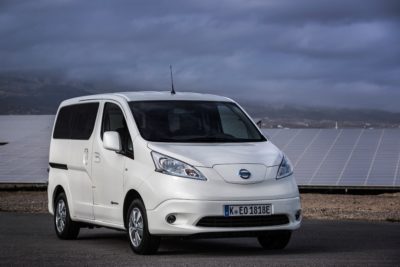 Latest versions are called the EV-1 and come with an enhanced 40kWh battery, which extends the range to anything from 124 miles to 187 miles with a recharge time of 40-60 minutes. Prices start at a very reasonable £39,995. At 4.56m long, it's very much a micro-camper, albeit with a VW-style side kitchen conversion, elevating roof and rear seat for two extra passengers.
www.nissan.co.uk and www.hillsideleisure.co.uk.
How do I insure an electric or hybrid campervan or motorhome?

Caravan Guard will insure hybrid and electric motorhomes, like any others, subject to our usual acceptance.
For a great value motorhome insurance quote and to find out more about our range of discounts visit our motorhome insurance page.
Over to you…
What do you think about the future of electric motorhomes? Would you consider an electric motorhome?
Cost to insure: *
---
factfile
| | |
| --- | --- |
| Model | |
| Base vehicle | |
| Axle type | |
| Dimensions | |
| Shipping length | |
| RRP | |
---
Search our blog
---