Caravan axle wheel locks help to tackle caravan theft and save customers money on their insurance.
If your caravan has an axle wheel lock already or you're thinking of getting one fitted, answers to the following FAQs may just help.
What is an axle locking device and how does it work?
An axle wheel lock is a security device that attaches to the chassis of the caravan and locks the wheel in place.
The device's lock and receiver are secured together through the aligned wheel using locking bolts that stop the wheel from rotating. The device is then locked in place using an encrypted key.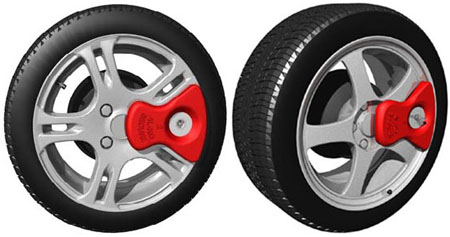 Why is an axle wheel lock better than a wheel clamp?
Wheel clamps by definition 'hug' wheels and unlike axle wheel locks do not prevent the wheel from rotating entirely. Even a small amount of wheel rotation could help thieves get away.
Wheel Clamps are generally very heavy, cumbersome items and are difficult to fit securely to the wheel of a caravan.
Also caravan insurers generally recognise an axle wheel lock with an insurance discount whereas a wheel clamp (shown below) doesn't usually attract a premium saving.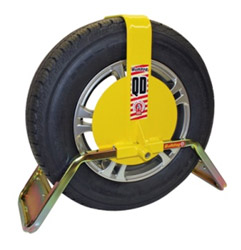 Which wheel locks are insurance approved?
The two main chassis suppliers to UK caravan manufacturers are also the two most popular axle wheel lock manufacturers:
The AL-KO Secure portable wheel lock was developed for AL-KO chassis used on most modern models including Swift, Bailey, Coachman and Lunars.
The BPW Diamond wheel lock is suitable for caravans built on a BPW chassis.
Caravan Guard offers a 10% saving on caravan insurance for fitting either of these axle wheel locks. We do accept some alternative axle wheel locks – see here.
A wheel clamp and hitchlock combination is usually the minimum required security to obtain insurance cover, but as in Caravan Guard's case, an axle wheel lock will usually be accepted in lieu of a wheel clamp.
There are many products that claim to be axle wheel locks or immobilisers but only the BPW Diamond Wheel Lock and AL-KO Secure carry Sold Secure diamond approval.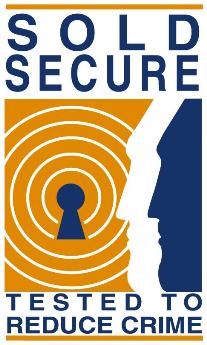 Both products are annually tested by Sold Secure to make sure they continue to meet the Diamond Standard and therefore offer the continued highest level of protection.
The Purple Line or Bailey Excalibur lock can be used as a wheel clamp but also has a locking mechanism for the axle wheel lock receiver.
Are they fitted as standard?
Many new caravans come supplied with full axle wheel lock systems; those that aren't are usually fitted with a receiver mechanism to accept an axle wheel lock that matches the manufacturer chassis.
How can I tell if a receiver is fitted?
An axle wheel lock can only be fitted to a caravan that has a wheel lock receiver fitted.
To check to see if your caravan has a wheel lock receiver fitted look closely at the nearside wheel. If the caravan is fitted with a receiver you will see either a small yellow plug or a threaded post through the wheel onto which the lock is fitted.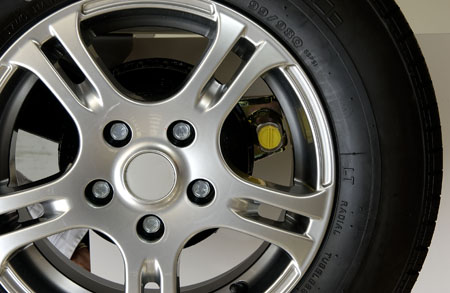 If you're buying a caravan second-hand or through a dealer, check to see if it's being sold with a wheel lock.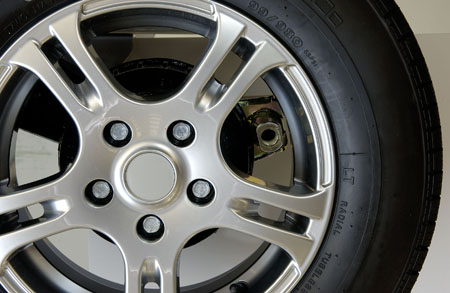 I have a receiver, how do I buy the lock?
If your caravan has the receiver only (see below if no receiver is fitted), it's well worth considering buying the locking mechanism for a few hundred pounds.
Each lock has a particular number on it and is unique to certain wheel profiles so it's important to make sure you get the right one to fit your receiver. Visit the AL-KO website or ask your dealer or manufacturer.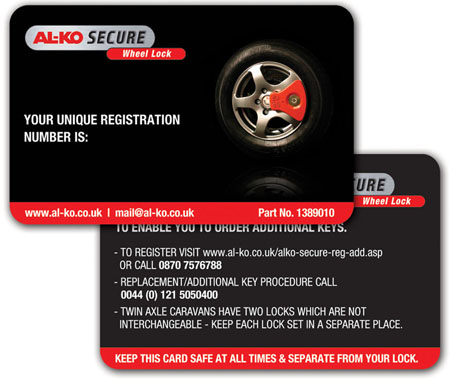 My caravan doesn't have a receiver, how do I check to see if it can be fitted with an axle wheel lock?
Most pre-2006 caravans are unlikely to be fitted with a receiver. Retro-fit is possible but depends on the caravan's backplate.
AL-KO Marketing Manager, Paul Jones, explains, "The first thing to determine is whether the caravan has alloy wheels fitted. If so then it is likely that an axle wheel lock can be fitted."
"To find out whether a caravan can be fitted with the AL-KO Secure wheel lock you can visit the "Will It Fit" section of our website. It's possible to search back as far as 2001 for some caravans that have alloy wheels fitted. The database will then tell you which lock kit you will need for the caravan."  Fitting the receiver needs to be carried out by an authorised dealer.
Note however, this advice only works if you know your caravan is built on an AL-KO chassis. Caravans that have a BPW chassis usually need specific fitment so it's best to check with your dealer first.  You could also contact BPW  for help. 
How do I go about fitting an axle wheel lock?
Paul advises, "Site the caravan in position, leave the caravan coupled to the tow car and chock the opposite wheel to prevent movement of the caravan."
"Then use a jack to lift the caravan enough for the wheel to turn freely and line up the aperture in the alloy wheel with the receiver fitted to the backplate on the brake drum. Using the locking bolt and tool, tighten the red lozenge to the receiver and hand tighten the bolt."
"The final stage is to push the barrel lock into the opening in the lozenge and then turn the key and remove it. The caravan can then be lowered using the jack and the lock is in place and secure. The wheel chock can be removed and the caravan uncoupled from the tow car."
In this video, Paul demonstrates how to fit an AL-KO Secure wheel lock.
It's also recommended that those who own twin axle caravans fit two wheel locks for extra security.
Caravan security consultant Tim Booth says, "On a twin axle caravan it's important that both axles are immobilised as if only one wheel device is fitted then the wheel left insecure will be able to rotate, allowing the caravan to be moved on just that axle."
Here are ways to fit two AL-Ko Secure wheel locks to a twin axle caravan.
If you've declared on your caravan insurance policy that you have an axle wheel lock fitted and you're using the Purple Line or Bailey Excalibur lock, you'll need to fit it as shown in this video for theft cover to remain in force.
What happens if I get a new caravan?
As explained, not all AL-KO Secure wheel locks are the same. If you've changed caravan it's possible to buy a new insert so that your existing lock works with your new caravan's receiver.
Got a question about axle wheel locks? Leave a comment below and we'll get back to you.
Search our blog
---