Last month we asked the question on everybody's lips during spring buying season; What do you look for in a new caravan or motohome?
Before we reveal the results let's take a look at some of your comments…
Eric told us, "I look for the best build quality that I can afford and try to find out as much as I can beforehand."
Budget was also a priority for Ian who told us, "I look for the layout I need, quality and reputation of manufacturer and the best spec model I can afford."
Layout was a popular choice with Rob too, who also said that design was important to him, "Layout, interior & exterior modern design, storage space, a wide range of domestic appliances and security. Many new caravan designs are totally ruined by garish horrible in your face interior upholstery – more choice & options should be available."
Let's see how the rest of you voted!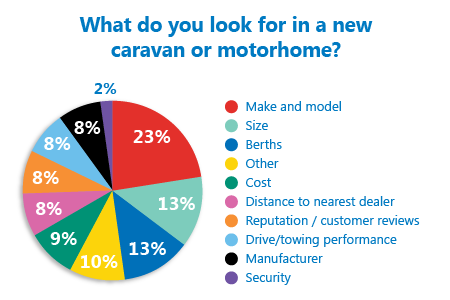 The voting was close this time around, but a 23% majority of you told us that make and model is what you look when buying a caravan or motorhome.
One option not on the list was weight, which Phil told us factored into his decision making, "Weight was the most important factor for us when choosing our new van. We found out what the car could safely tow and then looked around those models we liked the look of."
Mr Garratt got in touch to say that having a good relationship with a dealer is most important, "A dealer who helps you resolve warranty issues after they have sold you the caravan and a dealer who is capable of servicing the van without creating more problems."
And finally caravanner Mick told us he looks for a few different things, "Good quality fixtures, the amount of storage, layout of bathroom, ease of access to controls. work top space and layout. I would also consider towing costs."
Do you agree with the majority?
Share your comments below or have your say in our latest online poll which this month is all about fifth wheel caravans.
Cost to insure: *
---
factfile
| | |
| --- | --- |
| Model | |
| Base vehicle | |
| Axle type | |
| Dimensions | |
| Shipping length | |
| RRP | |
---
Search our blog
---