Dave and Liz King head to Provence on the trail of author Peter Mayle.
A time of unexpected and enforced rest is how I came to read, again, Peter Mayle's book 'A Year in Provence'. Written over 20 years ago, it's a witty review of the author's first year living in the Vaucluse area of Provence. I wondered if the area had changed.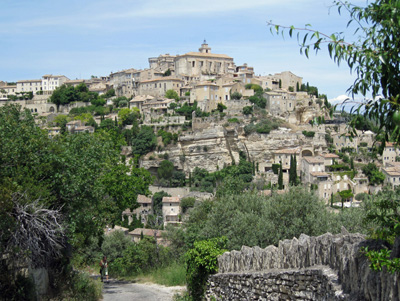 Within hours I had a map of France beside me; the route was planned and the medieval hilltop villages mentioned in the book were highlighted. Bonnieux, Gordes, Lacoste, Ménerbes and the town of Cavaillon. I suggested to Dave that we took the caravan to the Vaucluse this year.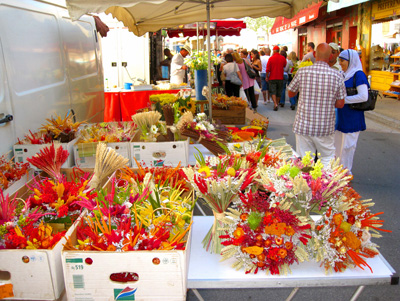 Mr Mayle described Cavaillon as a trading town. He wrote about the Monday morning market, the pleasure of enjoying life drinking a coffee on the terrace of a bar… so we did just that at the Fin de Siècle café where we are told the author is known to imbibe.
His book had a big impact on the town's shops. We saw the Fromagerie des Alpes cheese shop, where we were told that Mr Mayle buys cheese and the Boulangerie Auzet which had to rearrange its shop to welcome tourist groups, especially Japanese groups. The then owner, Gérard Auzet, was even contacted by a Japanese firm to market a baguette bearing his name in Japan.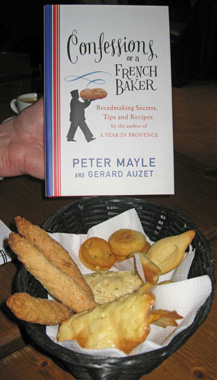 This led Peter Mayle and Gérard Auzet to write a book called Confessions of a French Baker about the Auzet family and their know-how. The book is still available in the shop which is now owned by Frederic Frechet and is now called "Sol e Pan". Twenty different breads are baked each day so we had another coffee and sampled some of the specialty biscuits baked on the premises. The shop serves food from 7am to 7pm. No, Mr Mayle had not been in on that day…yet.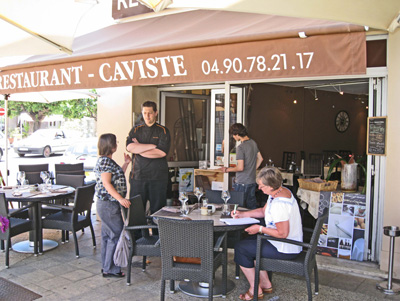 We lunched at restaurant David and Louisa, on the Cours Gambetta. This was an excellent Provençal-style lunch cooked by David, a former French rugby player, who told us that Mr Mayle eats there and also at Maison Gouin at Coustellet, a butcher's shop with an excellent restaurant.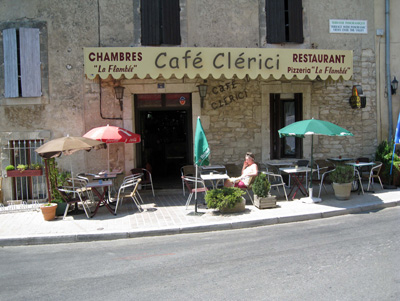 We visited Café Clérici at Bonnieux also patronized by Mr Mayle; the panoramic terrace has spectacular views and Bonnieiux is known for its two churches, one at the top of medieval village, the other at the bottom.
Bonnieux and Gordes both featured in the film A Good Year, based on a novel of the same name written by Peter Mayle. We visited the winegrower at Château La Canorgue at Bonnieux, also featured in the film and were told that Mr Mayle had bought wine there recently; so did we.
The Restaurant de la Gare in Bonnieux, is still there. No longer owned by the old lady mentioned in the book, it passed to her grandson who ran it very successfully following the publicity given to it in A Year in Provence. It was sold two years ago.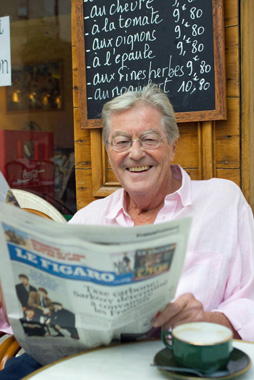 I asked Mr Mayle if he thought the area had changed and he replied "Not very much. The local wines have improved, and there is a wider choice of hotels, chambres d'hotes, and pleasant restaurants. Apart from that, I haven't noticed any significant changes. The sun still shines for 300 days a year, there are still plenty of places where you can find peace and solitude, and the pace of life is still on the slow side, which I like."
I asked if anymore books are planned and had an intriguing answer "On average, I've written a new book every two years since 1990. I'm going to try to keep this up."
I had to ask if Massot, his interesting neighbour, ever sold his house; he did and retired to Cavaillon on the proceeds!
Recommended caravan sites to stay at:
Camping Les Fontaines, at Pernes les Fontaines.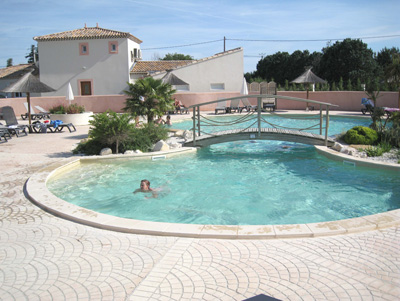 Pascale and Pièrine are the delightful owners of this campsite. It's a quiet and popular site, with Wifi, a quality restaurant and lovely colourful landscaping. English is spoken. Fab views of Mont Ventoux from some pitches!
You can use Camping Cheques as payment in low season.
http://www.campinglesfontaines.com/
Camping Nostradamus, at Eyguières near Salon de Provence.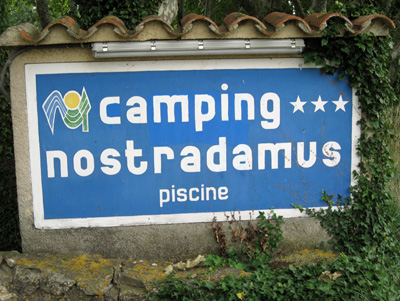 A lovely unpretentious family owned and run campsite within a farm. The staff spoke English, the owner Gilles is charming and plans to develop the site over the next 2-3 years. There is Wifi (chargeable) and good quality food at the simple restaurant. You can again use Camping Cheques as payment in low season.
Cost to insure: *
---
factfile
| | |
| --- | --- |
| Model | |
| Base vehicle | |
| Axle type | |
| Dimensions | |
| Shipping length | |
| RRP | |
---
Search our blog
---