Elddis Avante – Wide and handsome!
If space is the final frontier, Elddis has landed a couple of wide beauties with the two most recent additions to the top of its Avante range.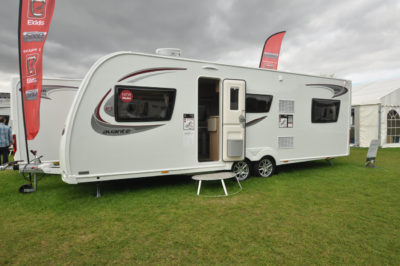 Both are twin-axle six berths. There's the bunk-bedded 866 and the subject of this review and the same size – but arguably more luxurious 840, with a rear French bed/washroom arrangement.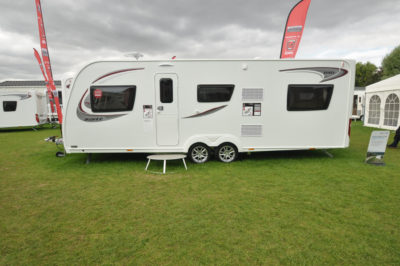 It might seem that obvious bit wider when first viewed via your towing mirrors, but the initial impression doesn't give the game away. All-white bodywork of course employs Elddis's latest SoLiD construction technique, which includes one-piece aluminium sides and a GRP underskin for extra road protection. As ever, it's backed by a 10-year integrity and water ingress warranty.
It promises to be good to tow, too, thanks also to standard features like Al-Ko's ATC traction control system, 3004 stabiliser and shock absorbers.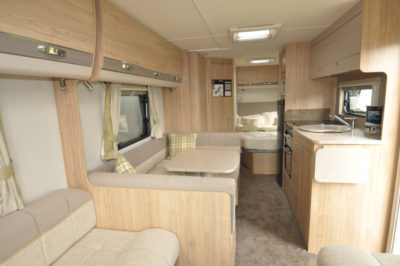 The three-windowed front with fixed sunroof don't really hint at anything extra. But step inside, and it all seems that little bit roomier. Putting a window in the door is always a help in that respect, as well as the light colouring to the furniture and soft furnishings.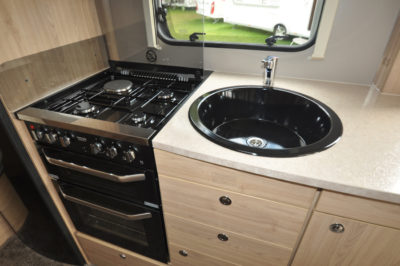 There's a full, family-sized kitchen here, with a Thetford Aspire 2 cooker set to the left, a circular sink in black to match the hob, with an add-on drainer and a good run of worktop to its right, aided by a flip-up worktop extension.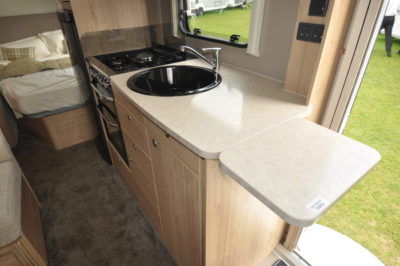 To the left of the cooker, there's a 155-litre Dometic fridge/freezer with a Daewoo microwave inset above, but not at a height that causes concern. Indeed, there's space for a locker above it.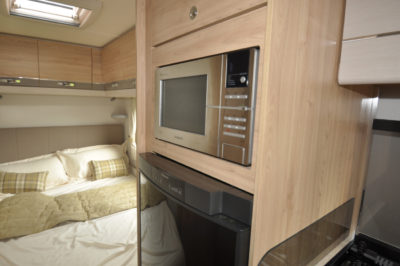 The lounge is large enough to offer two single beds (1.83m x 0.70m) or go the whole hog with a double that's 2.26m x 1.43m. Pull-out slats for the front double have a rather old-fashioned feel to them, but the overall décor is very much Class of 2017.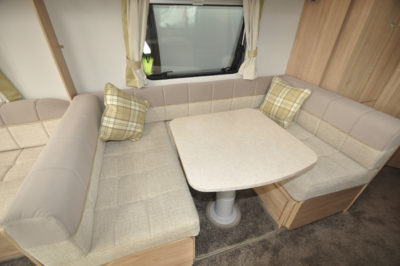 That's the front lounge, of course. Also in the 840 is a U-shaped seating area mid-'van offside, complete with a single-leg table, with height adjustment. The bed that can be made here extends out, with flaps, to a generous 1.90m x 1.34m.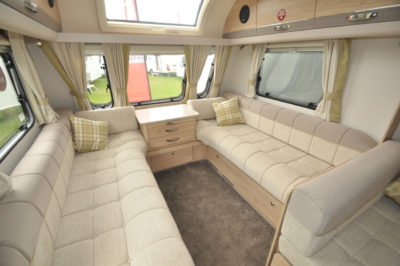 Come the inevitable rainy days you won't need to be short of on-board entertainment. A Teleco directional TV aerial and stereo radio/CD player with MP3 connectivity come as standard.
Heating and hot water are from Whale units that are fixed under the floor – helping to free up the on-board storage. It's an eight-litre Expanse water heater and a 4.3kW blown air system with particularly quiet night-time setting. Both have dual-fuel operation.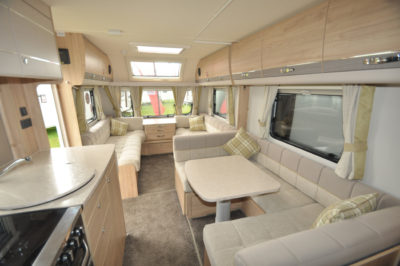 Aquaclean upholstery as standard is a thoughtful touch, especially bearing in mind this Avante is going to have to cope with families including – potentially – children of all ages.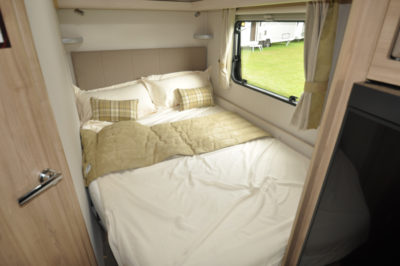 Mum and dad will surely claim the French double bed at the back – so-called because of its cut-away section that allows easier access to the nearby washroom. It's still a pretty generous 1.90m x 1.30m at its widest.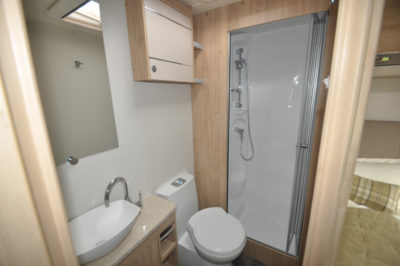 The metal-framed bed base is on pneumatic struts, so hinging it up to access the storage area is straightforward.
The washroom may lack a window, but it does afford a separate shower cubicle beyond the fixed basin and swivel-bowl toilet. Storage is adequate rather than immense – there are two lockers and just a bit of shelving. More thought for where to hang towels and clothes could have been higher up the priorities.
Despite being relatively lightweight, by twin axle standards, you're still going to need a hefty vehicle to tow the Avante 840. Just as crucial, there's not a lot of payload to play with, as standard. A chassis upgrade to 1,800kg is free of charge and might be worth considering.
In terms of security, the Avante comes with little as standard, but the optional AL-KO Secure wheel locks and alarm system could help cut insurance costs for this caravan.
---
Verdict: Keenly priced and extra-wide, with a great family-friendly floorplan
Plus: More than just a feeling of space, good kitchen, flexible seating/sleeping
Minus: Limited standard payload
In-a-nutshell: Mind the quality, feel the width
There's more information on the Avante range on the Elddis website www.elddis.co.uk. To find out more about insuring this or your current caravan visit our caravan insurance discounts page
---
Alternatives: Adria Astella 613HP Rio Grande, Knaus Sport 650 UDF, Weinsberg CaraOne 740 UDF
Cost to insure: Cost to insure: £383.00**
---
Elddis Avante 840 factfile
| | |
| --- | --- |
| Model | Elddis Avante 840 |
| Base vehicle | |
| Axle type | |
| Dimensions | 8.05m L, 2.45m W, 2.64m H |
| Shipping length | |
| Internal length | 6.39m |
| Berths | 6 |
| MTPLM | 1,734kg (1,800kg upgrade) |
| MIRO | 1,555kg |
| Payload | 179kg |
| RRP | from £21,994 on the road |
| Safety & security | ATC Trailer Control System, AL-KO 3004 Stabiliser, shock absorbers, receivers for AL-KO Secure wheel locks, CRiS security, smoke alarm, carbon monoxide detector. |
| Key options | Alternative upholsteries (£260), Al-Ko Secure wheel locks (£560), Fiamma bike rack (£350), tracker system with first year subscription (£280), additional shelving pack (£40), alarm with PIR and leg sensors (£300), external gas point (£100), wraparound front seating (£210) |
---
Search our blog
---