A new concept or not?

Haven't we been here before? Swift isn't the first major caravan maker to try and woo a younger, more active audience with a different style of caravan (Knaus, Adria and other spring to mind – and that's just from recent years).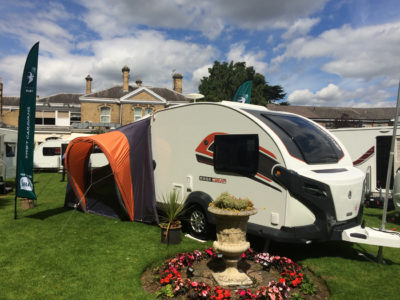 Unveiling the Basecamp at October's Caravan and Motorhome Show, it described the concept as a "crossover camping vehicle".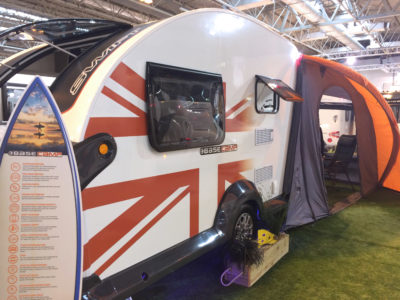 OK, so it's a smaller, lighter, more distinctive looking unit (caravan, if you will) and you'll likely have plenty of opportunities to go and see it for yourselves on dealer forecourts – and make up your own minds.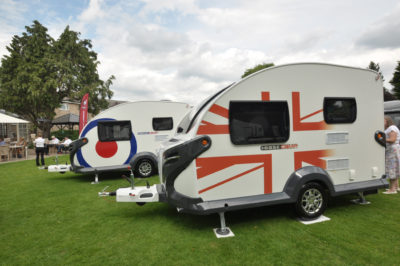 There are, in fact, two versions – Basecamp and Basecamp Plus. And if you fancy living beyond a traditional "white box", well, here's your chance. True, Basecamps are small – and light – easy to use and manoeuvre (apart from the fact that the smaller the 'van the trickier it is to reverse), they're also pretty stylish and funky.
As for the looks, the choice is yours – there are 13 different exterior styles. Shown here are the standard graphics, but you might want to pay the extra for something a bit more outrageous.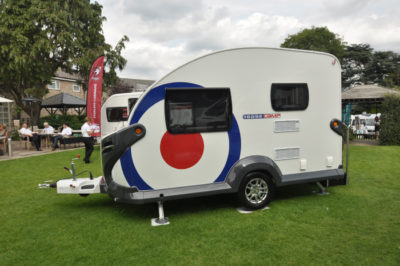 It's definitely a cheeky number. Swift relies on its latest manufacturing techniques to give the Basecamp the benefits of its SMART Plus construction – tough GRP outer panels (sides, roof and underfloor) and a timber-free framework that uses polyurethane rather than damp-attracting wood.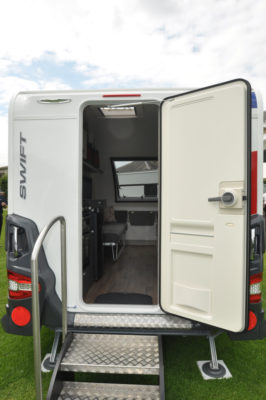 The door is at the back – easier loading of gear is one of the reasons – and the layout comprises twin settees at the front and furniture units lining either side towards the back. There's a kitchen along the offside and a wardrobe and washroom offside. Removable, zipped canvas bags in lieu of lockers represent a practical touch that's in keeping with the Basecamp ethos.  The Basecamp gets Swift's Command system which enables users to remotely set heating, switch lights on and check battery levels. And of course as per other Swift caravans and motorhomes Basecamp gets the Swift Command Tracker security system as standard which will give buyers a healthy insurance discount should they choose to pay the annual subsription.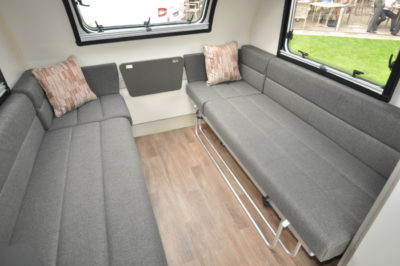 Despite its dinky dimensions, you'll get a decent 1.98m x 1.83m double bed, or you can leave those settees as twin singles – 1.83m x 0.69m.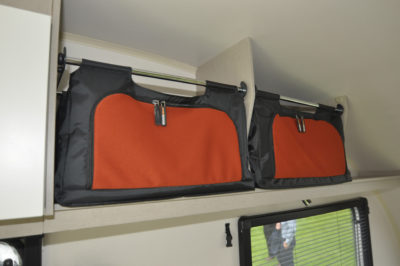 In standard trim, however, the Basecamp lacks quite a lot of equipment. Factor in the £595 Plus pack – oven/grill, solar panel, door flyscreen, TV aerial and bracket, external shower, gas and electrical points – and there's good reason to believe most people will, and you're nibbling away at an already paltry load allowance. The 111kg starting payload isn't very high at all – active couples may well have heavier gear they want to lug around, for example – and the Pack adds some 25kg to the mass in running order.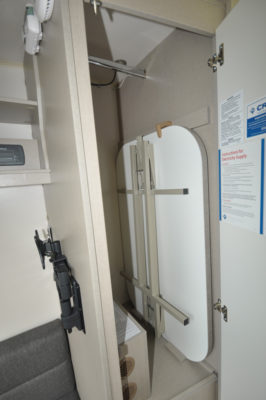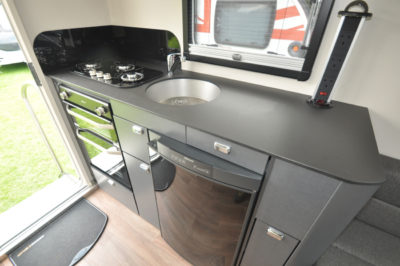 There's also the Basecamp Plus model, although its 904kg/1,015kg MRO/MTPLM still only give you the same 111kg initial payload.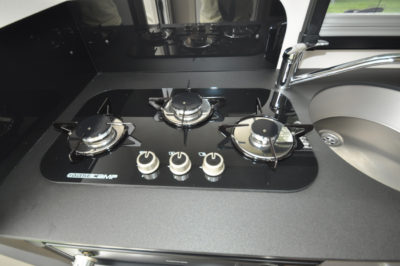 So will it attract those tent campers looking to start caravanning? It's a huge step from the £1,000 tops an "outdoor family" will pay for their canvas accommodation. Then again, plenty of tent campers make the step up to a solid four walls and roof over their head after enduring one too many disastrous meetings with the British weather. But, has Swift missed a trick in not offering more berths? Active young couples soon turn into families with small children… perhaps that's where the Vango AirBeam inflatable awning (as shown in the lead image above) comes into play…
So, the Basecamp is definitely more off-road than middle-of-the-road. Let's celebrate the fact that there's something refreshingly different on the market that might just turn into more than a talking point.
We'd love to hear what you think about the Basecamp. Add a comment below.
---
Verdict: A bold step, but it looks like fun
Plus: Something different – and colourful, SMART Plus bodyshell
Minus: Pricey, payload issues
In-a-nutshell: It's a nutshell!
There's more information on the Basecamp range on the dedicated website, www.swiftbasecamp.co.uk. To find out more about insuring this or your current caravan visit our caravan insurance discounts page
---
Alternatives: Knaus Sport and Fun, Freedom Jetstream, Barefoot, T@B L400 TD, Kip Shelter
Cost to insure: £204*
---
Swift Basecamp factfile
| | |
| --- | --- |
| Model | Swift Basecamp |
| Base vehicle | |
| Axle type | |
| Dimensions | 5.10m L, 2.28m W, 2.58m H |
| Shipping length | |
| Internal length | 3.42m |
| Berths | 2 |
| MTPLM | 990kg (1,015kg Basecamp Plus) |
| MIRO | 879kg (904kg) |
| Payload | 111kg |
| RRP | from £15,940 on the road |
| Safety & security | Swift CommandTracker (subscription to pay), smoke alarm, carbon monoxide detector, CRiS identity numbering and concealed data chip |
| Key options | Basecamp Plus Pack (£595), ATC Trailer Control (£325), Swift Command Tracker subscription (£95), Vango AirBeam awning (£795) |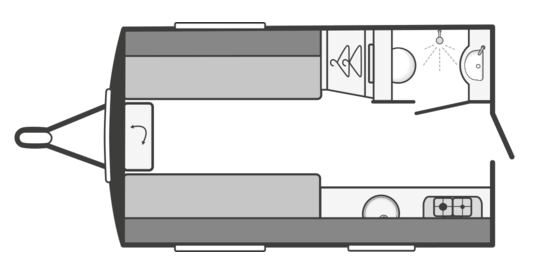 ---
Search our blog
---