Getting the right combination?
A mix of the two key features – and a growth spurt – has breathed new life into Auto-Sleepers' Symbol motorhome, which is now also available in the Symbol Plus guise you see here.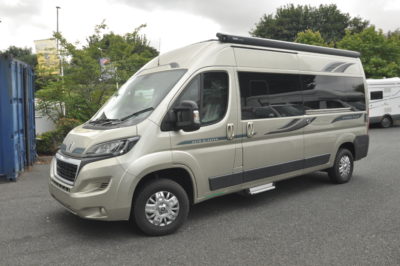 It's a combination of the best of two models, taking the kitchen and rear washroom layout from the Stanway (which drops out of the portfolio altogether) and marrying it to the Symbol lounge. It also joins the UK's most comprehensive line-up of Peugeot Boxer-based van conversions.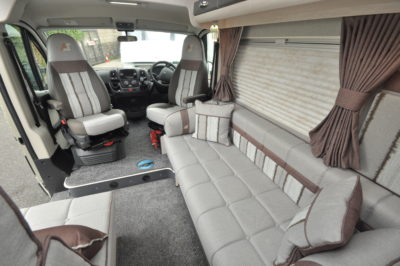 As ever, that initial price is misleading. You'll want to budget another £2,500 for the Premium Pack that's been fitted to every single Auto-Sleeper since it was introduced. There's too much in it to list here, suffice to say it's essential – and means £56,200 is a more realistic starting point.
If you think that's getting pricey, do consider what you get for your money. There's been a stretch, for starters. Whereas the standard Symbol is on the 5.41m long Peugeot Boxer, with the Symbol Plus it's the 5.99m version.
It also comes with the latest 160bhp engine (automatic transmission is an option that entails switching to a Fiat Ducato).
That, of course, means more room onboard. Hence the front lounge, rear kitchen and washroom set-up. To remind you, the Symbol seating plan involves a settee stretching from behind the driver's seat, with a single, forward-facing seat just inside the sliding door. You also get two tables – a pedestal leg unit and a larger free-stander, although admittedly the latter can impede access through to the kitchen and washroom.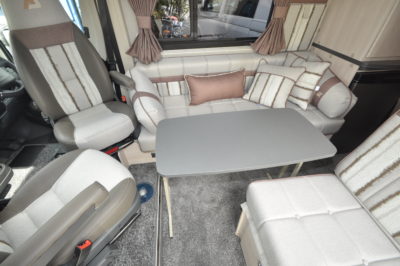 At night, the easiest option is two single beds. They're different lengths – 1.80m nearside, 1.92m offside, but cushions are also provided to make a 1.86m x 1.66m double. If you're happy with the singles, you'll want to leave those extra cushions at home and free up a large amount of much-needed storage space.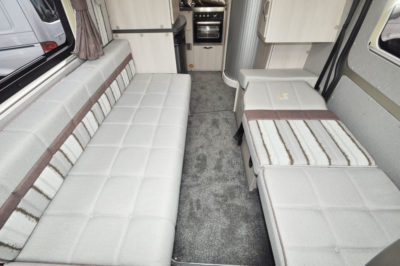 What all this leaves for the back end is an L-shaped kitchen area and extending washroom, both of which provide far more space than you'd expect in a 6m long van conversion.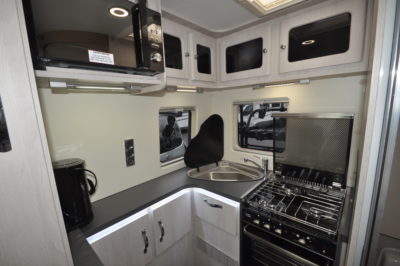 As well as a generous amount of permanent worktop space, the Symbol Plus chef gets a three-ring gas hob, with a combined oven and grill. There's a triangular sink next to the hob, while an electric Omnivent overhead aids ventilation. There's also a Russell Hobbs microwave oven, although some might find its location a bit too a high. The luxury even extends to a 12V coffee maker!
Kitchen storage sees a combination of overhead and under-counter lockers (four), although lower-level space is compromised by the presence of the Truma Combi 6 boiler.
The washroom facilities are hidden behind a tambour door. But, it's the ability to create a large dressing area that makes this a superior offering to many. There are two doors to open from the adjacent large locker/vanity unit, plus a hinged panel below – they effectively close off the back end.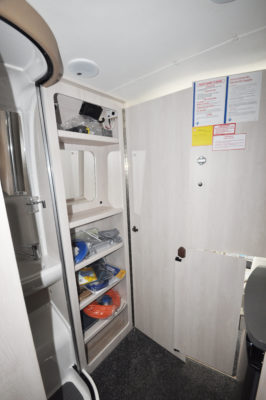 In the washroom itself, there's a good area for showering, a small fixed basin and a swivel-bowl toilet.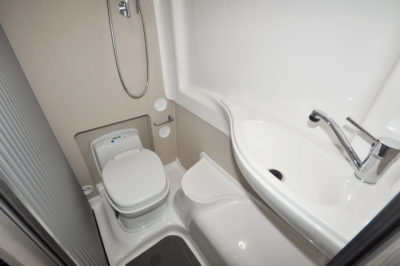 An overhead mirror-front locker provides the only storage, but it's supplemented by a toilet roll holder and high-level towel/clothes rail. A fan extractor is a boon for ventilation, too.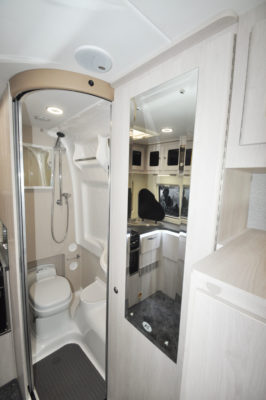 Don't forget also that this motorhome comes with a standard Thatcham Category 6 approved Sargent tracking device – perfect for protecting your motorhome against theft and significantly reducing your insurance premium. Bear in mind though that you will have to pay a £95 annual subscription fee to keep the device active.
It still leaves plenty to do to personalise your Symbol Plus motorhome. There's a choice of Luxurious Limewash or Verada Oak furniture and some 13 soft furnishing fabrics – and four exterior finishes – for you to formulate your perfect Plus.
---
Verdict: Lots of Plus points for this bigger Symbol
Plus: Overall equipment levels (including Premium Pack)
Minus: Poor rear travel seat design
In-a-nutshell: A plush Plus
There's more information on the Symbol Plus on the Auto-Sleepers website . Find out more about insuring this or your current motorhome on our motorhome insurance discounts page.
---
Alternatives: Murvi Morello
Cost to insure: £336*
---
Auto-Sleeper Symbol Plus factfile
| | |
| --- | --- |
| Model | Auto-Sleeper Symbol Plus |
| Base vehicle | Peugeot Boxer window van, 2.0-litre, 160bhp, Euro VI |
| Axle type | |
| Dimensions | |
| Shipping length | |
| External dimensions | 5.99m L x 2.26m W x 2.64m H |
| Berths | 2 |
| Travel seats | 3 |
| Maximum weight | 3500kg |
| Payload | 525kg |
| MPG estimate | 28-32 |
| RRP | From £53,700 on the road |
| Safety & security | Electronic immobiliser, remote central locking to all doors, ABS and EBD, EBA (emergency brake assist), twin airbags, smoke and carbon monoxide alarms, fire extinguisher, 25-litre underfloor gas tank, Sargent Cat 6 tracker, Truma Drive Safe regulator |
| Key options | Premium Pack (£2,500), Winter Pack (£295), Media Pack (£995), automatic transmission (£2,000), Sargent tracker annual subscription (£95) |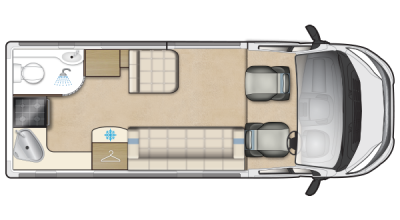 ---
Search our blog
---