Inflatable technology has made awnings a whole lot more attractive for motorhome awnings. Look out for even more great ideas in the season ahead, as all manufacturers announce 2019 season models. Here, we've picked out three that highlight just some of the recent developments.
Do your research before investing in a motorhome awning
There's no doubt buying a motorhome awning can significantly enhance your "leisure vehicle experience", but it's worth taking time to research and select the right one for you. Even after your purchase, it helps to get to know how the awning works to avoid stress when you're pitching up on site – as there are often many onlookers!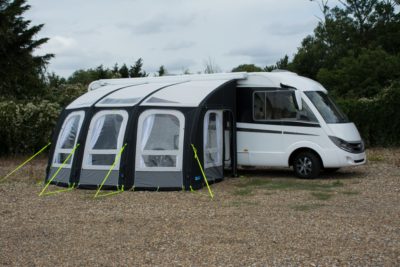 Caravan Guard's top buying tips
*Specialist motorhome awning retailers can offer plenty of great advice. Plus, you'll also get good advice from fellow campers who already own one. Don't be frightened to ask – it's a great way of striking up a conversation on site! Also look out for product videos – from manufacturers, retailers or users. These are great for all kinds of information.
Consider what you want to use your awning for – it can be any combination of daytime seating, storage and/or sleeping. Also, look for key features such as doorways, windows, mesh panelling, ventilation, fabric types etc.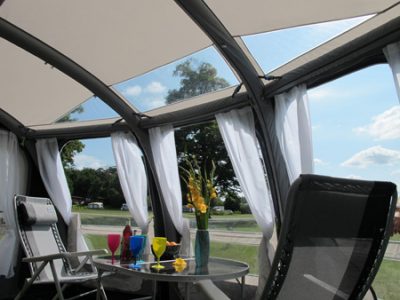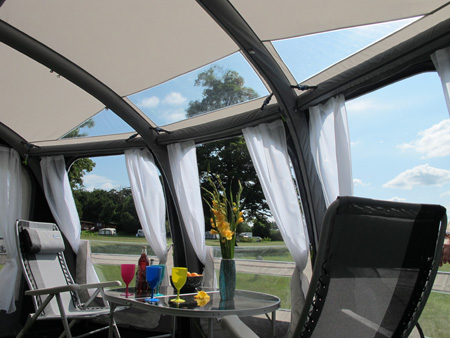 Consider how you want to attach any awning to your vehicle. If you already have a wind-out canopy-style awning, it should have an attachment rail in its cassette. There are other ways of attaching (specialist retail advice is key). Also, key is knowing the height of your attachment points from the ground.
Look for retailers' special offers that include not just the awning, but also handy extras – these can range from adaptor kits, to carpet, verandah pole, footprint, lighting etc.
Remember, inflatable awnings tend to be bulkier (and heavier) than their more traditional equivalents, so make sure you've got enough storage space. For the same reason, they can sometimes need a bit more manhandling!
Put down a groundsheet and/or footprint before pitching your awning to help prevent the main fabric from coming into contact with the ground, where it might be muddy or suffer from abrasions.
Motorhome insurance considerations
Caravan Guard's motorhome insurance policy includes awning storm damage. Both your motorhome and awning are covered should they be caught in a storm.
But an inflatable awning is less likely to cause as much damage to your motorhome due to the lack of poles. Although, it's always best to take down your awning before stormy weather hits.
Make sure that the value of your awning is covered when insuring your motorhome. Caravan Guard's motorhome insurance policy automatically includes £5000 of cover for equipment and personal possessions so this is usually plenty to cover your awning and any other bits of non fixed equipment you may take on your trips.
Star Player #1
Outwell Ripple Motor
From Outwell's Nordic Shore motor collection, Ripple Motor is actually a new range of static (rather than drive-away) awnings for motorhomes.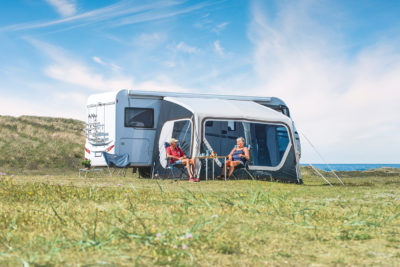 There's a choice of four Ripple models for motorhomes – 380SA and 440SA, with widths of 380cm and 440cm respectively. They're available in two fixing heights: M (245cm-265cm) and L (265cm-285cm).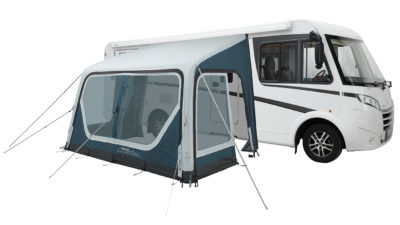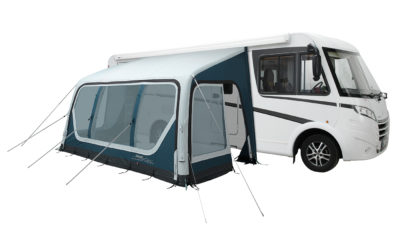 Both models start off with a single living area and front panel that can be fully zipped out when the weather's right. Doors to each side also come with mesh panelling, while all windows can be zipped closed, open part-way diagonally or fully rolled away to one side. New padded foamed "poles" make sure you get a snug-tight, draught-free fit to the motorhome. Slot-in disks to adjust the height for better fitting on uneven ground is also an interesting option.
Plus you get plenty of organiser pockets, as well as storm straps and taped seams. Typical weight is 27.5kg for the 380SA L.
Key features: Outtex HD 100% Oxford polyester fabric, single-point inflation, pre-angled tubes, tinted windows, PVC mud walls, adjustable pegging points.
Expect to pay: £1,225-£1,375
For more info: www.outwell.com or see our video demonstration of the Outwell Ripple Motor from the Motorhome and Caravan Show 2018.
Star Player #2
Vango AirHub Hexaway
Introduced for the 2018 season, this offers something a bit different – especially if you don't want a full awning. Instead, it's more akin to a gazebo, with its hexagonal shape featuring with alternating fixed windows and removable mesh panels and a removable groundsheet. It's ideal for extra storage as well as a daytime seating area.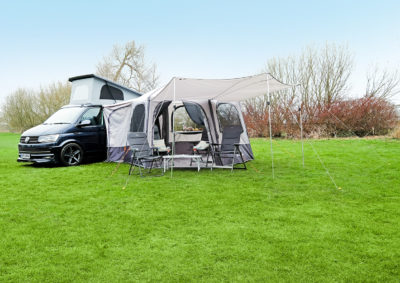 There are two versions – Tall and Low. Attachment height is between 245cm and 295cm for the Tall, 180cm and 210cm for the Low. And there are various ways of fixing the Hexaway to your vehicle – via pre-attached 6mm kador beading strip, over-vehicle straps or roof bar tabs.
There's a total of four doorways, with pre-angled airbeams optimising the headroom.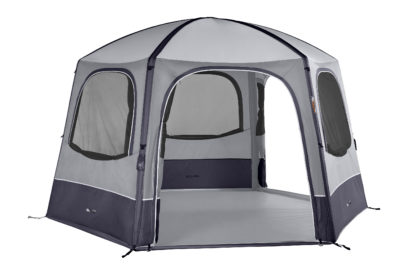 Maximum weight is 20.55kg and overall dimensions when up are 390cm deep x 410cm wide. It packs down relatively neatly, too, to some 70cm x 42cm x 43cm.
Also among the standard features here are storm straps, high-visibility guylines, zip curtains, rock pegs and mallet, external storm skirt and double action pump.
Key features Single-point inflation, 420D double ripstop polyester fabric, detachable groundsheet, steel pegs
Expect to pay £750 (Tall) £725 (Low)
For more info: www.vango.co.uk
Star Player #3
Dorema Starcamp Quick 'N Easy Air 265
Designed to fit any campervan, thanks to fitted dual beading – which means it can be threaded on to any existing 4mm or 6mm awning rail, as long as it's 180cm-210cm from the ground.
This is a compact unit for sitting in and storage rather than sleeping (hence, there's no bedroom inner option). Access is via a door at each side or the main entrance at the front, which can be rolled up when the weather allows. It also comes with a mesh panel, while all windows have blinds.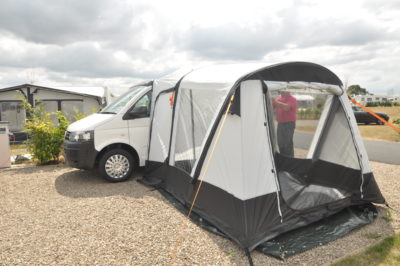 There's also a back wall that can be rolled up for access through to your 'van.
Overall dimensions when up are 265cm x 350cm, and it packs into a reasonably compact 80cm x 34cm x 34cm, weighing some 13kg.
Key features 150D 4000mm hydrostatic head Weathertex fabric, dual beading, storm buckles and straps, sewn-in groundsheet, three-way access, high-level vents.
Expect to pay £349
For more info: www.dorema.co.uk
Over to you…
Got any tips about motorhome awnings you'd like to pass on to fellow readers? Simply add your comments to the box below.
Cost to insure: *
---
factfile
| | |
| --- | --- |
| Model | |
| Base vehicle | |
| Axle type | |
| Dimensions | |
| Shipping length | |
| RRP | |
---
Search our blog
---