Sport&Fun, Travelino, Deseo, the awe-inspiring Caravasio concept…They're not afraid to try different things at Knaus. The German manufacturer often treads where others fear to go. And of course it offers a full range of more conventional caravans under both its own names and the Weinsberg brand.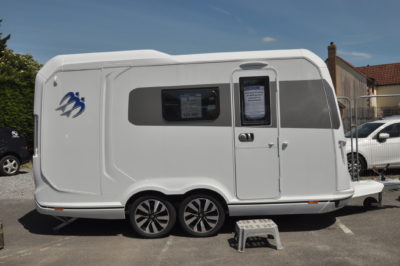 A caravan like no other
In such company, the Knaus Deseo has proved itself. It probably never set out to be a bestseller, but if you want something to challenge perceptions of what a touring caravan should be, check this out.
It's been tweaked a lot and even the floorplan has changed since it was first announced back in 2005. 2017 saw what has become the current variant.
Looking unconventionally bossy, and with a distinct lack of windows, the Knaus Deseo might only be 6m from hitch to tail light but it's a twin axle – bringing benefits such as optimal stability whilst towing, albeit at a slight loss of manoeuvrability when it comes to slow work in tight spaces.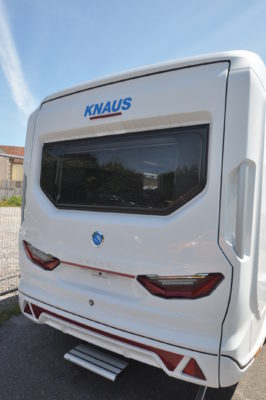 That bodywork has a 10-year waterproof warranty. Graphics are minimal. Cappings and lower skirting are chunky. Grab handles are large. 17in alloy wheels complete the look.
What looks like a normal stable door side entrance (note it's on the UK offside) is just that – a side entrance. The more distinguishing feature on the Knaus Deseo is the full-size tailgate at the back, which you can leave opened up when the weather is right, or use for adding any manner of loads. There's a slide-out step here to help with access.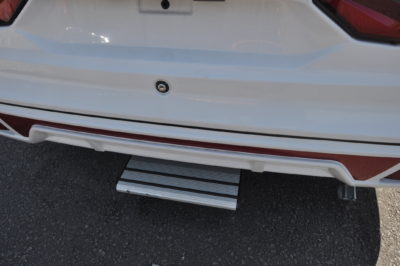 And it's designed to carry heavy items. Anything up to motorbikes, in fact. Hence the option to upgrade from 1,800kg and an already generous 300kg-plus payload to 2,000kg maximum weight.
It's also a full four-berth caravan. But the first thing you notice when you step inside is how much room there is. That's partly because of the seating. There's a settee along the nearside – note the especially high backrest – and a couple of box seat units on the offside, behind which is tucked a free-standing table.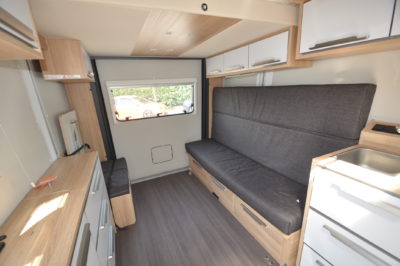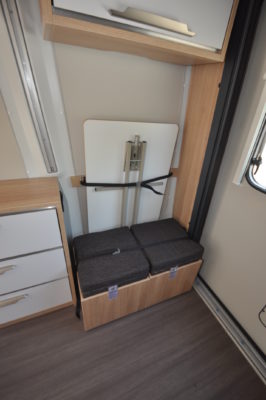 A narrow furniture unit along the nearside houses a pull-up TV locker. Also, here are three lockers that look like drawers, plus 230V and USB sockets.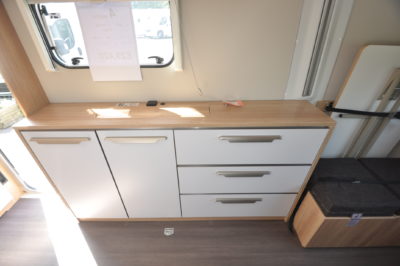 There's actually a manually operated drop-down bed above all of this as well. Another great space-saver, it also gives you all the comfort of any permanent bed. The other two sleeping berths in the Knaus Deseo are just as easy to set up – the settee simply pulls out.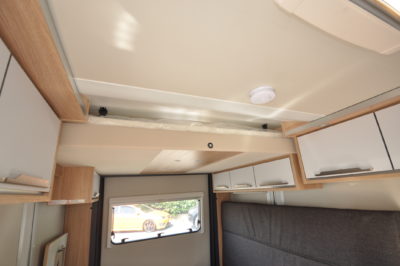 The kitchen is tucked away on the UK nearside. There's a two-burner hob, Dometic 108-litre fridge, small rectangular sink, some neat storage recesses behind the kitchen as well as a cubby hole to the right. A floor locker and two drawers, the top one with a cutlery tray, provide the storage here. Plus, there's a basic water heater housed in here (there are options to upgrade the heating and hot water systems).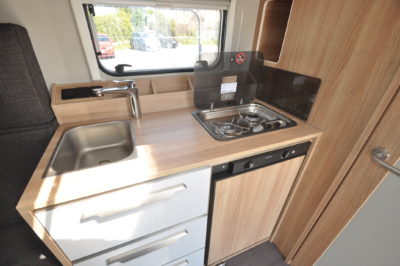 The washroom is at the front of this touring caravan, taking up about three-quarters of the available width. It's unusual to see a bench toilet these days (most folk seem to prefer a swivel-bowl unit, albeit it's often much harder to clean around).
The washroom basin is rather small but has a massive surround to keep the splashes in. There's good locker storage in here, too.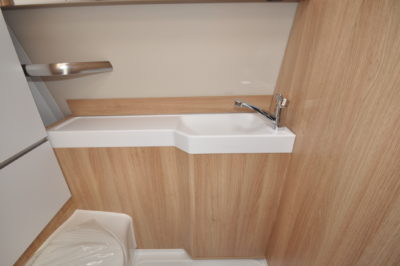 It's not a full-width washroom because the final piece of the Knaus Deseo's interior is a particularly roomy wardrobe, with hanging rail. Beneath that a locker houses the electrics and a fresh water tank.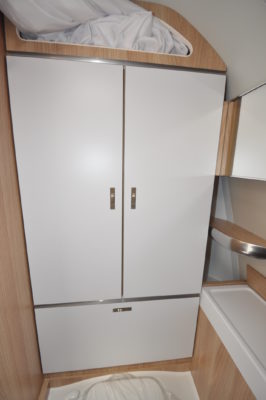 As well as those listed opposite, there are many other optional extras. But that price is already high enough!
OK, so there's no way is this going to appeal to traditionalists. Nevertheless there's some very clever use of space in here. And build quality is top-drawer.
---
Verdict: Very different, even amongst caravans that are different.
Plus: Four-berth, load-carrying capabilities, clever use of space
Minus: Price, not many windows
In-a-nutshell: Thinking outside the box
There's more information on the Knaus Deseo on their website>/a>. To find out more about insuring this or your current caravan visit our caravan insurance discounts page
---
Alternatives: Trip Buddy Anywhere
Cost to insure: £451*
---
Knaus Deseo factfile
| | |
| --- | --- |
| Model | Knaus Deseo |
| Base vehicle | |
| Axle type | |
| Dimensions | 5.99m L, 2.30m W, 2.58m H |
| Shipping length | |
| Internal length | 4.02m |
| Berths | Four |
| MTPLM | 1,800kg (upgradable to 2,000kg) |
| MIRO | 1,487kg |
| Payload | From 313kg |
| RRP | from £29,010 on the road |
| Safety & security | Shock absorbers, Al-Ko Euro chassis, servo-assisted handbrake, smoke alarm |
| Key options | Plus Package (£536), TV Package (£2,498), Al-Ko ATC (£789), Jockey wheel with built-in noseweight gauge (£59), Chassis upgrade (£476), Thule drawbar bike rack (£329), access ramp (£326), motorbike holder (£438), Truma Mover XT (£3,613), stereo/radio preparation (£253), Truma Mover (£3,613), flyscreen door (£226), flyscreen for tailgate (£362) |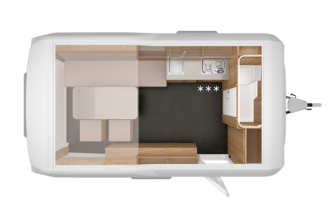 ---
Search our blog
---