There's no getting away from the price. You get what you pay for at this, the upper end of the motorhome market. Less, in fact, because – as is the way – there are all kinds of optional extras to consider as you tailor your order to suit your specific needs and tastes. There are all manner of clever innovations here, too, which help make this a very special A-class motorhome.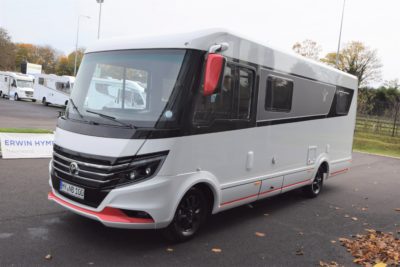 Style in motion
So, for an A-class like this, you'd be best setting your budget targets at something more like £100,000 rather than the somewhat more enticing £84,000 window tag. Even so, by Niesmann + Bischoff standards at least, we're in almost bargain territory.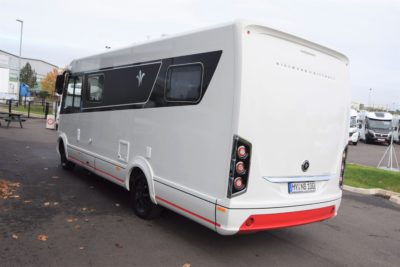 Options abound, but you're best researching the various Packs – Comfort, Winter, Chassis, Multi Media, Premium Kitchen etc – as your starting point, before going on to an almost never-ending array of extras. You'll put on the pounds as you put on the pounds, of course – fortunately, there's a 500kg-plus payload to play with.
The Niesmann + Bischoff iSmove 7.3F motorhome is built on Fiat's Ducato cab with Al-Ko chassis extension – a set-up that allows for a far more comfortable, forgiving drive than the standard Ducato chassis arrangement. It also means a lower overall height and centre of gravity, in turn a benefit for overall handling.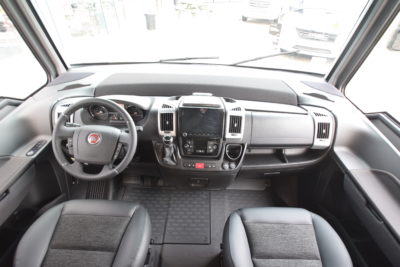 The bonding of body to chassis is worth noting, too. A 42mm thick floor panel is screwed and glued to the chassis. The bodywork itself is timber-free and has extensive Styrofoam insulation (a cut above the usual polystyrene) between aluminium outer and fabric-faced aluminium inner walls, while the double floor adds to overall insulation as well as housing the fresh and waste water tanks, associated pipework and more.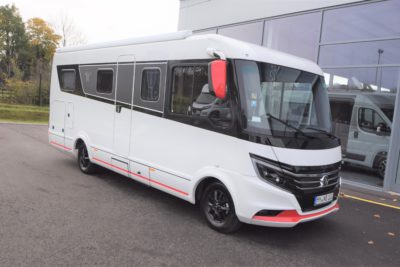 Other aspects of the bodywork reflect N+B's ethos that cutting large apertures isn't necessarily a good thing for overall structural integrity. Hence the relatively small, one-piece habitation door, single door for the garage etc (although you can tailor any variations you want via the comprehensive options lists).
Inside the Niesmann + Bischoff iSmove 7.3F however, it's a more than familiar floorplan. It starts with an island bed set over the sizeable, uncluttered garage at the back. The mattress is cold foam, sitting on slatted bases for extra support and ventilation.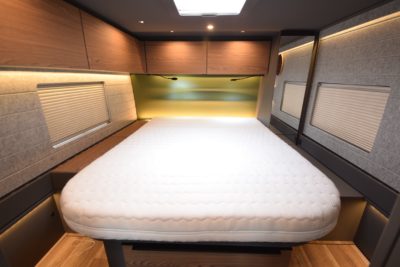 It's ditto for the second double bed, a typical A-class affair in that it pulls down from the ceiling over the cab area. It's that bit different to rivals, however, in that it's particularly slim – without losing out on comfort and support – and thus that bit more discreet.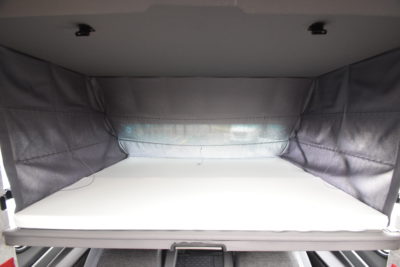 The lounge below is marked by its clever settees – inward-facing for on-site use, complete with the company's signature cushion/backrest designs, with an extending section to create a forward-facing bench for two extra passengers. It's actually one of a number of features that N+B is patenting. The pedestal leg table on rails is another one you can add to the list of "good ideas".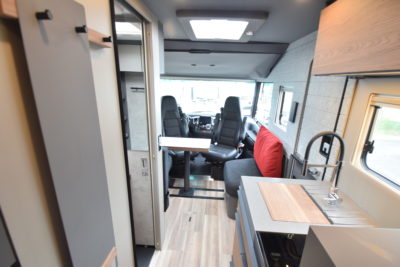 Look again at the interior wall coverings on the images here, too. Another highly desirable option, it's a special material designed not just to offer better all-round insulation but also enhance the sound reproduction from whatever stereo/TV systems you want to have fitted.
Mid-vehicle, the washroom is along the nearside, kitchen offside. The latter is all-too-basic in standard form – you only get a two-ring cooker, sink and 106-litre fridge, although the slide-out chopping board and central locking feature for the drawers are very practical.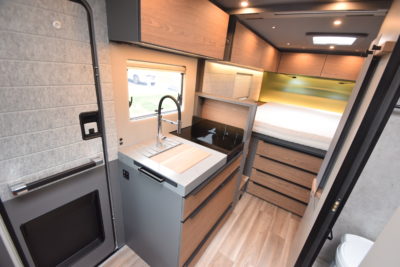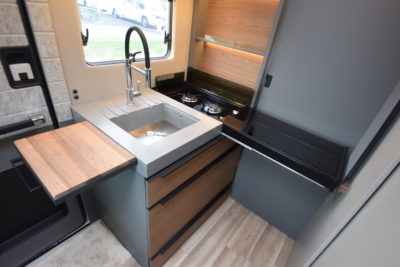 It's no surprise to hear most UK buyers dive straight in with the positively innovative Premium Kitchen option, with its clever worktop extensions (including a sliding hob cover), special fridge and freezer upgrade, superior worktop finish, electric rising shelving and more.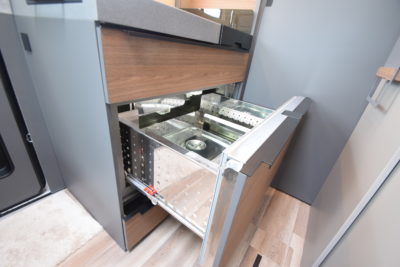 The washroom in the Niesmann + Bischoff iSmove 7.3F is something of a stunner, too. It does indeed live up to the name N+B gives it, "intelligent bathroom concept". OK, it starts with a standard enough swivel-bowl toilet and corner basin set-up. Then, the whole wall slides to create a generous, GRP-lined shower area complete with backlit shelves.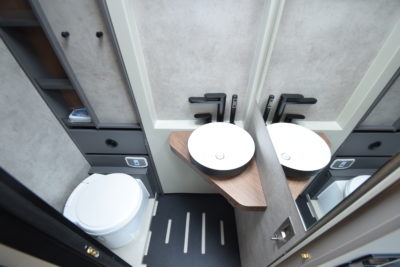 All this is but a snapshot of what this amazing motorhome brings. Details aside, it's the quality and, indeed, feel that really impresses – arguably something you can only appreciate when you see the vehicle for real.
Truly, one for the connoisseurs. Sole UK agent Erwin Hymer Centre prefers to quote prices for options in Euros. But this is where, budget permitting, you really will want to go to town with the huge choice of exterior and interior colour schemes all the way through to a larger 90-litre fuel tank.
In fact, you can configure your very own iSmove 7.3F motorhome here. Even if you have no ambition to buy one, you can have some real fun designing your very own!
---
Verdict: Unique, top-of-the-tree manufacturing, stylish
Plus: Quality build, no expense spared, 3,500kg chassis with decent payload
Minus: Pricey… and options make it even pricier, standard kitchen is limited
In-a-nutshell: A real iSmove-y
There's more information on the iSmove range on the Niesmann + Bischoff website. Find out more about insuring this or your current motorhome on our motorhome insurance discounts page.
---
Alternatives: Carthago Chic e-line I, Hymer B-SL 708
Cost to insure: £647*
---
Niesmann+Bischoff iSmove 7.4E factfile
| | |
| --- | --- |
| Model | Niesmann+Bischoff iSmove 7.4E |
| Base vehicle | Fiat Ducato/Al-Ko, 2.3-litre, 140bhp, Euro 6d |
| Dimensions | 6.99m L x 2.28m W x 2.83m H |
| Berths | Four |
| Travel seats | Four |
| Maximum weight | 3,500kg (upgradable to 3,700kg/4,500kg) |
| Payload | From 580kg |
| MPG estimate | 26-30 |
| Safety & security | Electronic immobiliser, remote central locking, ESP including traction plus, hill holder and hill descent control, electronic brake force distribution, all-round independent suspension, twin airbags, European Whole Vehicle Type Approval |
| Key options | Comfort Pack 1 (£2,290), Chassis Pack (£2,200), Winter Pack (£3,260), Premium Kitchen (£1,740), automatic transmission (£2,956), engine upgrades (from £1,871), Multi Media Packs (from £2,980), exterior paint finishes (from £706), acoustic walls (£1,650), leather upholstery (from £2,108), automatic levelling system (5,706), air suspension (5,790). |
---
Search our blog
---