Forty centimetres might not sound much, but it's a massive dimension when it comes to campervans.
The long story!
That's exactly the difference between the standard, short wheelbase Celex from specialist independent manufacturer Bilbo's and this, the long wheelbase version.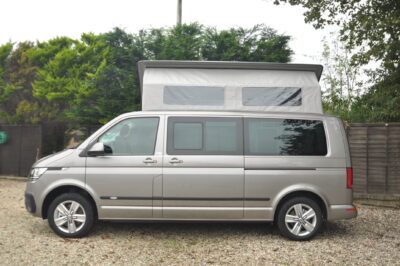 It might not feel a lot different to drive, either (apart from the occasional short parking spot) but it's inside Bilbo's Celex campervan where those extra centimetres (or nearly 16inches, if you prefer) really do count. It means a longer kitchen unit with more permanent worktop and an extra shelved locker, as well as vital extra floor space.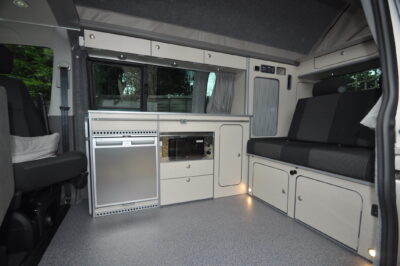 Prices for a long-wheelbase Bilbo's Celex campervan with elevating roof start at just under £60,000, but that's the SL version based on the Startline variant of Volkswagen's Transporter T6.1. The example on review here, with superior Highline trim level, plus key options from Bilbo's, is a far more typical example, admittedly topping out at over £61,000.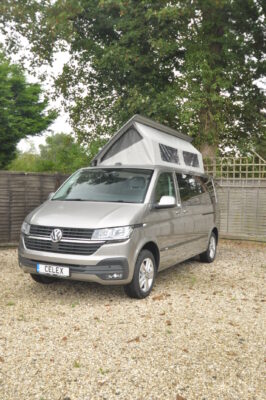 Bilbo's uses the Kombi version of the T6.1, which means factory-fitted windows, proper seat belt mounting points and some extra noise suppression (for a calmer drive). Typically, it also goes for the Highline trim level and most customers are happy to pay for the 150PS engine with manual transmission (automatic transmission is a rather hefty, albeit desirable, £2,300 extra).
There's a full range of VW options to consider, too, including a range of solid and metallic paintwork finishes (14 in total). Bilbo's say some 90% of buyers go for the latter – like the Mojave Beige here – at an extra £1,000.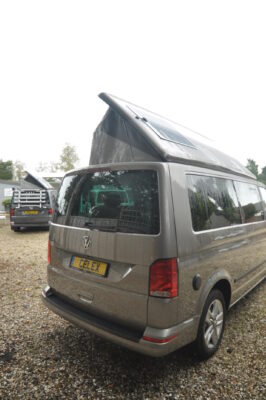 As for the conversion, it's not unusual for Bilbo's to sell its elevating roof models, as here, without an upper-level bed. Boards are an option, but lots of campervan owners only want the extra standing space an elevating section gives you when you're on-site. The roof itself – Bilbo's own, long proven side-hinged design, is one of the easiest to push up and pull back down again, coming with acrylic side windows and full blackout, plus zipped ventilation panels at either end.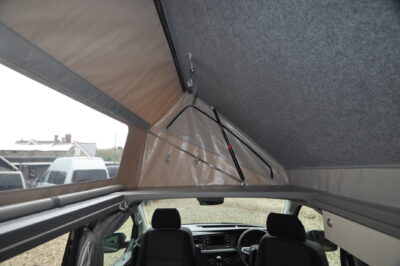 At floor level, you'll instantly recognise the typical campervan layout of furniture along one wall and a rear seat-cum-double bed. The latter is another design that's exclusive to Bilbo's and again is comfortable and easy to switch from daytime seating to bed mode.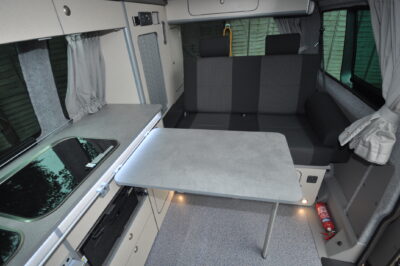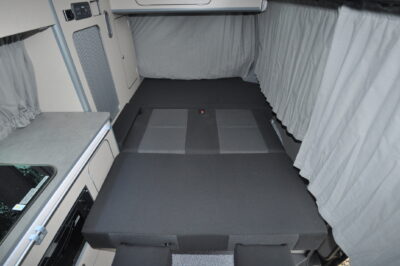 Bilbo's does things just a little differently to other campervan makers, too, with aspects like the separate sink and two-ring cooker (most manufactures use a combination unit), as well as a larger-than-average 65-litre compressor fridge, plus a grill is supplied as standard (although you could opt for another drawer or a microwave oven when you place your order).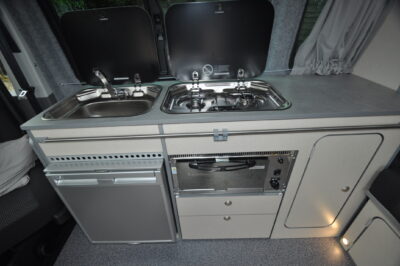 They're no fans of bling at Bilbo's, either. If you want outsize wheels, leather upholstery and all that fancy stuff, look elsewhere. It's all about practicality here. What it can count on is a long tradition of campervan manufacturing (44 consecutive years under the same ownership by 2021), hence storage is a particular Celex strong point.
There's excellent use of space under the rear seat of the Bilbo's Celex campervan (a portable toilet could also be stowed here), and don't dismiss the usefulness of the small but so handy lockers over the kitchen as well as the ceiling unit just beyond the back seat.
Other key factors here – and this is exactly what you should be considering if you're about to embark on a campervan buying journey – are Bilbo's established status as an ISO 9001 manufacturer, with all its latest models conforming to GB National Small Series Type Approval, UK trade body the National Caravan Council approval and – arguably the final brick in a very strong foundation – part of the Motorhome Qualification Scheme as announced by Volkswagen at the start of 2021.
Plus the Cat 1 alarm and parking sensors fitted to the Bilbo's Celex campervan will attract a discount on our campervan insurance policy.
---
Verdict: Superbly practical in so many ways
Plus: Bilbo's pedigree, well-thought-out options range, long wheelbase's extra virtues
Minus: Curtains seem dated, can get pricey
In-a-nutshell: It's a long story!
There's more information on the Bilbo's Celex and their campervan range on the Bilbo's website. Find out more about insuring this or your current campervan on our campervan insurance page.
---
Alternatives: Hillside Birchover Classic LWB, Jerba Cromarty, Rolling Homes Columbus S
Cost to insure: £265*
---
Bilbo's Celex LWB factfile
| | |
| --- | --- |
| Model | Bilbo's Celex LWB |
| Base vehicle | Volkswagen Transporter T6.1 T32 Highline long-wheelbase |
| Axle type | |
| Dimensions | 5.29m L x 2.10m W x 2.03m H |
| Shipping length | |
| Berths | Two |
| Travel seats | Four |
| Maximum weight | 3,200kg |
| Payload | 683kg |
| MPG estimate | 32-38 |
| RRP | From £49,500 (Startline version) |
| Safety & security | ABS, engine immobiliser, front airbags, adaptive cruise control, Thatcham Cat 1 alarm, Thatcham Cat 2 immobiliser, front and rear parking sensors. |
| Key options | Metallic paint (£1,000), front and rear mudflaps (£170), towbar (£780), Discover Media navigation system (£1,355), Park Assist (£350), heated cab seats (£380), Webasto heater with digital control diesel heating (£1,295), awning rail (£275), awning (£850), second table with swivel (£195), Meta Trak Thatcham S5 tracker (from £595), Porta-Potti Qube (£105), solar panel with app (from £625), roof bed (£685), rear-view camera (£300) |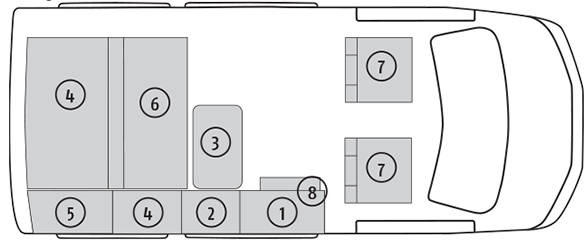 ---
Search our blog
---