Looking to sell your your motorhome? At the time of writing (October 2021) there's still no signs of the demand for motorhomes abating, despite a particularly busy summer and now going into the quiet season. In other words, now is a very good time to sell. And that's a scenario that looks like it will continue well into next year.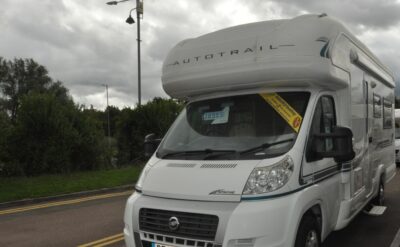 But, what can you expect to get for it? Put simply, your motorhome is worth exactly what the next person will pay you for it. That's a net price, of course, once you've accounted for any hassle involved in the whole selling process.
However you decide to sell your motorhome, it's worth investing time and money in presenting your motorhome in the best possible condition, with all servicing work up to date and as much paper work as possible to show what a caring owner you've been.
Also make sure you know the basic information such as it's age, mileage, make, model and current condition.
See also: Our article on optimising your motorhome's resale value.
Sell your motorhome privately
Put your motorhome up for sale locally or via any online platform and you'll guarantee folk will come knocking at your door. But, are they genuinely interested in buying, or are they just going to waste your time, or worse?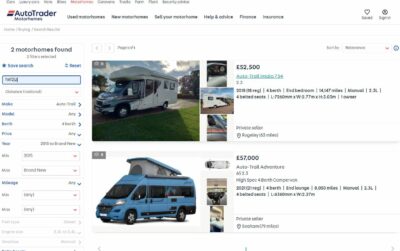 Like selling your home, advertising your own motorhome for sale works best if you can supply the best possible images and if you can do some "de-cluttering" and "de-personalising" (i.e. taking out anything that's personal to you).
There will probably be advertising costs – and security worries (you don't know who's checking out your motorhome and/or house).
Also, what you see vehicles advertised for online is rarely the final selling price, so don't get carried away.
Make sure you do act with caution when selling privately, don't let someone take your motorhome until you're completely satisfied you have been paid in full. 'Theft by deception' is not something covered by motorhome insurance.
Get a cash buyer to meet you at a bank so staff can check notes for forgeries and correct amounts.
Online bank transfers seem the most popular way for private buyers to pay these days. With 'Faster Payments' your buyer should be able to make a transfer and funds should show in your account within a few hours – again don't let your motorhome out of your sight until the funds have landed in your account. A CHAPS bank transfer might be quicker but your buyer will have to pay their bank a fee for this. As with all bank transfers it's vital you make sure the buyer is given your correct bank details and sort code – it's not guaranteed the money will be recouped if sent to the wrong bank account.
If receiving payment by cheque don't let the buyer take your motorhome until funds have cleared. Or if the buyer has a bankers draft, again we'd advise you to visit a bank with the seller to make sure funds are cleared.
If the buyer wants a test drive, you'll want to make sure the motorhome will be insured under their control. For full protection you should call your motorhome insurance provider and see if they can offer cover for a temporary additional driver – there will be a cost for this, however. We'd always recommend travelling with the buyer during the test drive.
Pros: Potentially the best way of making the most money. A great way to sell if you have a private buyer lined up.
Cons: You're on your own. You'll have to work harder to make that sale. No guarantee of success. Risk of payment fraud. Dealing with time wasters. Having to haggle. Test drives can be a concern. Even if you sell to a friend, what happens if something subsequently goes wrong with the vehicle?
Sell your motorhome via a broker
This is one way of selling your motorhome without the challenges of getting involved with negotiations with prospective buyers.
You only get your money after the sale is completed, of course, and you'll have to agree an arrangement for commission paid to the broker. A proper contract is key to dealing with a motorhome broker.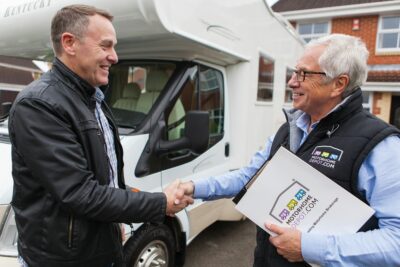 An established, professional brokership will do all the sales negotiating for you, ideally achieving a better price, thanks to its wider reach in the marketplace. A good broker should also be happy to consider part-exchange to facilitate a sale.
Pros: Less hassle than selling privately, with no comebacks. No upfront costs
Cons: Not instant cash, and obviously you have to pay commission to the broker. Be wary – anyone can call themselves a broker. 
Top tip
Use a recognised established motorhome broker with a proven track record (search for online reviews) and proper office back-up.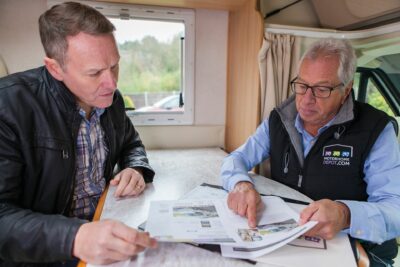 "Selling via a large, established, professional broker means no upfront advertising costs, very high chance of success, no security worries, no risk of payment fraud, no dealing with time wasters, the broker does the haggling for you, and you can achieve a better price due to wide advertising reach, broker can accommodate part-exchange to facilitate deal."
Bill Pegram, The Motorhome Depot
Sell your motorhome via a dealer – sale-or-return
There are two main ways of selling via a specialist motorhome dealer.
Sale-or-return is a practice operated by many dealers whereby you retain ownership of the vehicle until it's sold, but the dealer has the vehicle on its forecourt during the selling process. It's a very similar operation to the processes for selling via a broker, as listed above.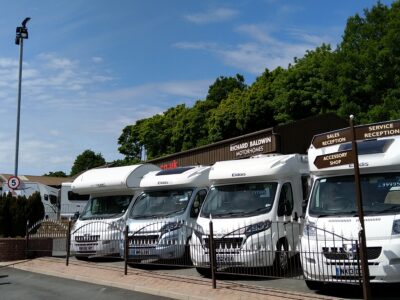 You need to agree a selling price and the commission you'll pay the dealer, as well as any insurance, plus any work needed on the vehicle (including valeting) before the vehicle goes on sale.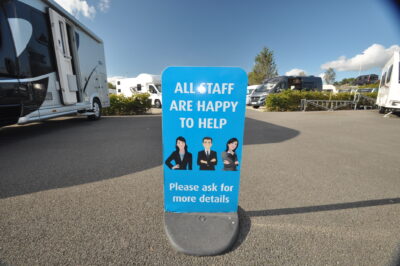 Pros: Takes all the challenge of selling/negotiating out of your hands. Your vehicle will be advertised extensively. Extra benefits of full dealership back-up.
Cons: You obviously have to share fund of the sale with the dealer.
Top tip
Be honest. Be prepared to point out any aspects of your vehicle that are below standard. Those in the trade are often in a position to sort out repairs at far more cost-effective levels.
"If a seller sells their motorhome to a dealer, often the dealer will collect it and the funds will be bank transferred and cleared before the keys are even handed over. The dealer will not be looking to see how secure the motorhome is with a view to trying to steal it, the dealer will not come back to the buyer to ask for money when they discover faults with it. The dealer will turn up when they say they will and they will either buy it at what was agreed, or if there's a genuine issue, they will rebid and make a fair and sensible alternative offer.
"If a seller wants to place their motorhome on sale-or-return through a dealer, generally they will get all the same benefits as a cash sale, but the main two differences being that they might have to wait a few weeks for the money to come through, depending on how long the motorhome takes to sell, but they will get a higher return price for having that patience.
"In both cases, the dealer will look after everything from start to finish, the seller has no potential buyer comeback to worry about legitimate, or otherwise." – Gary Morgan, Richard Baldwin Motorhomes
Sell your motorhome via a dealer – direct sale
By far the most pain-free way to sell your motorhome – even if you're unlikely to get the very highest price.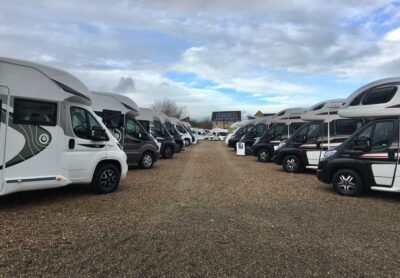 Don't be surprised if your vehicle goes on sale for a lot more than your dealer paid you for it. Dealers need to cover the costs of any preparation work before its sale, the cost of running its business (staff, overheads, workshops etc), right through to offering a warranty should anything go wrong.
There's still a bit of research to do. For example, make sure you go to the right retailer, e.g. a campervan specialist is highly unlikely to give you the best price for your coachbuilt motorhome.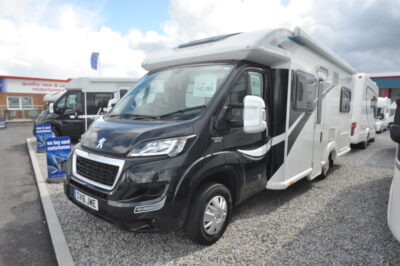 You're also more likely to get a higher price from a dealer that holds the franchise for the manufacturer of your motorhome.
Pros: The least-hassle option for selling your motorhome. Instant money in your bank account. Dealer is responsible for all subsequent issues (repairs work etc) when the vehicle is sold on.
Cons: With the dealer understandably wanting to make money on reselling the motorhome they probably won't offer the highest price. But that of course is the price of peace of mind!
Top Tip
Always get quotes from at least three dealers… they will vary depending on a number of factors, not least the desirability of your vehicle to each respective dealer.
"Selling via a dealer should be a straightforward process. For well looked after and maintained motorhomes that have a recognised brand or manufacturer tag, retail prices are still very strong, in some cases well exceeding prices from two, three, four years ago, therefore dealers are paying more.
"It's a safer process of sale. Get it resolved and off your drive, one less thing to worry about so you can get on and book your next type of holiday!
"In summary, at the moment I would suggest trying the selling to a dealer option first as you might be surprised what it's worth! You can always have a go at selling it privately if you're not happy!" – Rob Kirk, Motorhome Dealer Group
"Selling to a dealer means a bank transfer completed at the point of collection/delivery, ensuring cleared funds are received before releasing the vehicle. If anything is found to be wrong with the vehicle after purchase there is no comeback on the seller. You therefore have peace of mind and a point of contact at the dealer end." – Jenny Colloff, Brownhills
If you are selling of course, we really hope it won't be the end of your motorhoming days and you'll be about to take ownership of your 'van.  However, if it is bye for now do cancel your motorhome insurance policy. A premium refund may be due and it also makes sure the vehicle is no longer recorded as insured in your name.
Also see our Motorhome Glossary – it's a great introduction to some of the industry words and jargon.
Over to you…
Got any advice to pass on to other motorhomers about buying or selling a motorhome? Please feel free to add a comment below.
Cost to insure: *
---
factfile
| | |
| --- | --- |
| Model | |
| Base vehicle | |
| Axle type | |
| Dimensions | |
| Shipping length | |
| RRP | |
---
Search our blog
---