Has Coachman found a niche right in the middle of the market with its wide-bodied, single-axled Laser 545 Xtra caravan? Look at the alternatives opposite and true, they're all cheaper, but they're also all standard width. If it's the extra width you're after, you're going to have to head into twin-axle territory.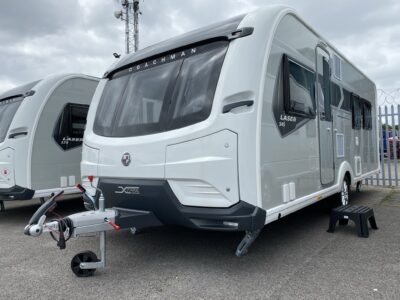 Like its five 2022 model-year Laser stablemates, the 545 has no trouble looking the part of a premium tourer, with its flush-fit three-window front, black plastic trim work, sturdy grab handles, silver sides, heavy-duty corner steadies, and the usual (for Coachman) two front lockers, right down to the superior quality 3D graphics.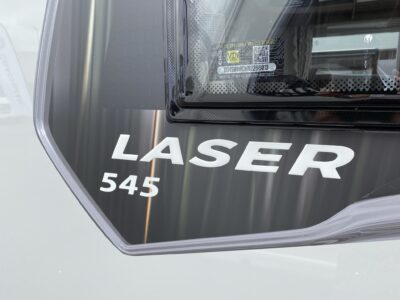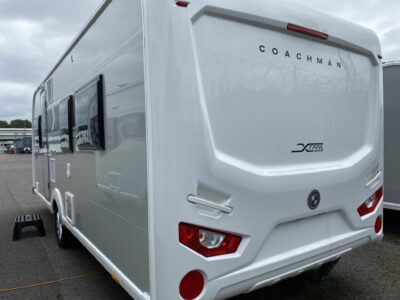 Bodywork is fully bonded, and awning rails are also bonded on each side, all coming with the reassurance of a 10-year water ingress warranty.
You'll certainly feel the space benefits of that 8ft girth as soon as you step inside the Coachman Laser 545 Xtra. An instant example – that L-shaped lounge system works so much better in a wider-bodied unit.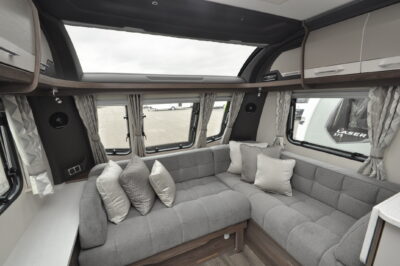 You might miss the usual chest of drawers/pull-out tabletop you get with a parallel-settee arrangement, but the free-standing table is close to hand in its own storage locker. Plenty of daylight gets in here, too, thanks to the almost full-width, fixed sunroof overhead and decent-sized side windows.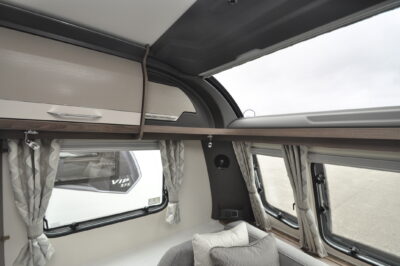 Lounge luxuries extend to a stereo with DAB radio and Bluetooth connectivity and speakers in the lounge and bedroom, a wireless phone charger pad on the front bulkhead, concertina blinds and flyscreens to all the windows, and no less than six scatter cushions!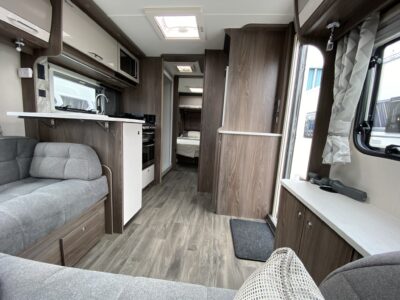 Moving back from the lounge, mid-'van sees a comprehensively equipped kitchen, with its main unit along the offside. Its L-shape offers that bit more in terms of permanent worktop as well as storage.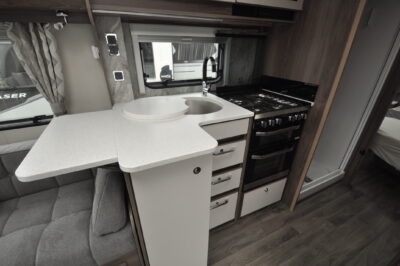 Here, you'll also find the usual full Thetford cooker (set far right), with a neatly housed microwave oven directly above it, circular sink with flush-fitting loose cover, and a short section of handy flip-up worktop extension. Storage includes a trio of drawers, small floor locker and a locker with pull-out chrome wired baskets.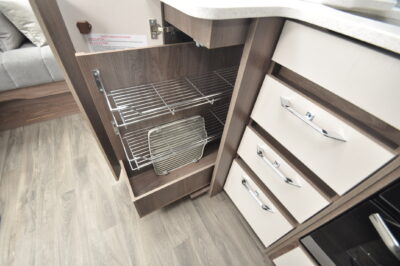 Moving back inside the Coachman Laser 545 Xtra, and its washing facilities are split between a fully-lined shower cubicle on the offside and a generously proportioned toilet room nearside.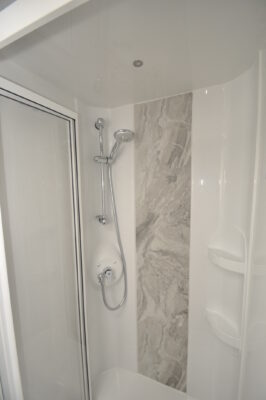 The latter also has space for a fixed, countertop hand basin and a radiator/heated towel rail. A large mirror helps enhance the feeling of space while storage is above par, too, thanks to lockers at high level over the window and directly under the basin.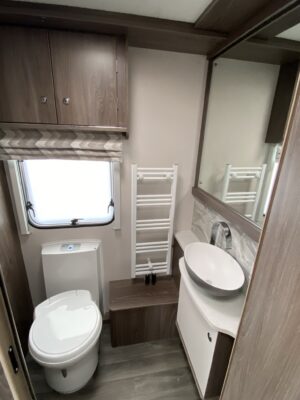 L for island
This caravan floorplan also provides the sanctity of a full bedroom at the back.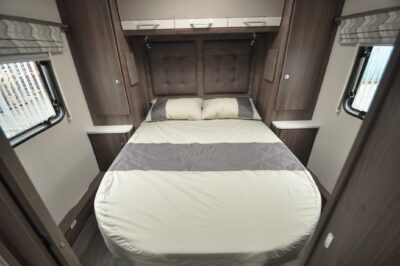 That island double is flanked by wardrobes and lockers with handy ledges, and there's room to sit up despite the presence of three upper-level lockers along the back wall.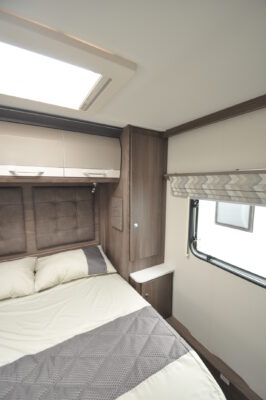 The opulence doesn't stop there. It's a class-leading specification (even if, technically, the 545 is in a class of its own) – Alde central heating and hot water, Dometic 133-litre fridge/freezer, Al-Ko ATC and a Phantom VanGuard alarm system head up a rather impressive list of standard equipment. That alarm will also attract a small caravan insurance discount.
Details mean so much, too – like the USB sockets incorporated in the reading lamps, floor carpet in five easily manageable sections, soft-close drawers and locker doors, dimmable touch control reading lights, sprung-interior seating and more.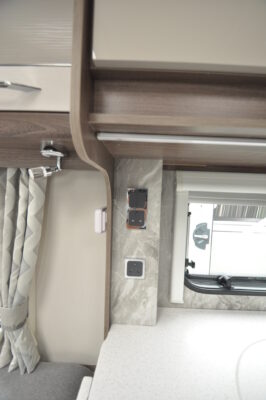 A class apart, then? You bet.
---
Verdict: A Laser that really hits the mark
Plus: Quality build, much-favoured floorplan, comfort abounds
Minus: It's a bit of a heavyweight
In-a-nutshell: Your Laser quest stops here
There's more information on the Laser range on the Coachman website. To find out more about insuring this or your current caravan visit our caravan insurance page
---
Alternatives: Bailey Unicorn Cabrera, Compass Camino 550/Elddis Crusader Aurora, Swift Conqueror 560
Search our blog
---