If buying a home is all about location, location, location, when it comes to caravans it's layout, layout, layout.
Only you can know your caravan layout priorities for the likes of how many berths you need, permanent beds over maximum daytime living space, must-have equipment, dimensions and weights, towability and more.
But, finding the right floorplan for you is a great place to start. By choosing wisely and thinking carefully about how you might like to use your tourer means you might just find your dream caravan which you'll be happy to keep for the long haul.
Hopefully, this article can give you a springboard. It outlines the most popular, current (2021) caravan layouts along with new models to look out for in that particular category – including key points and vehicles at all price levels as well as twin axle and/or extra-wide body versions.
Here, then, are our "top 10" favourite caravan layouts along with examples of the top tourers that fit their respective bills.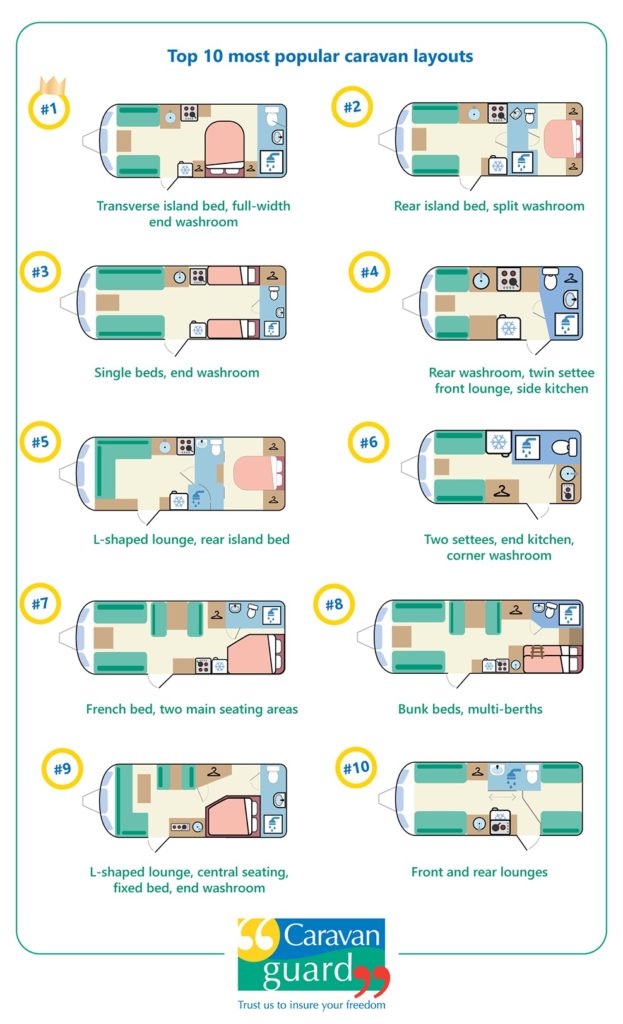 1. Transverse island bed, full-width end washroom

Arguably, this is THE floorplan of the moment as far as new caravans are concerned.

Although billed as four-berths, caravans sporting this highly popular formula are more often than not favoured by couples who want the comfort of a permanent double bed as well as optimal washroom facilities, well-equipped kitchen and generous living space.

Just a look at the "typical examples" below, with offerings at all levels of price point as well as extra-wide bodies and twin axles, showing the popularity of this particular floorplan.

Typical examples:

Adria Adora Isonzo, Bailey Pegasus Grande Brindisi, Bailey Pegasus Grande Bologna, Bailey Phoenix+ 644, Bailey Unicorn Black Vigo, Bailey Alicanto Grande Sintra, Buccaneer Cruiser, Coachman Acadia 575, Coachman Acadia 875 Xcel, Coachman VIP 575, Coachman Laser 575 Xcel, Compass Casita 554/Elddis Avanté 554, Compass Capiro 554/Elddis Affinity 554, Compass Camino 554/Elddis Crusader Mistral, Elddis Crusader Storm, Swift Sprite Major 4 SB, Swift Sprite Super Major 4 SB, Swift Challenger 580, Swift Challenger X 880, Swift Elegance 580, Swift Elegance Grande 845, Xplore 544

Key points

*Full-width washroom is en-suite to the double island bed

*Settees can be short, or long enough to offer two single beds

*Transverse setting for the island bed means overall caravan length can be kept relatively short

*Privacy of a full-scale bedroom (usually with a retractable bed to aid access to the washroom beyond)

*One drawback is if you have guests staying with you on the front settees, they will have to walk past your fixed bed to use the toilet.

2. Rear island bed, split washroom

All the luxury of your own, dedicated bedroom at the back, with washing facilities to each side.

The front settees can make a double bed and/or (sometimes) are long enough to offer two adult-sized single beds.

Typical examples

Adria Altea Dart 62DP, Adria Adora Tiber, Bailey Phoenix 640, Bailey Pegasus Grande Messina, Bailey Alicanto Grande Porto, Buccaneer Barracuda, Coachman Acadia 545, Coachman VIP 545, Coachman Laser650, Compass Casita 550/Elddis Avanté 550, Compass Capiro 550/Elddis Affinity 550, Compass Camino 550, Elddis Crusader Aurora, Swift Sprite Major 4 EB, Swift Challenger 560, Swift Challenger X 850, Swift Elegance 560, Swift Elegance Grande 850

Key points

*Another popular island bed formula, especially if you prefer to keep your shower and toilet completely separate

*The toilet location, especially, makes it more accessible if more than two people are using the caravan

*Island bed comfort in a bedroom that's just a bit more private

*A style that's well suited to twin axles and/or extra-wide bodies 

3. Single beds, end washroom

Perfect for couples who prefer single beds and still want access to a full-scale washroom. Those singles can be same-size, or sometimes one is longer than the other.

Don't forget, also, in most cases the front seating can also be converted into a double bed.

One potential drawback here is, if you're accommodating more than two people, those sleeping at the front may want access to the toilet in the night.

Typical examples

Adria Altea 612 Tyne, Adria Adora Seine, Adria Alpina Colorado, Bailey Phoenix+ 642, Bailey Unicorn Black Cadiz, Bailey Pegasus Grande Rimini, Bailey Alicanto Grande Estoril, Coachman Acadia 565, Coachman VIP 565, Hobby Excellent 540 WLU, Hobby Prestige 720 WLC, Swift Elegance 565

Key points

*Typically, caravans with this layout will tend to be longer

*This is a format that allows easy walkthrough from the lounge to the washroom

*The central kitchen facilities can sometimes feel a little compromised

*Less popular, but an interesting variant, is a floorplan with twin single beds extending to the back and spilt washroom facilities (toilet room one side, shower the other) at the foot end

4. Rear washroom, twin settee front lounge, side kitchen

Short settees or long? The latter will be designed to offer single beds at night time, whilst both variants will provide a double bed (transverse or lengthways) converted from the front seating.

A classic two-berth floorplan that can still be practical in the shortest of body lengths.

Washroom configurations can vary, but there's always a separate shower cubicle.

Typical examples

Adria Altea Aire, Bailey Discovery D4-2, Bailey Phoenix 420, Bailey Unicorn Black Merida, Barefoot Classic, Coachman Acadia 460, Coachman VIP 460, Compass Capiro 520, Elddis Affinity 520, Knaus Deseo, Swift Alpine 2, Swift Challenger 480, Swift Elegance 480, T@B 320

Key points

*A long-term favourite floorplan that's much-loved by couples

*An extremely space-efficient floorplan that also optimises internal storage space as well as washroom dimensions

*Shorter settees mean you can keep overall body length (and indeed weight) to a minimum

*You've got to be prepared to make the beds each night…and convert them back to seating the following morning!

5. L-shaped lounge, rear island bed

If you don't like parallel settees in your lounge, look at an L!

A big advantage of this is the virtually limitless legroom it can offer. True, some folk end up sitting where they're looking inwards rather than out, but that might suit you – especially if you enjoy watching the small screen.

Typical examples

Bailey Alicanto Grande Porto, Buccaneer Barracuda, Compass Camino 650, Swift Elegance Grande 850

Key points

*The extra floor space created by a lounge like this is also especially appreciated by pets!

*Some manufacturers will leave a lounge wall blank (i.e. windowless) to allow for a large TV to be fitted (or even supplied as standard). A sunroof (or two) will overcome any feeling of lack of daylight

*Again, a dedicated bedroom helps make this a favourite for many

*Note there are also models that switch the L of the front lounge, so the lengthways settee runs along the nearside

6. Two settees, end kitchen, corner washroom

Another classic two-berth style, although it's fallen out of favour among mainstream models more recently. It does suit a smaller, two-berth, however, of the kind listed below.

Typical examples

Adria Action, Freedom Discovery Microlite, Freedom Jetstream, Freedom Sunseeker Sunstream, Go-Pod, Xplore 422

Key points

*Settees make a transverse double bed

*Clever use of not much space

*Washroom is large enough for a shower area

*Kitchen facilities and storage can be a bit compromised

7. French bed, two main seating areas

Initially popular, French beds – i.e. permanent doubles with a cutaway section at the foot – have fallen out of favour with the advent of island doubles and twin singles. This floor plan does still have its fans, however, especially among those who like a lot of interior seating that can also be converted into extra beds.

Typical examples

Bailey Pegasus Grande Turin, Buccaneer Aruba, Coachman Acadia 840 Xcel, Compass Casita 840/Elddis Avanté 840, Knaus Northstar 650 UDF, Swift Sprite Alpine 4, Swift Sprite Quattro FB, Swift Sprite Super Quattro FB

Key points

*Side dinette and front settee seating mean you can mix and match between dining and lounging

*French bed's cutaway allows easier access to the washroom, but overall mattress dimensions are compromised

*Typically better suited to twin axles and/or wider bodies

*Washrooms can be a bit cramped 

8. Bunk beds, multi-berths

Look for variations on the theme of rear bunk beds, but the floorplan here is one of the more typical

As well as permanent bunks – which kids love, by the way – there's a corner washroom at the back

Typically, there can be sleeping accommodation for up to six. That's thanks to two seating areas – a twin-settee front lounge and a central dinette (sometimes U-shaped) that can be either single or double

Typical examples

Bailey Pegasus Grande Palermo, Compass Casita 586/Elddis Avanté 586, Swift Sprite Super Quattro DB, Xplore 586

Key points

*Full walk through, as well as the facility to section off the rear sleeping/seating area and/or washroom facilities

*Flexible seating and sleeping arrangements for up to six

*Kitchens are sometimes compromised

*Family-friendly

9. L-shaped lounge, central seating, fixed bed, end washroom

An interesting combination that really works for some owners.

On paper, too, it seems to offer everything – extra seating, a permanent bed and a full-width washroom.

Typical examples

Bailey Discovery D4-4, Bailey Phoenix+ 440, Bailey Unicorn Black Valencia, Caravelair Antarès 485, Swift Sprite Quattro EW

Key points

*As well as the French permanent double bed, there's possible sleeping for up to four more

*Not always the most generous for overall storage

*Washroom includes separate shower cubicle

*Kitchen space can be compromised

10. Front and rear lounges

Before the advent of fixed beds, a layout majoring on lounges at the front as well as the back – both of which would convert to beds – was considered highly family-friendly. That's mainly because it keeps the sleeping quarters as far apart as possible.

These days, such floorplans are mainly the preserve of imports, albeit you'll find it on lots of UK-made caravans of yesteryear.

Typical Examples Eriba Touring Familia 320, Eriba Touring Triton 418, Eriba Touring Troll 540, Eriba Feeling 470, Freedom Microlite Sport, Freedom Sunseeker Classic, Freedom FreeCross Luxor 370DD, Knaus Sport Silver Selection 400 LK, Weinsberg CaraOne 400 LK Dinette

 

Key points

*The whole interior can be used for daytime living

*Using such a layout as a two-berth? You could always leave one lounge permanently made up as a double bed

*In latest caravans, this is a layout favoured in much smaller (and lighter) vehicles

*Equipment levels aren't necessarily that high
Less common caravan layouts…
The above represent probably the 10 most popular caravan layouts currently offered by manufacturers. There are of course plenty of alternatives – including favourites from yesteryear – and manufacturers are always vying to offer something different when they announce new models.
Here are a few other caravan layouts available:
Over to you…
Got any caravan layout advice to people looking for their dream tourer? Please feel free to add a comment below.
Cost to insure: *
---
factfile
| | |
| --- | --- |
| Model | |
| Base vehicle | |
| Axle type | |
| Dimensions | |
| Shipping length | |
| RRP | |
---
Search our blog
---