First new motorhome model out of the blocks for 2022, and it's Erwin Hymer Group UK that has hit the spotlight ahead of its rivals. OK, while it's not exactly an all-new model, it's the 2022 version of the Compass Avantgarde 155 (also built as the Elddis Autoquest 155, as well as in various guises as dealers special edition models), that makes its debut here.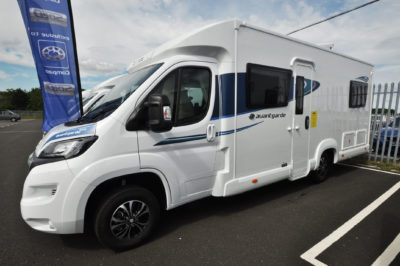 A bit of a stretch for 2022
It's now built on the long-wheelbase version of Peugeot's Boxer chassis-cab. Up to this point, the Compass Avantgarde 155 motorhome has had an overall length of 7.02m – for 2022, that's upped by nearly a third of a metre – or just over a foot, if you prefer – to 7.34m. The exterior interior space this gives you is not to be shrugged at.
Of course, it has the usual new graphics and interior styling refreshers you can expect from any new-season motorhomes. The interior is a blend of mainly dark finish to the furniture and light-coloured upholstery (called Marrakech).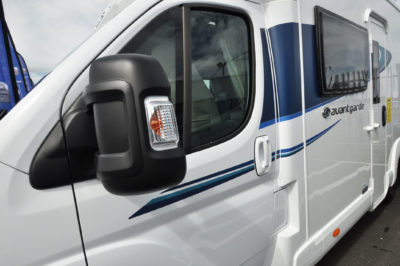 It also gets the Euro 6e version of the 140bhp engine with manual transmission, albeit there's still no sign of an automatic transmission option from this particular base vehicle supplier. Automatic headlights and windscreen wipers are, however, standard issue on the 2022 Peugeot Boxer cabs.
Otherwise, it's the usual driving environment, complete with stereo system that includes mobile phone connectivity, padded steering wheel and a cup holder centre console. The lack of sunroof in the over-cab pod is a reminder of the Avantgarde's budget-level status, although you do get some open shelving here.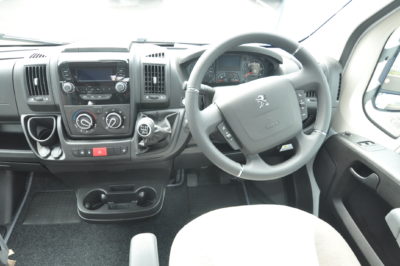 Step down from the cab, and the rest of the living quarter's floorplan remains the same as previously. A washroom accompanies the French double bed at the back, whilst the on-site seating area up front comprises two inward-facing settees.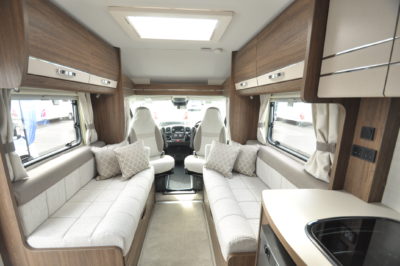 But, this is a genuine four-berth motorhome. The lounge seating converts into a second double bed, whilst one feature you may miss if you only give the Compass Avantgarde 155 the briefest of looks is the seat in each settee base that folds out for safe, forward-facing travel.
You'll also enjoy what is a relatively generous level of actual floor space in a particularly open-plan layout.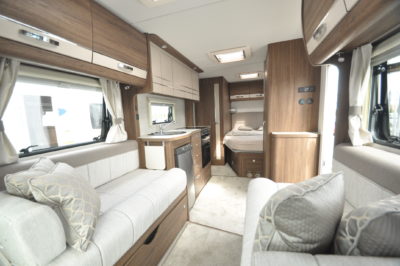 In the rear nearside of the Compass Avantgarde 155, the French bed gets its name from the cutaway mattress that allows easier entry to the washroom adjacent. In this instance, the angle isn't as severe as some. The bed itself a commendably low height for easiest access, with its one-piece mattress on a slatted framed base which lifts up – and stays up thanks to powerful struts – when you want to get at the extensive, relatively uncluttered storage space below.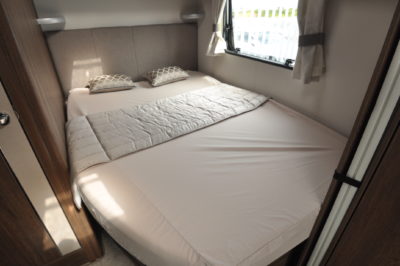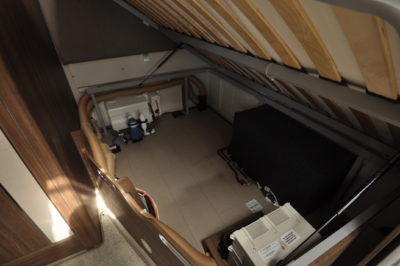 There are also exterior-access hatches to this area on the nearside and at the back.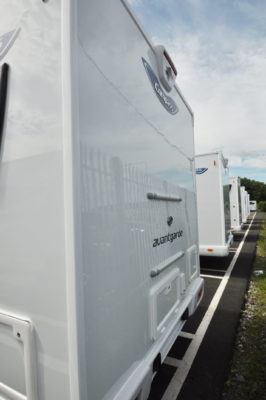 Immediately next to the main bed, the washroom isn't the largest, but it does have a space-saving pull-down basin, along with the usual swivel-bowl toilet and water-efficient Ecocamel shower head on a riser bar.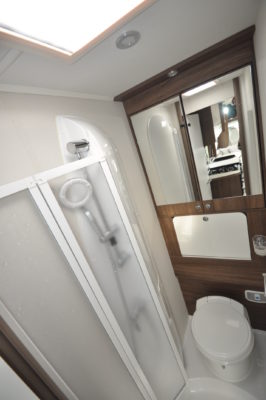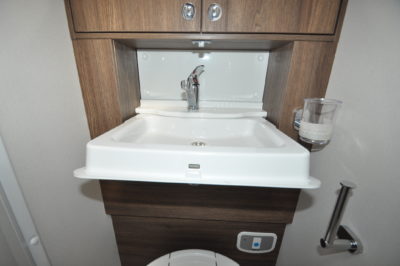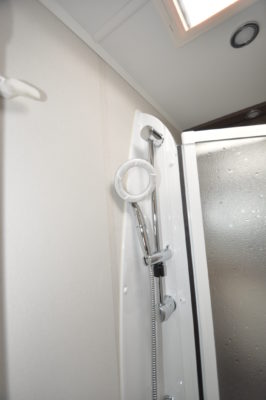 Mid-vehicle, the kitchen centres around a Thetford three-ring hob with separate grill and oven. There's more than average worktop – and, indeed storage – here, thanks also to a flip-up side extension, as well as banks of drawers and upper-level lockers.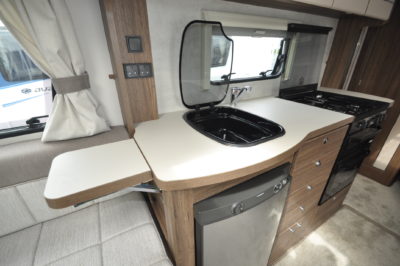 The fridge is directly under the sink. Slightly unusual these days, but it has manual ignition when you want to operate on gas. Handy details include the two mains sockets.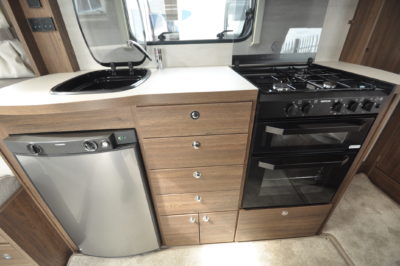 Elsewhere, among the detail upgrades are a dedicated locker for a free-standing table, just inside the habitation door; increased worktop and storage space for the kitchen; and more wardrobe space.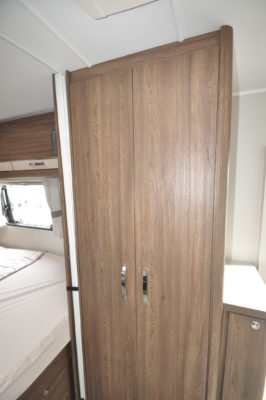 Also new is Whale's latest CompleteHeat blown air system, with upgraded controls for this and the space-saving, underfloor Expanse water tank. These are touch-sensitive and even have, among other clever capabilities, a proximity sensor so they light up when you're about to use them.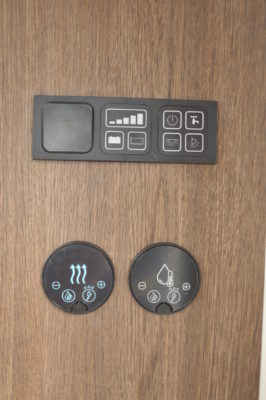 In this video, we take a look around the 2022 Compass Avantgarde 155 motorhome.
Prices are still to be confirmed at the time of writing this report but, with raw materials seeing significant hikes, expect some kind of rise over 2021 equivalents. Just remember, it's the same for every manufacturer.
One final piece of good news. The Lux Pack (£1,218, at 2021 prices) – which gives you can air conditioning, cruise control and a passenger airbag – is standard for 2022. There's an extra option for 2022, too – a Maxview mobile internet and wi-fi system.
With prices waiting to be finalised, if you can keep below £50,000 for your 2022 Compass Avantgarde 155, feel free to pat yourself on the back and consider it a bargain.
---
Verdict: Four-berth French bed bargain
Plus: Full four-berth capabilities, open-plan spaciousness, bargain potential
Minus: Rear travel seats steal storage space, compact washroom
In-a-nutshell: Compass points the right way
There's more information on the Avantgarde range on the Compass website. Find out more about insuring this or your current motorhome on our motorhome insurance discounts page.
---
Alternatives: Auto-Trail Tracker FB, Benimar Mileo 231, Sunlight T58, Swift Edge 464
Cost to insure: £340*
---
Compass Avantgarde 155 factfile
| | |
| --- | --- |
| Model | Compass Avantgarde 155 |
| Base vehicle | Peugeot Boxer |
| Axle type | |
| Dimensions | 7.34m L x 2.20m W x 2.82m H |
| Shipping length | |
| Berths | Four |
| Travel seats | Four |
| Maximum weight | 3,500kg |
| Payload | 575kg |
| MPG estimate | 30-34 |
| RRP | £51,969 on the road |
| Safety & security | Electronic immobiliser, remote central locking, ABS and EBA (emergency brake assist), smoke and carbon monoxide alarms, twin airbags, day-running headlights, TPMS tyre pressure monitoring system |
| Key options | Alarm system (£322), tracker (£280), Witter towbar (£624), microwave oven (£212), Winter Pack (£322), bike rack (from £235), rear view system (£365), alloy wheels (£650), barbecue point (£105), external 230V socket (£60), solar panel (£535), Omnivent (£225), awning (£550), additional shelving (£42), Hypnos mattress (£224), bed cover set (£294) – 2021 prices |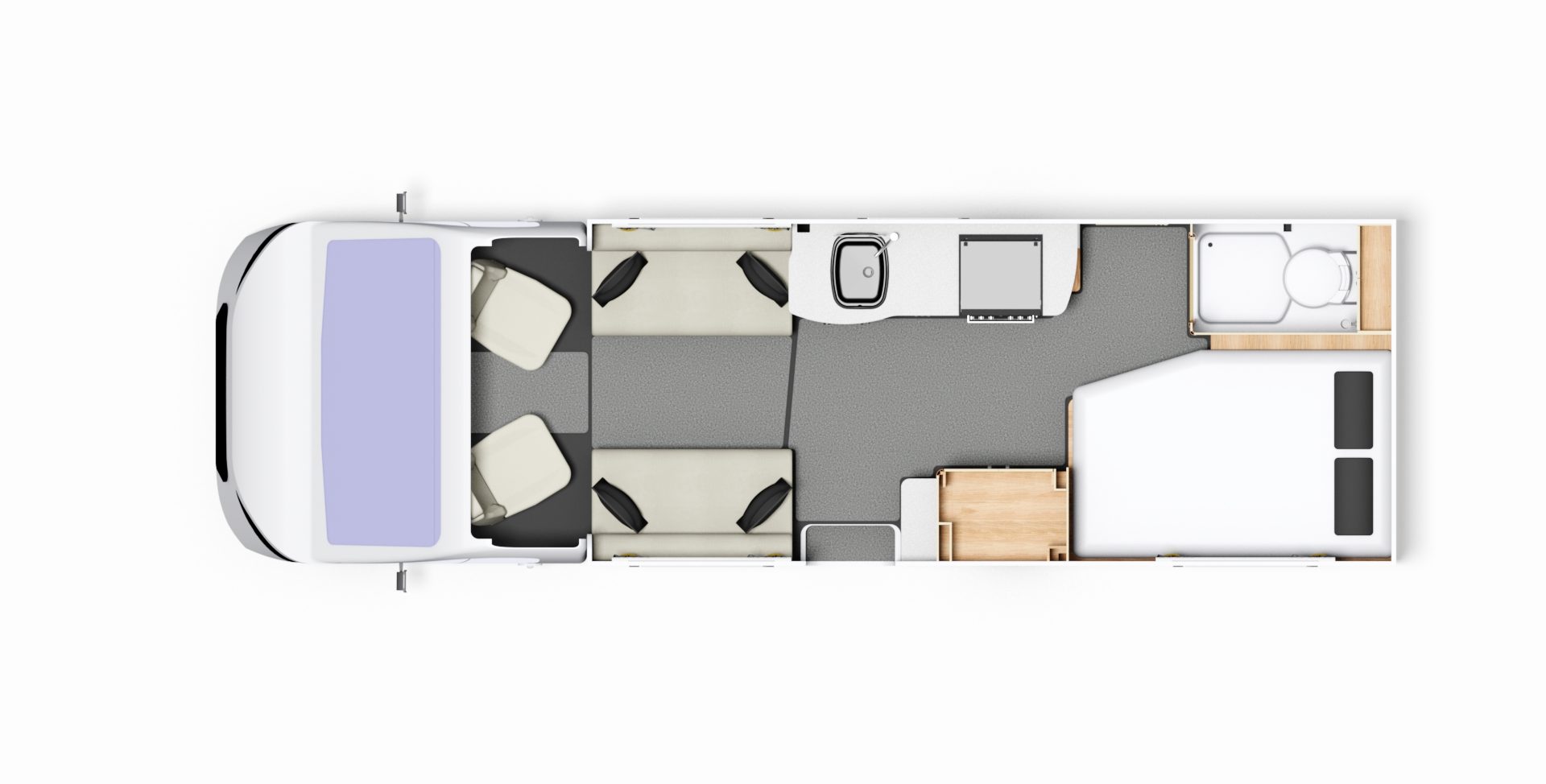 ---
Search our blog
---