Whilst few would argue against the build quality of any caravan produced by Knaus, it's prices that might bring a tear to the eye! And that's assuming you're happy to live with floorplans that can stray way beyond the conventional.
Life's a breeze
Take the 580 QS caravan from the German manufacturer's flagship Südwind range. Even in standard format it accommodates five – thanks to two fixed bunk beds, a permanent double and a bed from the central lounge. Indeed, if you want to take six a third bunk is an option.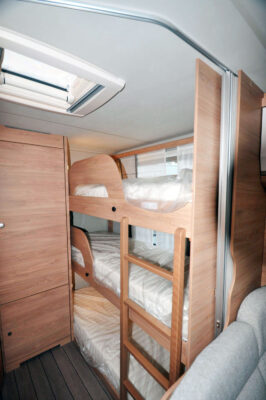 Like selected other models from Knaus, this is a 60th-anniversary edition, offering that bit more in terms of standard equipment. Your Knaus dealer will happily explain more.
It might have an all-white exterior, with smart alloy wheels and a single, large front locker, but there are plenty of indicators on the outside to tell you this is no ordinary caravan. For example, it's a surprise to see just a single front window on a premium product like this.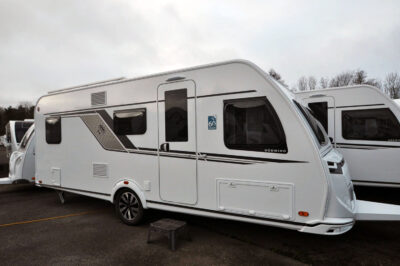 The arrangement of the windows elsewhere – as well as the large hatch for bed/storage access on the nearside and that streamlined front with angled grab handles – are instant clues this is going to have an interior like no other.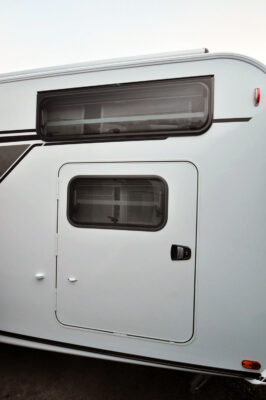 The door is on the UK offside. Wider than is typical, it has a real sturdy feel to it, including its fittings which include hooks, an umbrella holder and a substantial internal handle.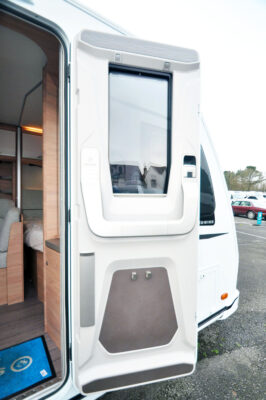 Step inside the Knaus Südwind 580 QS caravan, and you're immediately aware of just how different this tourer is. On your right, where you'd normally expect to find a lounge, there's a French-style permanent double bed stretching across the full width, on an angle to give that bit more living space.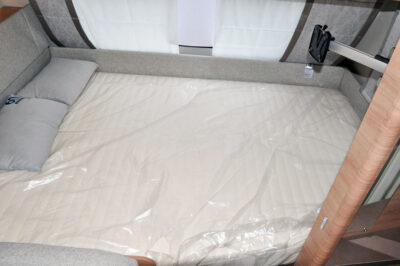 The seating area – a double dinette with side-fixing table – is mid-'van, with the kitchen directly opposite. The back nearside corner is where you'll find those bunks, leaving the washroom to take up the opposite corner, also with a wardrobe on the back wall. Different, eh?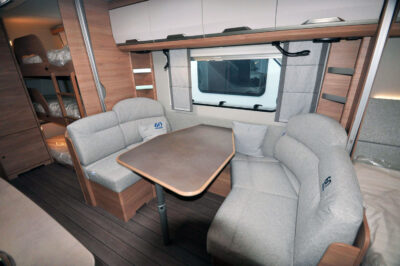 That lounge includes sculpted high backrests and looks capable of hosting four folk in comfort, while converting it to a bed makes for a particularly wide single or, at a squeeze, a double. Loose squabs allow access to the storage space in the seat base. There's more out-of-sight storage in the main bed base at the front, too, accessed by hinging up the main framework.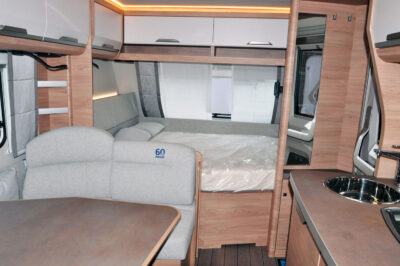 The kitchen in the Südwind 580 QS includes three gas burners in a line – a very space-efficient arrangement that allows worktop space to the front – and a particularly deep, shiny steel sink, as well as a somewhat minimal combined oven and grill, arguably set lower than is comfortable.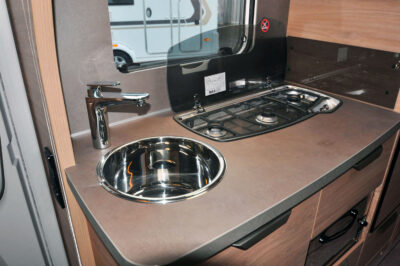 A large locker directly underneath has two shelves as well as easy access to the gas isolation taps.
Near to hand, is Thetford's narrow fridge/freezer, which has a generous 142-litre capacity as well as automatic energy selection.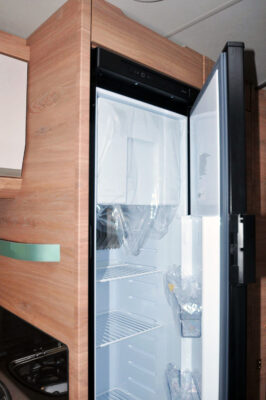 The corner washroom tends towards being compact, but there's a plastic-lined shower cubicle with folding doors and a showerhead on a riser bar (just the one drainage hole, however), as well as a fixed, corner basin and a Dometic swivel-bowl toilet. There's good storage here – upper and lower level open shelving, a mirror-doored vanity unit – as well as a window for optimal ventilation.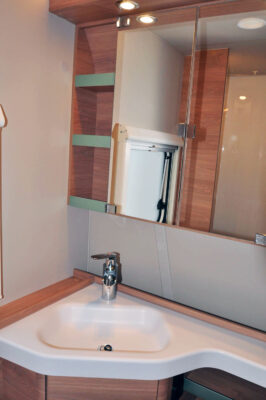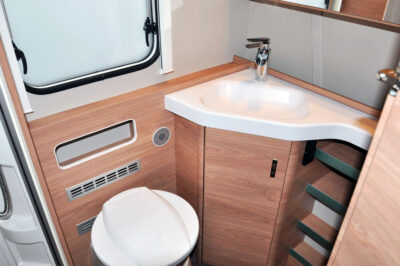 There are lots of good details in the Südwind 580 QS caravan – soft-close lockers and drawers, reading lights on stalks, plenty of high-level lockers throughout.
Let's take a look around the all-new Südwind 580 QS caravan.
As is the way with German-made leisure vehicles, there's a whole host of possible optional extras (just some are listed opposite), allowing you to customise pretty much to your heart's content.
The Knaus website includes a configurator section where you can add extras (also taking into account their weights). Needless to say, you're going to end up spending way above that sub-£30,000 starting price. A pointer in the Sudwind's favour here – there's a considerable payload to play with.
---
Verdict: Well-made multi-berth tourer that dares to be different
Plus: Build quality, lots of berths, good storage, excellent detail
Minus: Not for the conventional, options ramp up price
In-a-nutshell: Could QS stand for Quite Sensational?
There's more information on the Südwind range on the Knaus website. To find out more about insuring this or your current caravan visit our caravan insurance page.
---
Alternatives: None
Cost to insure: £461*
---
Knaus Südwind 580 QS factfile
| | |
| --- | --- |
| Model | Knaus Südwind 580 QS |
| Dimensions | 7.91m L, 2.50m W, 2.57m H |
| Internal length | 5.70m |
| Berths | Five (optional six) |
| MTPLM | 1,900kg (upgradable to 2,000kg) |
| Payload | From 285kg |
| Safety & security | Shock absorbers, Al-Ko Euro chassis, servo-assisted handbrake, smoke alarm |
| Key options | Winter Package (£1,008), TV Package, including 27in screen (£2,587), Al-Ko ATC (£827), chassis upgrade (£518), bike rack (from £343), roof rail (£522), third bunk bed (£531), Knaus ServiceBox (£240), alternative upholstery (£329), kitchen worktop extension (£92), 177-litre fridge with dual hinge (£891), extractor fan (£250), microwave oven (£277), external gas socket (£209), Dometic FreshJet 2200 air conditioner (£2,181), Alde heating (£2,196) |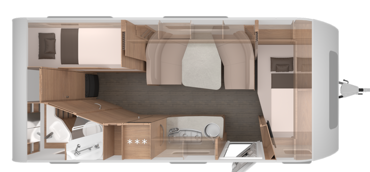 ---
Search our blog
---