French made for a tiny tourer
Tiny tourers like this, from France's Trigano, actually have a lot going for them. They cost less, initially, and in everyday use.
You can tow them – economically – with pretty much any kind of car, especially when they're a relative narrow (under 2m here) and short (again, under 2m when on the road). There's also a lot less to go wrong, compared to a conventional caravan.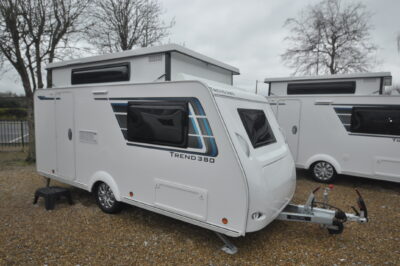 They're smart, too, although they do represent a back-to-basics approach. Nevertheless, that bodywork is tough all-GRP, including to the underside. It's on an Al-Ko chassis and starts with a 1,000kg MTPLM, which you can upgrade its a 1,200kg maximum should you wish.
One of the larger mini caravans, the Trend's all-white exterior somehow helps it look more like a full-scale tourer. It's got a solid, one-piece door, on the UK offside, while – as befits its compact overall dimensions – there's just the one window at the front, plus a single front-end locker with just the one, central lock.
The solid-sided elevating roof section makes it all the more aerodynamic on the road. When on site, it easily lifts to give headroom of some 1.95m through pretty much the whole of the interior.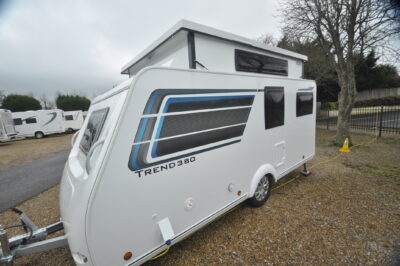 The Trigano Silver Trend 380 caravan has a popular layout on the continent, and you can certainly see its advantages in the UK, albeit it doesn't have the front lounge that is often deemed an absolute must over here.
Instead, the only seating is a dinette at the back, with a table hung on the back wall and windows above and on the offside.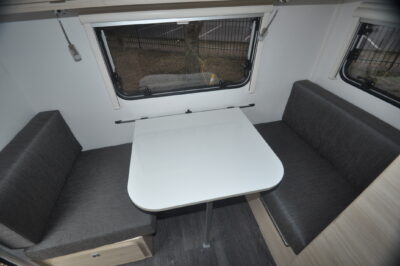 The seating itself is basic, too, with flat cushions – although that makes for a better bed should you want to sleep a third person.
You can't argue with the comfort of a permanent bed, however, as here. At the front is a fixed, transverse double, with lots of easily accessible storage space in its base. It boasts a one-piece mattress on a slatted frame and it's a more than comfortable 190cm x 150cm  size.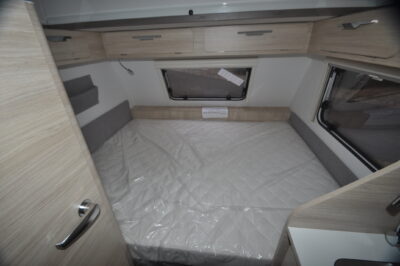 A handy ledge runs the width of the front wall, plus there's a fabric pocket on the nearside wall.  A good smattering of upper-level lockers and open shelving throughout the interior of the Trigano Silver Trend 380 will help with overall storage.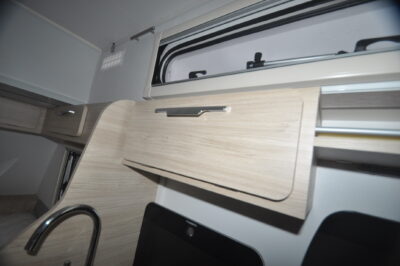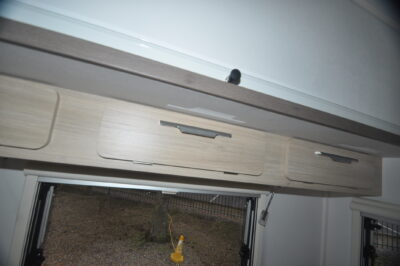 Mid-'van is taken up by the washroom and the kitchen, sitting directly over the axle on either side. The kitchen has a three-ring hob with separate sink to its left, under which is the main storage – a single, shelved locker. There's also space for a three-way 85-litre fridge.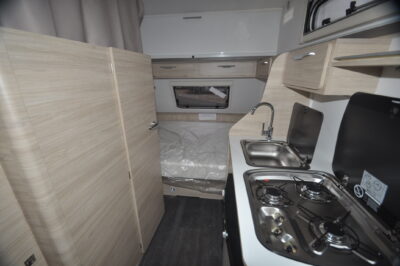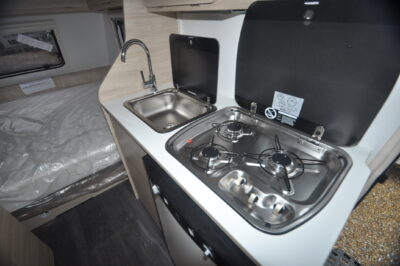 There's no worktop extension, but that dinette table is close enough to come into play for meal preparations. An opening window above kitchen provides the ventilation.
Across the corridor of the Trigano Silver Trend 380 caravan, the washroom has a solid door as well as a curtained upper section when the elevating roof is up. As standard, you get a Thetford bench toilet and a stainless steel sink, plus not one but two opening windows – the lower one is opaque, the upper part of the elevating roof section, also opening.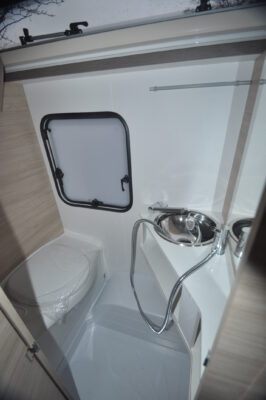 For UK models, it's the Shower Pack addition that brings it up to full spec' – it includes a five-litre, mains-operated water heater, as well as fresh water and waste water tanks. Gas-fired Truma Varioheat blown air heating is another UK specific fitting.
Overall, then, it's true to say this compact caravan is not as sparse as you might think. With fuel prices heading ever upwards, perhaps it's time to talk tiny tourers.
---
Verdict: Compact caravan that still packs a punch
Plus: Easy-handling dimensions, light weight, economical to own
Minus: Lacks any standard fit security, and just dinette seating for two
In-a-nutshell: Economy drive
There's more information on the Silver Trend range on the Trigano website. To find out more about insuring this or your current caravan visit our caravan insurance page.
---
Alternatives: Freedom Microlite Sport, Xplore 304, Swift Sprite Compact, Weinsberg CaraOne UK 390 QD
Cost to insure: £376*
---
Trigano Silver Trend 380 factfile
| | |
| --- | --- |
| Model | Trigano Silver Trend 380 |
| Dimensions | 5.33m L, 1.98m W, 1.99m H |
| Internal length | 3.91m |
| Berths | Three |
| MTPLM | 1,000kg |
| Payload | 153kg |
| Safety & security | Al-Ko AKS 3004 stabiliser, Al-Ko chassis with shock absorbers, spare wheel |
| Key options | None (dealer-fit extras only) |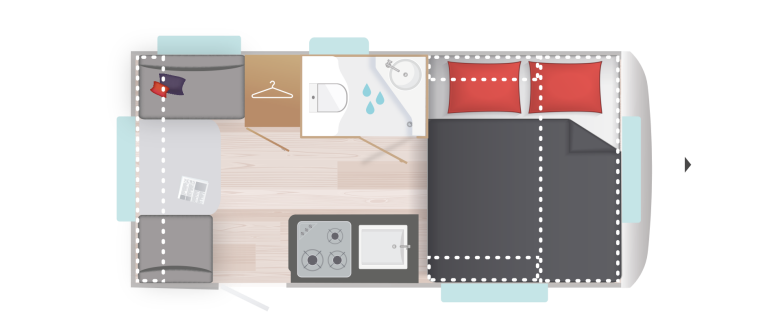 ---
Search our blog
---