In this video, we take a look at the essential towing and caravanning kit we think you'll need for your trips away.
From security devices to safety equipment, kitchen accessories, and more, there are plenty of things you'll need to make your caravanning trip go smoothly.
So, starting with those all-essential caravan locks, here are our top picks.
Caravan locks – whilst stationary and unhitched from your tow vehicle, your caravan should be secured with some anti-theft devices. As a minimum, this should be a hitch lock and a wheel clamp, and will probably be an essential requirement on your caravan insurance policy. To go that step further there are also locks you can fit to your windows, corner steadies and doors.
Caravan tyre and wheel devices – before heading off with your caravan in tow, it's a good idea to always check your tyre pressures, age and condition, plus the caravan wheels' torque setting. So, owning a torque wrench, tyre tread depth gauge and a pressure gauge with a pump are ideal. For even more peace of mind, consider a tyre pressure monitor that will alert you if there's any loss in pressure in your caravan tyres or they get too hot.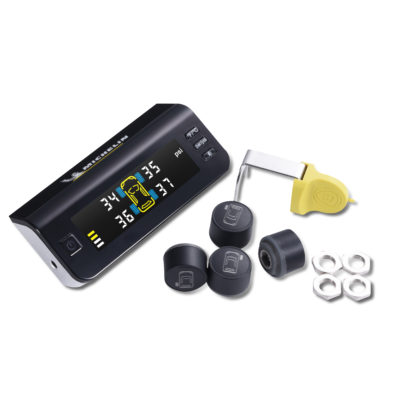 Noseweight gauge – another valuable check is making sure that your caravan nose weight is just right for your outfit. Measuring the noseweight with a calibrated gauge will make sure your caravan is loaded correctly and will help with a stress-free towing experience
Towing mirrors – towing mirrors are essential and a legal requirement when towing. You should be able to see 20 metres back and 4 metres out from both sides of the caravan. Towing mirrors make rearward vision very clear, not just when you're on the road, but when manoeuvring on site too.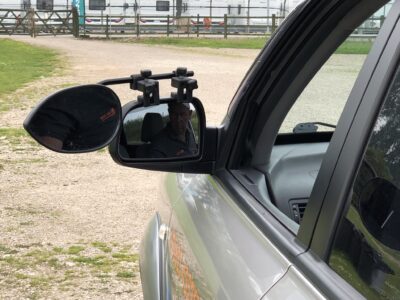 Motor mover – once you've arrived on site, an easy way to get the caravan onto a pitch is by using a motor mover. Some might see it as a luxury item but in a recent poll, 68% of caravanners said motor movers were an essential piece of caravanning kit. These can be added to any caravan, both single and twin axles and help manoeuvre the caravan onto a pitch with inch-perfect positioning. They're also incredibly helpful when aligning the caravan for adding wheel lock security devices, when levelling the outfit and even more so, when moving your tourer into a tight storage location.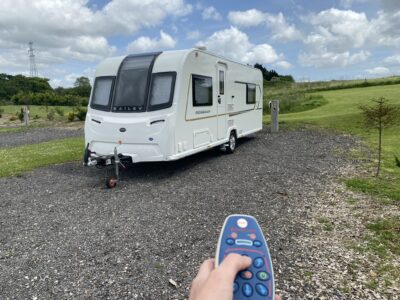 Levelling aids – levelling a caravan can be achieved quite easily when using just a ramp and wheel chocks. For twin axle caravans, products such as the Lock n level can help with adding the axle wheel lock to both axles and allows precision level to be accomplished. For checking your caravan is level, an inexpensive spirit level can be placed near the door for ease of reading.
Corner steady winder – a corner steady winder will be needed to lower the corner steadies. If you wish, you can also use a cordless drill with an adaptor to wind down the corner steadies easily.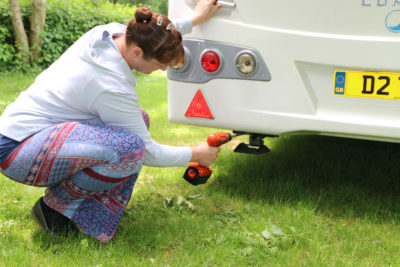 An Aqua Roll – an Aqua Roll is the caravanner's staple accessory in the UK for gathering water from a service point. They're easy to use, easy to fill and connect to the caravan – just don't forget your fresh water pump!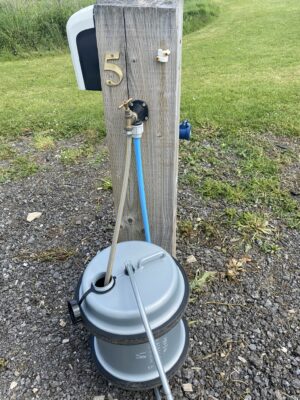 Grey waste water container – a container such as a Waste Master is shaped to sit underneath the caravan. It can also be wheeled to a grey water disposal point and emptied. To connect a Waste Master, short sections of hose or a connection kit will be needed to attach it to the caravan outlet.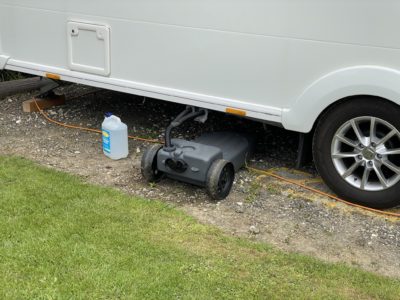 Toilet cassette chemicals – A caravan's toilet uses chemicals in the cassette to remove unwanted odours and to breakdown any matter inside the cassette. Toilet chemicals come in a variety of types from the traditional blue, to more eco-friendly green variants.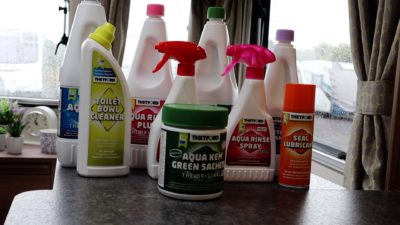 Gas cylinder – gas provides an essential part of the caravan services. The cooker, fridge and heating can all use gas so it's important not only to have a gas cylinder (or two) but a gas spanner on hand if the cylinder is empty.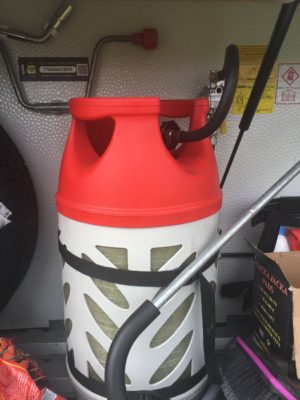 Electric hook-up cable – On many sites electricity is provided for each pitch. To use the 230 volts supplied, you'll need an electric hook-up cable. Usually in 25metre lengths and in bright orange, these should be periodically checked for damage and should be fully unwound when being used on site.
Leisure battery – Although, widely forgotten, a leisure battery is an integral part of the caravan. Without it, many systems will not work. Make sure you take care of your leisure battery and that it's fully charged, especially if your caravan is in storage and you have an alarm or tracker installed.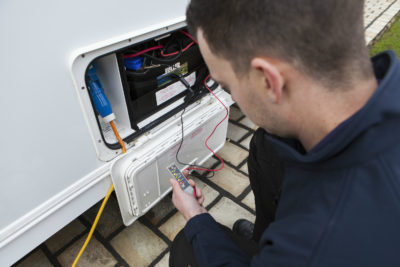 Caravan step – Caravan steps come in a variety of styles including metal, plastic, single, and twin steps; plus those for people with reduced mobility, which include handy supports and rails to improve access to the caravan. Many dealerships will stock a selection of caravan steps, so it's well worth trying them out to see which you're more comfortable with.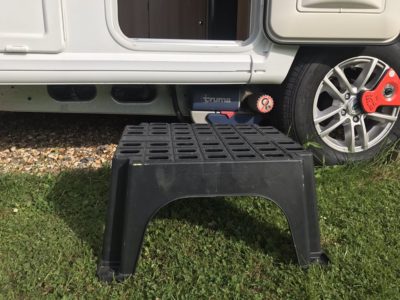 Torch – An essential yet often overlooked item is the humble torch. Whether you need to attend to your services late at night, take the dog for a walk, or are simply returning to the caravan after an evening of entertainment, a torch is incredibly useful around the caravan. Either a small LED style, head torch or lantern provides enough light to illuminate the way.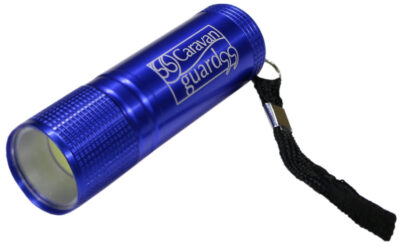 Pan set – You'll need some cooking equipment when caravanning. Pan sets that can have their handles removed make great use of limited space on the hob and also reduce the risk of pans being knocked over during cooking.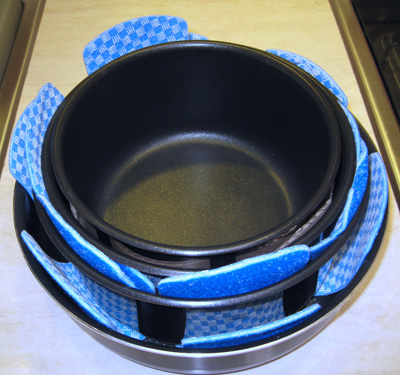 Kettle – Depending if you're keen to use gas or electricity for cooking will decide if you have an electric or stovetop kettle. Either way, it's essential for those morning cups of tea or coffee.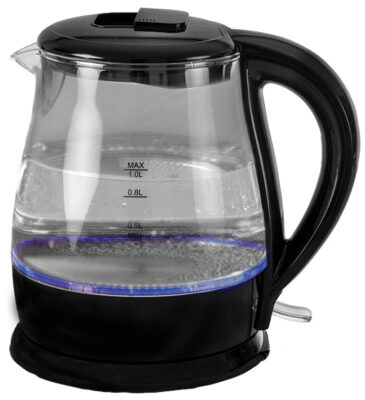 Crockery and cutlery _ don't forget to pack crockery and cutlery for mealtimes. These days many companies are turning to renewable non-plastic products made from Bamboo or recycled material. There are many to choose from and interesting designs too.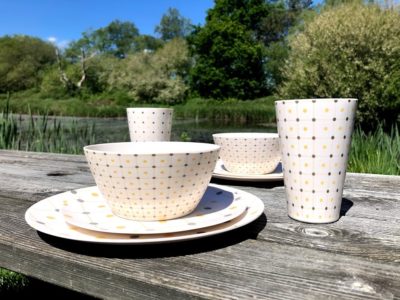 Washing-up gear – To make the most of the limited space in a caravan, folding dish racks and collapsible washing-up bowls are ideal for washing up all the dishes after the evening meal. And don't forget the tea towels, which are also great for reducing rattles and packing.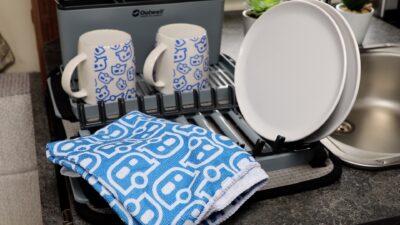 Bedding – Depending on the layout of your caravan will dictate the type of bedding you'll need to take with you. For beds that need making up each evening, sleeping bags are a quick and easy solution. Some sleeping systems have a mattress topper built into them to maximise comfort. For fixed beds a full bedding set will be needed, and some will need a fitted sheet to accommodate oddly shaped caravan mattress styles. In both setups, it's important not to forget the pillows too.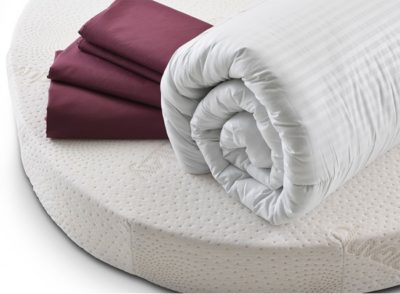 Coat hangers – for hanging up your clothes in the wardrobe
First aid kit – A comprehensive first aid kit that includes not just bandages, plasters and antiseptic creams but also a tick removal tool, some bite cream and some anti-histamine tablets. It's also a good idea to pack some sun cream and after-sun as well – just in case the sun does make an appearance – plus any other medication you'll need when away.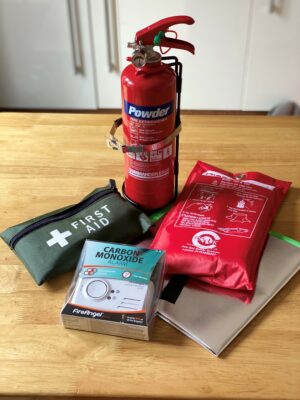 Fire safety kit – Other safety equipment should include a smoke alarm and replacement battery, a carbon monoxide alarm and a fire extinguisher and fire blanket. Do make sure that the extinguisher and fire blanket are in date.
Cleaning gear – Keeping the caravan clean whilst on holiday doesn't have to be a chore if using products such as waterless washes for keeping windows clean, and removing any muck from awnings and the sides of caravans.  Inside the caravan can get grubby quite quickly, especially if pitched on grass. In that case have a small, lightweight, vacuum cleaner to give the carpets a once over and the sofa a quick spruce up too. Keep a small pile of microfibre cloths – these are great for cleaning all surfaces in the caravan – and even your tow car.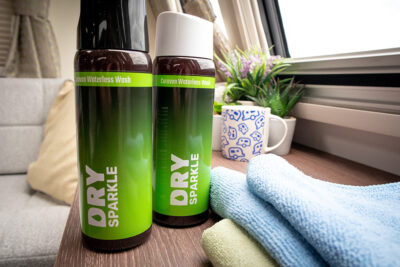 Toolkit and spares – It's always worth carrying tools and spares for jobs that need doing around the caravan. Have a gas spanner, spare fuses and bulbs, a mallet for awning pegs and windbreaks, as well as a multi-purpose screwdriver and a pair of pliers.
Other things to consider which are not essential but are nice to have include things like an awning, outdoor furniture, a barbecue, and a TV.
Some of these safety and security accessories will attract a small discount on your caravan insurance with Caravan Guard. To find out more about our specialist cover and range of discounts for safety and security-conscious owners click here.
Over to you…
Did your essential piece of caravanning kit make the final cut? If not, let us know which accessory you can't go on your caravan travels without? Simply comment in the box below.
Search our blog
---