Is it a motorhome? Campervan? Camping car? More like the latter, really, although there are no official designations for any of these titles.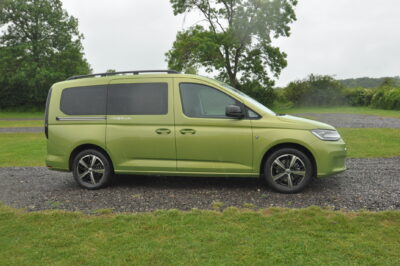 Instead, the DVLA (Driver and Vehicle Licensing Agency) uses the catch-all term "motor caravan" and says, to be registered as such, a vehicle must pass certain criteria in four categories: tables and chairs; sleeping accommodation; cooking facilities; and storage.
Small-scale camper for outdoor lovers
But camping car is probably the best description if you want to get into the nitty-gritty of the latest member of the California line-up that comes direct from Volkswagen (again, there's a key difference: Volkswagen makes all Californias itself; plenty of other specialist converters use its vans to convert into campers, too).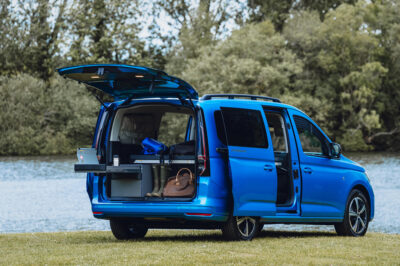 There's a clue in the name, but this California uses the car-derived Volkswagen Caddy as its base. There are two size versions – short-wheelbase and the longer Maxi (as featured here).
For each, there's a choice of diesel or petrol engines, manual or automatic transmission, with Maxi prices starting at £31,295 for the 1.5-lite petrol model with six-speed manual gearbox.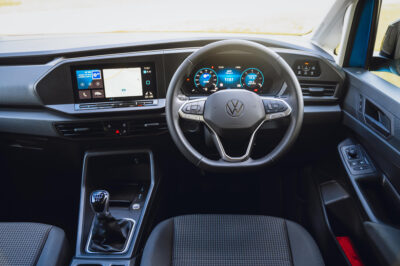 Top-of-the-range is the two-litre, 122PS diesel seven-speed automatic, from just over £36,000. That was at the 2021 launch however. Volkswagen is taking orders now for deliveries from next Spring, but it's hard to see how prices will be kept down.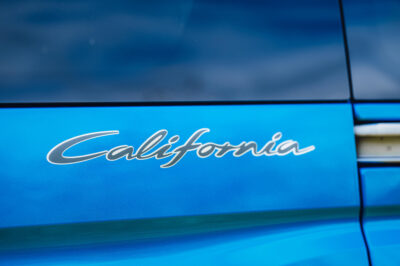 All Caddy California campers have fixed roofs and they're all proper five-seaters as far as travel is concerned. In fact, it's the original Caddy rear seat that's retained, complete with Isofix. And that's just one of the truly car-like features of the base vehicle – not least including a long list of features that suggest this could be one of the safest motor caravans on the road.
You've got to love the outdoors, because you'll definitely be spending a bit more time in it with a Caddy California camper. First, you'll find it easier to make up the double bed from the outside via either or both of the sliding side doors. It's commendably big (1.98m x 1.07m) and comfortable (thanks to plastic Froli-type supports) – and the boards pull into place quite easily once the back seat is folded flat.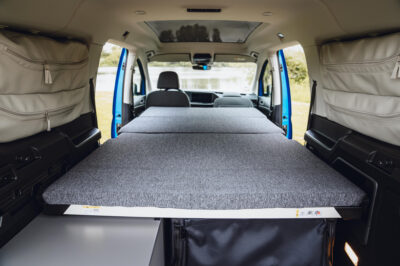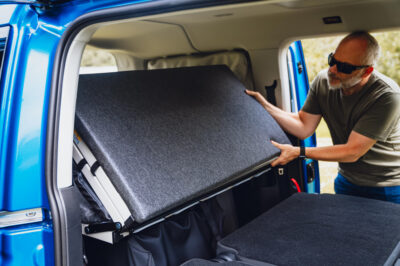 You're outdoors, too, when you're cooking. Facilities are restricted to a single ring (a sealed and ventilated locker under the back seat seems more than enough for this one gas-operated fitting). It slides out of a unit, which also includes a cutlery drawer, just inside the tailgate – it needs to be opened for use and does provide overhead cover.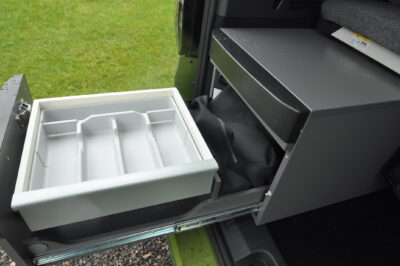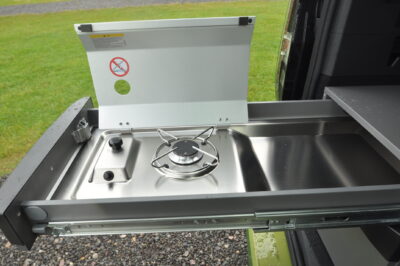 For washing up, you'll want to head to the campsite amenities block. Ditto for showering. You could squeeze in a portable toilet, but again for emergencies only. If there's just the two of you, extra floor space can be created by removing the back seat.
Table and chairs? Yes, they're supplied (you might recognise them from the original Cali) – again, for outdoor use only. These take up quite a large amount of the underseat storage area, but that's countered by the use of two holdall type bags that attach to either side of the upper rear panels.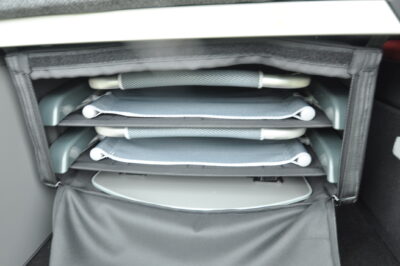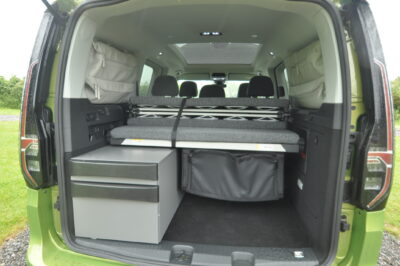 As you can surmise, an awning is going to be an essential option here (also, if you want any extra sleeping accommodation). That's also where the extra boot space (it adds some 35cm extra to the overall length) afforded by the Caddy California Maxi base vehicle comes into play.
There's no elevating roof, or heating, but there is the option of a sizeable fixed window overhead. Also worth noting is the Caddy California camper's 1,500kg maximum towing limit.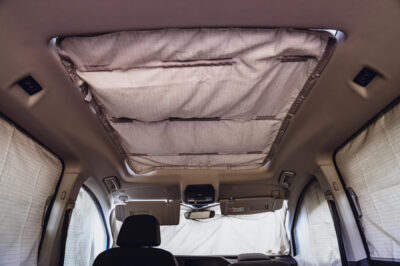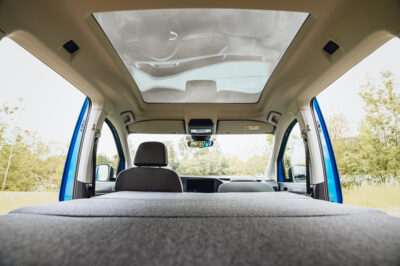 So, a camping car then. Here's proof that it's amazing what you can squeeze into a tiny van. As ever with anything carrying the badge California, the quality of the fittings is top-drawer. Just don't forget to budget for a suitable awning.
---
Verdict: As car-like as they come
Plus: Clever space-saving solutions, genuine five-seater, superb safety features
Minus: Minimal camping facilities, no heating, plus you're going to need an awning
In-a-nutshell: Clever Caddy just about cuts it as a camper
There's more information on the Caddy California range on the Volkswagen website. Find out more about insuring this or your current campervan on our campervan insurance page.
---
Alternatives: Amdro Boot Jump, Sussex Campervans NV200 Campercar, Wheelhome Vikenze
Cost to insure: £261*
---
Volkswagen factfile
| | |
| --- | --- |
| Model | Volkswagen |
| Base vehicle | Volkswagen Caddy Maxi |
| Dimensions | 4.88m L x 1.79m W x 1.87m H |
| Berths | Two |
| Travel seats | Five |
| Maximum weight | 2,350-2,450kg |
| Payload | 581-642kg |
| MPG estimate | 40-55mpg |
| Safety & security | Autonomous Emergency Braking, emergency call control unit, first aid kit with warning triangle and safety vest, lane keeping system, Thatcham Cat 1 alarm, driver alert system, power-operated child safety lock, tyre pressure monitoring system, start-stop with regenerative braking, front side and curtain airbags, alarm with immobiliser, Driver Alert system, Isofix rear seat, Traction Control System, Electronic Stabilisation Programme, electric handbrake with auto-hold |
| Key options | Alternative engines and transmissions, Plus Pack (front armrest, 230V and USB sockets, tinted rear windows, power latching tailgate and rear doors, LED rear lights), panoramic sunroof, LED headlights, towbar |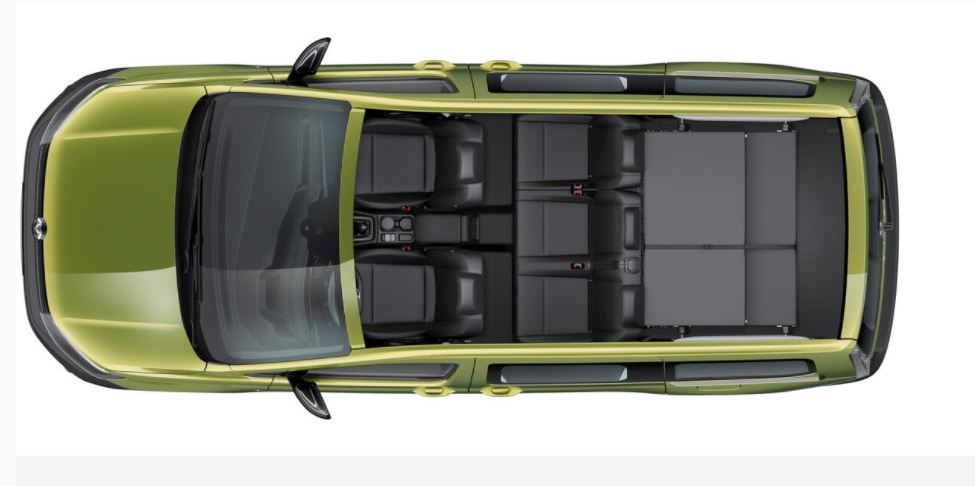 ---
Search our blog
---