Caravanning doesn't have to be a hobby for the summer months, it can be an all-year round past-time.
But have you ever thought about going to somewhere like a ski resort where you might not initially think a caravan would be the usual choice of accommodation?
With a bit of extra preparation, you can venture to places that are colder than the "normal" English winter in your caravan.
We speak to experienced winter caravanner, James and Katy Butler from The wobble boxers, for their tips on gadgets and accessories to make cold weather caravanning that little bit easier.
But first up, let's think about getting to the site in the first place.
Snow or winter tyres on the car and caravan are essential to keep you moving. If conditions are really bad, you might need even more grip, and this is where snow chains will come into play! They're even mandatory in some regions in Europe.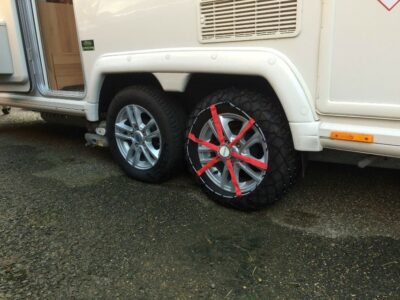 Michellin Easy Grip snow chains are made of a rope-type construction. They'll be less likely to cause damage to your caravan wheel arch if they come off!
You might ask, why snow chains on a caravan?
"Imagine coming down a slippery mountain road and you need to slow down," said James. "You have very little control over how hard the caravan brakes will be applied. If they come on and the brakes lock up, you could have a very heavy sledge pushing you down a hill!"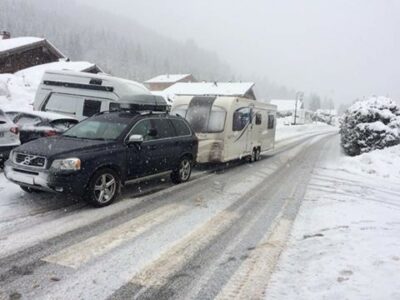 On a twin axle you would only want a set on one axle due to the scrubbing of tyres around a corner, and one set of chains would likely be pulled off if you had a set on each axle.
"But make sure you practice fitting chains to your tow vehicle and caravan before you leave home when it's warm and light," added James. "Learning how to fit them in minus temperatures on the side of a road whilst the snow is coming down isn't the best place to be working them out!"
Planning the timing of your journey is also essential for an easy passage up mountain roads when cold weather caravanning.
We plan our journey so the night before, we are within a few hour's drive of the foot of the mountain. If the snow is bad, then this gives you as much time as possible with daylight on your side to get to the campsite and get set up. You also don't want to be worrying about missing check-in and the daylight going as you drive through the snow.
A good pair of waterproof and windproof gloves is essential for setting up, fitting snow chains, or clearing snow away.
"Think of your tow car as another handy tool for setting up in the dark," said James. "Once you've unhitched the caravan, turn the car around and aim the headlights at the caravan. This helps with putting steadies down, putting an awning up, levelling, or even fitting those essential security items like caravan wheel locks and hitchlocks.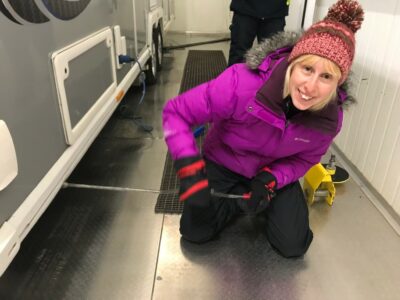 A head torch is also a wise investment when needing to fetch water or empty the toilet in the dark.
If you're planning on staying on a site where you're very likely to get snow, then a snow awning is essential. A snow awning has a steeper pitched roof to allow snow to slide off. It doesn't take much snow to fall on a standard air awning roof to make it collapse.
Cold weather caravanning and freezing water
"Once on site, our first thoughts would be the water freezing," said James.
With the heating on in your caravan, the pipes inside shouldn't freeze, however, your Aquaroll and waste water could freeze when cold weather caravanning.
There are purpose-made jackets you can put around your Aquaroll to keep the cold out. Also, placing the Aquaroll on a block of wood or even foam insulation also slows down the ground frost from travelling up into the water.
"A thick coat with the pump up a sleeve also works very well," said James. "We've had success with the coat method down to about -7c. Waste water will also freeze, so catching the water in a bucket will make it easier to get out once frozen rather than through a small hole in a waste hog, for example."
Filling up an Aquaroll can be cold on the hands if you have to hold a pipe. An extendable flexi-pipe from Colapz means you can keep your hands in your pockets and not have to hold the pipe.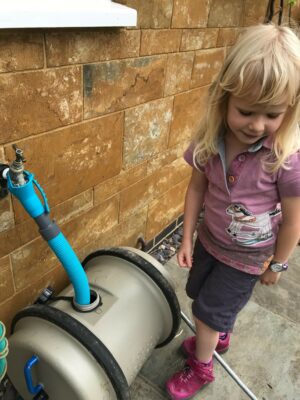 When cold weather caravanning, whether there's a light frost or it's much colder, propane gas (Calor Gas red bottle) is essential over butane (Calor Gas blue bottle). Butane stops "working" at around +5c where as propane is good down to around -188c.
"Although propane is best, there can still be a small amount of water in the mix," warned James. "Truma Eisex is a device which warms up the gas as it passes through the regulator to keep any moisture from freezing up."
Your caravan fridge/freezer works by removing heat through elements on the back of the unit. When it's really cold, the elements can be cooled too fast and the fridge becomes less efficient. Fridge winter vent covers on the outside of the caravan help to keep the efficiency up.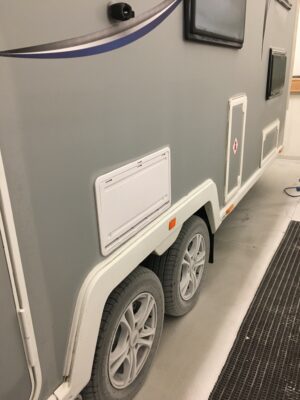 Dometic suggest fridge vent covers should be fitted when outside temperatures are 10 degrees C or lower. They also reduce the chance of rain and snow blowing in.
Whilst you're taking the last lift back up the ski slopes for the day or heading back down that mountain walk, you'll be looking forward to a nice warm caravan or shower when you get back! The iNet box from Truma allows you to check and adjust the heater and hot water from your phone. This can be used with the Truma Combi boiler and also Alde heating systems. Of course some caravans have similar systems fitted as standard.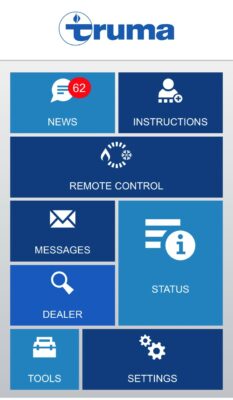 Children don't have to be left out of the fun and gadgets either! If the thought of pushing a buggy about in snow sounds like hard work, there are two ways around this. Firstly is the conventional sledge!
"Secondly, why not convert your buggy into a winter ski buggy by adding skis to the wheels," said James. "We found children's training skis fit really well to our buggy."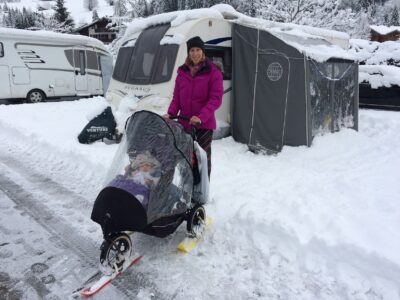 With all these cold weather caravanning gadget and tips, it begs the question… just how cold can a caravan still operate?
Modern caravans that have a grade 3 insulation rating, are tested from -15c and need to warm up to +20C within four hours. But with any tests, how true are they?
"We've experienced -14C in the Alps in 2018 and more recently we took our Bailey Pegasus Grande Palermo caravan to Truma's Climate Centre where we took the outside temperature to -26C! We were very warm inside our caravan at a toasty +20C and with a 46-degree difference between inside and outside, all our water systems worked and we even cooked a roast dinner."
So, the next time you think about booking a winter getaway, think about taking the caravan for a holiday with a difference and experience some cold weather caravanning!
At Caravan Guard, we're huge fans of winter caravanning and maximising use of your tourer, however, we'd always advise not to tow in snowy conditions unless absolutely essential. If it does snow on site, stick around until snow clears on main roads!
Search our blog
---